Birthday Wishes For Younger Brother
You know what, I feel so proud to have a brother like you. You are my best friend. On this special day, I want to say you, Happy Birthday Brother.
As the year progresses, we both have grown up together. On this special day, I always pray to god for you & me that, I want a brother like you in my every born and god must save my brother from each and every problem in his life respectively.
When I need a good friend, I get you. You are shielded in all my troubles. Thanks for being such a caring brother. I love you so much and wish you a joyful day.
Surely there is no one like my brother who is so much caring and responsible and can maintain everything easily. I feel so much proud because I have a brother like you. I love you my Brother. Happy Birthday. Wish you all the best.
I think you are the world best brother. You are a awesome friend, guide and teacher in my life. Thanks for being a wonderful brother. On this special day, I wish "Happy Birthday" and God bless you.
My dear brother, I wish you a very happy and joyful year ahead. May God love and care you, as you did for me. May you live a long and beautiful life. Happy Birthday.
The warmest wishes on your special day, bro! The moments that we shared are so precious to me. I hope we will have lots of them in the future as well!
Happy birthday, dear brother! May this year bring the most wonderful things into your life, you truly deserve it!
Friends are rare and brothers are common, but a brother that is a friend is a treasure. Happy Birthday.
Bro, you are not just my life's support, but also my life's pride. If you hadn't been there for me all these years, I would have crumbled from inside. Happy birthday.
You May Like to read : Birthday Wishes To Friend
I consider myself a very lucky person because I found the best friend in my brother. You are a true inspiration to me, happy birthday!
As you get ready to face yet another birthday, remember that this is our time to party! Can't wait to get out tonight and celebrate!
Dear brother, you have always been a true friend to me. I hope this will never change. Wishing you all the best on your special day!
They say you can choose your friends but not your family. I just want you to know that if we weren't already brothers I would choose to be friends with you in a heartbeat! I'm so lucky to have a brother like you! Happy Birthday!
It's a great blessing to have such a loving and caring brother like you. I love you and wish you a brilliant birthday!!!
How could I forget all the times we got into trouble when we were growing up together? Or all the creative ways you helped me get out of trouble? Happy Birthday, bro, from your "partner in crime."
Thank you for my great childhood memories. Here's to many more memories to come. Happy Birthday to the world's greatest brother!
Happy Birthday to my special brother! Your presence in my life makes it much more joyful and colorful! Wishing you all the most precious things that life can bring!
You are the one person that I don't have to explain my craziness to and the one person whose craziness I can't explain. And that's great. Happy Birthday.
Happy Birthday, to my sweet brother. May God bless you with all his warmth and care. May your birthday bring loads of joy and fun to your world.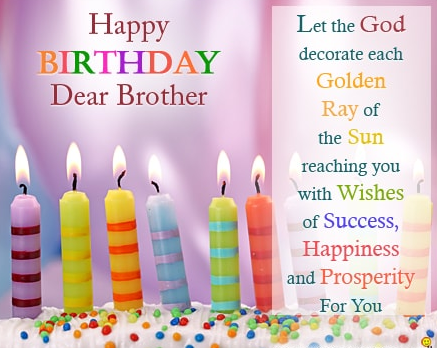 Birthday Message For Brother
There's no brother better than you. Of course, you're the only brother I've ever had, so I wouldn't know the difference. Actually, I know you're the best. Happy birthday, bro!
Happy birthday to our parent's second favorite child! Just kidding, brother. I wish you the best on your special day.
A million miles away, I still woke up today with a smile on my face trying to find the right way to wish you a happy birthday.
There are a lot of parts of my childhood I would love to replace, but none of them includes you. Happy birthday.
The best thing mom and dad have done is to give me a brother like you. Happy birthday.
I know today is your birthday, but it has always been a special day for me, too. Years ago, I gained the best friend I will ever have on this day. Thanks for being there for me, brother. I hope all your wishes come true today.
The best thing in life that parents gave me is such a wonderful brother! You always know how to bring a big smile on my face. Have an exciting Big Day!
When we grew up, it was awesome to fight, cry and argue all of the time. I wouldn't change those moments for anything. I love you and happy birthday.
When we were small I was mad at mom and dad for making me share my room with you. Now I realize what a wonderful blessing it was growing up with you. Happy birthday bro.
You're more than just a brother, you're also my best friend and someone I know I can count on to be there for me in good times and bad. Thanks for always having my back. Happy Birthday!
Read More : Best Birthday Wishes Quotes For Friend
I heard that the elder brother is like a father. Now I can understand, yes, it's right. I have found your love, shelter, support and care like as a father. Happy Birthday Brother.
You are the most important part of our family. |Without you, it was just impossible to complete our family. You are a most important support for me and our parents. We love you so much. Happy birthday my dearest brother.
You've always been here for me, I know we fuss and fight, But I love you with all my might. You are my big brother, And there is no other. Happy Birthday my dear brother!
Your optimistic spirit and cheerful words always encourage me. Thanks for being such a great brother. Have a terrific Birthday!
You have been a pillar of support all my life. I truly respect you, dear brother. Wishing you a very Happy Birthday!
Yours are the perfect footsteps that I want to follow. Without you, my life would have been completely hollow. Happy birthday dear bro.
The first Born in every family is always dreaming of an imaginary older brother or sister who will look out for them, I'm so lucky you born first. Happy Birthday my dear brother.
Brothers are a little piece of childhood which reminds of who you truly are. They bully but care at the same time, all those memories are the reason for who you are now. I want to thank you for being my brother. Happy Birthday Bro!
Another year gone, a little less hair on your head, but a whole lot of love in my heart for you. Have a happy birthday, and remember that men just get better with age.
I am so happy to have the most wonderful brother on the planet. It was an unforgettable experience to grow up with you. The warmest birthday wishes are coming your way!