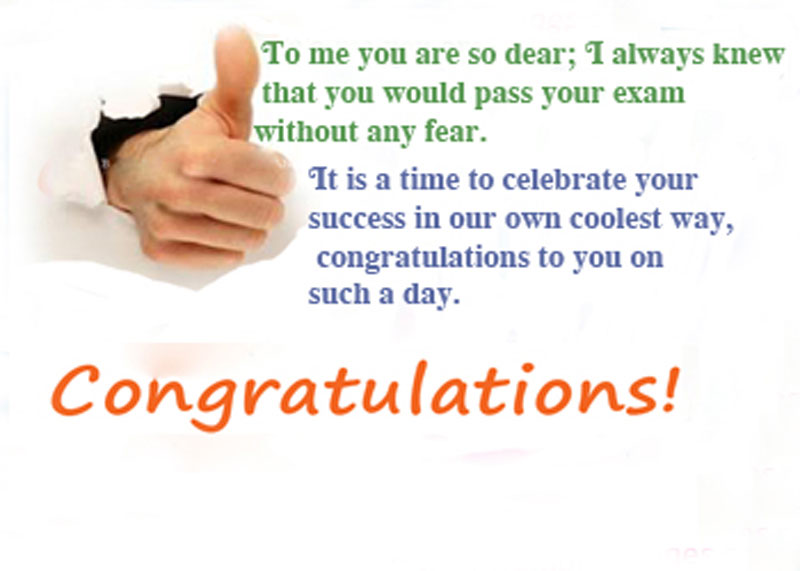 Exam Congratulations
Congratulations! You've run the course and passed the exams! There are no secret of success. It is the result of preparation, hard work and learning from failure. Well done!
A lot of people would like to move mountains, but few of them are willing to practice on small hills. Congratulations on completing this first stage of your future career!
So proud of you on this great achievement in examination! Things turn out best for the people who make the best out of the way things turn out. Please accept my message with best wishes for future!
You've done it! Congratulations on your great achievement!
Passed exam is a happy event. I witnessed how hard you studied. In my message I send you a key to success: study while others sleep, work while others loaf, prepare while others are play and dream while others just wish. It is clear that future holds great opportunities for you.
Success is connected with action. Successful people keep moving. You can make mistake, but don't quit! I wish you happy beginnings to the start of a new chapter in life.
Congratulations on all that you have accomplished! Everything you want also wants you. Remember this quote and just take action to get it!
Waking up so early to go to school… Going to bed so late… It was worth the tassel! To accomplish great things you must dream as well as act. Memorize this clever quote and … never, never, never give in!
It's the day when you've had everything to do and you've done it! Nice work! Everything is possible when you just believe in yourself.
Congratulations for passing exam! Your patience and persistence has finally paid off. Now you are now one step closer to your dream.
You may like to read : Quotes About Good Times With Friends
Striving for success without hard work is like trying to harvest with no planting. Congrats on your academic achievement!
Best wishes as you passed your test! The journey of a hundren miles starts from single step. Keep the courage as you face new challenges in life.
Congratulations on your momentous achievement! Now you can forget all your sleepless nights and failures. Forget everything except what you wish to do and do it!
The best way to finish an unpleasant task is … to get started! I knew that you could do it! The future now belongs to you!
Congratulation on your outstanding result. You passed the exam with ease and proved to us you are not always talking big things you can fulfill your words too. You are truly a man of work. Keep this hard work up and try to do more better than this.
Doing well in exams are the only shortcut to success. Well done.
Exams and grades are temporary, but education is permanent. Congratulations for passing exam.
Conquering your exams is just the beginning. May you conquer many more summits in your life. Congratulations.
It's no surprise that you've aced your exams. Tell us something more exciting. Congratulations.
Celebrations will be there due to your success which u got and proved that no one equals to you.