Wishes
Congratulations To Proud Parents (Graduation Message From Parents)
---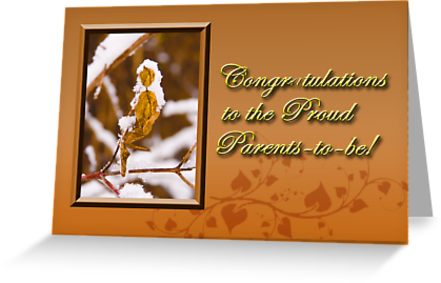 Congratulations To Proud Parents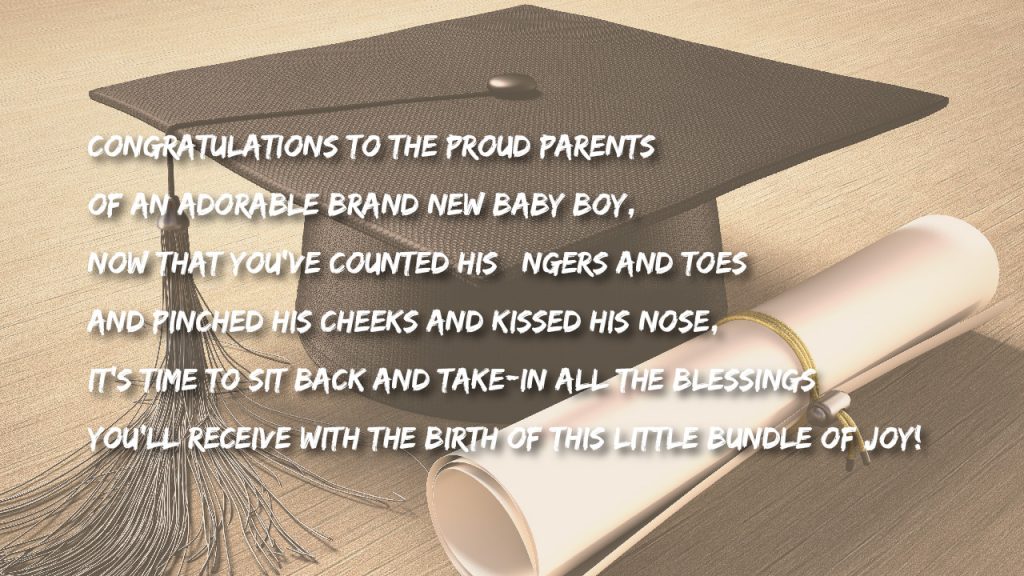 Congratulations to the proud parents

Of an adorable brand new baby boy,

Now that you've counted his fingers and toes

And pinched his cheeks and kissed his nose,

It's time to sit back and take-in all the blessings

You'll receive with the birth of this little bundle of joy!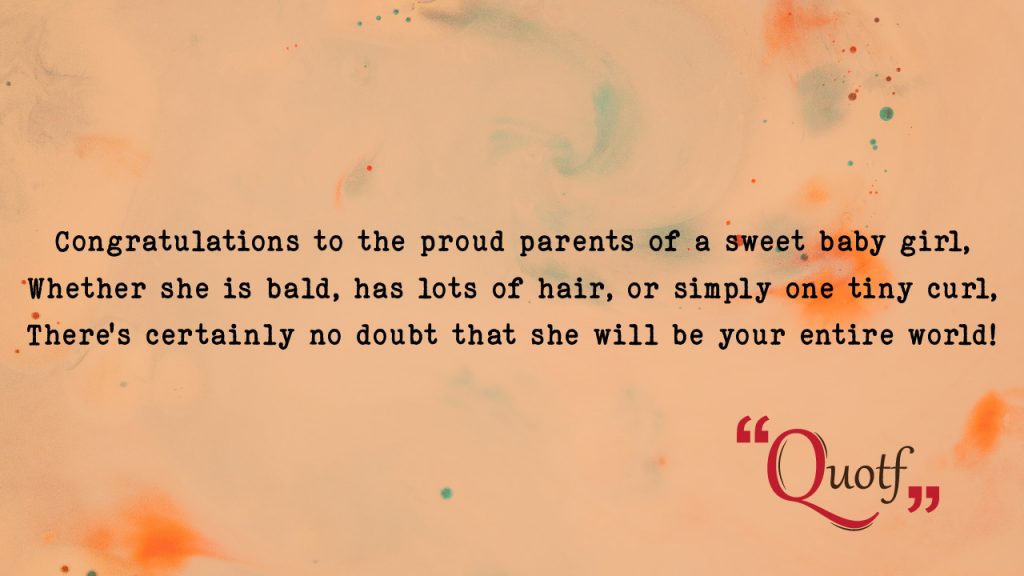 Congratulations to the proud parents of a sweet baby girl,

Whether she is bald, has lots of hair, or simply one tiny curl,

There's certainly no doubt that she will be your entire world!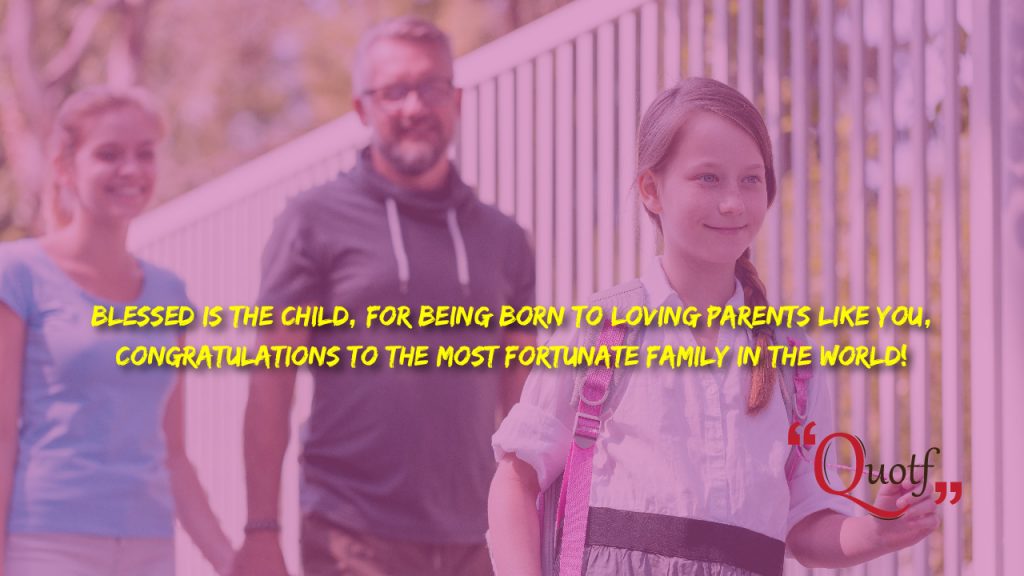 Blessed is the child, for being born to loving parents like you,

Congratulations to the most fortunate family in the world!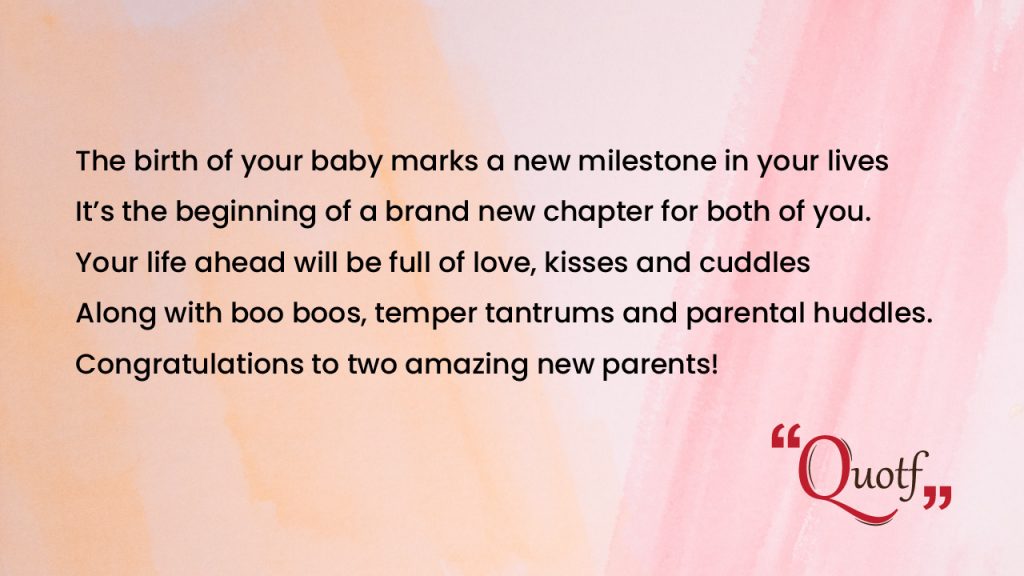 The birth of your baby marks a new milestone in your lives

It's the beginning of a brand new chapter for both of you.

Your life ahead will be full of love, kisses and cuddles

Along with boo boos, temper tantrums and parental huddles.

Congratulations to two amazing new parents!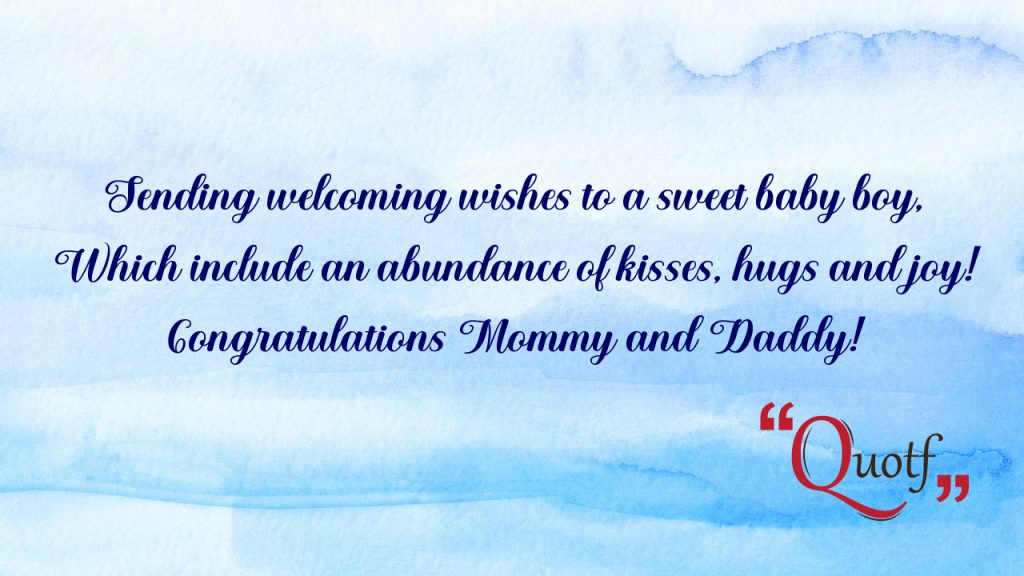 Sending welcoming wishes to a sweet baby boy,

Which include an abundance of kisses, hugs and joy!

Congratulations Mommy and Daddy!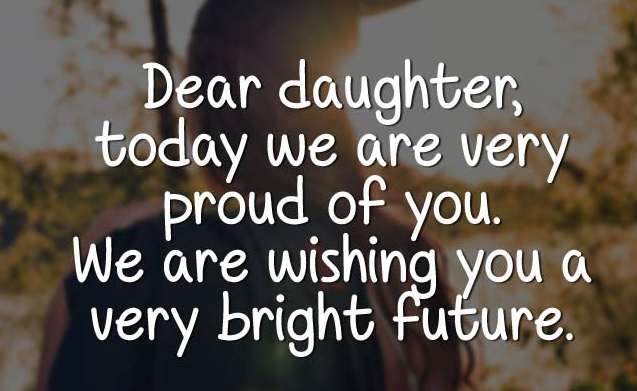 Dear Daughter, Today we are very proud of you. We are wishing you a very bright future.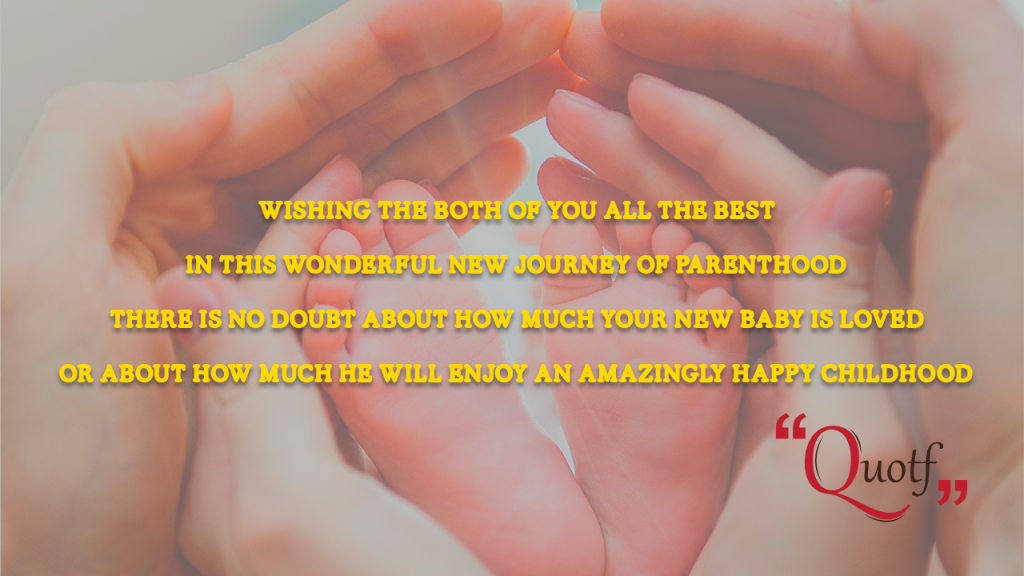 Wishing the both of you all the best

in this wonderful new journey of parenthood.

There is no doubt about how much your new baby is loved

Or about how much he will enjoy an amazingly happy childhood!
Sending love to welcome your new precious little one…

Your hair is shinier than all the stars above,

Your skin is softer and purer than the angels above

which is proof that you are absolutely a blessing from above!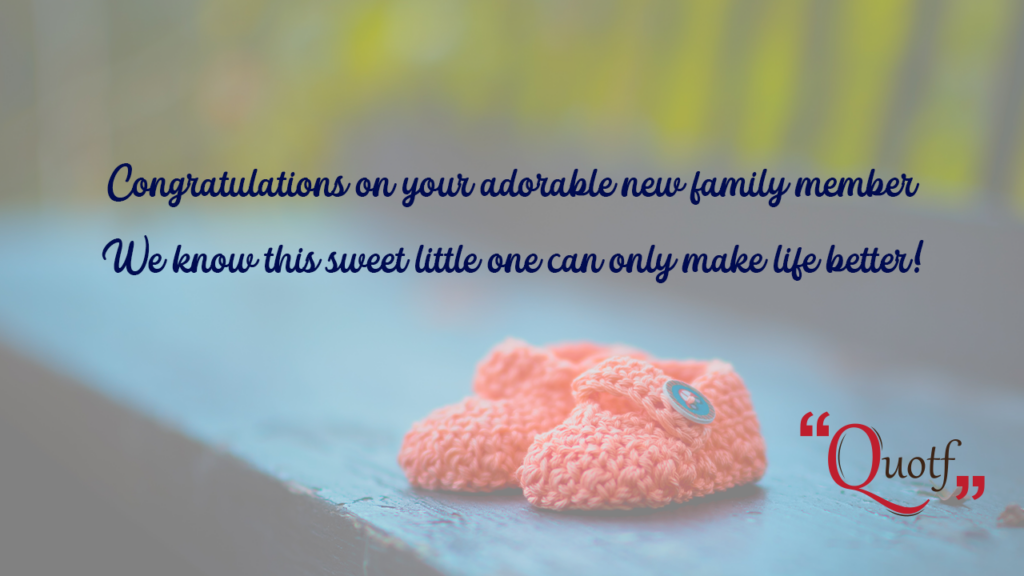 Congratulations on your adorable new family member

We know this sweet little one can only make life better!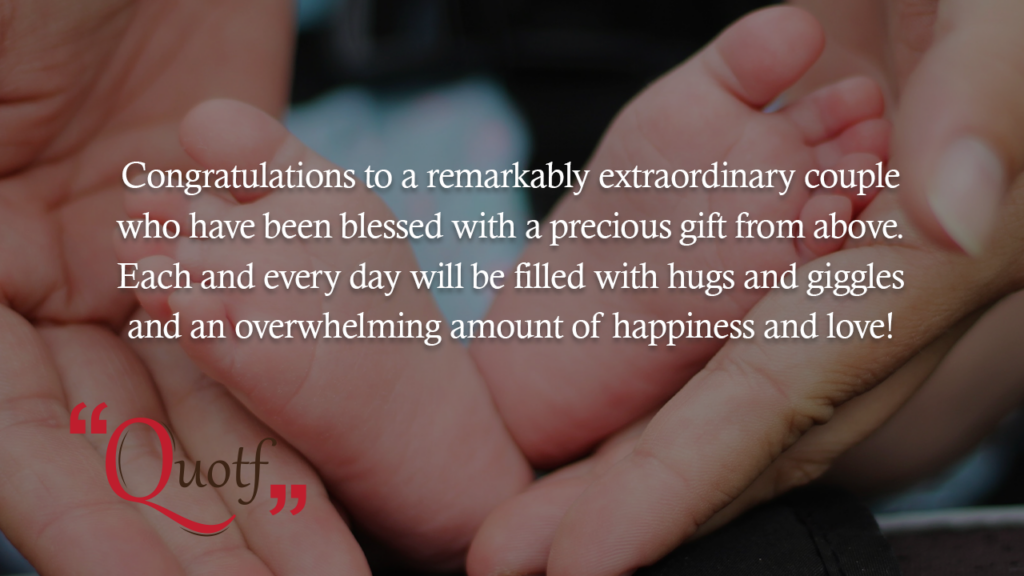 Congratulations to a remarkably extraordinary couple

who have been blessed with a precious gift from above.

Each and every day will be filled with hugs and giggles

and an overwhelming amount of happiness and love!
Congratulations to the New Parents…

There's no doubt about what the future holds

With a new baby so sweet and precious as gold

It's very easy to see how your lives will unfold!
Congratulations mom and dad
Congratulations to the proud parents of a brand new baby boy…

May your days ahead be filled with dirty handprints on the walls,

wagging doggie tails, jumping bullfrogs, and lots of bats and baseballs.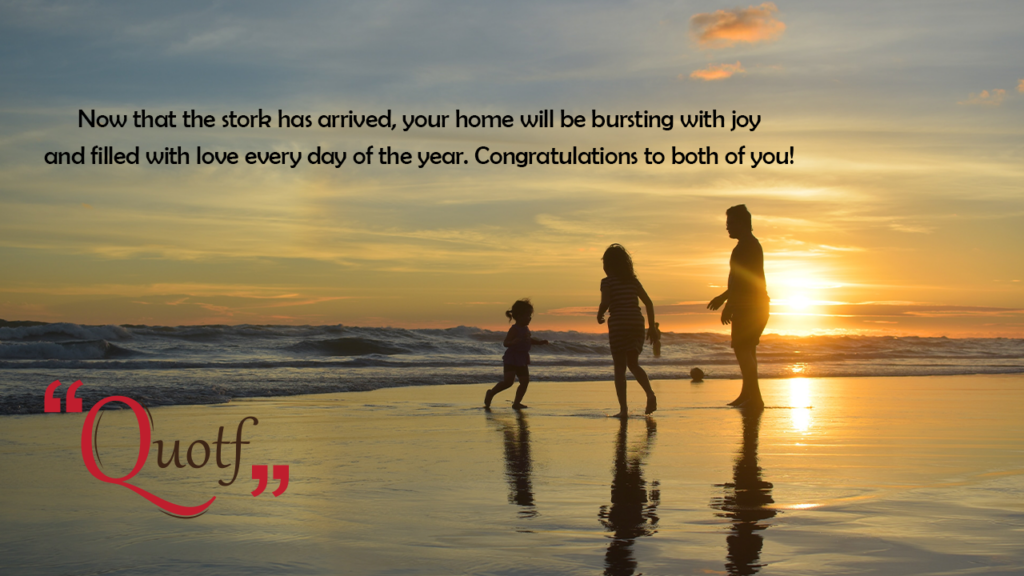 Now that the stork has arrived,

your home will be bursting with joy

and filled with love every day of the year.

Congratulations to both of you!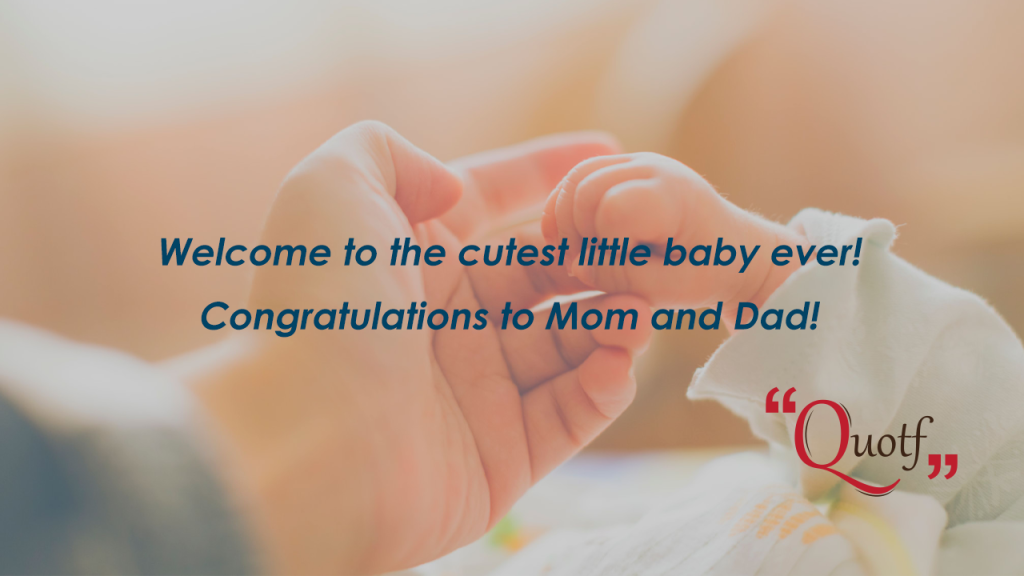 Welcome to the cutest little baby ever!

Congratulations to Mom and Dad!
Congratulations to the proud parents

of the cutest baby in the world…

may there be many, many more!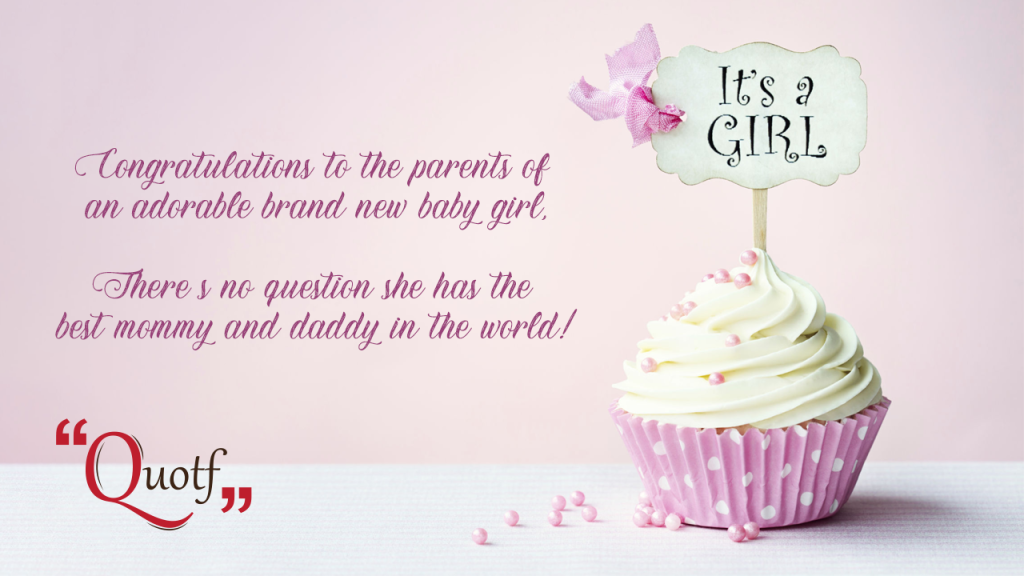 Congratulations to the parents of an adorable brand new baby girl,

There's no question she has the best mommy and daddy in the world!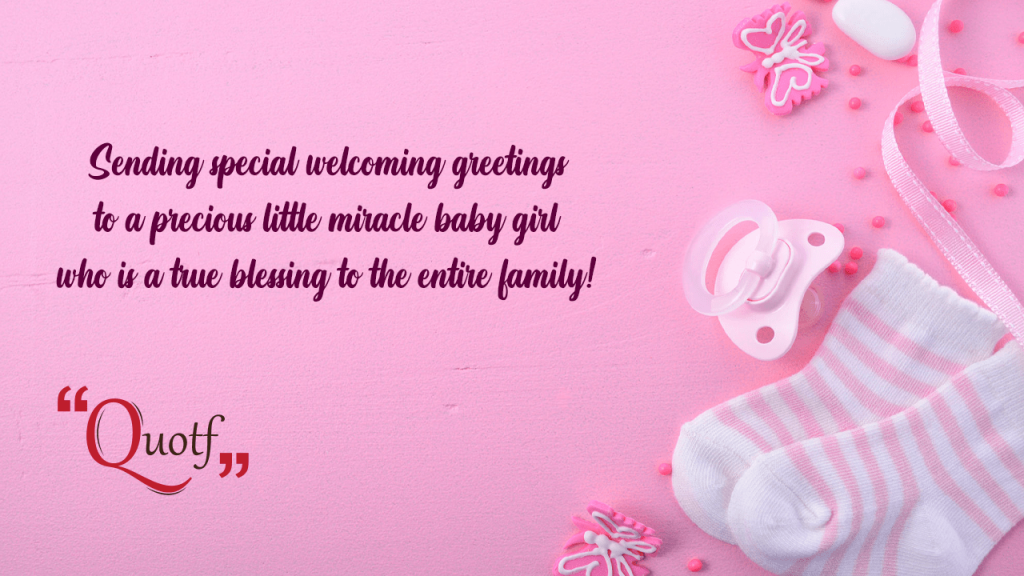 Sending special welcoming greetings

to a precious little miracle baby girl

who is a true blessing to the entire family!
There are no words that can truly express

the joy of adding a new child to your family.

May your new baby bring endless days

of happiness, love and fun for everyone!

Congratulations to the entire family!
With two great looking parents like you

Your brand new twin baby girls

are sure to be way more beautiful

than the both of you!

Congratulations to the very

proud Mommy and daddy!
This is not just an achievement, this is your graduation! We are so proud of you! See you on your thanksgiving party!
Your parents must really be proud of you, because we are! Congratulations from your aunts and uncles here in Jersey!
Congratulations to the proud parents of the graduate
Feeling relieved because you graduated college? In a few more months, you will wish that you are still a student again. Kidding! The real world is harsh but you are one tough kid, you can survive. Congratulations on opening a new chapter in your life!
Your cousins idolize you so much, we are all proud of you. This is a big stepping stone to your future success. Congratulations!
I bet your mom and dad is tearing up because you are moving out for real. But anyway, I am so glad you graduated. You deserve it, you are a diligent child. God bless you!
You are closer to the fulfillment of your dreams, good job! You worked hard and now you are earning what you invested. You are a smart kid, you will do great things in the future. I believe in you. Congratulations!
Congratulations! We knew you would make it. I am wishing you a path full of opportunities and lessons that will make you become a better citizen and a better person.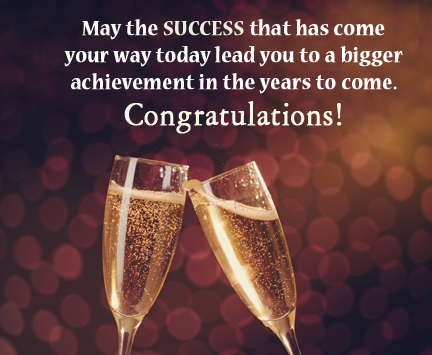 It is time to celebrate the fruits you harvested from several years of intense studying! You deserve all this success, and I am pretty sure that the Lord has more opportunities in store for you. Keep up the good work. Congratulations!
I am pretty sure that your parents are going to throw you a very expensive party, because they are so proud of you. You deserve all these blessings you are receiving because you are a kind-hearted kid. Be prepared for the real world, it is not going to be easy. But you will make it, I know. Congratulations, kid!
Soon, your parents will have a diploma to frame and hang on your walls. I am sure that they will also frame and hang your graduation picture. You are blessed with very supportive parents and they are blessed to have a very responsible child. Congratulations on your achievement! Keep moving forward and stay humble.
Congratulations on your graduation and welcome to the adult world. It is not going to be easy because you won't have your mom clean your mess, sew your slightly toned clothes, do your laundry, and cook you dinner. It is going to be tough because you will have to stand up for yourself but with all the lessons you will gain, it is all worth it.
Wishing you all the best on the new chapter of your life. We know you will be successful someday, and it starts today. Continue chasing your dreams and overcoming your fears. We are praying that the Lord will bless you with enough wisdom and knowledge. Congratulations!
Congratulations message for parents of graduate
You have been making us proud since the day you were born. You fought your battle in your incubator bravely, faced your fears through middle school, and graduated college with honors. No one could ever be prouder than us, son. You are the bravest, most determined person I have ever known, and I am really proud that you are my son and I am your dad.
We are so grateful to have been blessed with a daughter like you. You never fail to make us proud. This is just the one of your many achievements to come. We are incredibly proud of you! Congratulations!
When the Lord gave us you, I said to myself, "you are the most precious gift I ever received, I am contented with my life". But you never stopped amazing us with everything you do. You never stopped achieving things. I am proud of everything you do. I love you. Congratulations on your graduation!
We are just the proudest parents in the whole wide world! Congratulations on this new milestone!
Soon, you are going to tell us that you are getting married. And then, months or years later, you are going to tell us you are having a baby. Time flies so fast and you are rapidly growing old. But it doesn't matter because you are my baby no matter what. I am so proud of what you have achieved. I love you, congratulations!
Since your first day at school, we knew you would make it to this day. You are one independent, disciplined, and cheerful kid. You managed to have friends while focusing on your studies. We did not even have to set up rules because you have earned our trust, and you know your limitations. We are blessed to have you as our daughter. Congratulations on this accomplishment! Your dad and I loves you so much!
I do not know how we were able to produce an awesome kid like you. Kidding. You were from the best parents, of course, you will be awesome. Congrats! We are so proud of you.
You are one step closer to your dreams! Keep chasing them and we will always be right behind you, you always have our support. We love you, and we are overjoyed by this achievement of yours. This is our achievement, too. You are our achievement.
We have seen how much you have worked hard to achieve this diploma. We are so blessed to have a daughter as responsible as you. We only prayed that you graduate from college but the Lord blessed us with honors, too. We are so proud of you, darling. Congratulations!
We were together through this struggle, and together, we will celebrate this achievement! Congratulations to all of us!
Proud parents quotes for graduation
You are one of those people who have giant brains but still have time to socialize with others. I admire your school-life balance, and you truly deserve to graduate with honors. It was a pleasure meeting someone as talented as you. You inspired me to be better. Congratulations on our graduation!
I told you, one day, we will all look back on those sleepless nights, those moments we almost lost hope, those moments we thought we would not make it, and those heartbreaks we have been through during our college years. You looked back, didn't you? Isn't it all worth it? Yes, it's worth it. Congratulations to you! We have made it this far, let's keep moving.
I must say, you surprised the whole gang! Look at you, all suited up for your graduation. You always told us to just enjoy life and refrain from taking it seriously. I think it's ridiculous not to take life seriously but, I guess, it worked for you. You made us proud, you inspired us all! Happy graduation day to you!
Cheers to this huge milestone! Let's party hard, for you are no longer a student but officially unemployed! Here's to more years of friendship even when we take different career paths in the future! Congratulations to us all!
This is the moment we have all been waiting for! This is the final moment we will enter the campus as students. This is the moment when we could truly throw our text books away. We have survived those dreadful years and we are still alive and ready to fight! We are the brave ones and I believe that the universe will unfold success to newly grads like us who strive hard. See you on the industry, and congratulations to you!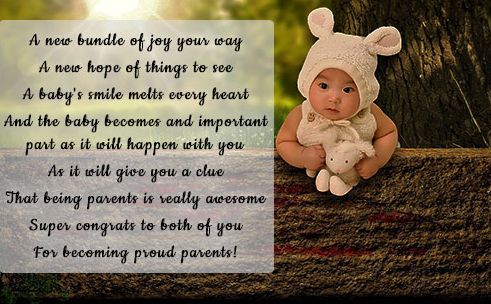 It is time to leave the school, find a job, and pay our debts! Congratulations to all the graduates with student loans!
When I first stepped into the halls of the university, I had no idea I will have this much fun. My mind was focused on getting straight A's. I did manage to get straight A's and I found friends who treat me as a family. This journey has taught me a lot, but you guys are the best souvenirs! Congratulations to us, we made it to the end!
We have conquered the world of text books and final exams! We are now entering adulthood, and we are geared up with a lot of knowledge and confidence. Let us embrace this change with open arms, and let ourselves grow. Congratulations to all of us, we deserve this!
Freedom! Finally, we are free.. or not. We may be free from lectures, exams, and text books, but we will enter the industry jail. It is where people is forced to work 9am to 5pm, eat, sleep, and repeat the process. Are you ready for the big change? You should be. There's no turning back! Anyway, congratulations!
Let's have our one last "college" party! Let's celebrate our achievements because we truly worked hard for this. Let's get drunk for one last time as college seniors, because tomorrow, we will no longer be students but this school's alumni. Wishing you all good luck on your chosen career paths!
Graduation message from parents
I want to believe that the hardest part is over but recently, everyone is telling me to be prepared for another battle. What have we put ourselves into? Kidding! Congratulations to all of us graduates who have managed to stay sane throughout our four years of stay in the university. I am hoping that everyone will be able to find a job on your chosen career. I wish you guys all the best, and I wish we will stay in touch. Thanks for all the wonderful memories!
You have worked so hard to get to this point and I am so proud of all that you have accomplished. Congratulations on your graduation!
You are deserving of all of the celebrating that you are doing right now as it took a lot of work for you to get to your graduation!
If anyone deserves to take a break right now, it is you. May your graduation bring with it a sense of peace and also of excitement!
It takes a lot of work to get through the kind of schooling that you went through, and I hope that you celebrate this graduation with all that you are.
May you have a beautiful day today as you celebrate the work that you put in and the graduation that you have reached.
Graduating from school is an important step as you head toward a bright future, and I am so proud of you for reaching this point.
Your future is full of all kinds of possibilities and I am excited to see what you choose to do with the life that is before you.
Your graduation is a step toward any kind of future that you want to pursue, and I cannot wait to see what it is that you choose to do.
May you have the happiest of graduations, because you are someone who is always looking out for others even as you are working hard to advance yourself.
Congratulations to son on graduation
You have worked hard without giving up and now it is time that you are celebrated for all that you have accomplished.
Your graduation is a day that honors you for all of the hard work that you put in, and I hope that you day is a special one.
May you take a moment to reflect on all that you accomplished as you celebrate your graduation day.
"Wishing you all the happiness and love in the world on the day your baby boy has arrived – beyond delighted for you all!"
"Congratulations on the birth of your beautiful baby boy!"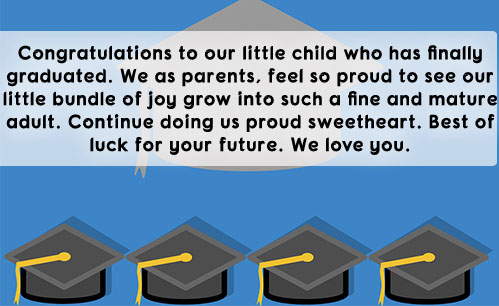 "The day is finally here and so is he! Congratulations on the birth of your adorable baby boy."
"I couldn't be any happier for you both on the arrival of your little man! You two are going to make the most fantastic parents. Congratulations!"
"I am so delighted and proud of you both for embarking on this journey of parenthood together; I can't think of any two people more perfect. Congratulations on the birth of your beautiful baby boy."
"Congratulations! Your new baby boy is finally here and I cannot wait to meet him! Wishing you all the love in the world."
"The warmest congratulations on your new arrival! Hope mum and baby are doing well and I cannot wait to see you both!"
Related Topics: