Happy Anniversary Wishes For Friend
You are a blessing to each other, I have never seen a couple so perfectly matched and so in love, wishing you a happy anniversary!
Life is a journey, and nothing makes that adventure more thrilling than sharing it with the person you love most in life. Make your anniversary a memorable one.
Someday, I hope that I can find the type of love in my life that you have found in each other. Your relationship is truly an inspiration. Happy anniversary!
Yours, is a love we all dream of. Happy anniversary my lovely friends!! May your marriage continue to prosper forever.
When I see you together, my day becomes a whole lot brighter. The sun comes out from behind the clouds, and I know that true love really exists. Happy anniversary!
Once in a lifetime life gives a fairy tale. I know happy ever after exists by being blessed to witness your loving marriage.
Marriage is a lifelong melody sung by two hearts completely surrendered to another. Love is your song, lived each day.
Getting married is not about having someone to dance with at the wedding, it is about having a dance partner for life. Kick up your heels and dance the night away this anniversary.
To my special, precious friends, may today be celebrated with intoxicating happiness and here's to many more years of togetherness! Happy anniversary!
Having the perfect relationship does not mean that you are perfect. It means that you can accept each other's flaws and laugh at life's mistakes. Happy anniversary to the perfect couple.
A relationship is like a flower; it needs love and care to grow. Your marriage is nearly indestructible because of the bond that you both share. Happy anniversary and keep that knot tight for many years to come.
The type of marriage that the two of you share is something to be celebrated. You are best friends, partners in crime, and soul mates that will be together for a lifetime. Congratulations! You've been married for a decade!
To a Fairytale couple who seems to spend every waking minute together without getting tired of each other. After all this time, you'd think the honeymoon stage would be over. May the happiness last through this anniversary and forever.
Fate knew what it was doing when it bonded your lives together. Wishing you love this anniversary and many more years of happiness to come.
May your love for each other continue to flourish and blossom through all of life's chapters! Happy anniversary!
For the beautiful couple, thank you for blessing me with your example of 'true love' and what it means to be forever in love. Happy anniversary.
Love is the melody of your two hearts united as one. May it continue to shine for the rest of your days. Have a wonderful anniversary.
Wishing you a precious wedding anniversary, may the joy of your love continue to grow and touch all who know you.
I have never known such a beautiful couple, your love for each other is a treasure of what the meaning of soul mates entails. Happy anniversary!
May your days be joyous, blissful and filled with everlasting divine love. Bless you both! Happy anniversary.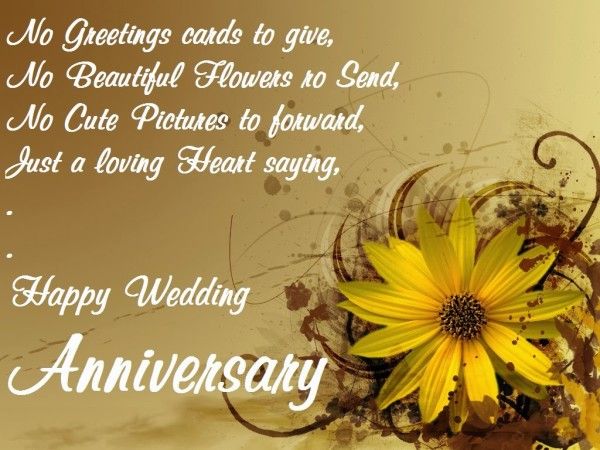 Anniversary Quotes and Messages For Friends
May the beauty of this special occasion be forever written in your hearts as the tale of your once in a lifetime love story. Happy anniversary!
Your love for each other is more precious than anything. It is the harmony of your united souls. Love you guys!
You two are the most sincere couple I have been fortunate enough to know. Your love for each other has taught me the meaning of 'love'. Have a beautiful anniversary!
May your souls continue to grow together in life's journey. May good tidings be upon all your days. Happy anniversary.
May happiness bless your souls ceaselessly all of your life and may it follow your hearts like an unshakeable shadow.
You two exemplify the ideal marriage. May joy bless your hearts forever. Happy wedding anniversary.
Thank you for your friendship. Happy anniversary to the best people I know!
May your marriage forever prosper and flourish. May you continue to grow together. Happy marriage anniversary to the sweet couple I'm proud to call my friends.
Love is the essence and meaning of life. You two live the message of love every day in your commitment to each other. Happy anniversary!
Marriage is like a garden, it needs to be nourished with tenderness. My friends, your love is a sacred garden that all who know you feel blessed by your love.
Wishing you both a spectacular day to celebrate your anniversary! Bless you both in your lifetime commitment to each other.
Start blowing up the balloons because we are about to pop open a bottle of champagne to celebrate the anniversary of one of the happiest couples that I know.
Smiles and laughter are something that makes a relationship thrive. May you be showered with love and happiness this anniversary.
Your story is one of the best love stories that I have ever witnessed. Your love is so strong that it can bear anything that you encounter in life. Happy anniversary.
People change over time, but your bond has remained strong. Happy anniversary! A lifetime of happy memories awaits you both in your future.
Today is a very special day. It's a celebration of your unconditional love, support and nourishment of your marriage. Happy anniversary.
May your love continue to shine in your hearts stronger and stronger through all that life bestows upon you. Have a wonderful anniversary celebration.
I feel blessed to call you my friends, you have shown me what marriage is all about and you are a true inspiration!
The beauty of your marriage is seen every day by your devotion to one another. Heaven's love exists in your hearts. Congratulations on your wedding anniversary.
You two bring out the best in each other and your love is inspirational. Wishing you a happy celebration on your anniversary.