Romantic Good Night Quotes For Girlfriend
It is senseless to wish you a good night because you won't have it, as I am not with you tonight, so at least, sleep tight, darling. Muah.
Don't fear, today monsters won't visit you as I will protect your sleep. Kisses and good night.
Even if you're tired after a hard day and do not look at all 100 percent, I always love you 1,000 percent! Good night.
You will have a hard day tomorrow, lie down to rest. I am always with you, even if I am not with you physically, but in the mind – permanently. Sweet dreams.
My favorite, I promise that this teddy bear spends with you the last night, we'll be together tomorrow. Good night.
I know that it is tough for you to fall asleep without me, let it be the biggest nuisance in your life. Soon we will never be apart, sweet dreams.
Every night you are particularly beautiful, your stunning hair surrounds you like a nimbus, I just want to look at your beauty, but, for now, all I can do is to send you this SMS and my admiration. Good night.
Every night I become super cute, that is why I am sending you this message. I'm kidding, darling, you are always on my mind.
You are sleeping now, and I am thinking of you. You are a wonderful person and a beautiful girl, I'm really happy that I have met you! Good night.
The most handsome man wishes a good night to the prettiest woman in the world!
You May Like to Read: Good Morning Messages For Her
My favorite, I hope that this night will be different from other nights and you will finally sleep enough. Sweet dreams.
The sweetest girl in the world is lying in the bed and reading this message, I hope that it will make you smile. Good night, lovely.
A human can live without water 10 days and without the sleep 3 days, and I cannot live a day without you! Sweet dreams.
Assume that I'm not the biggest romantic in the world and I cannot write beautiful words, but with all my heart I wish you sweet dreams. I really care about you.
I miss our conversations until the morning, the night is empty without you. Sweet dreams.
Though I'm not Hercules, but I will always be able to protect you and your peaceful sleep. Sleep tight, baby.
My dream is to create a paradise on earth for you and to fulfill all your dreams. I dedicate my life to this. Good night, sweetie.
I hope that the dream, in which you see me, does not turn into a nightmare because I plan to come to you every night. Sweet dreams, my beloved.
Let your journey today in the realm of dreams will be pleasant and interesting. Sweet dreams, dear.
In addition, to the message, you receive from me a strong hug and a gentle kiss. Good night.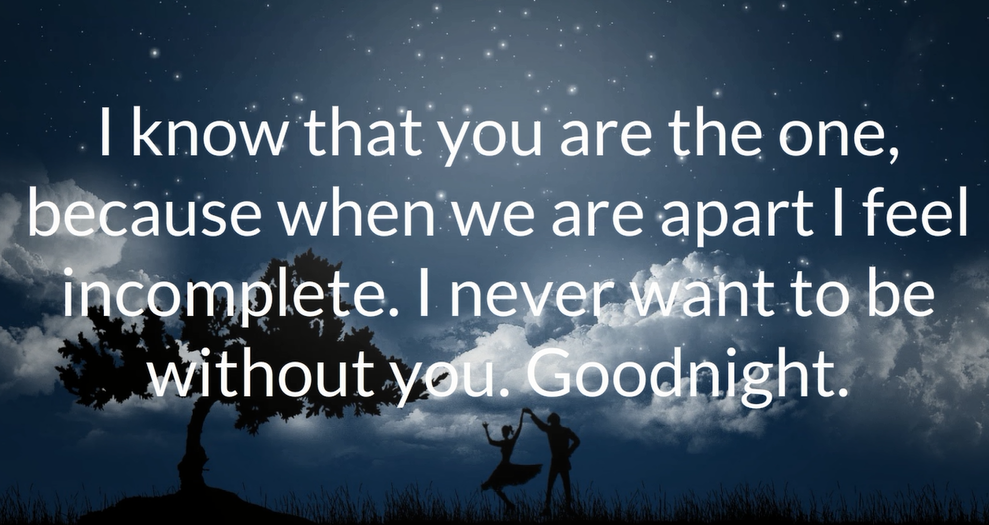 Cute Goodnight Texts for Her
Every night before going to sleep, I always think about you, and somehow you make me feel relaxed and turn my nightmares into lovely dreams. Good Night my dear, I love you!
I wish that all the dreams about you and me come true. Good night sweetie.
Good night my love. Have sweet and lovely dreams of us together.
Consider me as a cool night breeze that gives you a good sleep. Good Night
Before going to bed, i wish that I could give you a cute kiss with a tight hug to show you how much I love you. Good Night my love!
I said to the moon that you are not the one who lightens up my nights. He asked angrily, then who? I said only my cute and sweet girlfriend could light up my nights. Good Night.
Every night, I wait long for this night to turn into a day. So I can meet you. You are far too away, all I need is to give you a sweet kiss. Good night.
The other day, I googled about the best good night wishes and messages for my girlfriend. Google said this is something that only your heart will tell. 😀 Good Night, sweetie. Have sweet dreams of us together!
The last person that I remember while going to sleep is the one that is reading this text. I miss you a lot, my girl. Good Night. Have sweet and sour dreams 🙂
You May Like to Read: Good Night Messages For Sweetheart
Just like the sun and moon are destined to rise in their particular time. I am destined to be with you forever. I miss you a lot. Have a nice sleep with beautiful dreams. Good night.
If we would have been together right now. I would spend all the night cuddling with you and then we would sleep after seeing the sun rise together. Good Night my love.
When I am asleep, I only think about you and our lovely time together. Good Night. Have sweet and lovely dreams like me!
At night I always felt so lonely without you. I always think about you and miss you dearly. I can not live without you. Good Night, my sweet girl.
Whenever I see you. I remember all the dreams I had of us being together and one day I am going to make them a reality. Good Night.
At night, even if I am really tired and very sleepy. I still can not sleep if I don't text my sweet girl. You are always my priority. Good Night, love!
While looking at this blissful night with romantic moonlight and a cool breeze with glitters of stars up in the sky. I can only wish that you would have been with me. Good Night. I love you so much babe.
There are thousands of stars in the sky that shine, but for me, you are the brighter and most shinier. I love you with all my heart. Have a nice sleep with lots of beautiful dreams. Good night.
This message is to remind you that you are the most important thing in my life. I want to take away all your nightmares and fill your dreams with love. Have a lovely night. Sweet dreams.