Congratulations To Sister On Her Engagement
I wish you a life filled with love, happiness and prosperity today and in the years to come. I am so happy for you my sister.
Always remember to start a day with expressing how much you love each other. This way, the fire will always keep on burning. Happy Engagement!
I wish you both a wonderful journey as you build your new life together. Happy engagement my dear sister!
My dear sister, I wish you all the best things, love and happiness in the world as you embark on this new chapter of your life. I am beyond happy for you.
Dear sister, of all the moments we've celebrated and shared, this one tops the list. I am so excited to have another brother in the family. Happy engagement wishes!
This is the Day of turning point in your life and I wish all the blessings with love to make your life a wonderful poem, Happy wishes!
Stay in love, stay happy and stay cute together even when you're married. Congratulations on your engagement!
May your love for each other continue to grow each and every day. I am so happy your engaged, my sister!
Engagement is the starting of a new life it's the starting of a new journey. Wish you luck for your future. Happy weeding.
This great news is cause for celebration! To my wonderful sister and her fiancé, best wishes for engagement!
You May Like to Read : Engagement Wishes for Sister
Happy engagement! May this brand new adventure bring lots of happy memories and fun times.
I wish you all the best of everything and beyond. Congratulations on your engagement!
Happy engagement my lovely sister! I wish you a great life, great love, and great success in your life together as couple.
May God shower you with his grace and blessings on your new journey together. Happy engagement!
My darling sister is all grown up and going to dressed as a bride. Such a special moment that I will remember for a lifetime. Congratulations my dearest sister.
Just look forward, forget the past because new life is waiting for you to make some exiting.
My naughty little sister is ready for walking down the aisle and though I'm going to shed tears of joy for a while; I wish you miles of smile.
I send you and your future hubby my very best wishes. Your relationship should be marked by warmth and peace and you should bring out the very best in each other. Lots of love to you both.
Felicitations galore to the sweetest sister in the world. I love you and wish you have a super and duper married life ahead.
Hey, Sis! I can't believe how you've grown up! Great news about the engagement. Wishing you and your other half a lifetime of blessings.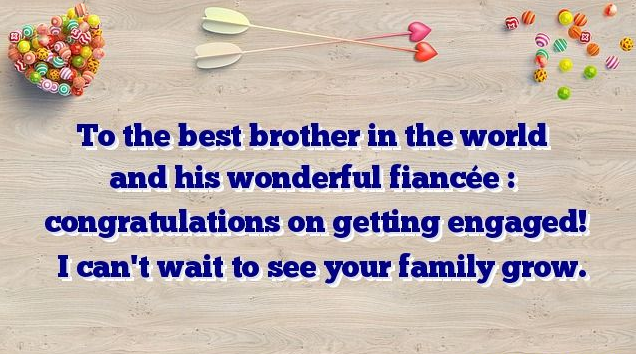 Engagement Messages For Sister
My sweet little prince has finally found her prince charming. You've enchanted us all with your smile my darling sister. I wish your fondest dreams would come true.
May your fiancée will be the most romantic person and fulfill are you requirements with a sweet smile, Congrats!
Dearest sister, I can't tell you how ecstatic I was to hear the news of your engagement. You and your new husband will no doubt rock the world!
Happy engagement wishes to my dear sister. You are going to be an awesome wife just the way you were an amazing daughter, wonderful sister and adorable friend.
I can already picture you as the beautiful bride. You'll be gorgeous, of course! You deserve only the best. Good luck as you begin the next chapter of your life.
My best wishes and blessings will always be with you my baby sister. Love you lots. Hope you have a happy married life.
Congrats dear sister, as your elder brother I feel immensely proud of and happy for you. You are the best sister and am sure that you will make the best life partner.
Congratulations on your engagement! You may have found your Mr. Right but I will always be your brother/sister and I am so proud of you and I know that you'll make a great wife.
Heartiest Congratulations on your engagement, my dear sister. I am very happy for you. I wish you love and happiness all your life.
You May Like to Read : Congratulations to Wedding Anniversary Wishes
know I will miss you in future but it's necessary that you must be got engaged that's crux of life to be with some one, Congratulations!
Wishing you my sweet and loving sister, my heartiest congratulations on your engagement. May God give you all the blessings for your future life.
Congratulations on engagement and on that beautiful ring! May you have a marriage full of love and happiness.
Dearest sister, I am so happy on knowing about your engagement. I am sure you are going to be a very loving and caring partner. I wish you all the best for your future. Congratulations, sister.
Congratulations for getting engaged, dear sister. Wishing you a wonderful journey as you build your new life together.
I wish you a lovely engagement beloved sister. May God shower all the love and happiness on you and your fiancé on your engagement day, always and forever.
Now that you're working, you have to say goodbye to late-night parties and night outs in the city. I pity you, but I still want to congratulate you. Congratulations.
May you both find love, bliss, peace and happiness in each other's arms. Congratulations on getting engaged my sister!
I will be most pleased to be the referee in the boxing match that is slated to begin soon. Congratulations on getting engaged.