Engagement Wishes For Son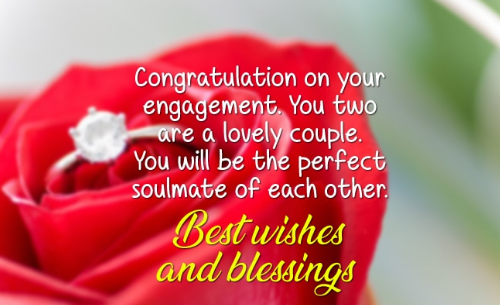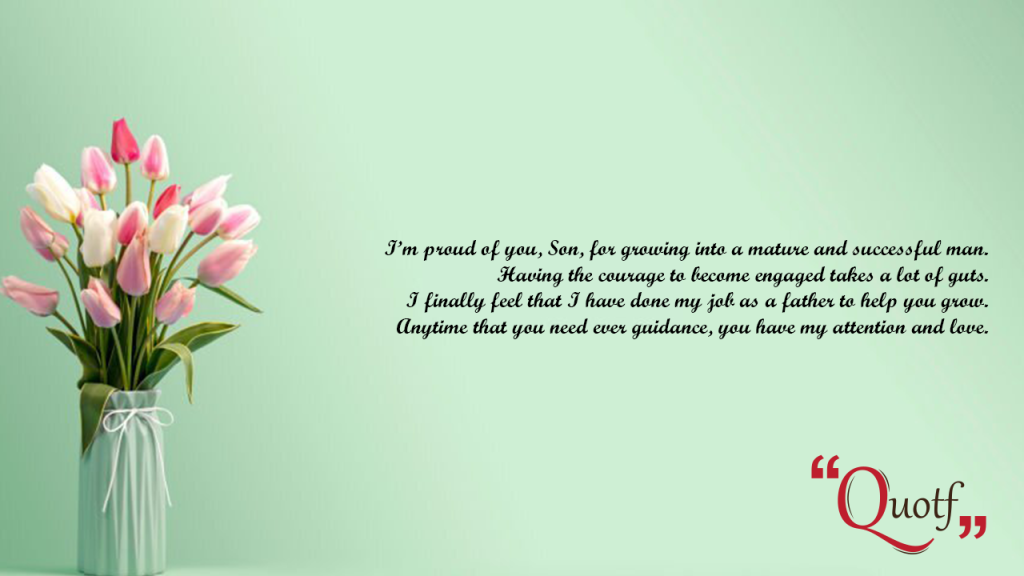 I'm proud of you, Son, for growing into a mature and successful man.
Having the courage to become engaged takes a lot of guts.
I finally feel that I have done my job as a father to help you grow.
Anytime that you need ever guidance, you have my attention and love.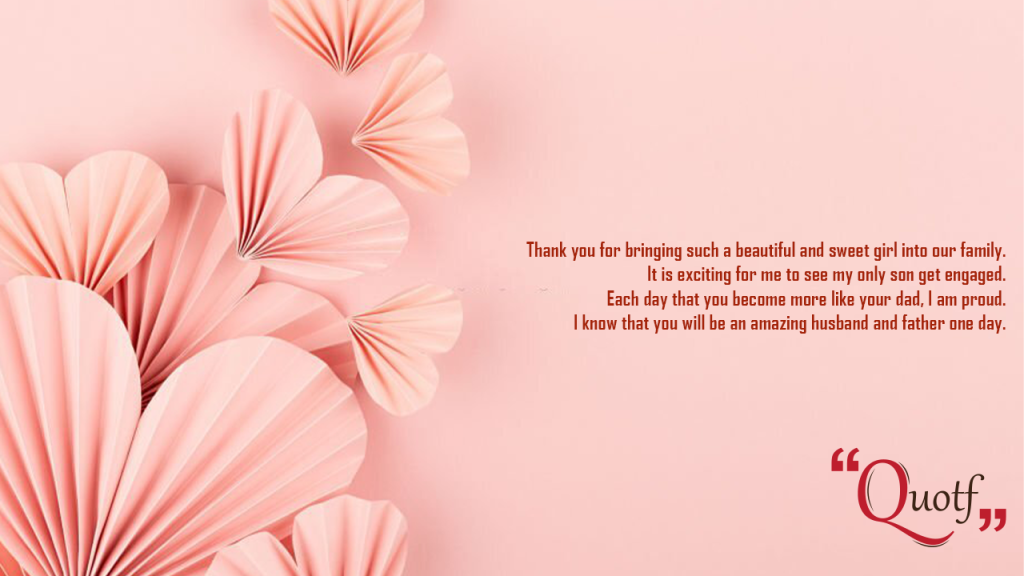 Thank you for bringing such a beautiful and sweet girl into our family.
It is exciting for me to see my only son get engaged.
Each day that you become more like your dad, I am proud.
I know that you will be an amazing husband and father one day.
There have been days that I doubted you would ever settle down.
It took an amazing woman to finally make my son feel complete.
Good luck in starting this exciting new life with a great girl.
You May Like: Quotes About Living a Beautiful Life
I still think of you as a young kid, but I know that you're a man now.
You've always made me proud of your talents and drive to succeed.
I know that becoming engaged is only the beginning of a very happy life for you.
Out of all of my children, you're the one I never had to worry about.
You're a natural leader that knows how to take care of business.
I knew when I met your girlfriend that you'd eventually marry her.
I pray that this new engagement makes you happier than you have ever been.
Letter to son on his engagement
As your mom, I'm excited to hear that you have finally popped the question.
I've been looking forward to the day we get to officially add another girl to the family.
Take your time planning the wedding, and make all of her wishes come true.
It is never easy for a mother to see another girl take her son away.
Luckily, you found someone so special that it feels like I'm gaining another daughter.
You make a beautiful couple, and I congratulate you on the engagement.
I am one proud father to learn of your engagement.
Your fiancee can thank me for teaching you respect, love, and honesty.
She has a great guy on her hands, and I hope that she appreciates you.
You May Like: The Best Thank You Quotes and Sayings
When a mom sees her son get engaged, she begins to imagine grandchildren.
I cannot help but be excited to see you approach this new road in life.
Each day I pray that your life is as happy as the one I have with your father.
It was only a matter of time before a girl claimed you as her own.
Congratulations on finding a gorgeous girl and getting engaged to her.
Get ready for the inevitable sacrifices it takes to ensure a long, happy marriage.
Engagement messages for son
My heart is full with the news that you proposed to your longtime girlfriend.
You've had a lot of ups and downs, but I always hoped that you'd work it out.
I hope that I have done an adequate job being a supportive mother.
Enjoy a lifetime of love, happiness, and laughter with your new fiancee.
I knew that my prayers had been answered when you told me that you got engaged.
As your mom, I've always wanted to see you succeed in love and life.
Your fiancee brings out a twinkle in your eye that I've never seen before.
Enjoy each and every day that you are blessed on this journey.
A man has certain responsibilities when he becomes a husband.
If you are anything like your father, you're sure to excel.
Love her each day, and remind her of how beautiful that she is.
Make sure that she never doubts that your mother taught you well.
Getting engaged is a major step to take in the path of life.
It is so sweet that my son has found a woman that he loves unconditionally.
The wedding is sure to be a beautiful occasion to celebrate.
You have my blessing as I welcome a lovely daughter-in-law into my heart.
You May Like: 25 Unique Quotes For Making Wedding Invitations So Special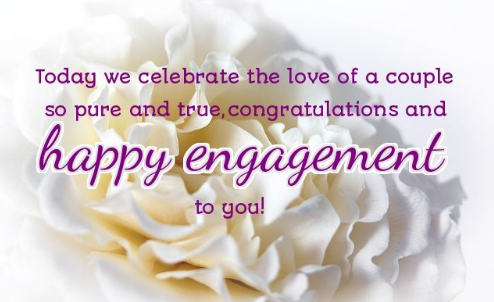 Engagement poems for son
Begin the journey of being bonded together forever, with broad smile on your face and by holding each others hands tightly! My best wishes are with you!
Related Read: Beautiful Smile Quotes For Her
May this spiritual communion of two hearts bring endless miracle in your life. May you never be apart from each other. Congratulations!
I wish an everlasting bond between you two on this very special occasion. May you be happy in every day of your life. Happy engagement!
May your life be blessed with countless gifts of love and fondness for each other. I wish for both of you a life full of happiness and success!
Letter to son on his engagement
Make promises of being together both during odds and happiness, as today is a special day for you two souls getting bonded together. Congratulations to you both!
You May Like: Happiness Quotes
Grab onto the bond of love that will form today tightly forever, so that love can conquer all odds of your marriage life. Blessings is all I have to give you on this special day.
Cherish all the happiness around as today is the most special day for you both. Today is the day, you two will be one! Congratulations!
You guys are really made for each other. I'm very happy that you guys got engaged and going to marry soon. I wish you both a wonderful life ahead.
On this day of your engagement, accept each other's flaws along with accepting each other's perfections. Wishing you best of luck.
Engagement wishes for son and future daughter in law
Happy engagement to the loveliest couple in the world! May you stay in love with each other!
I wish you both for your love and togetherness and wish you peaceful and wonderful times ahead in life. May God bless both of you with warmth and care.
What a joyful announcement! You make a wonderful couple. May the two of you be blessed as you begin the journey that will lead to a lifetime together.
Wishing you all the joy that your heart can hold and may this be the new beginning of a long life together. Tons of good wishes on your engagement!
I'm so happy you have found love in each other. All the very best wishes for engagement with the wedding plans and have a lovely life together.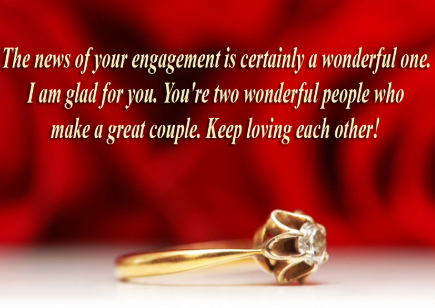 Congratulations on son engagement form father
My warm wishes to both of you on this special day. Happy wishes on your engagement and a beautiful life ahead!
I wish for you that this gleeful occasion adds a new meaning to both of your life. May you be swept away by unbounded happiness and romance!
Happy engagement to both of you. May this wonderful day be the beginning of your never-ending journey full of love, dedication and romance!
You both look so complete with each other. It seems like your match was made in heaven. Happy engagement to both of you!
It's just the beginning of your 'happy ever after' love story. Many more blissful memories are yet to be made. Congratulations!
Engagement Wishes From Mother To Son
A man must be patient with his wife. Be a good husband to your prospective wife..
My love for you will never fade away. Congratulations on the true love you show to me.
A man should be patient with his wife. Be a good husband to your would-be wife.
My love for you will never fade. Congratulations on the true love you are showing me.
I want to fill you with happiness, joy and perfect marriage. I bless you with my tongue.
May you find a reason to be happy all your life. Congratulations on the day of your engagement.
May the Lord, in his infinite mercy, fill the new life you have taken with infinite blessings.
I am so pleased when I heard that you are getting engaged to Jessica, may your wedding connect your souls.
I just want to celebrate your achievement. This is a great joy for me to be your mother.
Ring ceremony wishes for son
May they bring each other as much happiness as their friendship has brought into my life, and more.
Very happy for both of you. and I can't wait to celebrate this new chapter of your lives with you.
Of all the big life events we've celebrated together, this one tops the list. Congratulations.
I'm so happy for the both of you and very excited I have a permanent couple with whom I can be a third-wheel.
Committed is synonymous with busy. Now you can officially protect yourself from being bothered by your friends and family because you are 'engaged'. congratulations.
You May Like: Friendship Quotes about Laughing
Congratulations for finally getting the right to officially love and annoy your partner for the rest of your life.
Congrats on your engagement! I'm so excited for the open bar. I mean, the wedding.
Engagement Congratulations Message From Parents To Son
Through this text, I wish my cute son happy engagement wishes. Let the commitment be forever true and loving and you and your partner share every moment together happily.
Dear son, we wish you and your fiancée all the love and happiness in the world. Have a happy engagement son.
My sincere congratulations on a day of celebrating love as you take the first step of a committed relationship. Have a beautiful engagement party, dear son.
Your mom and I are happy that you've finally stopped at your so-called 'always date bachelor' son. Have a beautiful commitment and remember that it is forever.
As you join your fiancée in the beautiful relationship called engagement, we send you all our love, blessings, and best wishes for a happy engagement and happy future.
We old people send you wishes for a happy engagement son. We are happy that finally someone comes to cook for us all the time and we can order what we like to eat. Have a wonderful engagement.
You have chosen a perfect partner for your son to share his life with. One is trusting and loving. The other is sympathetic and beautiful. Your choices have always been the best in the world.
You May Like: Faith Quotes
Engagement Anniversary Wishes For Son
Sending best wishes on your engagement! May your love for each other continue to grow.
As you begin this new journey of life, I pray for your endless happiness. Stay blessed.
Congratulations on your engagement. You two are a lovely couple. You will be the perfect soul mate for each other. Best wishes and blessings.
I wish for an everlasting bond between the two of you on this very special occasion. May you be happy every day of your life. Happy engagement.
You May Like: Best Love Quotes
Happy engagement to both of you. May this wonderful day be the beginning of your endless journey filled with love, dedication, and romance.
May your life be blessed with countless gifts of love and affection for each other. I wish you both a life full of happiness and success.