For every Pakistani, August 14 is a very important day. This is Independence Day for us, and we can't live without celebrating it. Every Pakistani celebrates Independence Day differently. You can celebrate Independence Day in any way you want, but be careful and make sure nothing bad happens as you do so. Here are some of the best 14 August quotes ever said about freedom. Some of them are rebellious, some are encouraging, and some are sad. Enjoy these moments!!!
14 August Captions for Instagram
Pakistan's Independence Day is on August 14. Pakistanis get very excited about this day every year. On August 14, Pakistanis all over the world celebrate the day of freedom by sending each other 14 August Quotes, Instagram captions, and wishes. Send your friends and family the best Independence Day quotes and sayings to make this day even more special. Just scroll down to see the inspiring 14 August Quotes, Instagram captions, and pictures.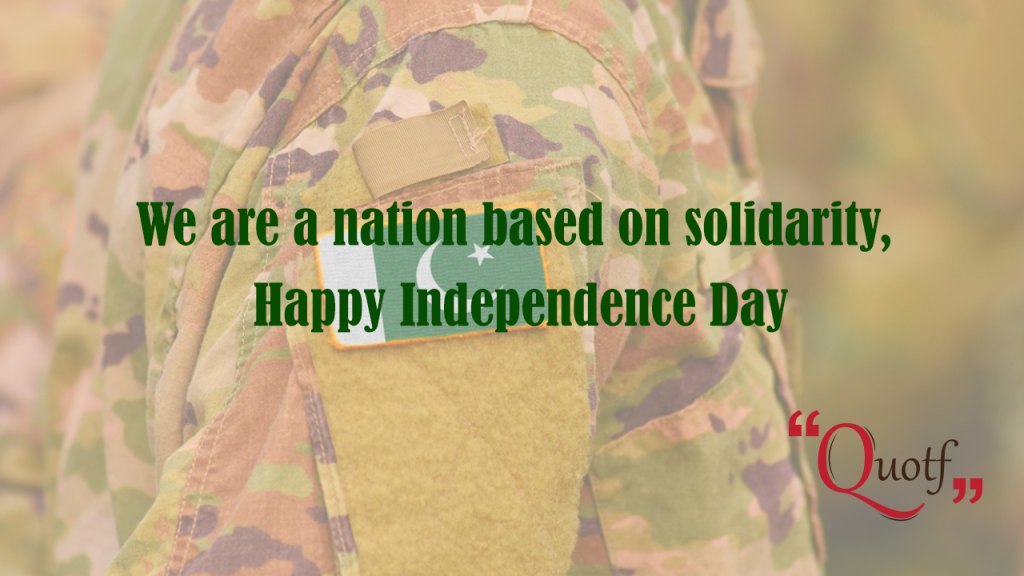 "We are a nation based on solidarity, Happy Independence Day"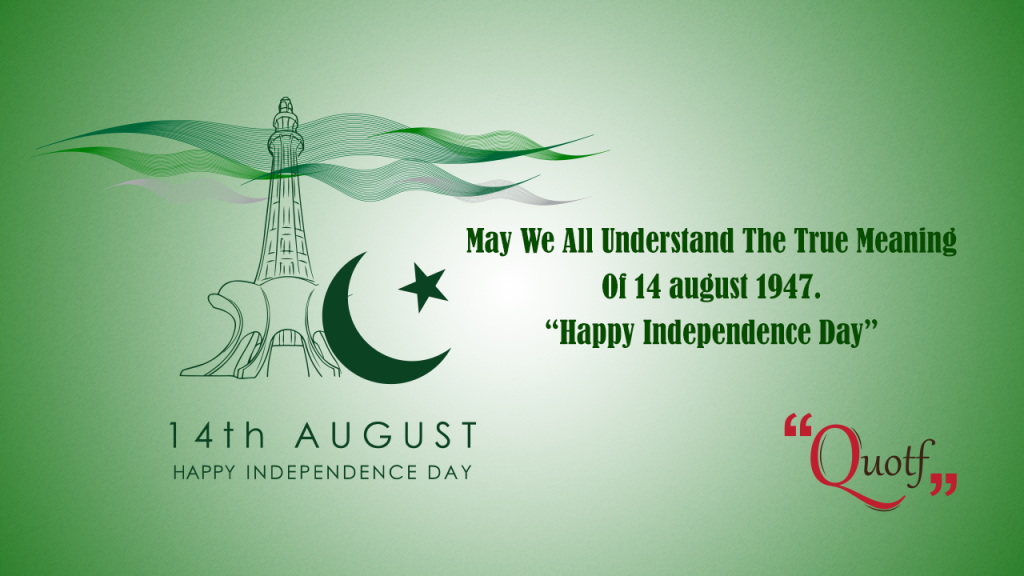 "May We All Understand The True Meaning Of 14 august 1947. happy independence day"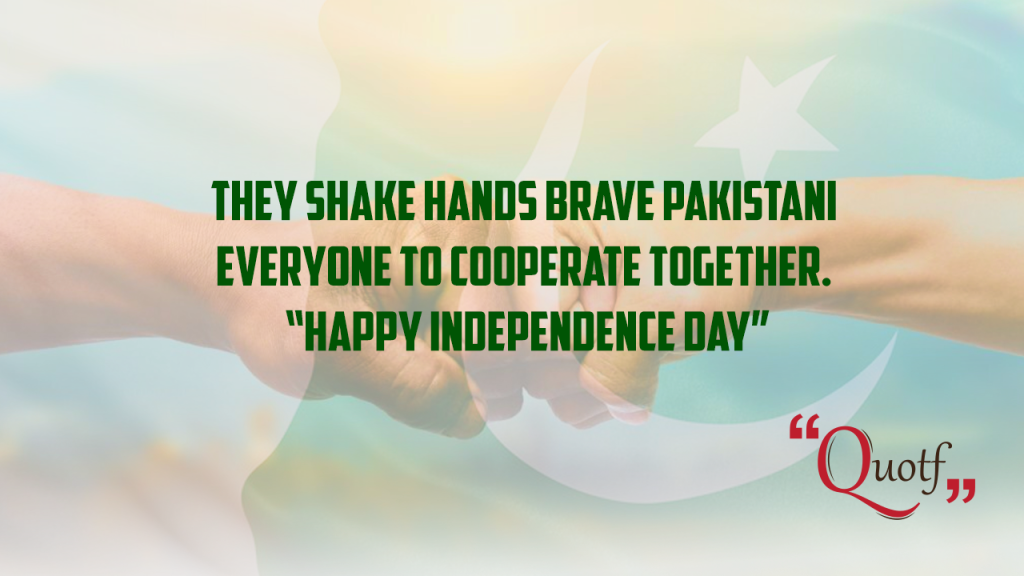 "They shake hands Brave Pakistani everyone To cooperate together. happy independence day"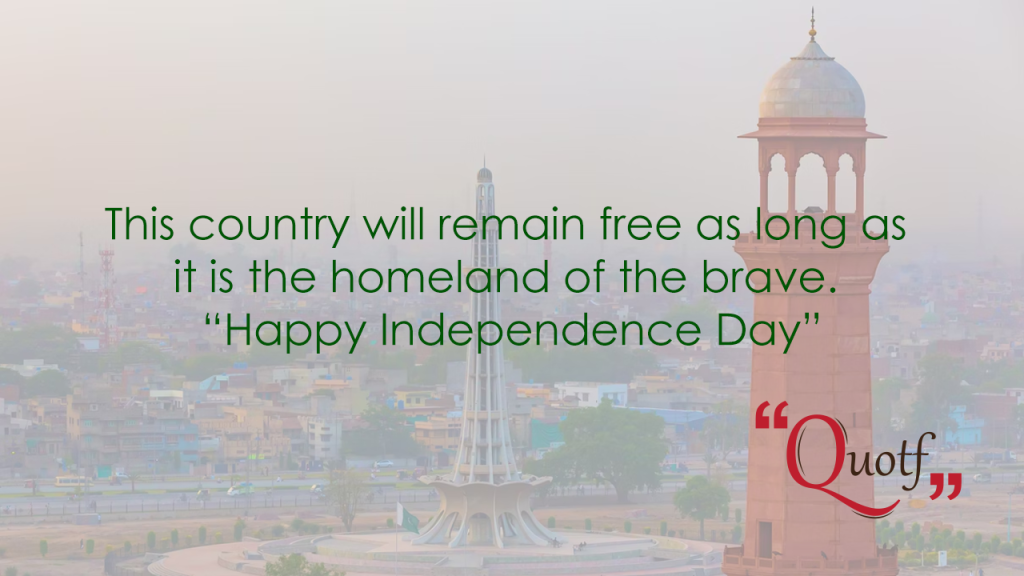 "This country will remain free as long as it is the homeland of the brave. happy independence day"
Pakistan Zinda Baad Wish you a Happy Independence day.
Proud to be a Pakistani. "happy independence day"
I love my Pakistan, I love my freedom.
Independence Day, bless everyone in Pakistan.
One land, one heart, one flag let,s celebrate independence day.
This country is the cause of our choice, our life, our fame. Happy Independence Day 2022
Best Wishes for Pakistan in Urdu
Happy Independence Day! Enjoy your freedom and rights in Pakistan, a country you love. "Jeeway Jeeway Pakistan". May God keep our country safe. Celebrate the Independence Day of Pakistan in a cool way. Here are some of the best wishes & 14 August quotes in Urdu for Pakistan.
Jashn e Azadi Mubarak
چاند کو اور بھی رفعت کی تمنا تھی اس لیے تو میرے پرچم پر اتر آیا ہے۔
Jashn e Azadi Mubarak

ایک ہوۓ تو بنا تھا پاکستان ایک رہیں گے تو بچے گا پاکستان
Jashn e Azadi Mubarak
ہے جٌرم اگر وطن کی مِٹی سے مٌحبّت
یہ جٌرم سدّا میرے حسابوں میں رہے گا
Jashn e Azadi Mubarak
خدا کرے کے میری عرض پاک پے اترے
وہ فصل گل جسے اندیشہ زوال نہ ہو
Happy 14 August
یوم آزادی کے شاندار دن کے موقع پر آپ کو لمبی عمر، تندرستی اور خوشیاں نصیب ہوں۔ آپ کو یوم آزادی کی بہت بہت مبارکباد۔
14 August Wishes
خدا کرے میرے ایک بھی ہم وطن کے لئے
حیات جرم نہ ہو، زندگی وبال نہ ہو
Happy 14 August Wishes
مَرتے ہیں اٹھتے ہیں اور جھٌکتے نہیں
اے میرے وطن تیرے یہ لال بِکتے نہیں
Happy 14 August Quotes
یوں دی ہمیں آزادی کے دنیا ہوئی حیران
اے قائد اعظمم تیرا احسان ہے احسان
Wishes on Independence Day of Pakistan
Pakistan's Independence Day has been held every year since 1947. Pakistan's Independence Day is on August 14. If you're looking for 14 August quotes, pictures, and Dps about Pakistan's Independence Day, you've come to the right place.
Here is a huge list of short independence day quotes about August 14, 1947. These show that you have a lot of respect for Pakistan. On Independence Day 2022, you can use these photos, images, wishes, and quotes on your WhatsApp or send them to your friends and family. Since Pakistan is a Muslim country, all Muslims should treat it with respect.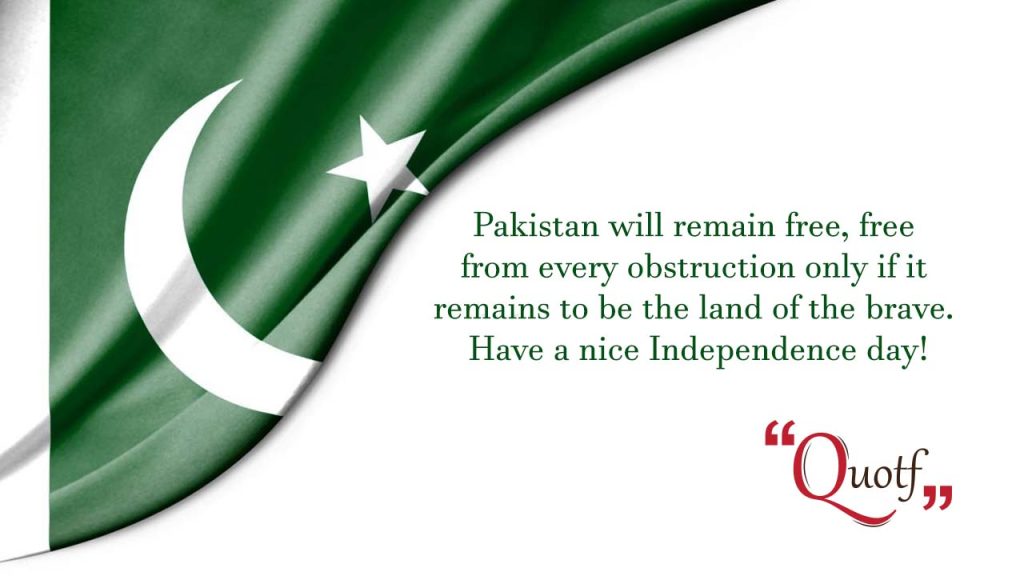 "Pakistan will remain free, free from every obstruction only if it remains to be the land of the brave. Have a nice Independence day!"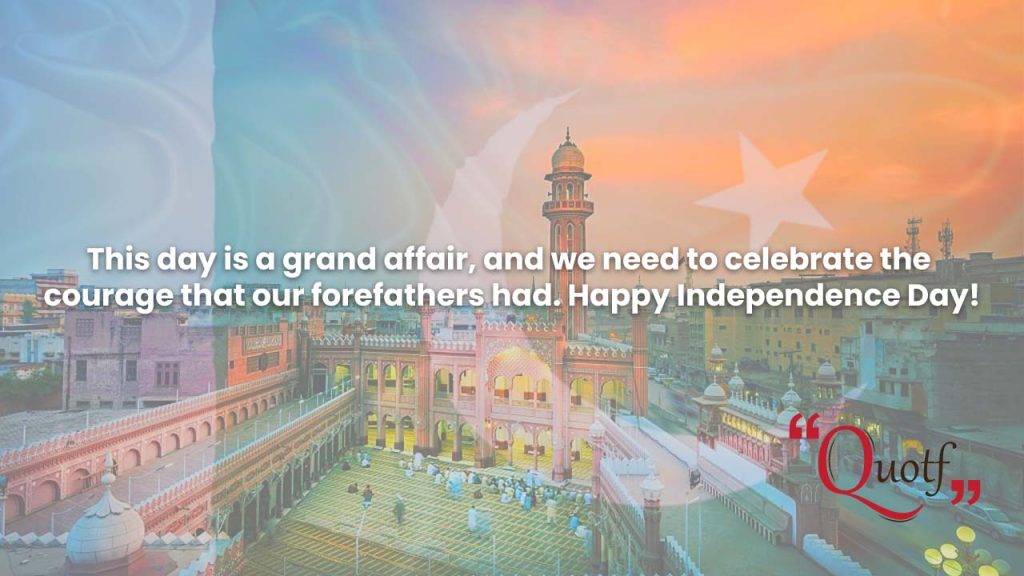 "This day is a grand affair, and we need to celebrate the courage that our forefathers had. Happy Independence Day!"
"This is the day that our country sang the songs of independence…our forefathers had to dance to the tunes of happiness on this special day. From that specific day in 1947, we have continued to take into account what we stand for! Have a nice day!"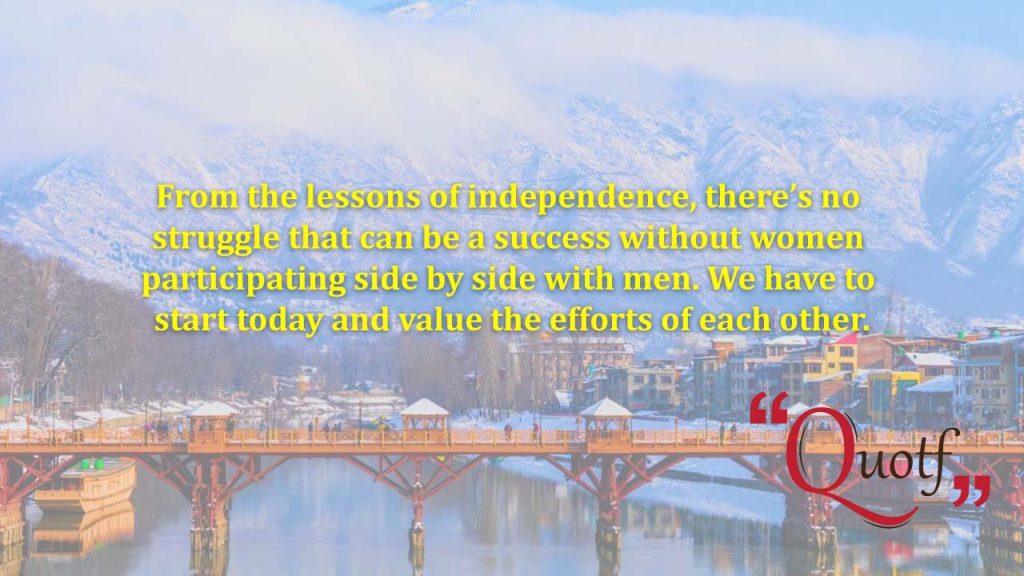 "From the lessons of independence, there's no struggle that can be a success without women participating side by side with men. We have to start today and value the efforts of each other."
"This is the day we have to celebrate…let's sit down eat, cheer, and explode with laughter. Happy Independence Day!"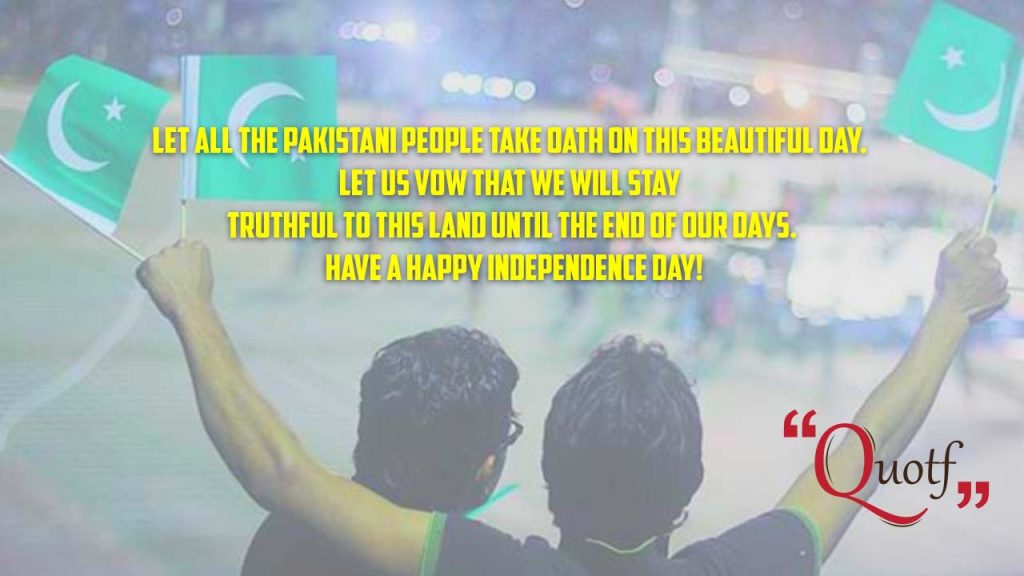 "Let all the Pakistani people take oath on this beautiful day. Let us vow that we will stay truthful to this land until the end of our days. Have a happy independence day!"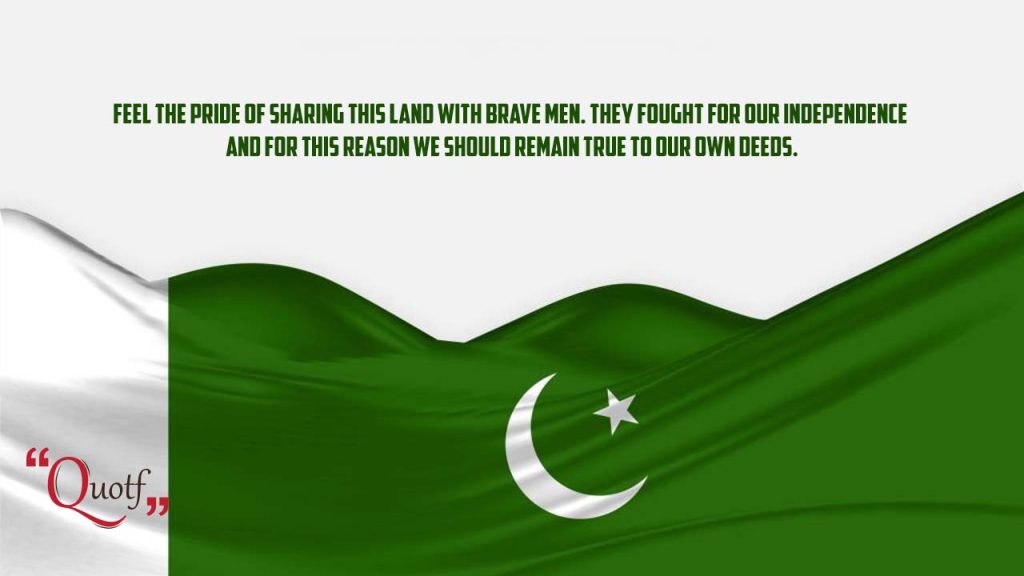 "Feel the pride of sharing this land with brave men. They fought for our independence and for this reason we should remain true to our own deeds."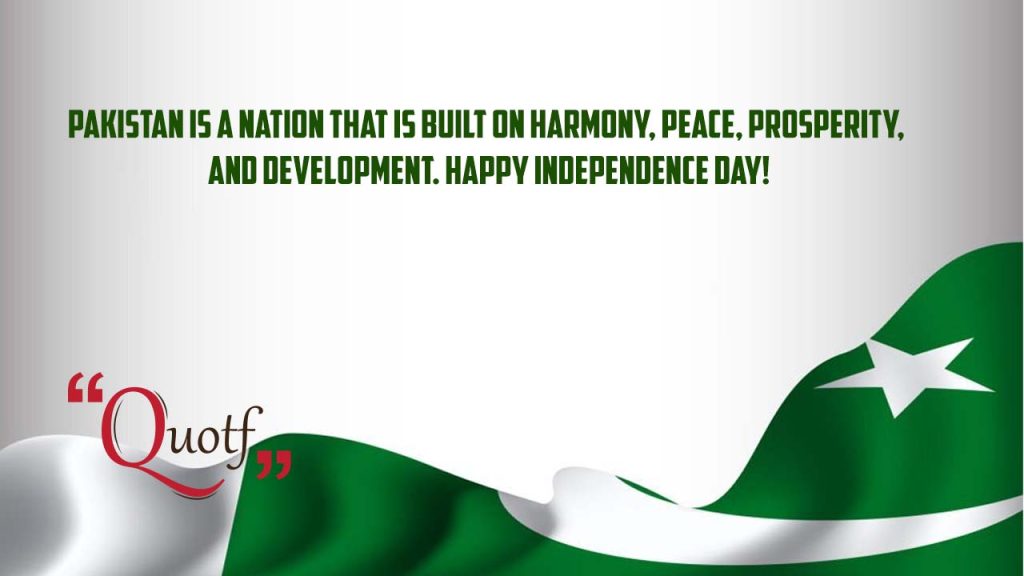 "Pakistan is a nation that is built on Harmony, peace, prosperity, and development. Happy Independence Day!"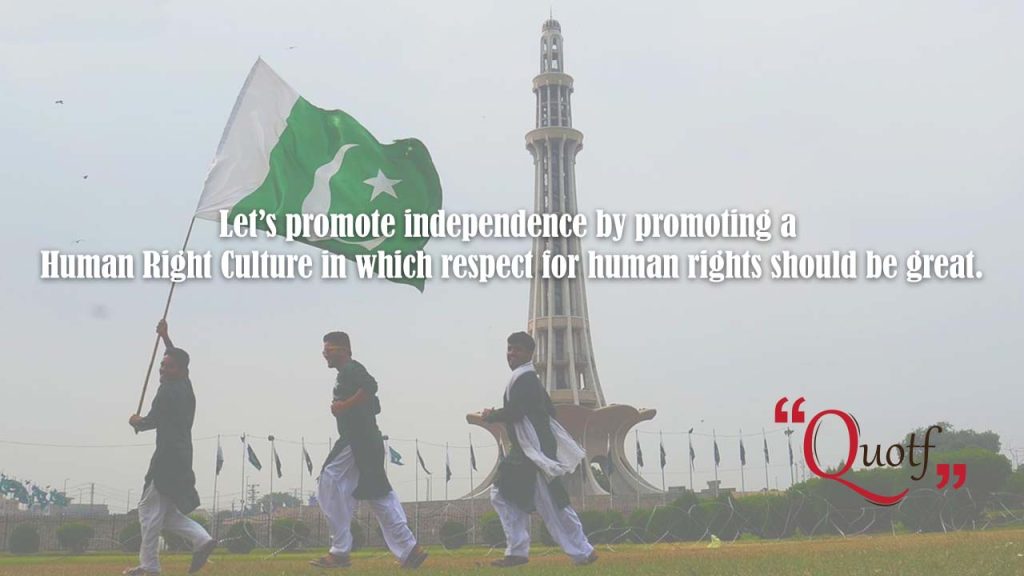 "Let's promote independence by promoting a Human Right Culture in which respect for human rights should be great."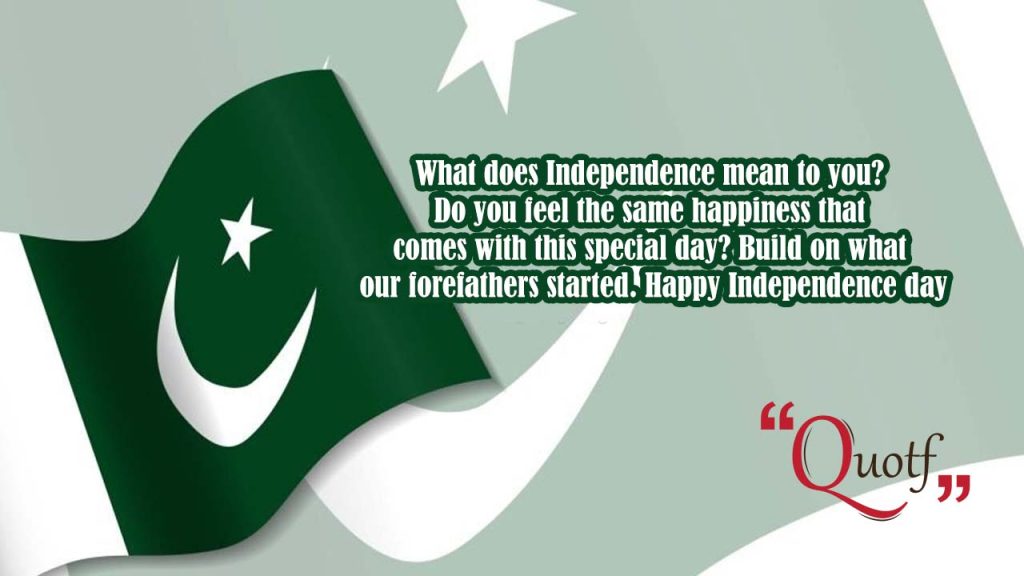 "What does Independence mean to you? Do you feel the same happiness that comes with this special day? Build on what our forefathers started. Happy Independence day!"
I love Pakistan, I love its people, I love its forefathers, I love my country and I will forever stand with what is right. Hope you do the same. Have a happy Independence day.

On this special day, may Allah shower you with blessings. Use all your integrity to be proud of your country. Have a Happy Independence Day!
May all of us understand the true meaning of peace and Freedom? Have a nice Independence Day!
This is not the first day we are here to celebrate this special day…Take action and stand for what is rightful yours…Emulate peace stands and always ensure your people are happy. Happy Independence day!
This is a special day for all Pakistanis. This is a better chance for all of us to cheer up and celebrate our independence.
I am taking this opportunity to convey my heartfelt love to all the Pakistanis as they celebrate this special day. Congratulations on being independent!
This day reminds us of the struggles and torture that our forefathers went through to give us this freedom we have now.
Let us celebrate this special day together. Just like our forefathers come together to fight for independence, we have to come together and build this country. Happy independence day.
I am taking this opportunity to salute all the great men of this country. Let us laugh together, cheer up, and explode with joy.
On this special day, I'm taking the opportunity to wish all the great people of Pakistan a beautiful independence day.
I wish you all a wonderful Independence Day full of happiness and joy. May our country develop in everything that the world will be proud of.
There's not a single country that is perfect in the world, countries are made perfect and prosperous by their citizens. Happy 14th August Independence Day to you all.
Our ancestors devoted their time, property, and lives to get this land, let's make them proud by celebrating this Independence Day. Happy 14th August Independence Day to all of you.
We got this country through a lot of sacrifices and blood, let's value and celebrate our victory. Happy 14th August Independence Day.
Pakistan Day Quotes and Wishes in English
Everyone, let freedom ring! It's that time of year when we celebrate summer and Pakistan's Declaration of Independence. These quotes about freedom and our 14th of August Instagram captions for all your sparkler and fireworks photos will get you in the mood to party. So turn up these patriotic songs this weekend as you celebrate. And don't miss these patriotic quotes and Bible verses about freedom to remind you how lucky you are to live in a country that is the home of the free because of the brave.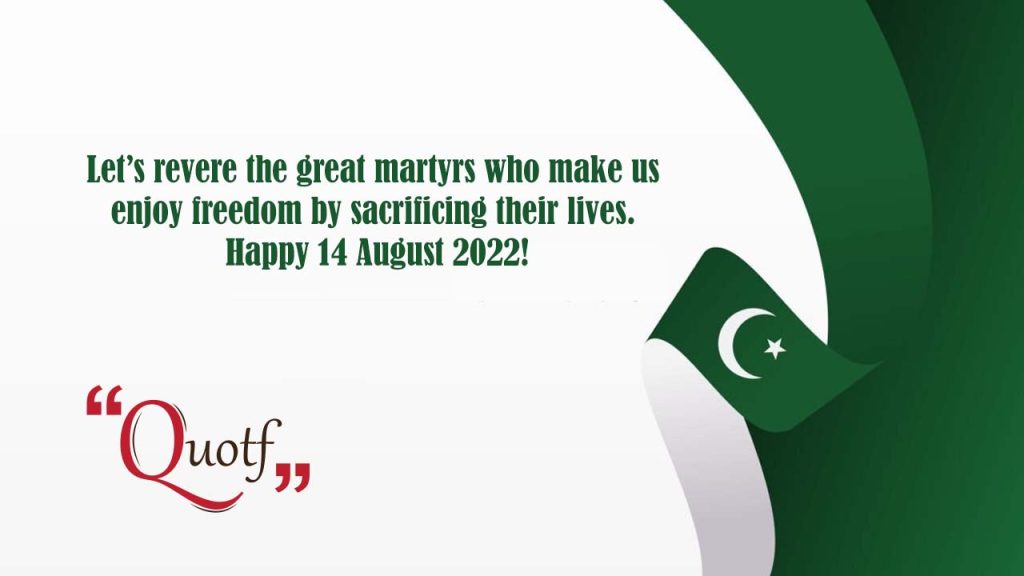 "Let's revere the great martyrs who make us enjoy the freedom by sacrificing their lives. Happy 14 August 2022!"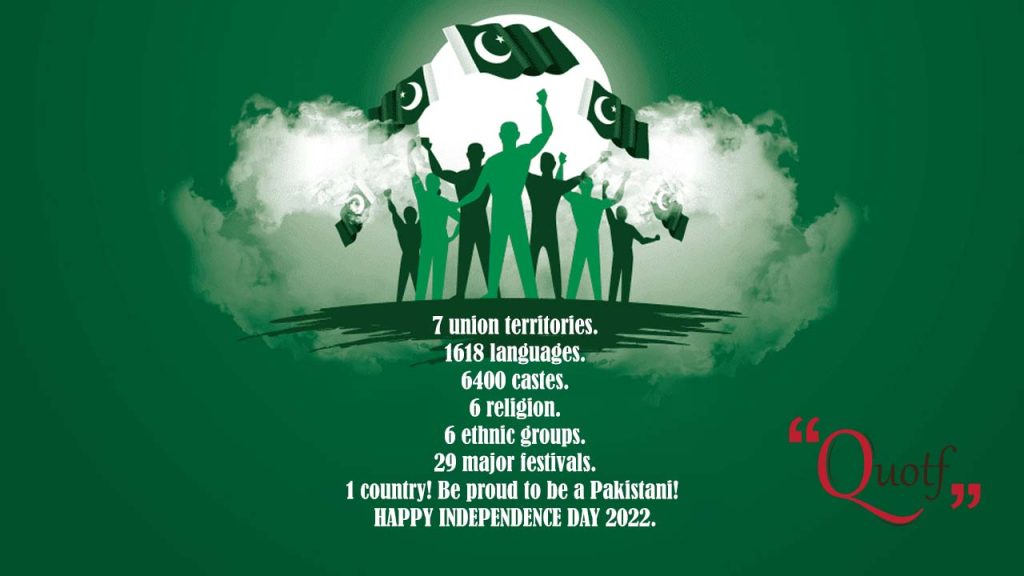 "7 union territories.

1618 languages.

6400 castes.

6 religion.

6 ethnic groups.

29 major festivals.

1 country! Be proud to be an Pakistani! HAPPY INDEPENDENCE DAY 2022.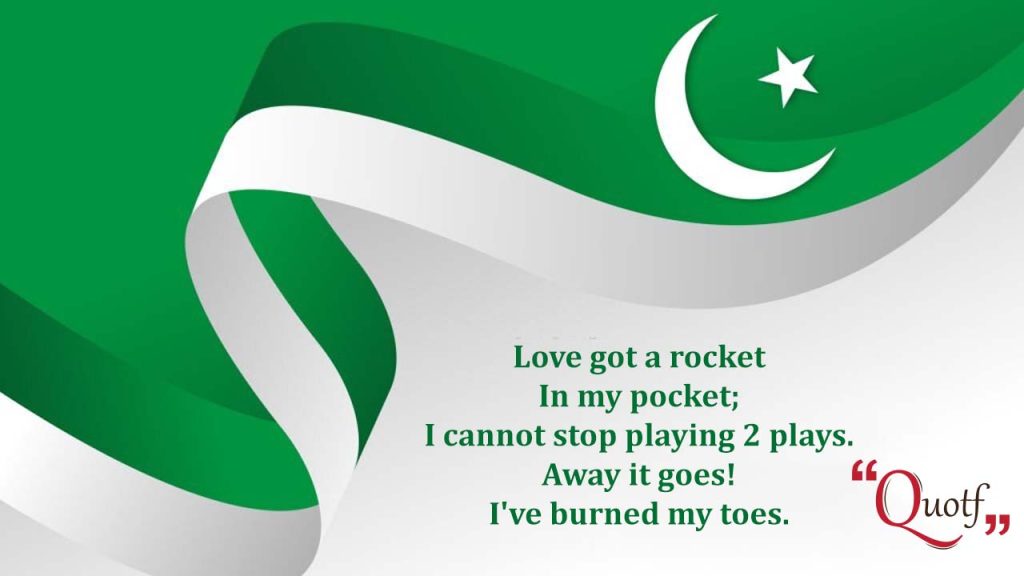 "Love got a rocket
In my pocket;
I cannot stop 2 play.
Away it goes!
I've burned my toes."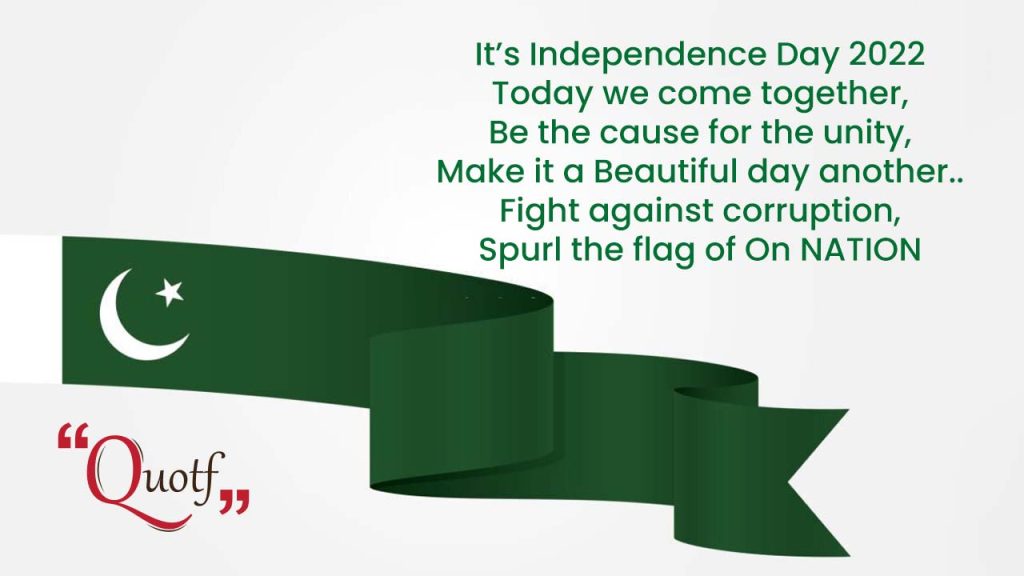 It's Independence Day 2022
Today we come together,
Be the cause for the unity,
Make it Beautiful day another..
Fight against corruption,
Spurl the flag of On NATION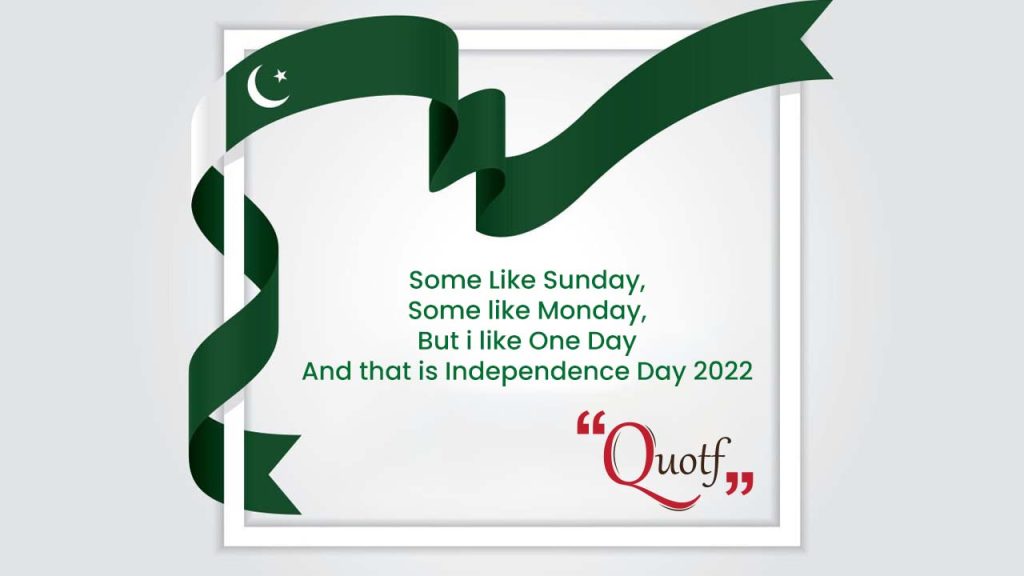 Some Like Sunday,
Some like Monday,
But I like One Day
And that is Independence Day 2022
I am proud to be a Pakistani
Where at least I know
I am free……….. Happy Independence Day 2022
This country is the reason of our existence,
our life our recognition………Happy 14 August 2022!!!
We believe supporting and doing right means the
true Independence and freedom, be united, be Pakistani
and contribute for better & stronger Pakistan.
Happy 14 August 2022
Do you know what Pakistan means?
No???
ok see,
P-> Perfect
A->Ambitious
K->Kool
I->Islamic
S->Super
T->Talented
A->Able
N->Nation
HAPPY INDEPENDENCE DAY 2022.
Others might have forgotten but never can i,
The Flag of my country winds up very high,
Happy Independence Day 2022
SMILE because
S: Sets you free,
M: Makes you special,
I: Increases your face value,
L: Lifts up your spirits,
E: Erases all your tensions,
So, please keep smiling on Independence Day 2022!!!
happy Independence Day 2022
Independence Day 2022 is a
Good time to examine
Who we are and how we got here.
Happy 14 August 2022 !
I WISH you ALL A VERY HAPPY INDEPENDENCE DAY 2022
MAY OUR COUNTRY PROGRESS IN EVERYWHERE AND
IN EVERYTHING SO THAT THE WHOLE WORLD SHOULD
HAVE PROUD ON US
PAKISTAN ZINDABAD
HAPPY 14 AUGUST 2022 !
Let's Celebrate Freedom by Promoting a
Human rights Culture in which
Respect, dignity and equality
Become a code for living.
This will be our role to
Live up to the dreams of 1947
Happy 14 August 2022 !
Famous Quotes by Pakistani Leaders on 14 August
On this day, many people in Pakistan had a great time celebrating Pakistan Independence Day by writing down famous quotes from Pakistani leaders. People of all ages and backgrounds who have done something to help the country wrote these quotes. These people from Pakistan wrote Love Quotes to their loved ones who lived far away.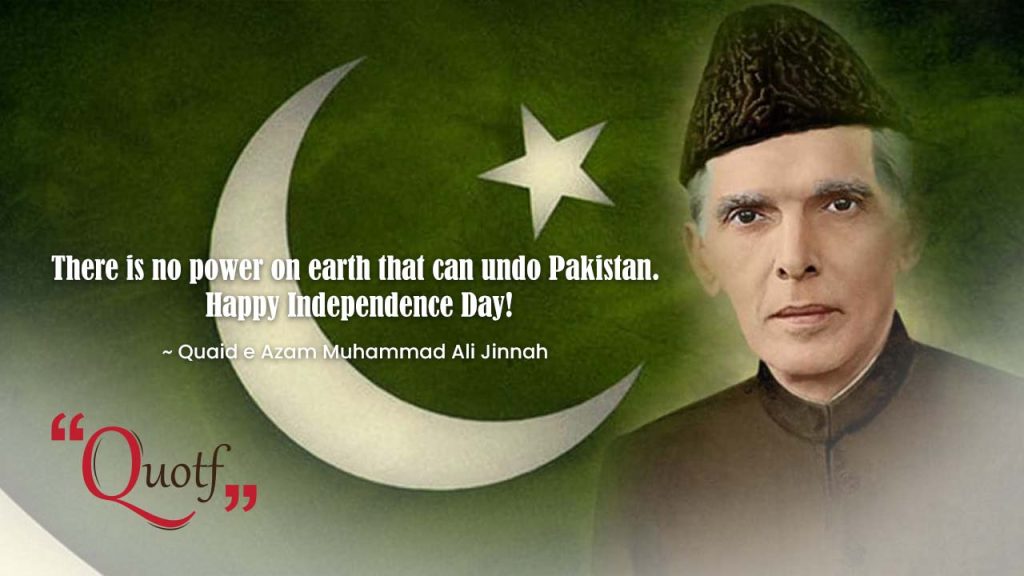 "There is no power on earth that can undo Pakistan. Happy Independence Day!"

~ Quaid e Azam Muhammad Ali Jinnah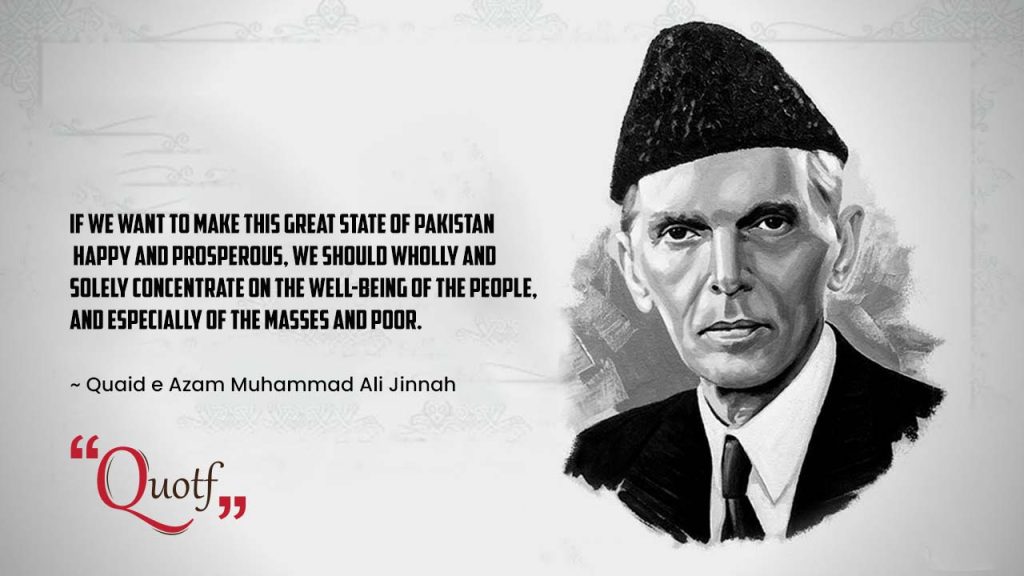 "If we want to make this great State of Pakistan happy and prosperous, we should wholly and solely concentrate on the well-being of the people, and especially of the masses and poor."

~ Quaid e Azam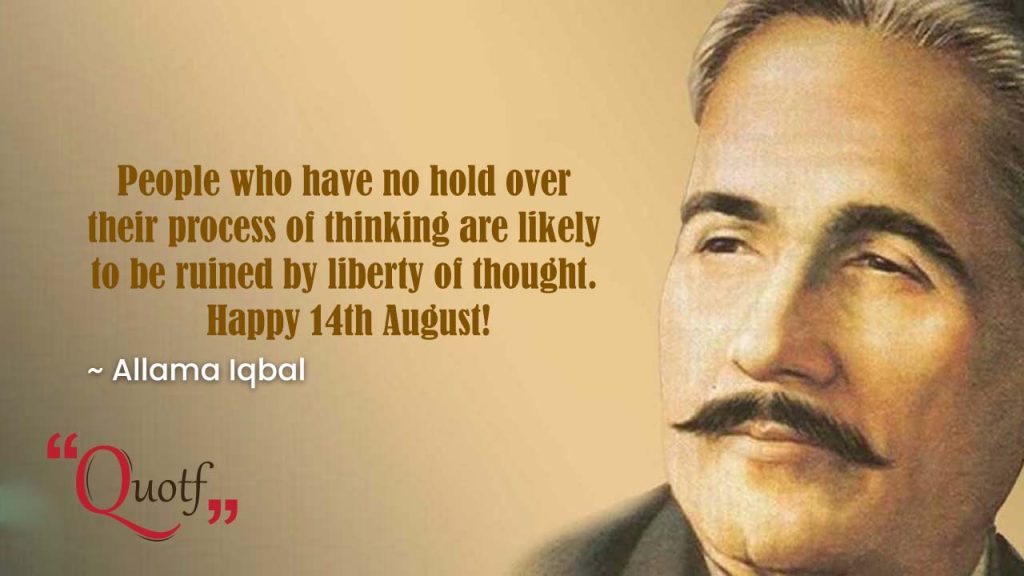 "People who have no hold over their process of thinking ara likely to be ruined by liberty of thought. Happy 14th August!"

~ Allama Iqbal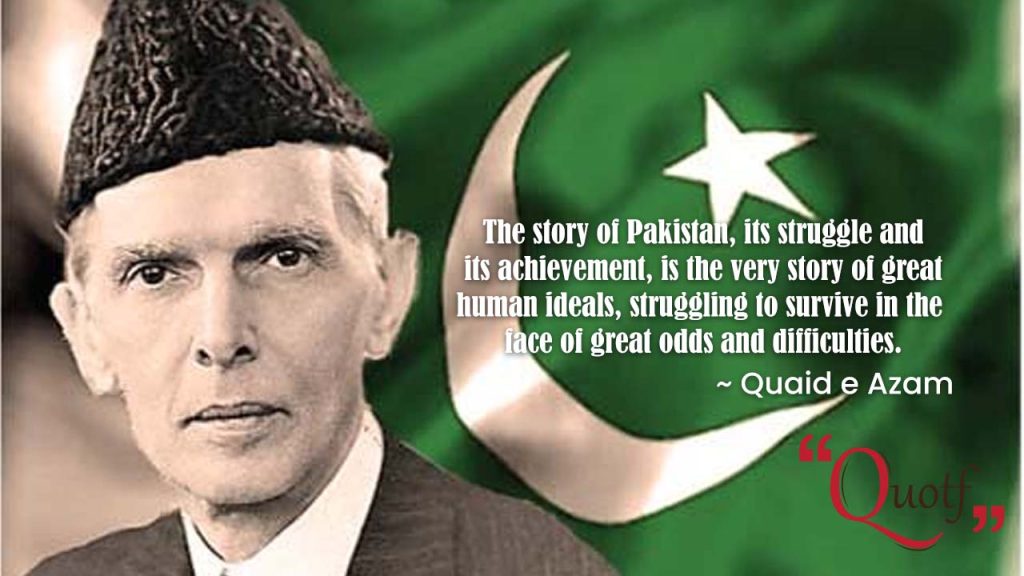 "The story of Pakistan, its struggle and its achievement, is the very story of great human ideals, struggling to survive in the face of great odds and difficulties."

~ Quaid e Azam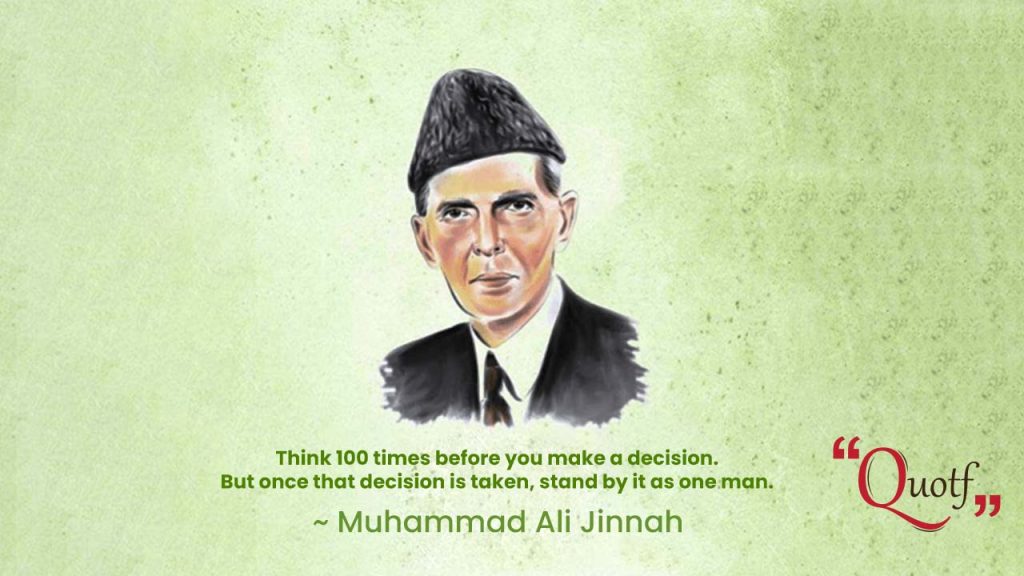 ""Think 100 times before you make a decision. But once that decision is taken stand by it as one man."

~ Muhammad Ali Jinnah
"With Faith, Discipline and selfless devotion to duty. There is nothing worthwhile that you cannot achieve. Muhammad Ali Jinnah"

"Expect the best, prepare for the worst. – Muhammad Ali Jinnah"
"I Do not believe in taking the right decision, I make a decision and make it right. Muhammad Ali Jinnah"
Democracy is a system where people are not weighed. Allama Iqbal"
"The ultimate aim of the ego is not to see something but to be something. Allama Iqbal"
Nations are born in the hearts of poets, they prosper and die in the hands of politicians – Muhammad Iqbal
Thousands laid down their lives so that the country is breathing this day. Never forget their sacrifices. – Unknown
Love is peace and it's message is Pakistan – Nusrat Fateh Ali Khan
I want people to remember that Pakistan is my country. It is like my mother, and I love it dearly. Even if its people hate me, I will still love it. – Malala Yousafzai
Recognition and self-esteem must lead to pride in labour. Its benefit is two-fold; it will develop you and the nation together – Abdul Sattar Edhi
Shayari on Independence Day of Pakistan in Urdu
ہماری خاک سے خوشبو وطن کی آۓگی
ہمارا خون ہے شامل اِس وطن کی مٹی میں
Hamari khak say khushboo watan ki aaye gye
Hamara khon hai shamil iss watan ki miti mein.
یوں دی ہمیں آزادی کے دنیا ہوئی حیران
اے قائد اعظمم تیرا احسان ہے احسان
Yu Dy Humein Azadi ky Duniya huwe Heran
Ay Quaid E Azam Tera Ehsan Ha Ehsan.
اے ارضِ وطن آج بھی اپنا یہ عہد ہے
ہم حرفِ وفا خون سے تحریر کریں گے
Aye arz e watan aaj bhi apna yeh ehad hai
Hum harf e wafa khon say tehreer karain gyn.
خٌدا کَرے میری ارضِ پاک پہ اٌترے
وہ فصّلِ گٌل جِسے اندیشہِ زوال نہ ہو
یہاں جو پھول کھِلے وہ کھِلا رہے صدیوں
یہاں خزاں کو بھی گٌزرنے کی مجال نہ ہو
Khuda karw meri Arz-e-Pak py utray
Woh fasal e gul jisay andesha e zawal na ho
Yahan jo phool khilay woh khila rahay saddyoun
Yahan khizan ko bhi guzarnay ky majal na ho.
ہم اپنی سانسیں تیرے نام کرتے ہیں
اے وطن ہم تیری عظمت کو سلام کرتے ہیں
Hum apni sansain teray naam kartay hain
Aye watan teri azmat ko salam kartay hain.
دعوی جو کرتا تھا گلستاں کی حفاظت کا"
اسی نے تو ہر شاخ چمن کو نوچ رکھا ہے"
"Dawa Jo Karta Tha Gulistan Ki Hifazat Ka
Usi Nay To Har Shakh Chaman Ko Noch Rakha Hai"
"مدہوش نہیں بیدار ہیں ہم
ہر آہٹ پر تیار ہیں ہم
سمجهے نہ کوئی غافل ہم کو
وطن کے پہرے دار ہیں ہم"
"Madhosh Nahi Bedar Hain Hum
Har Aahat Par Tayyar Hain Hum
Samjhy Na Koi Ghafil Hum Ko
Watan Kay Pehry Dar Hain Hum"
"آزادی کی کبھی شام ہو نے نہیں دیں گے
شہیدوں کی قربانی بدنام ہونے نہیں دیں گے"
"Azadi Ki Kabhi Sham Hony Nahi Den Gay
Shaheedon Ki Qurbani Badnam Hony Nahi Den Gay"
"میں خود غرض نہیں میرے آنسو پرکھ کر دیکھو
مجھے فکر چمن ہے غم آشیاں نہیں"
"Main Khud Gharz Nahi Mery Anso Parakh Kar Dekho
Mughe Fiker-E-Chaman Hai Gham-E-Ashyan Nahi"
"کسی کی ہمت ہے ہماری پرواز میں لائے کمی
ہم پروازوں سے نہیں حوصلوں سے اڑا کرتے ہیں"
"Kisi Ki Himmat Hai Hamari Parwaz Main Laye Kami
Hum Parwazon Say Nahi Hoslon Say Ura Karty Hain"
"ہر کسی کو میسر نہیں شہادت کا رتبہ
یہ عزم ہے اپنی مٹی کے لیے قربان ہونے والوں کا"
"Har Kisi Ko Mayasar Nahi Shahadat Ka Rutba
Ye Azam Hai Apni Mitti Kay Liye Qurban Hony Walon Ka"
"اے وطن ہم ہیں تیری شمع کے پروانوں میں
زندگی ہوش میں ہے جوش ہے دیوانوں میں"
"Aye Watan Hum Hain Teri Shama Kay Parwano Main
Zindagi Hosh Main Hai Josh Hai Dewano Main"
"وطن کے دشمن کا ہر وار ناکام رہے گا
ہمارے وطن کا نام تا قیامت قاٸم رہے گا"
"Watan Kay Dushman Ka Har War Nakam Rahe Ga
Hamary Watan Ka Nam Ta Qayamat Qaim Rahe Ga"
"ہمارا ڈر سے کوئی واسطہ نہیں ہوتا
ہم وہاں قدم رکھتے ہیں جہاں راستہ نہیں ہوتا"
"Hamar Dar Say Koi Wasta Nahi Hota
Hum Wahan Qadam Rakhty Hain Jahan Rasta Nahi Hota"
"ہم نبھاتے ہیں اپنا فرض وہاں
جہاں موت بھی جانے سے گھبراتی ہے"
"Hum Nibhaty Hain Apna Farz Wahan
Jahan Maut Bhi Jany Say Ghabrati Hai"
"رگوں میں ہے جنوں میں ہے
وطن کا عشق خوں میں ہے"
"Ragon Main Hai Janoo Main Hai
Watan Ka Ishq Khoon Main Hai"
خدا کرے كے میری عرض پاک پہ اترے
وہ فصل گل جسے اندایشا زوال نا ہو
Khuda kare ke meri arz e paak pe utre
woh fasl e gull jise andaisha e zawaal na ho
DISCLAIMER!
All the Quotation on the website quotf.com falls under the fair use of copyright law. We provide quotes from different authors as is. Just because, we quote their words does not mean we agree with their words or approve of their ideas.