In the US and Canada, the season of autumn is known as fall. It is called fall because of the season's characteristics of shedding leaves from trees. Light yellow, deep gold, orange, crimson, and dark red are associated with fall. It comes in Green to yellow by this natural process. Falling leaves and the attraction of the colors of leaves always fascinated writers and poets.
Find any of your favorite Fall quotes from our site Quotf. Read and enjoy these quotes that make you feel special. Also, share them with your friends or post them on any digital media websites.
Autumn Fall Quotes
Autumn is considered a new beginning. It is a time to refresh life so that you can find quotes about fresh beginnings. It could be the time to enjoy the small things in life. The autumn fall quotes collection is following.
"There is something so special in the early leaves drifting from the trees–as if we are all to be allowed a chance to peel, to refresh, to start again." – Ruth Ahmed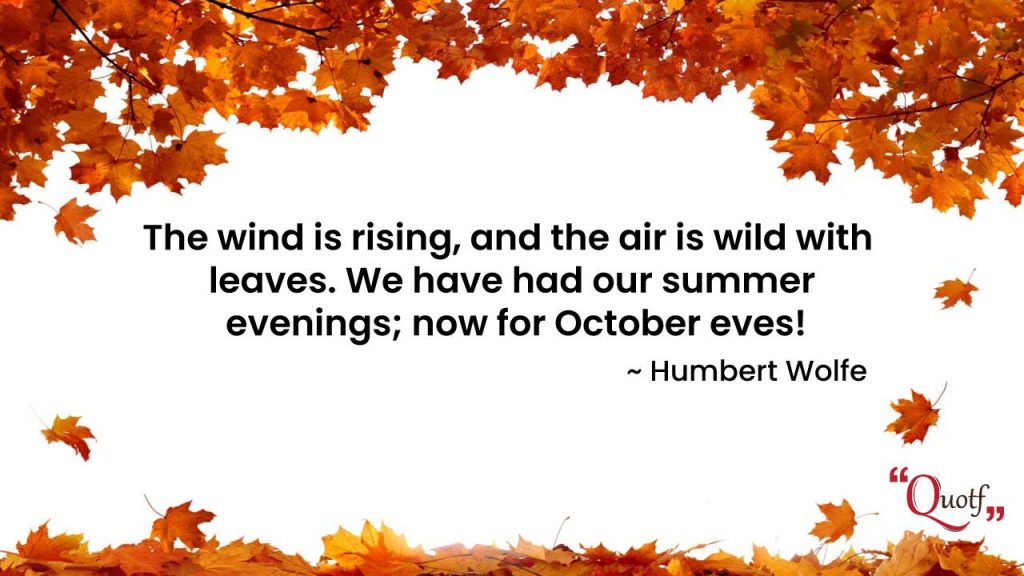 "The wind is rising, and the air is wild with leaves. We have had our summer evenings; now for October eves!"

~ Humbert Wolfe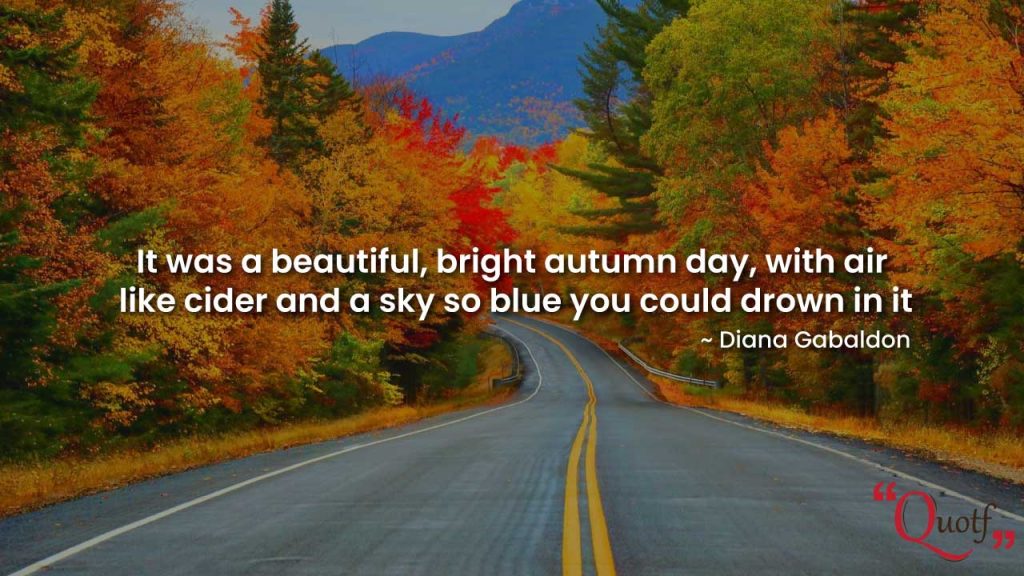 "It was a beautiful, bright autumn day, with air like cider and a sky so blue you could drown in it."

~ Diana Gabaldon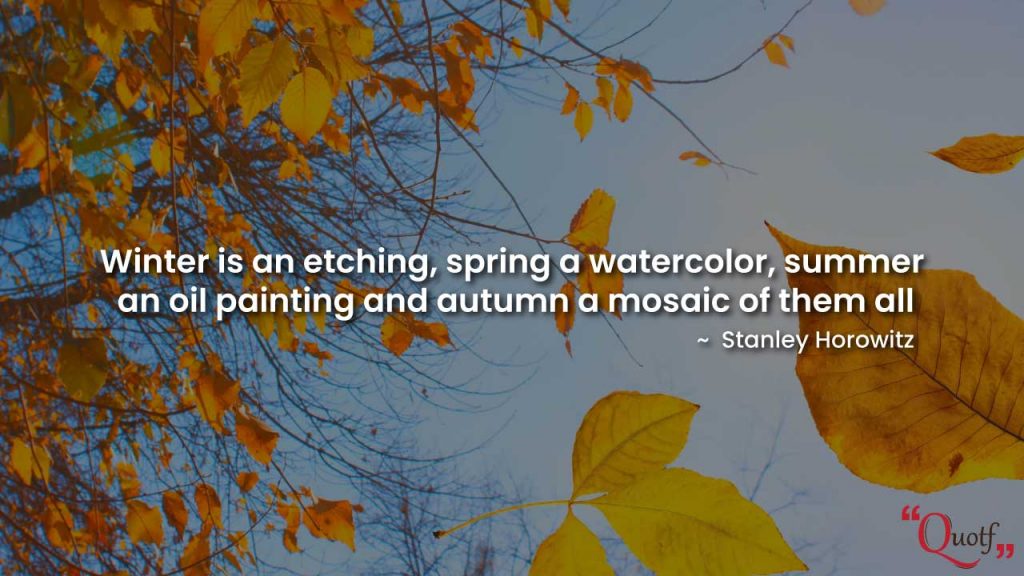 "Winter is an etching, spring a watercolor, summer an oil painting and autumn a mosaic of them all."

~ Stanley Horowitz
"I remember it as October days are always remembered, cloudless, maple-flavored, the air gold and so clean it quivers." – Leif Enger
Fall Images And Quotes
Fall is called second spring because it is the best season to enjoy outside with friends and family. The colors of nature in fall are mind-blowing. So fall images can be associated with colors of life and life being lively. Fall images and quotes are here you can copy and send them.
"Autumn arose and my soul bloomed." ~ Angie Weiland-Crosby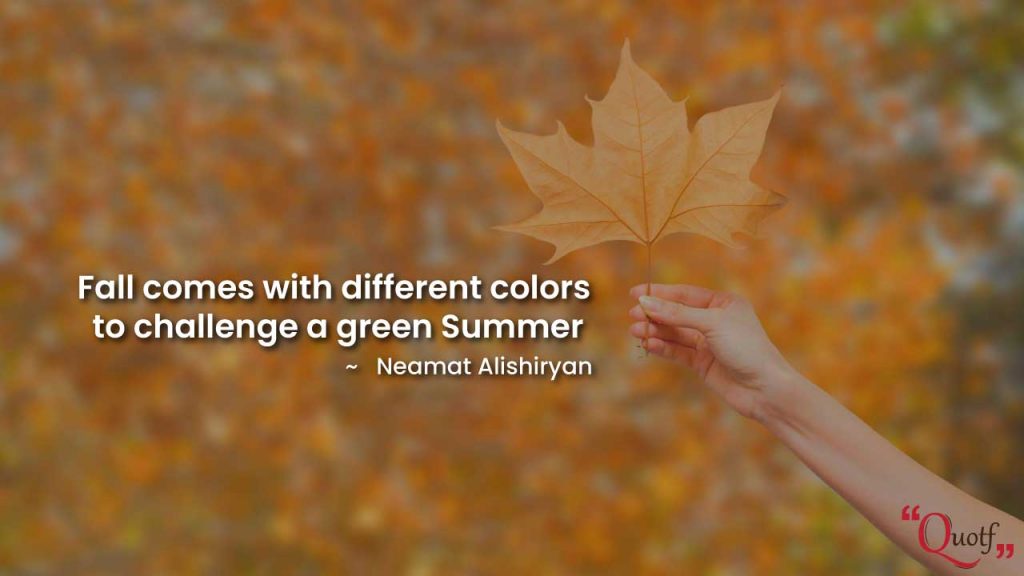 "Fall comes with different colors to challenge a green Summer"

~ Neamat Alishiryan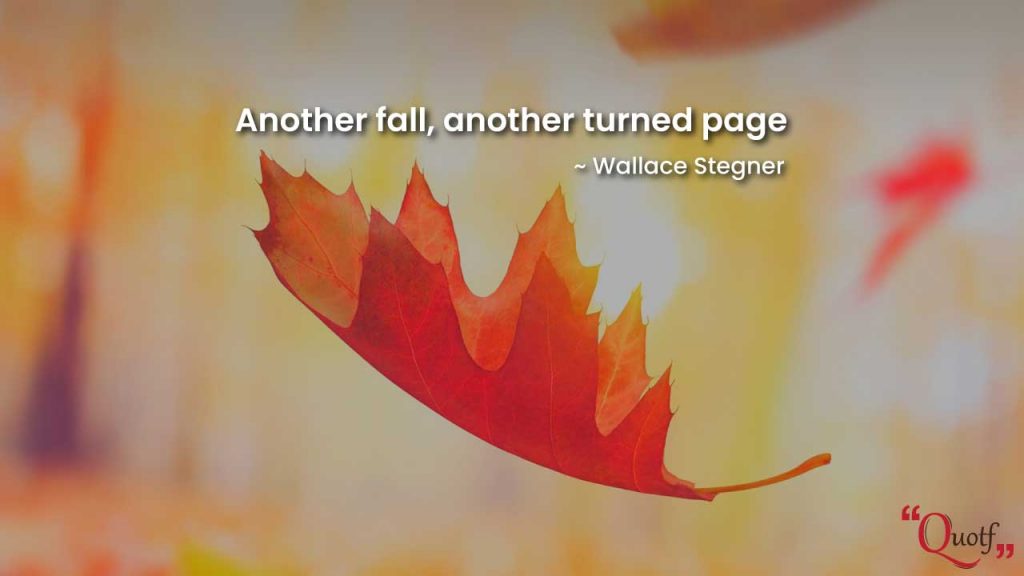 "Another fall, another turned page."

~ Wallace Stegner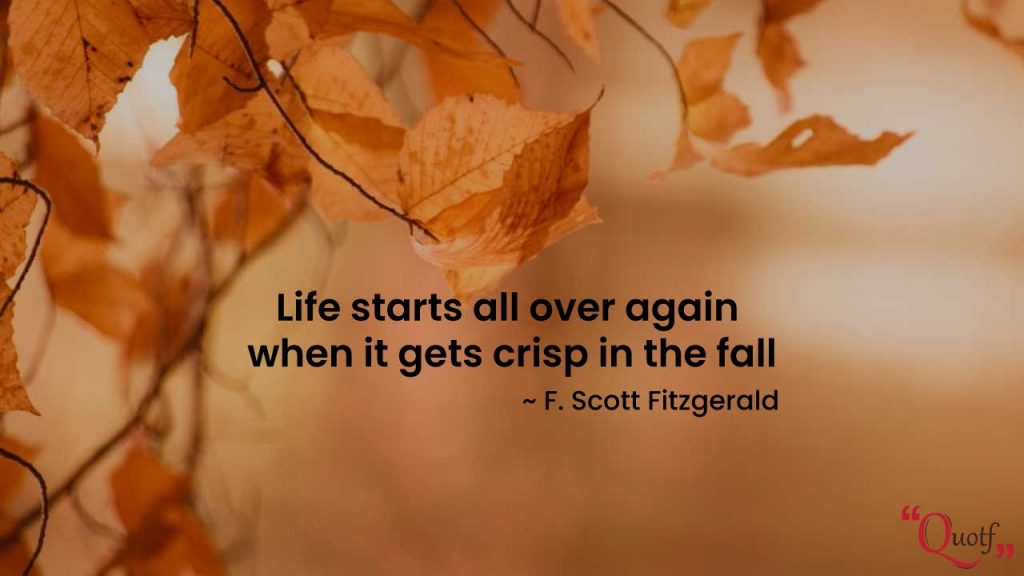 "Life starts all over again when it gets crisp in the fall."

~ F. Scott Fitzgerald
"With the start of fall, I swap my colorful wardrobe with amber, rust, and beige tones."
Quotes About Autumn
Autumn does not come alone. It has lots of festivals like cider, pumpkin spice, stunning foliage, American football, and harvest holidays like Halloween. So, you can find festive Quotes and can send them to your loved ones.
"The first breath of autumn was in the air, a prodigal feeling, a feeling of wanting, taking, and keeping before it is too late." – J. L. Carr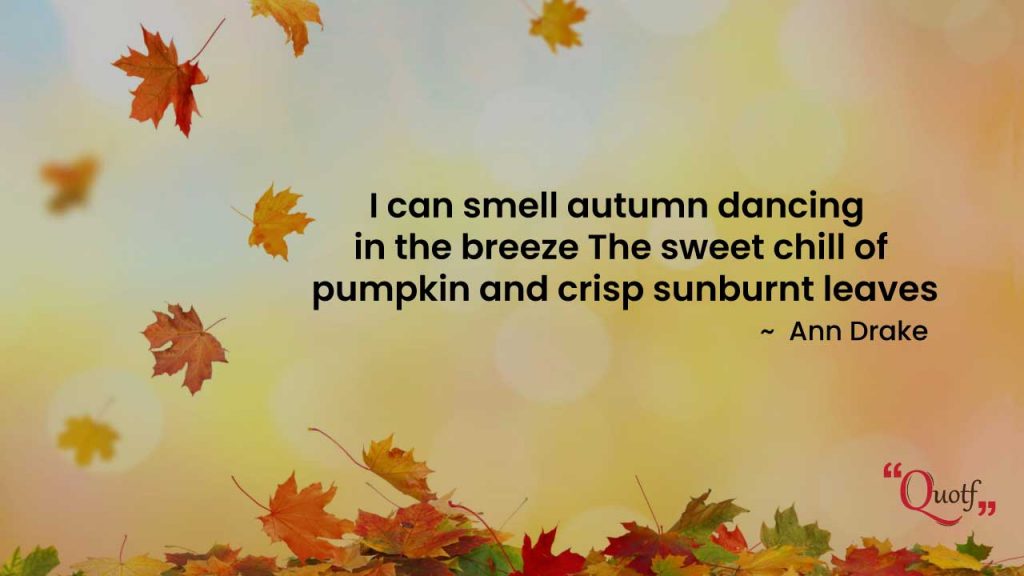 "I can smell autumn dancing in the breeze. The sweet chill of pumpkin, and crisp sunburnt leaves."

~ Ann Drake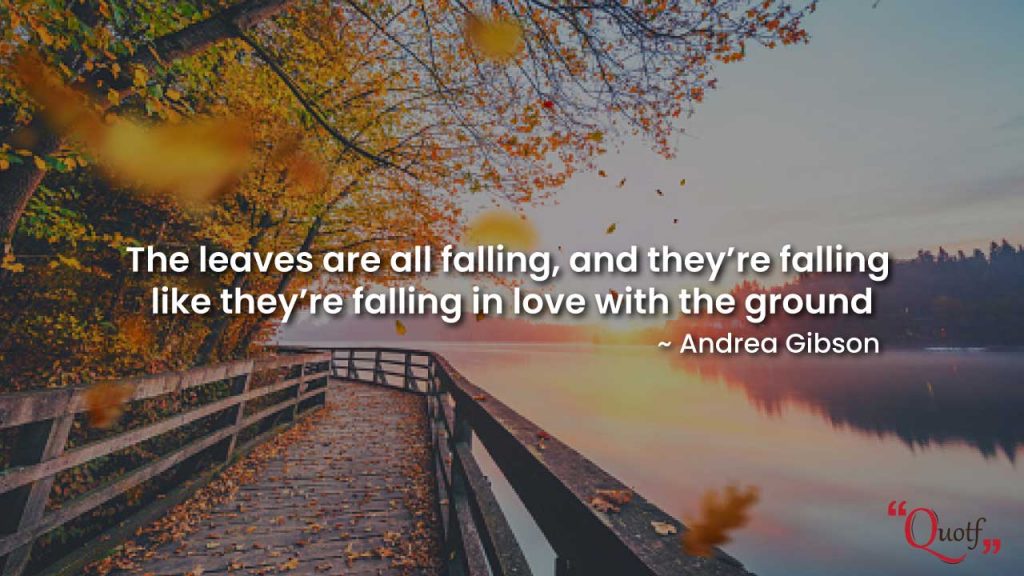 "The leaves are all falling, and they're falling like they're falling in love with the ground."

~ Andrea Gibson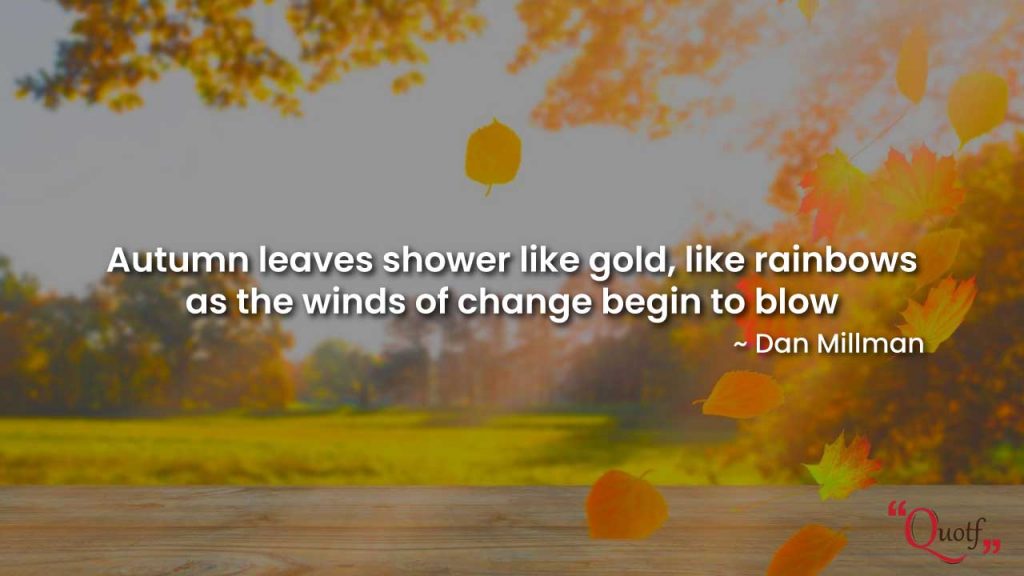 "Autumn leaves shower like gold, like rainbows, as the winds of change begin to blow."

~ Dan Millman
"Spring is beautiful, and summer is perfect for vacations, but autumn brings a longing to get away from the unreal things of life, out into the forest at night with a campfire and the rustling leaves." – Margaret Elizabeth Sangster
Hello Fall Quotes
After the summer heat, the cool fall days are really a blessing. Now you can lock the bikinis, denim shorts, and summer dresses in your closet. And can welcome the warm, cozy sweaters lurking at the back. Following are some of their best quotes about fall.
"Let's welcome autumn. The most beautiful season on this side of the planet."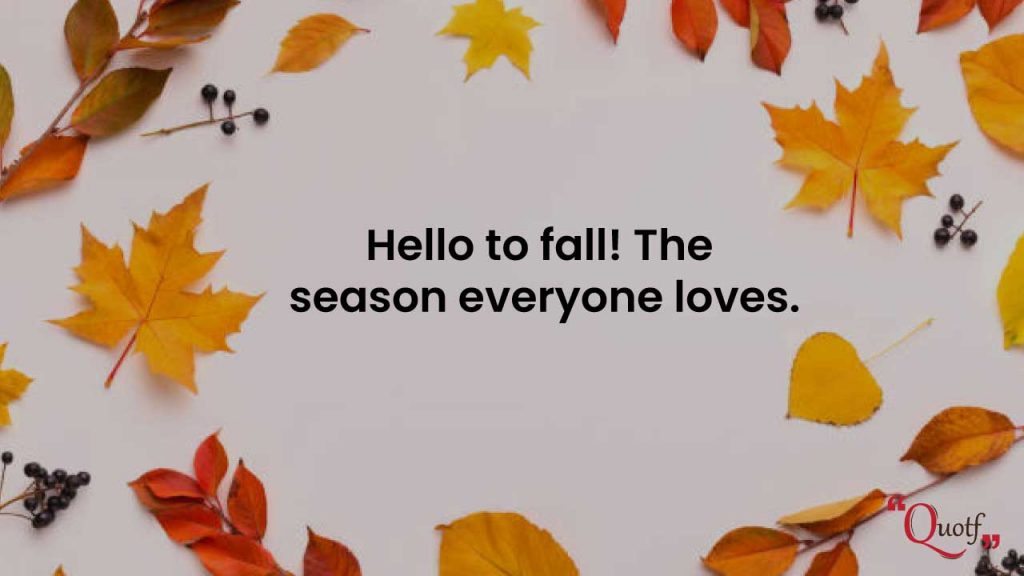 "Hello to fall! The season everyone loves."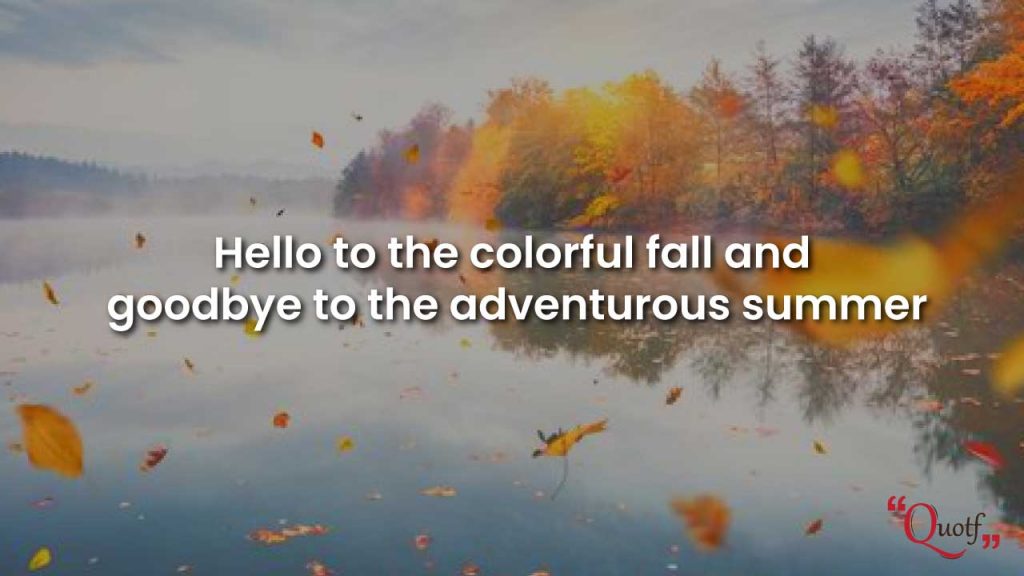 "Hello to the colorful fall and goodbye to the adventurous summer."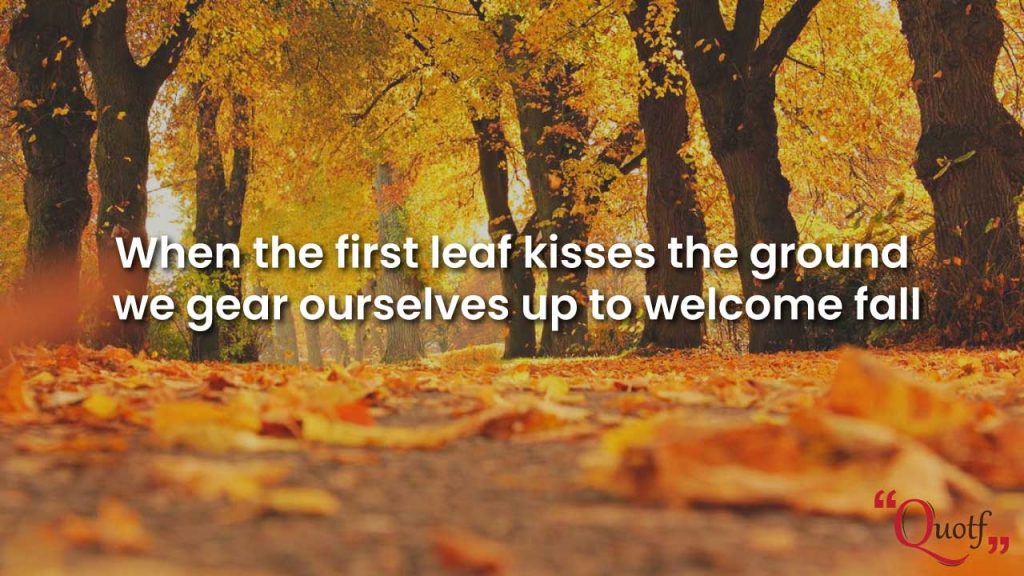 "When the first leaf kisses the ground, we gear ourselves up to welcome fall."
"We will welcome autumn, but first, let's say our heartfelt goodbye to summer."
Fall Quotes Short
It must be said there is something special about the fall season. Short days cool breezes and lots of festivals attract everyone a lot. And when we talk about fall quotes, short ones are my favorite. These quotes associate your mood with the season.
"Let's relish the beautiful fall while it lasts."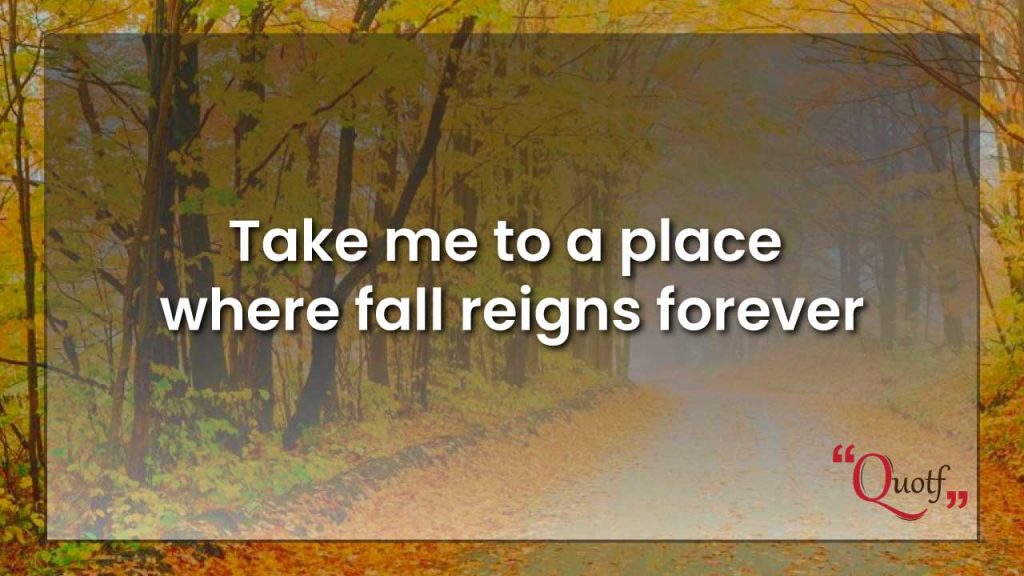 "Take me to a place where fall reigns forever."
"I can't get over the changing beautiful colors of fall."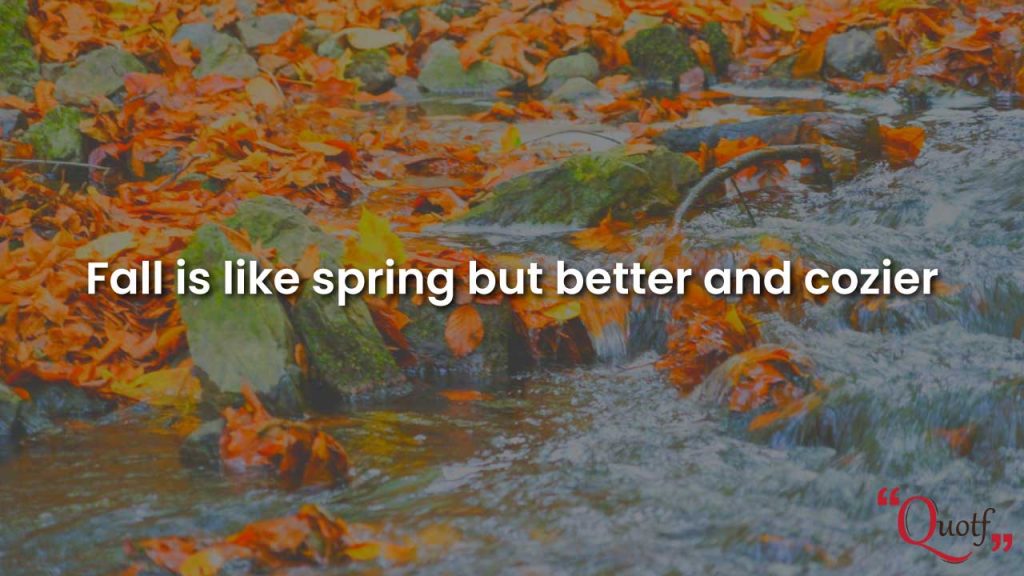 "Fall is like spring but better and cozier."
"Fall is filled with possibilities and unfound adventure."
Autumn Quotes Short
If you want short fall quotes and sayings you are in the right place. You can get all the best short quotes about autumn in one place. Including cute short fall quotes, short fall quotes for Instagram, short autumn quotes, fall short sayings, short pumpkin quotes and captions, short Halloween quotes, and fall short captions all types of Quotes are here: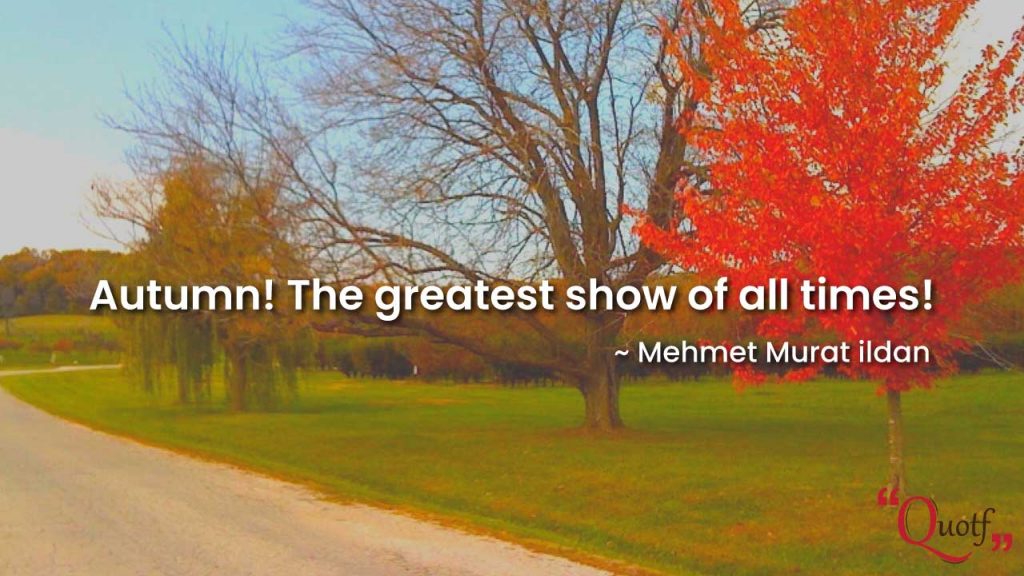 "Autumn! The greatest show of all times!"

~ Mehmet Murat Ildan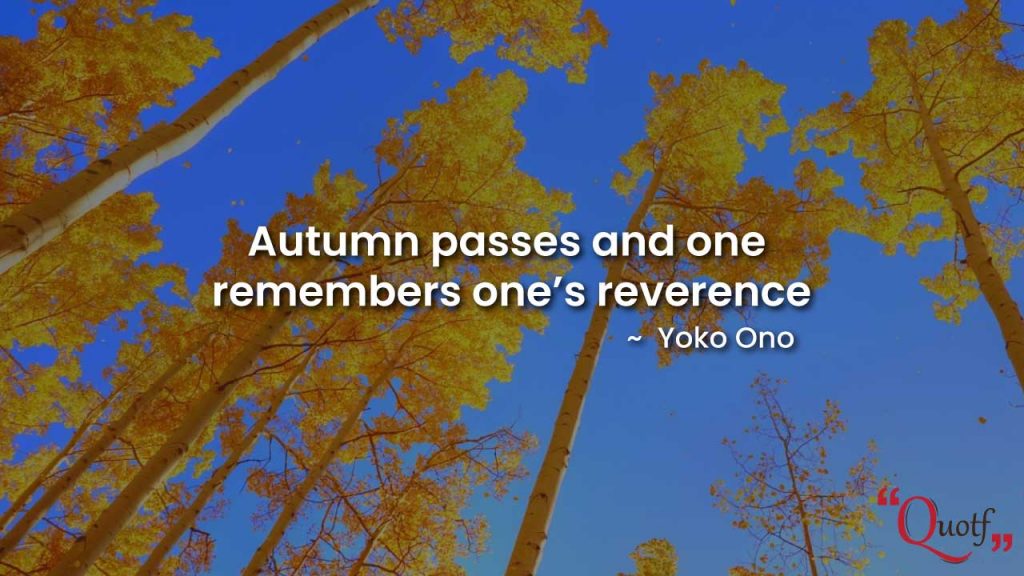 "Autumn passes and one remembers one's reverence."

~ Yoko Ono
"Your heart, Bessie, is an autumn garage."

~ J.D. Salinger, Franny and Zooey
Red Fall Leaves Quotes
Fall is always been my favorite season for most people. This is the time when everything changes into red with its last beauty. Here is some wonderful quote that captures fall's red beauty.
"Every leaf speaks bliss to me, fluttering from the autumn tree." ~ Emily Bronte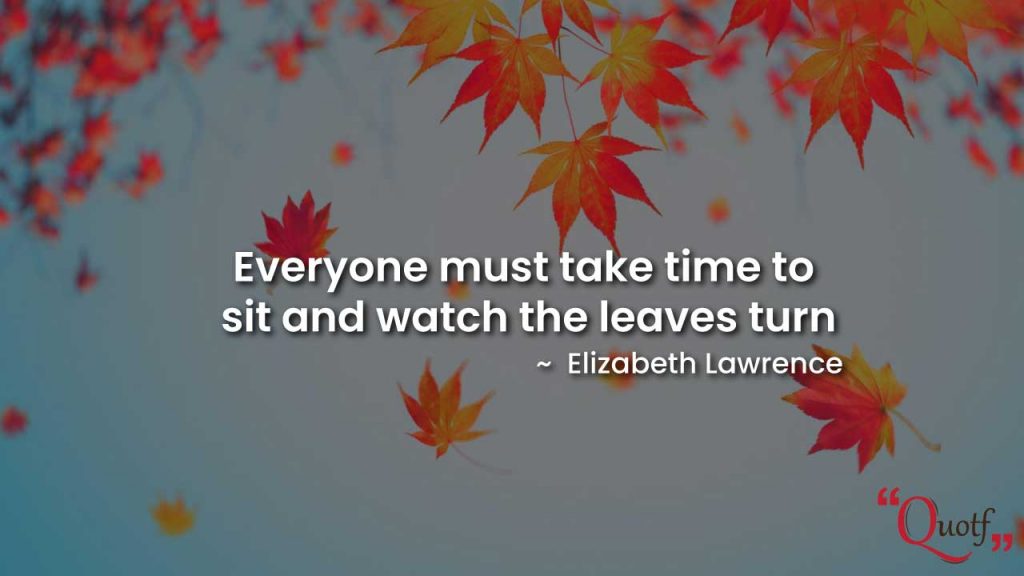 "Everyone must take time to sit and watch the leaves turn."

~ Elizabeth Lawrence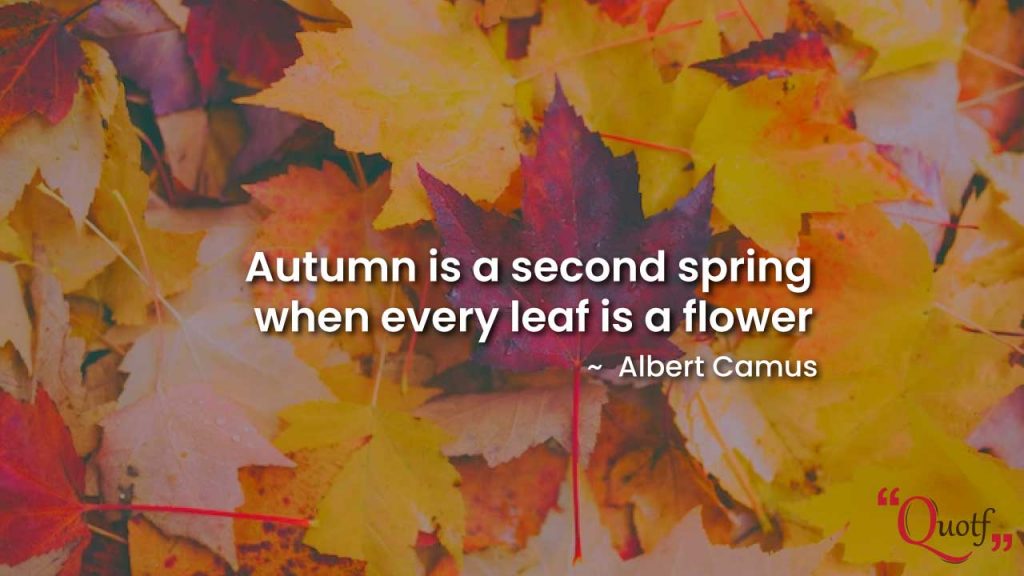 "Autumn is a second spring when every leaf is a flower."

~ Albert Camus
"Color is God's way of making life more interesting."
"Then the trees, after their long silence, began to talk again, in yellow and red. And the days began to shrink under one's very eyes." ~ Mirrlees, Hope
Short Cute Fall Quotes
Fall is like a second spring for many people. They love this season for the curtness of nature. Fall cute quotes are all about the shorter days, the crisp air, and the falling leaves. That makes me want to dig out the sweaters, get out there and enjoy every moment.
"Pumpkin spice makes me extra nice."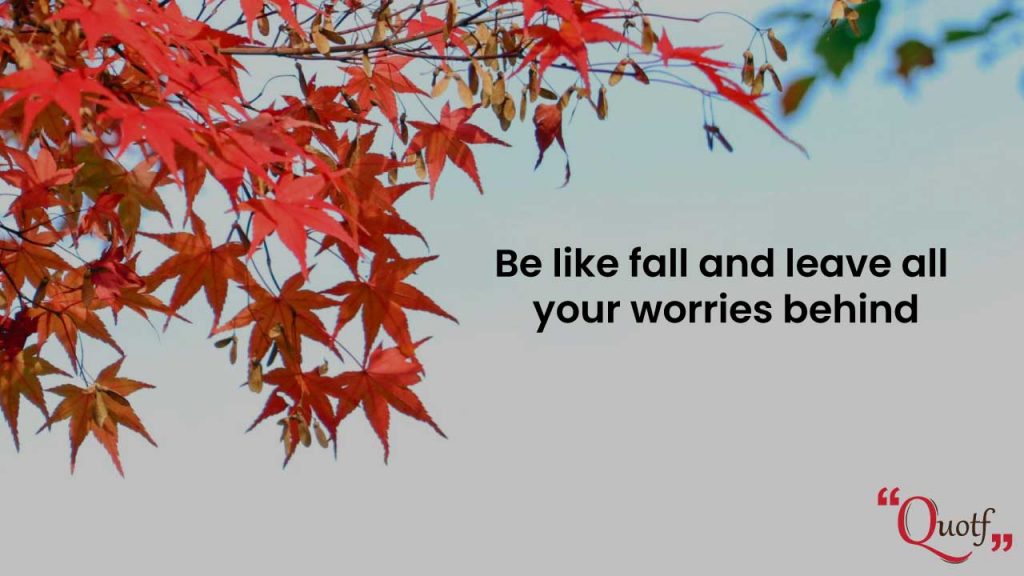 "Be like fall and leave all your worries behind."
"Life is beautiful seen thru the eyes of gratitude."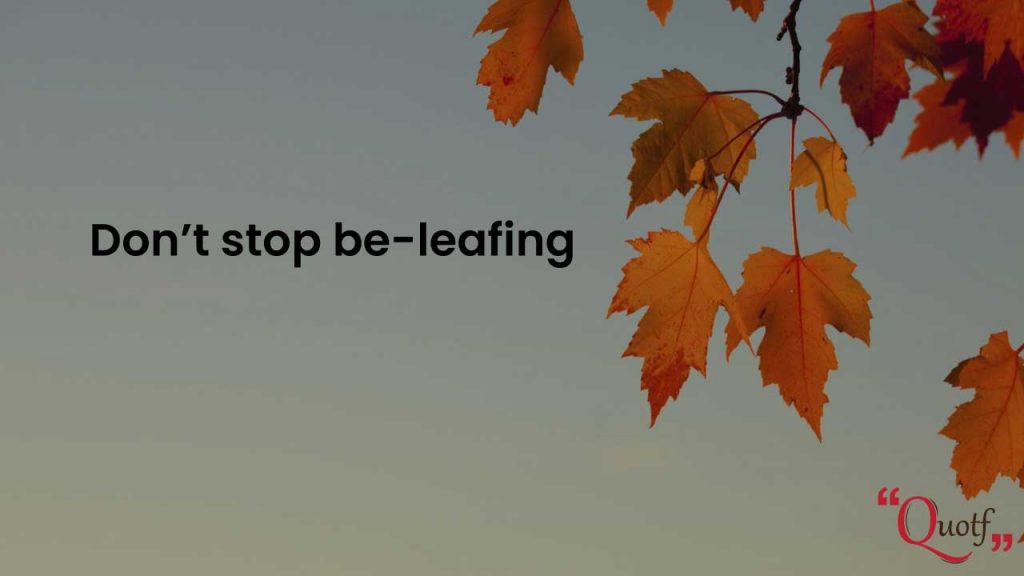 "Don't stop be-leafing."
"Art is the flower… Life the green leaf." — Charles Rennie MacKintosh
Fall Quotes For Letter Board
Every home needs a letterboard. The letters board looks more attractive regarding the quotes about rings in new seasons, announcing babies, and birthdays, and being festive. The beauty of the weather and the colors of nature serve countless other purposes. Have fun with your letter board this fall and increase the beauty of your home.
"'Tis the season to be fall-y"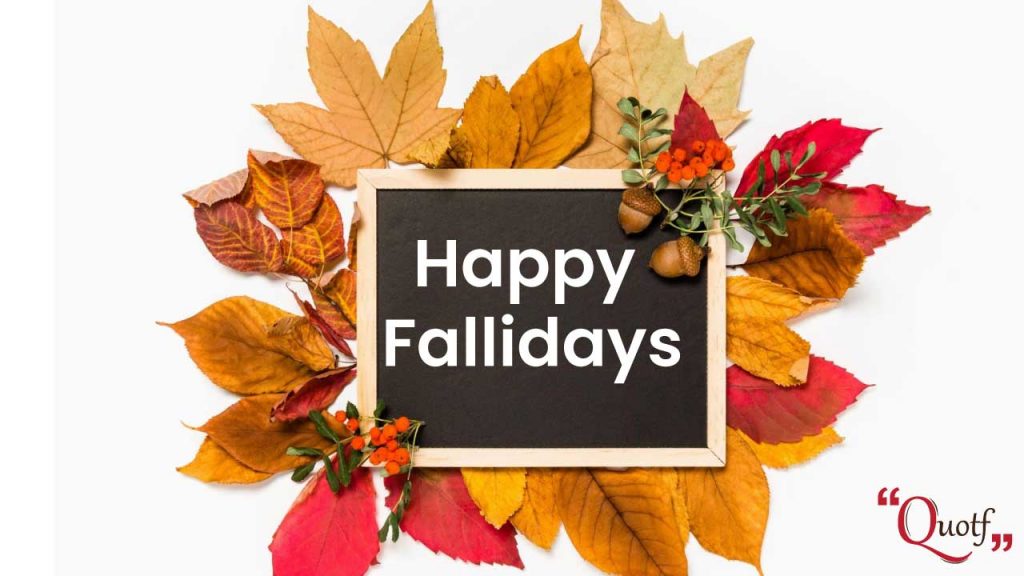 "Happy Fallidays"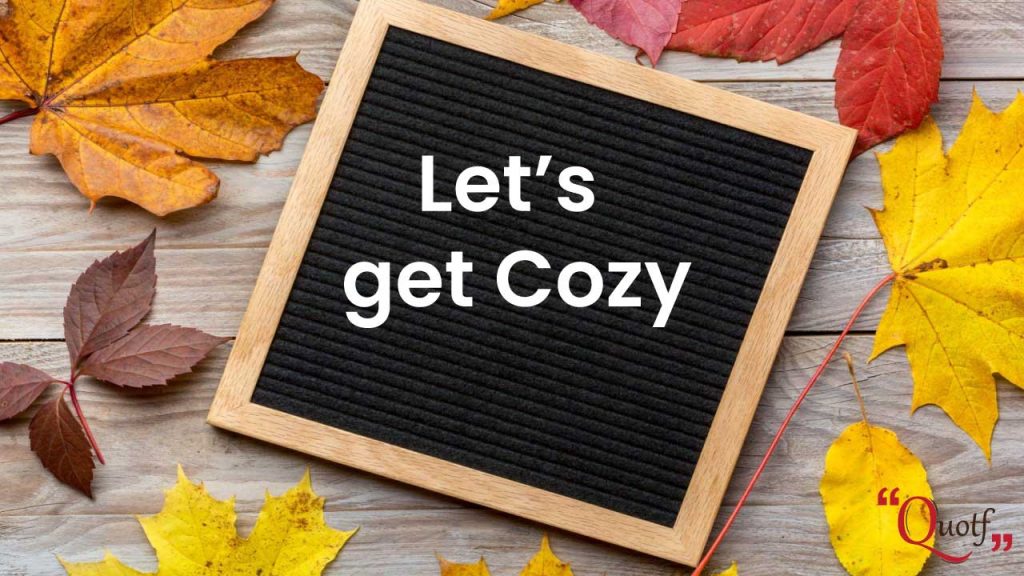 "Let's get Cozy"
"Oh my gourd, it's fall!"
"Fall, flannels, football"
Funny Fall Quotes
Bringing on the giggles with funny fall quotes based on autumn is fun. Show your mind-blowing sense of humor and your deep desire to celebrate all that is fall. Celebrate fall with these hilarious sayings by these funny fall quotes.
"What is the cutest season of the year? Awwwtumn."
"Humpty Dumpty had a great fall — hope you do too!"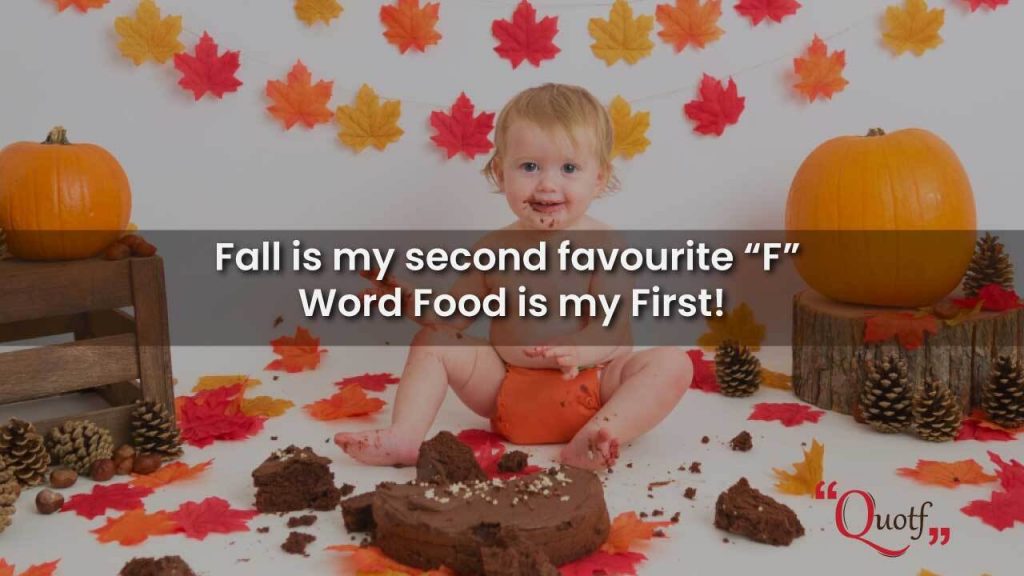 "Fall is my second favourite "F" Word Food is my First!"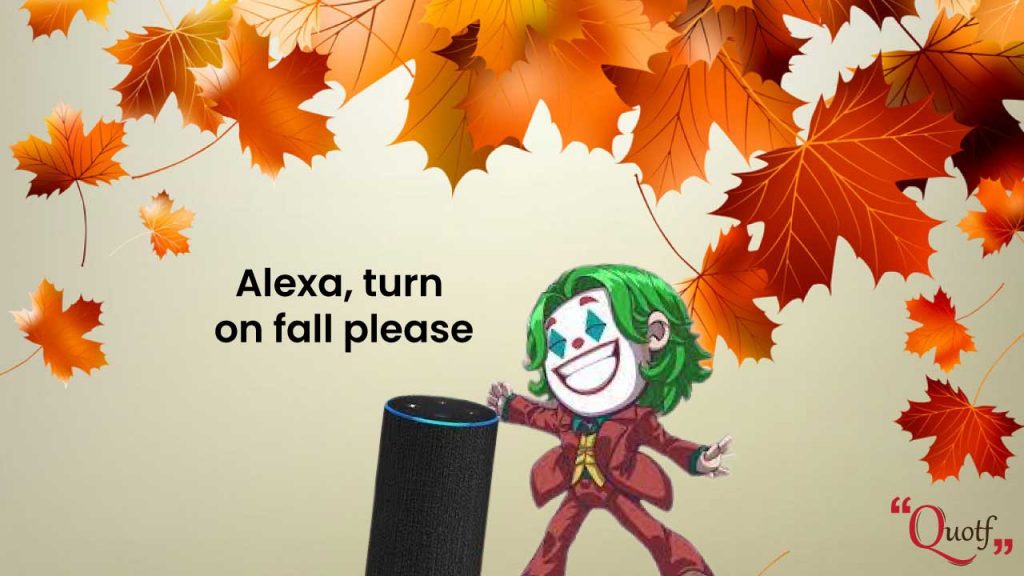 "Alexa, turn on fall please."
"Baby, it's lukewarm out there."
Autumn Season Quotes
Autumn is considered one of the favorite weather of the whole year. If you just want to get in the mood for a new season, here are some of the best fall quotes to help. The season of nature changes, festivals, food, and holidays.
"Autumn is a visual gift given by nature to raise the morale of human beings who is worried as they enter the dark days of winter!" ― Mehmet Murat ildan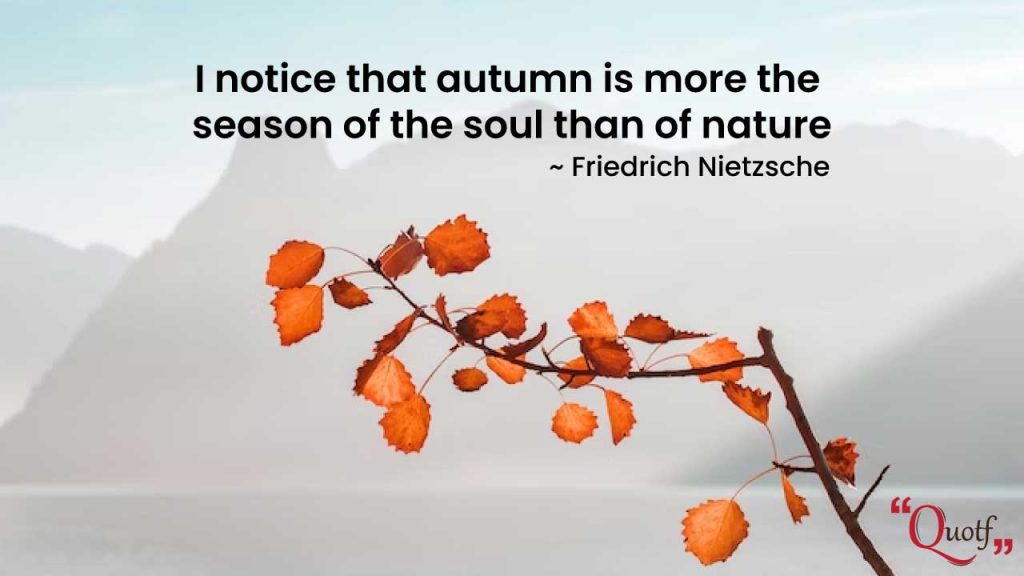 "I notice that autumn is more the season of the soul than of nature."

~ Friedrich Nietzsche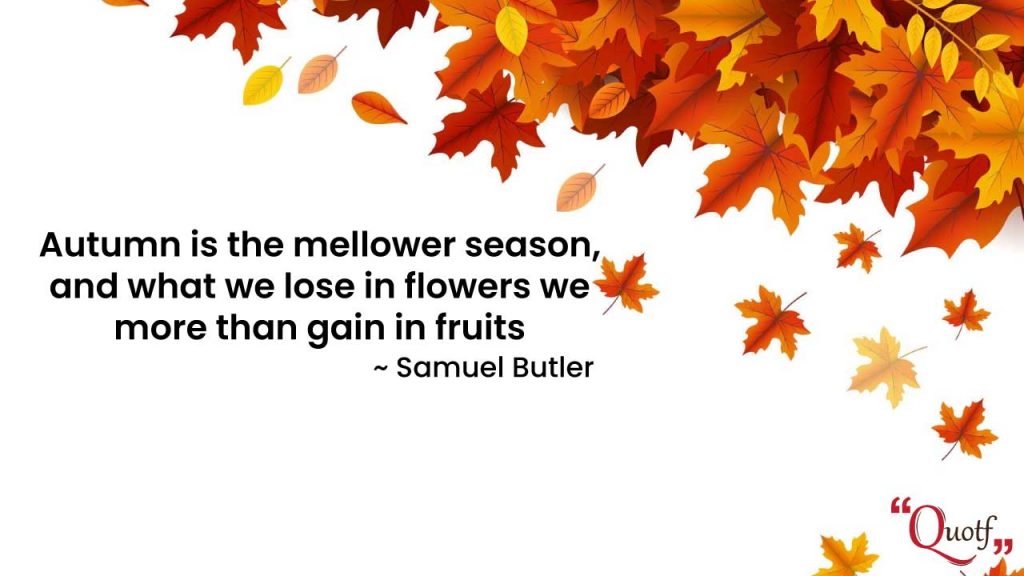 "Autumn is the mellower season, and what we lose in flowers we more than gain in fruits."

~ Samuel Butler
"The heat of autumn / is different from the heat of summer / One ripens apples, the other turns them to cider," Jane Hirshfield
Fall Instagram Captions
Fall is considered as second favorite season. People love posting a good fall caption on my Instagram photos every year. So, to attract your followers with fall captions all over the internet. Here, is a list of the top fall captions for Instagram photos that you all need.
Happy fall, y'all!
Can't fight that fall feeling!
Mum's the word!
I'm fall-ing for you.
But I love fall most of all.
Follow the yellow leaf road.
Entering my sweater era!
This new chapter is titled: sweater weather.
Keep calm and enjoy fall.
Fall = another excuse to cuddle.
Autumn Instagram Captions
In this list, you can find cute fall captions, funny fall captions, and pumpkin patch captions. And even a sprinkle or two of Halloween inspired captions for Instagram. My favorite is number 2. What's yours?
You remind me of autumn.
Autumn hues with my boo.
Pumpkin kisses and harvest wishes.
Fall breeze and autumn leaves.
Stressed, blessed, pumpkin obsessed.
Sweater weather is better together.
Happiness is a hot drink on a cold day.
Autumn mornings are like no other.
I haven't tripped, but here I am in the fall.
Autumn skies and pumpkin pies.
Autumn Quotes Inspirational
Autumn is one of the great blessings of nature, like many others. Creature blessed us with vision and hope. Autumn is like an inspiration to learn from our mistakes and have the opportunity to strengthen and improve the next.
"Autumn seemed to arrive suddenly that year. The morning of the first September was crisp and golden as an apple." — J.K. Rowling, Harry Potter and the Deathly Hallows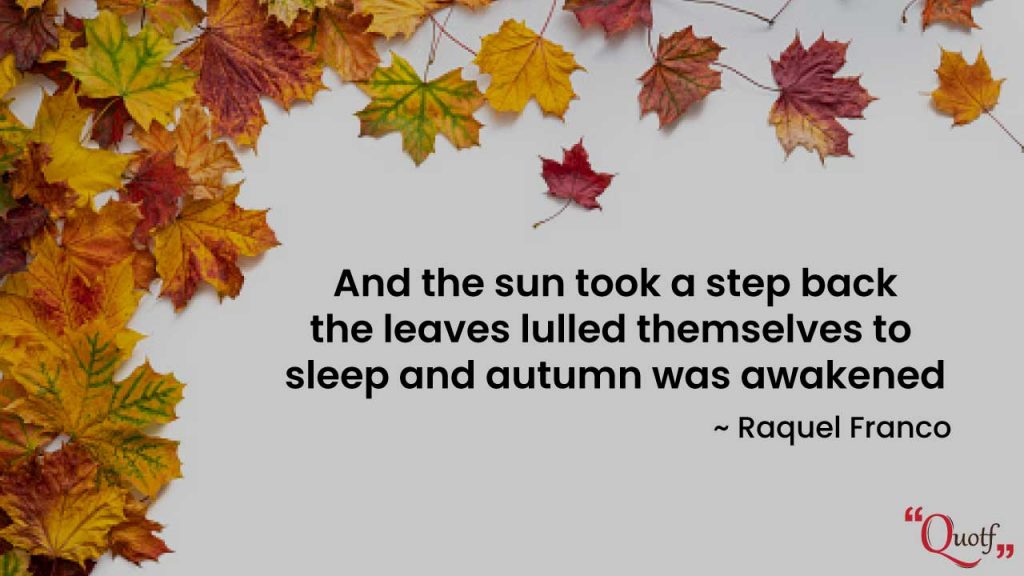 "And the sun took a step back, the leaves lulled themselves to sleep and autumn was awakened."

~ Raquel Franco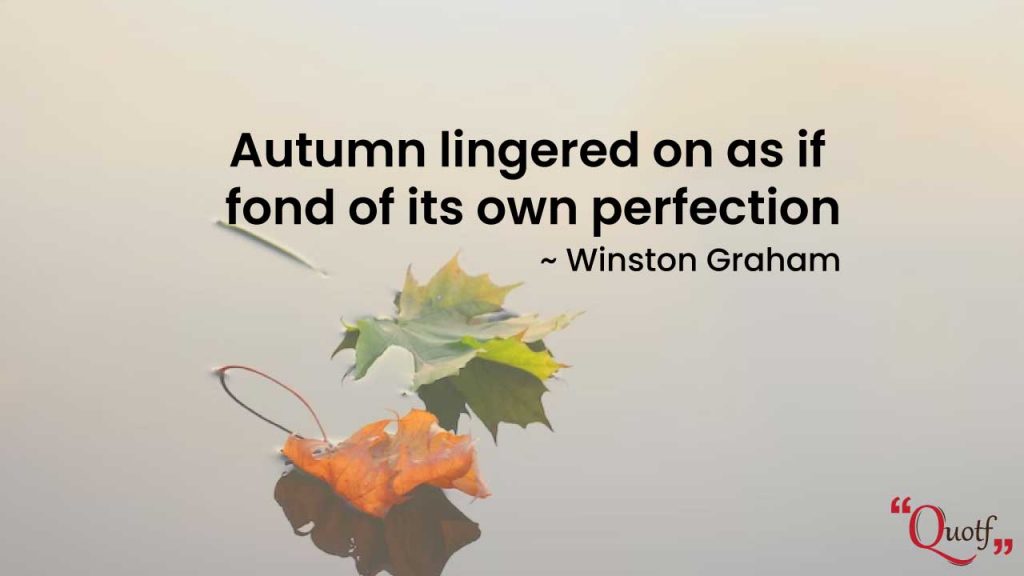 "Autumn lingered on as if fond of its own perfection." 

~ Winston Graham, "Ross Poldark"
The heat of autumn is different from the heat of summer. One ripens apples, the other turns them to cider." ~Jane Hirshfield
Inspirational Beautiful Fall Quotes
Autumn is my second favorite season. It indicates that a new beginning is near to start. Autumn inspirational quotes are something we all need. Prepare yourself for new beginnings with fall inspirational quotes. 
Delicious autumn! My very soul is wedded to it, and if I were a bird I would fly about the earth seeking the successive autumns. ~ George Eliot
"Autumn…the year's last, loveliest smile."

~ William Cullen Bryant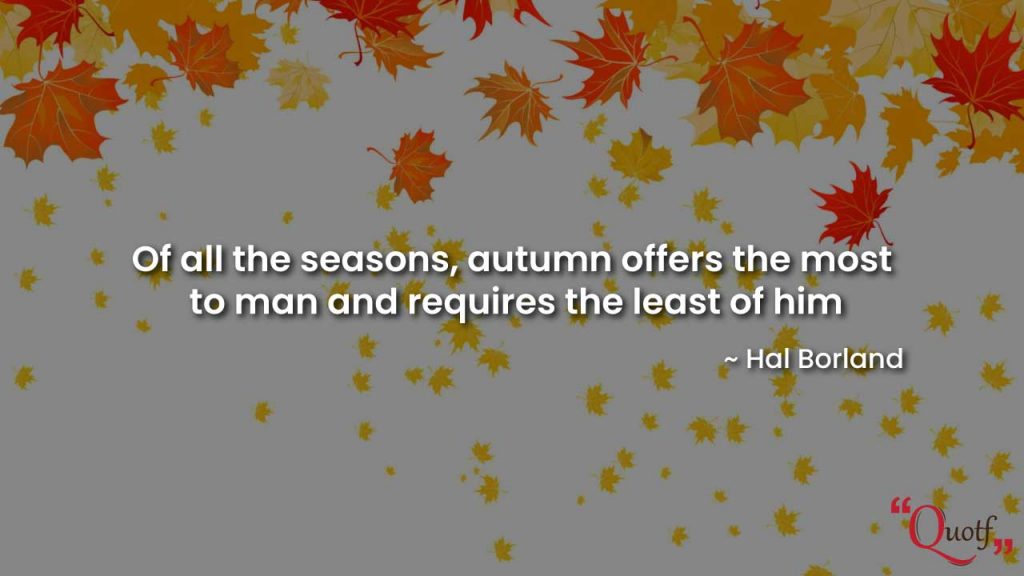 "Of all the seasons, autumn offers the most to man and requires the least of him."

~ Hal Borland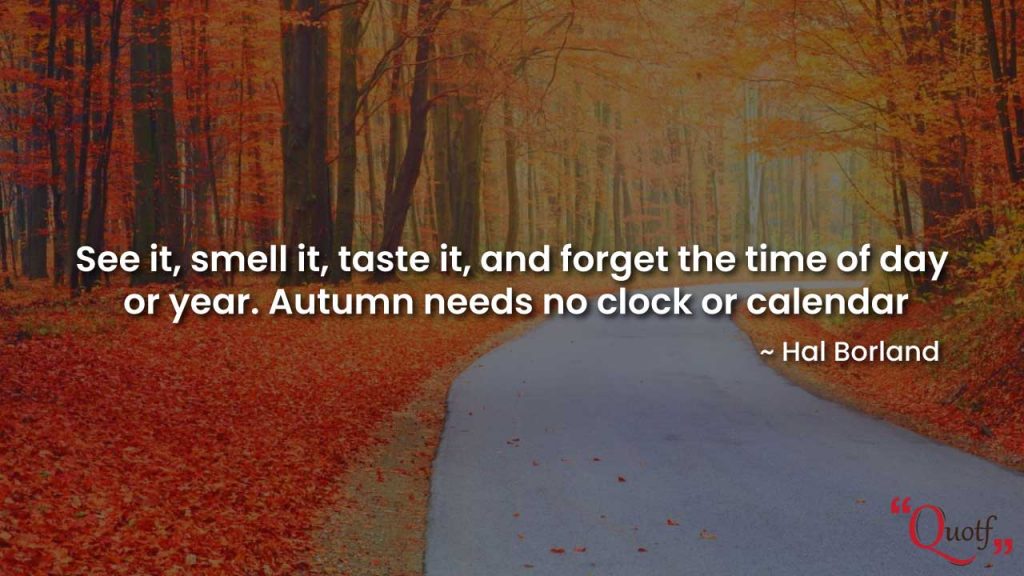 "See it, smell it, taste it, and forget the time of day or year. Autumn needs no clock or calendar."

~ Hal Borland
It was one of those perfect English autumnal days which occur more frequently in memory than in life. ~ P.D. James
Love Autumn Quotes
Autumn also indicates romance and love. Falling in love with this cozy weather is a really beautiful feeling. Fall in love in fall is great magic. To express the love of autumn quotes, follow the site. Love quotes about nature love and human love are gathered here. 
"The leaves fall, the wind blows, and the farm country slowly changes from the summer cottons into its winter wools." ~ Henry Beston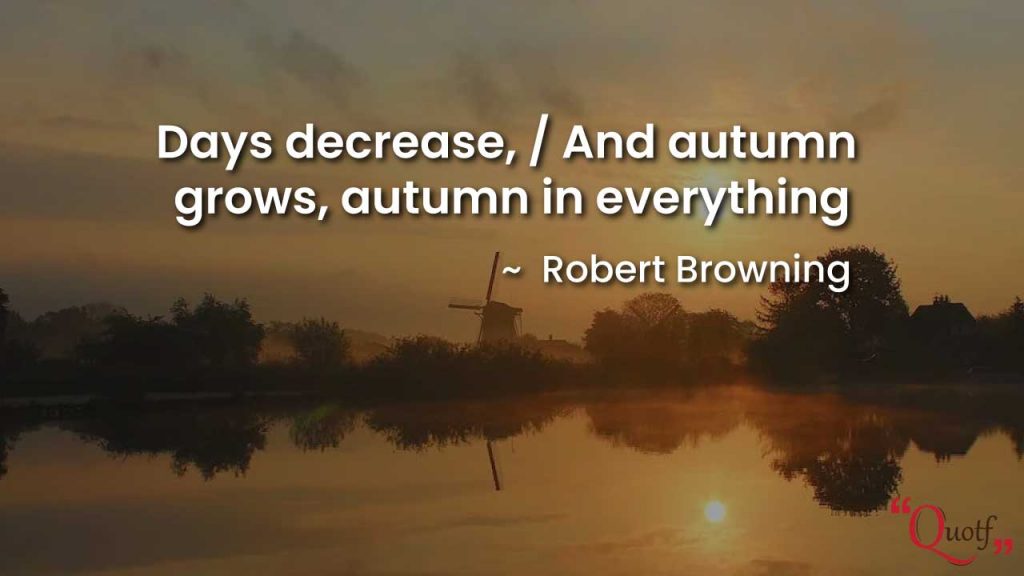 "Days decrease, / And autumn grows, autumn in everything."

~ Robert Browning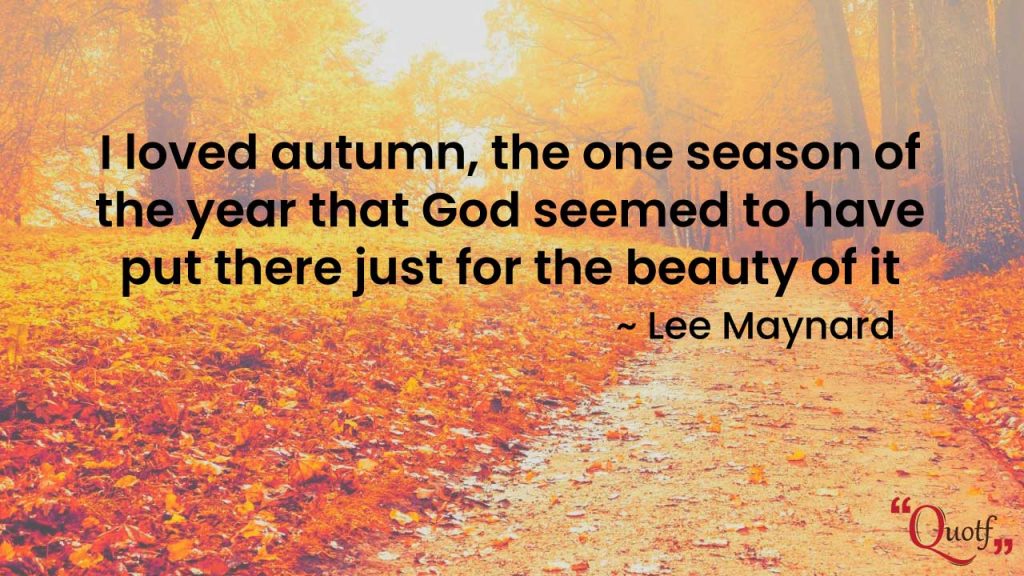 "I loved autumn, the one season of the year that God seemed to have put there just for the beauty of it."

~ Lee Maynard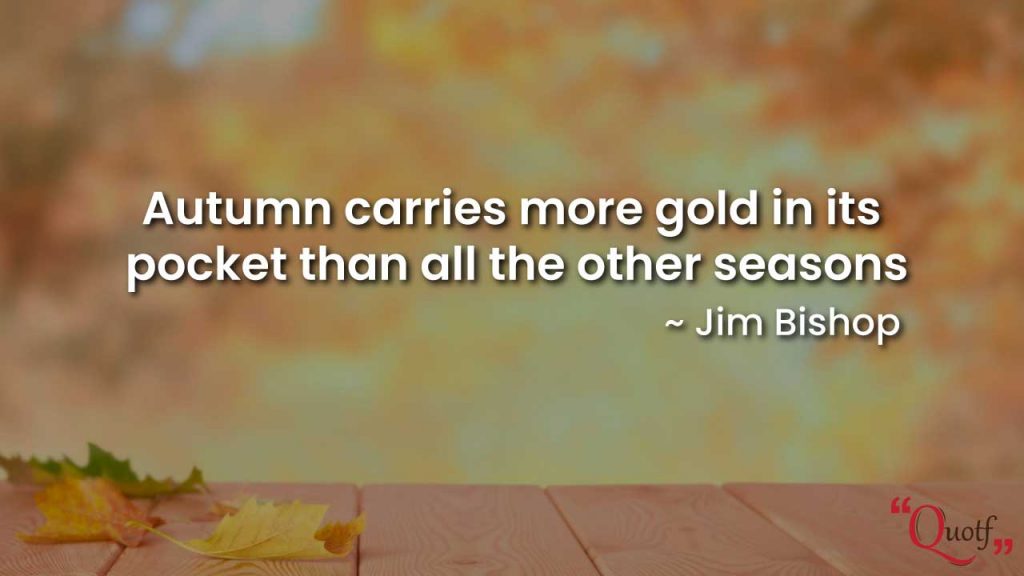 "Autumn carries more gold in its pocket than all the other seasons."

~ Jim Bishop
Fall Vibes Quotes
The start of fall might mean a fresh beginning, a time to unwind fall vibes quotes collection. Autumn is a time for changing leaves, pumpkin spice lattes, and cozy sweaters. It's also a time to enjoy some of the most beautiful quotes about falling leaves.
"And the sun took a step back, the leaves lulled themselves to sleep and autumn was awakened." ~ Raquel Franco
"Only lovers see the fall a signal end to endings."

~ Maya Angelou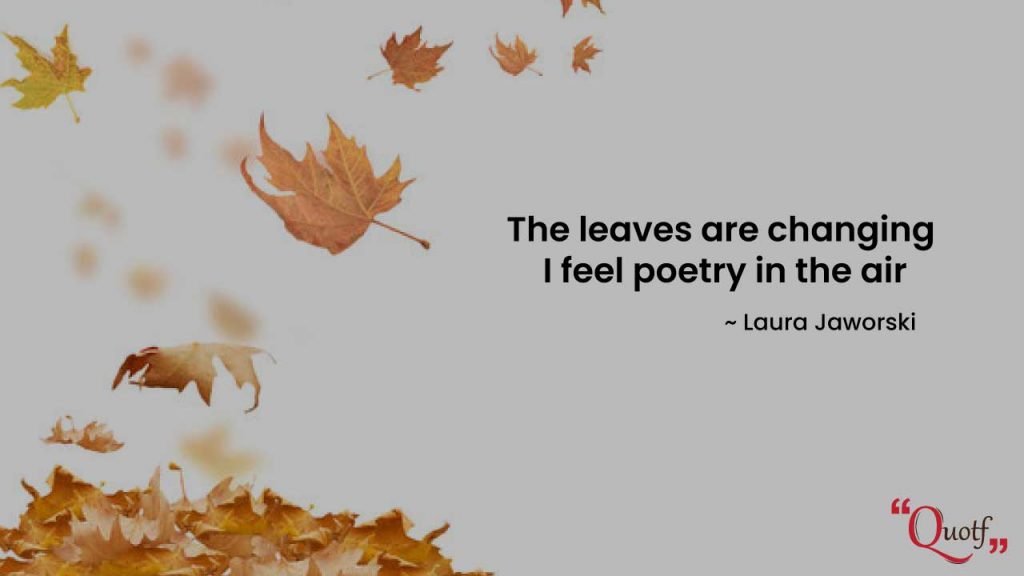 "The leaves are changing, I feel poetry in the air."

~ Laura Jaworski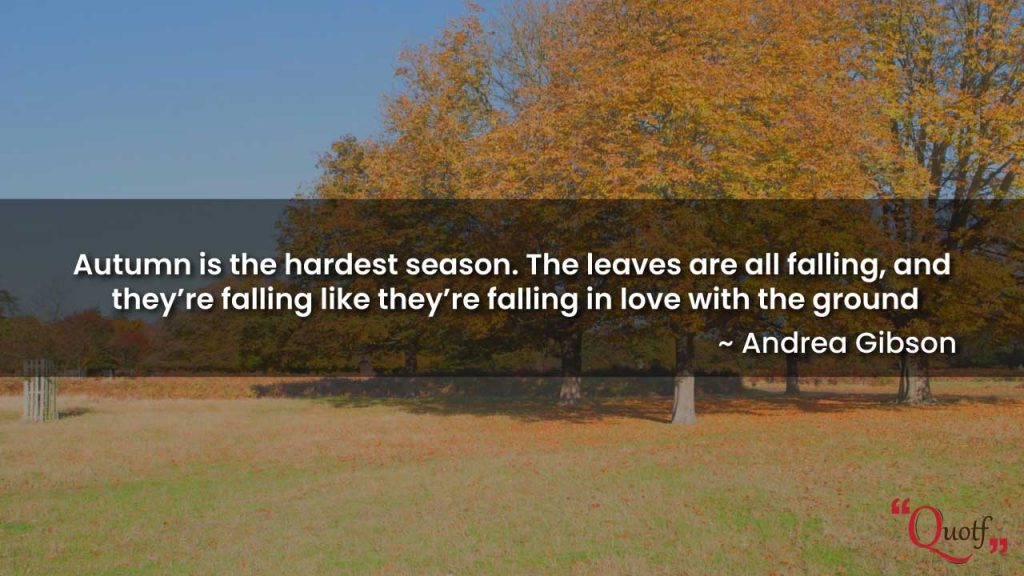 "Autumn is the hardest season. The leaves are all falling, and they're falling like they're falling in love with the ground."

~ Andrea Gibson
"Autumn that year painted the countryside in vivid shades of scarlet, saffron, and russet, and the days were clear and crisp under the harvest skies." ~ Sharon Kay Penman
Fall Weather Quotes
It is true that fall is not about just the latest pumpkin spice and apple cider recipe. Fall gives us a chance to recognize the beauty of nature. Let these beautiful fall quotes be a reason to celebrate everything about autumn this part of the year.
Autumn is the perfect season for hand holding and getting lost in the red and gold. ~ Unknown
"It's a beautiful fall day. Gentle wind teases stubborn autumn leaves."

~ Fidelis O. Mkparu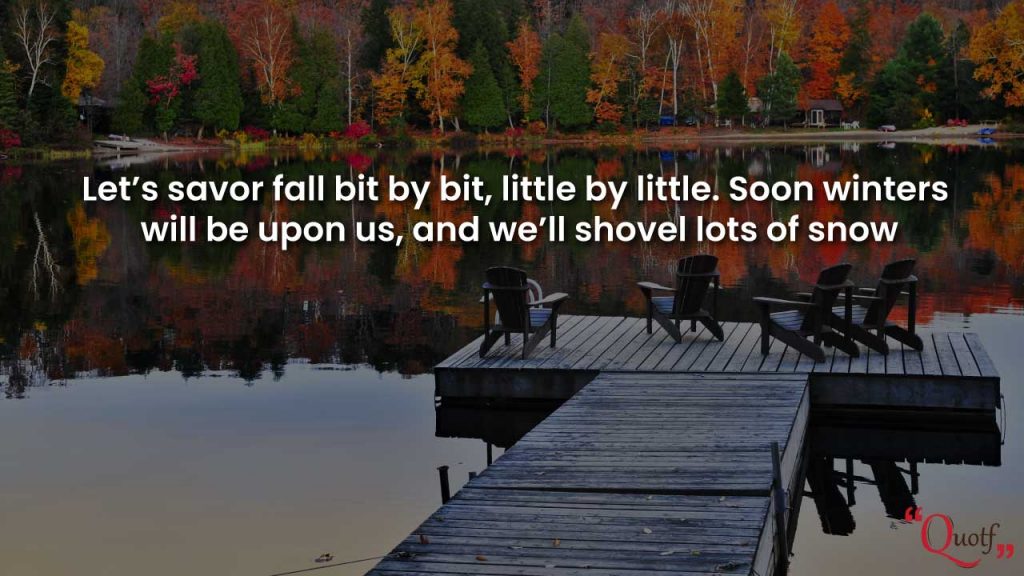 "Let's savor fall bit by bit, little by little. Soon winters will be upon us, and we'll shovel lots of snow."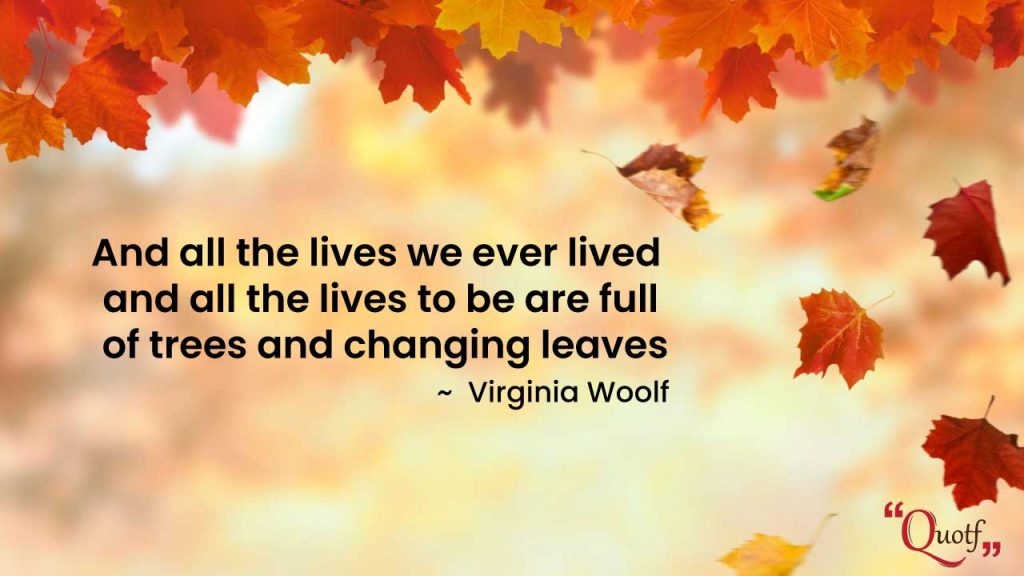 "And all the lives we ever lived and all the lives to be are full of trees and changing leaves…"

~ Virginia Woolf, To the Lighthouse
The bright summer had passed away, and gorgeous autumn was flinging its rainbow-tints of beauty on hill and dale. ~ Cornelia L. Tuthill
Positive Fall/Autumn Quotes
These positive fall quotes help you to profess your love for autumn in the best way. These positive fall quotes make your mind positive and motivate you in a positive way of life. It motivates you that a new beginning is near you just need to be patient. 
"If a year was tucked inside of a clock, then autumn would be the magic hour." ~Victoria Erickson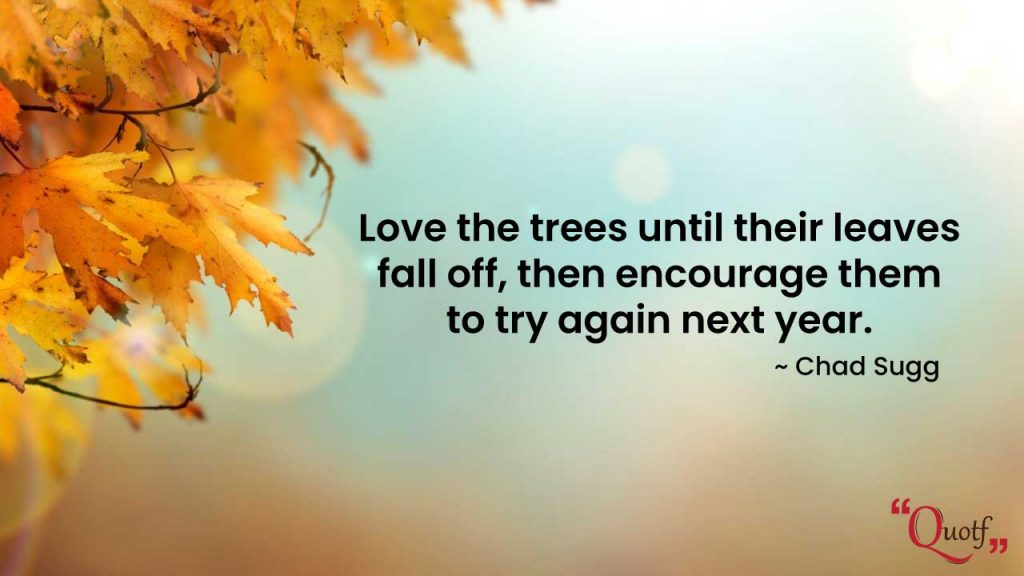 "Love the trees until their leaves fall off, then encourage them to try again next year."

~ Chad Sugg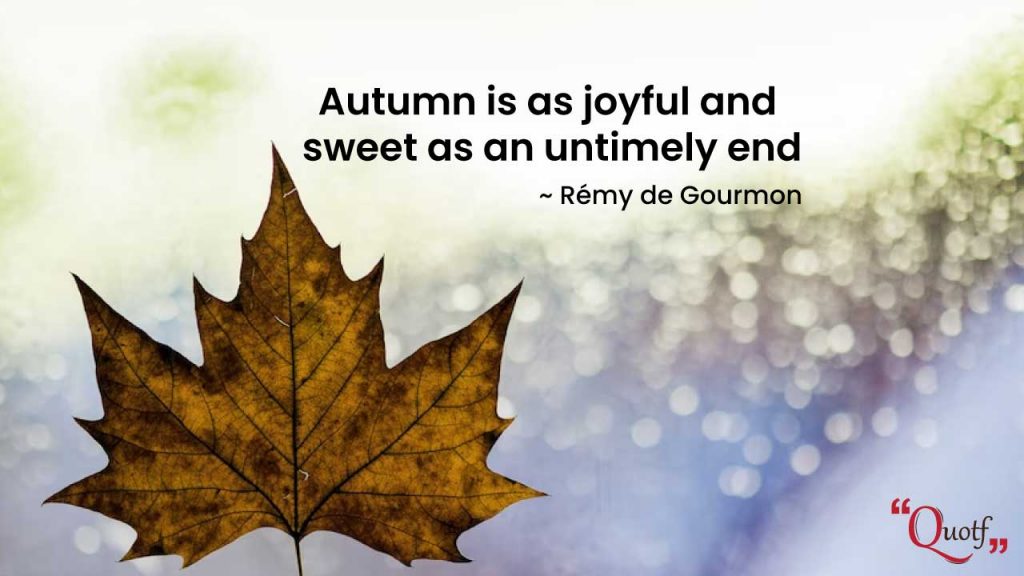 "Autumn is as joyful and sweet as an untimely end."

~ Rémy de Gourmon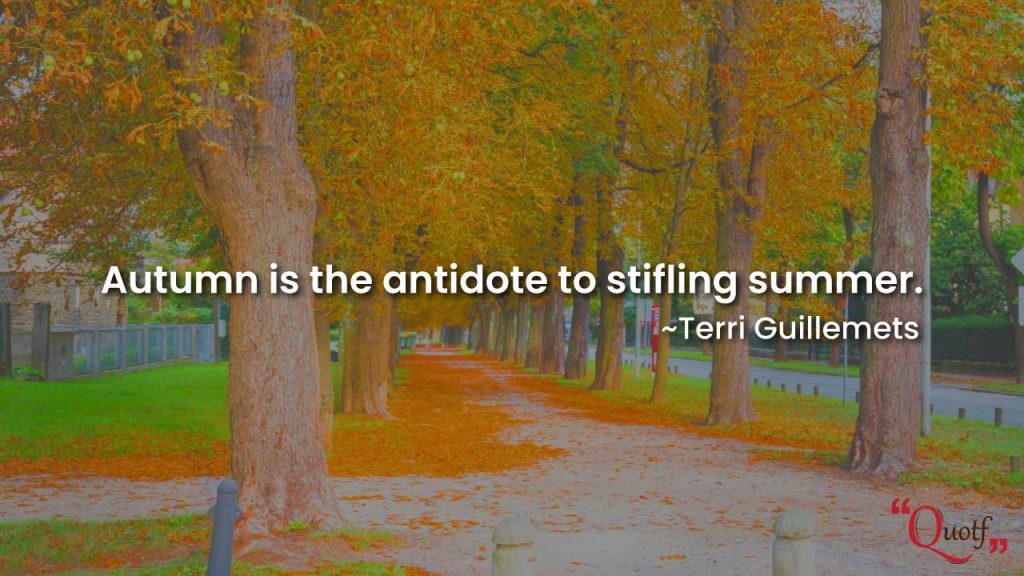 "Autumn is the antidote to stifling summer."

~ Terri Guillemets
"Is not this a true autumn day? Just the still melancholy that I love—that makes life and nature harmonize." ~ George Eliot
Fall Color Quotes
Fall is all about the magic of colours. If you want an autumn quotes collection about autumn colours here is the list. You can just grab the quotes collection on one platform. Fall is associated with the beauty of nature.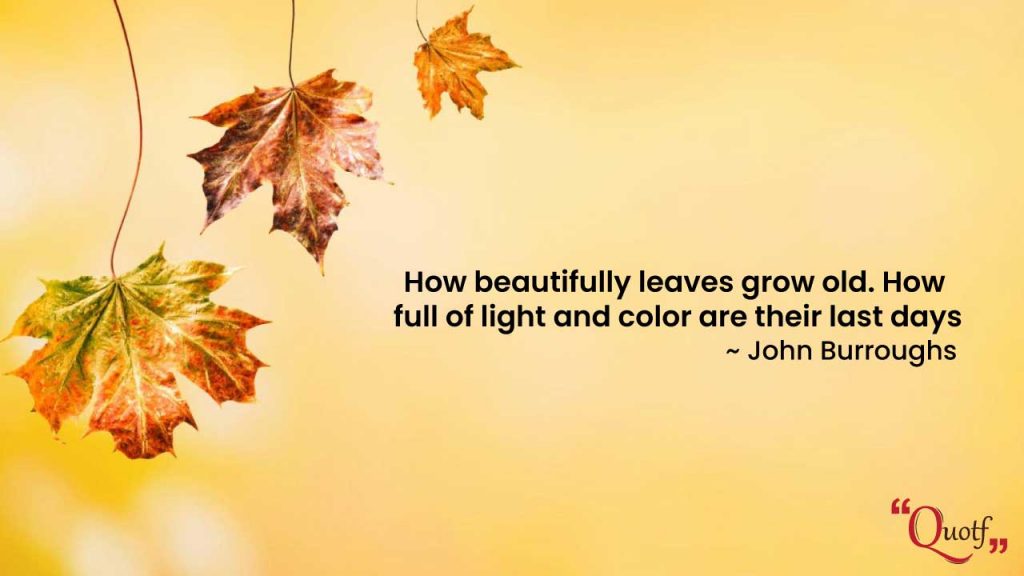 "How beautifully leaves grow old. How full of light and color are their last days."

~ John Burroughs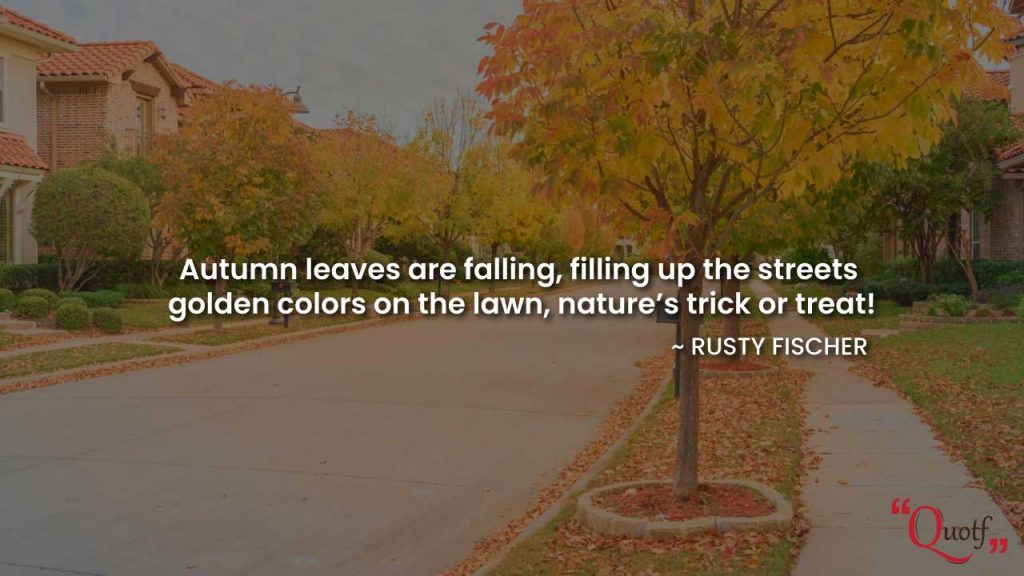 "Autumn leaves are falling, filling up the streets; golden colors on the lawn, nature's trick or treat!"

~ Rusty Fischer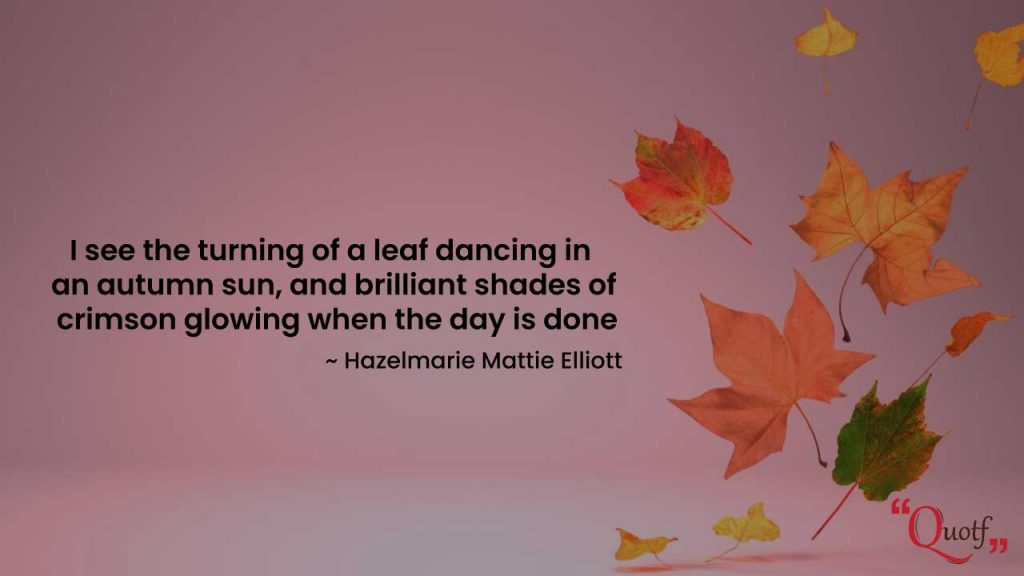 "I see the turning of a leaf dancing in an autumn sun, and brilliant shades of crimson glowing when the day is done."

~ Hazelmarie Mattie Elliott
"FALLING IN LOVE WITH OCTOBER
Leaves descending to the ground,
Orange, magenta, green & brown
The cool crisp breezes in the air,
Autumn season must be here"
Falling Leaves Quotes
Fall quotes will make you feel the freshness of nature; breezes, crisper air, and the last half of a very long year. Here are the best fall motivational quotes and autumn sayings to celebrate your favorite season.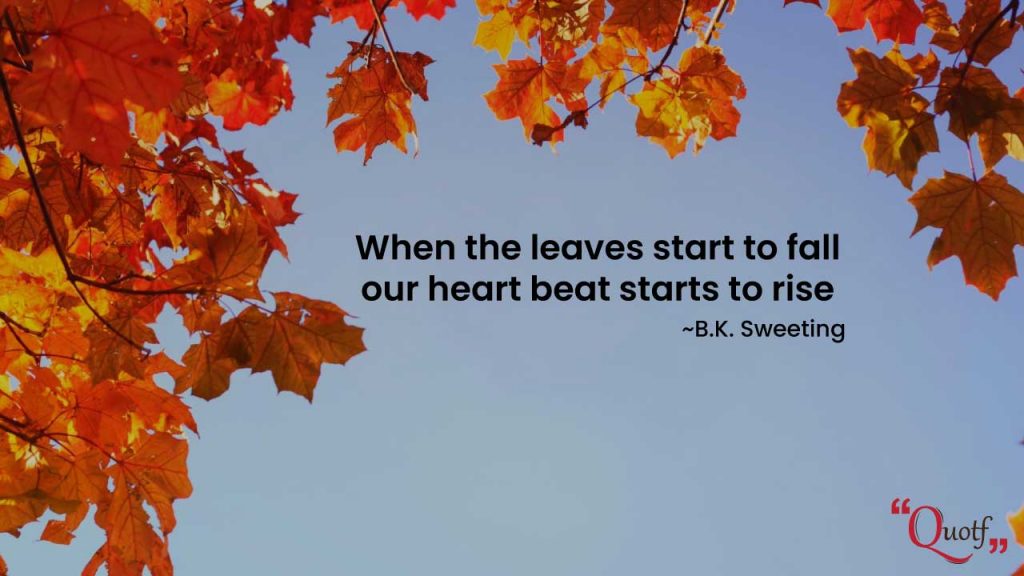 "When the leaves start to fall, our heart beat starts to rise."

~ B.K. Sweeting
"Listen …


With faint dry sound,
Like steps of passing ghosts,
The leaves, frost-crisp'd, break free from the trees
And fall."
~ Adelaide Crapsey
"The leaves fall patiently
Nothing remembers or grieves
The river takes to the sea
~ Sara Teasdale
Autumn Leaves Quotes
Fall means welcoming the change in nature. It's a time of year when the air starts to get cool and leaves start changing their colors from green to yellow, Light yellow, deep gold, orange, crimson and dark red. Here are the natural colors quotes. 
"September Bliss!!!
Autumn leaves and dancing trees" 
― Charmaine J Forde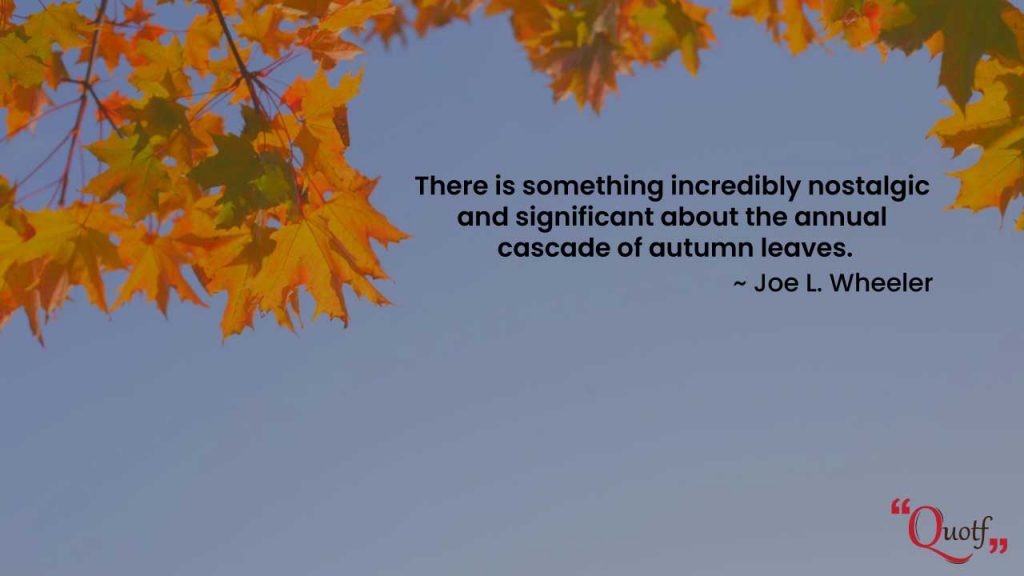 "There is something incredibly nostalgic and significant about the annual cascade of autumn leaves."

~ Joe L. Wheeler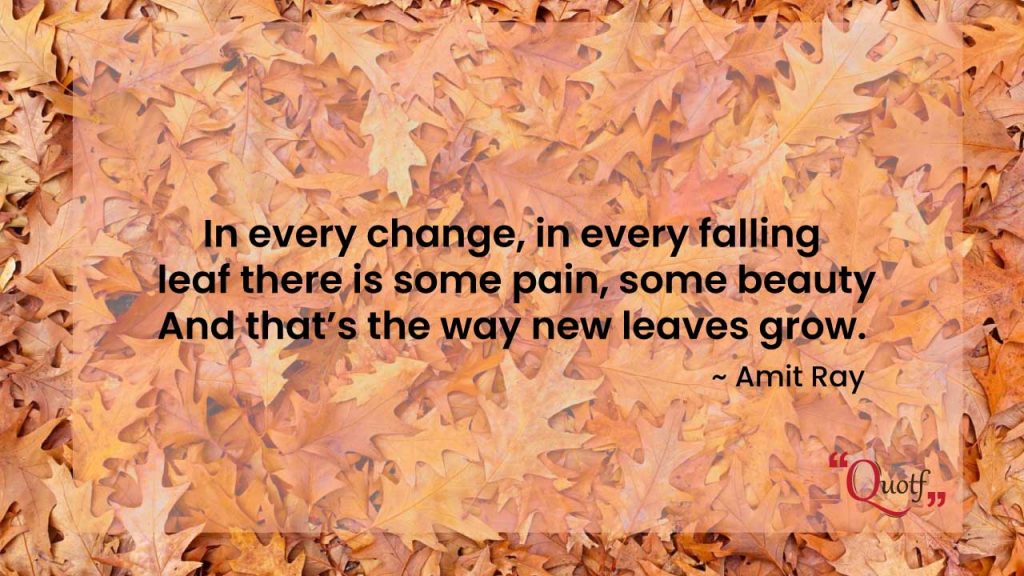 "In every change, in every falling leaf there is some pain, some beauty. And that's the way new leaves grow."

~ Amit Ray