The transitional month between fall and winter, November, is lovely. It's the perfect time to appreciate the long nights and short days with the rusty vibes. Soon it will be winter! Ice, snow, cold Gray skies, windy, sunny days, and the last crops coming off the fields. The days are getting shorter, and the trees are already naked in many places.
If you are prepared for the upcoming season of the year and life. Take some time to visit Quotf and take a look at the November Quotes, sayings & phrases about a cozy month. Be sure to do it well!
Hello November Quotes
Posting these warm and inspiring words to your social media accounts will show your passion for November. We should pay attention to the new month quotes when discussing November sayings and expressions because they contribute to the buzz that the 11th Month's abundance of turkey meals and intriguing lights generates.
"Welcome, November! The world is slowing down, nature is going to sleep, and this is a time to pause, a moment for all of us to rest."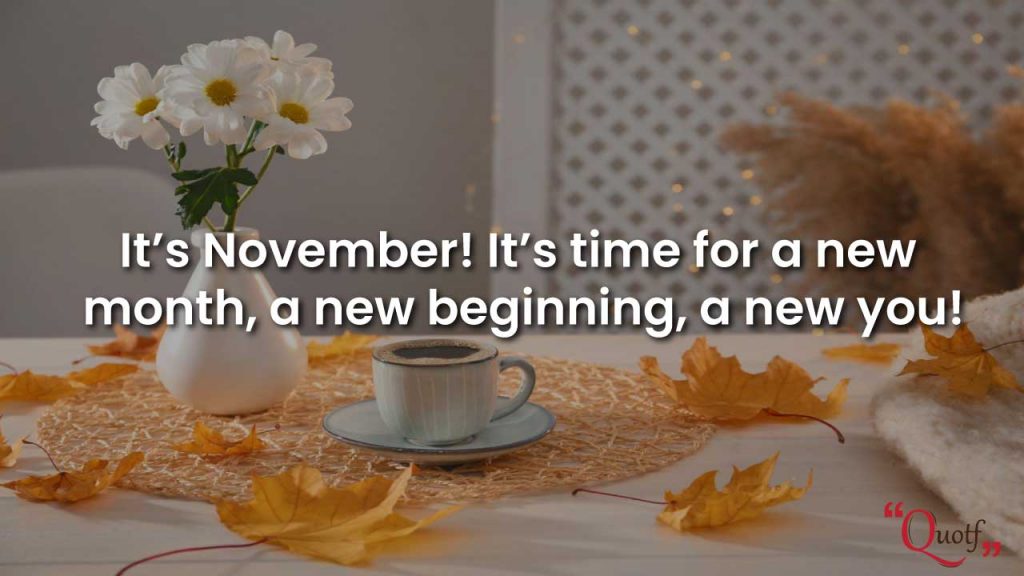 "It's November! It's time for a new month, a new beginning, a new you!"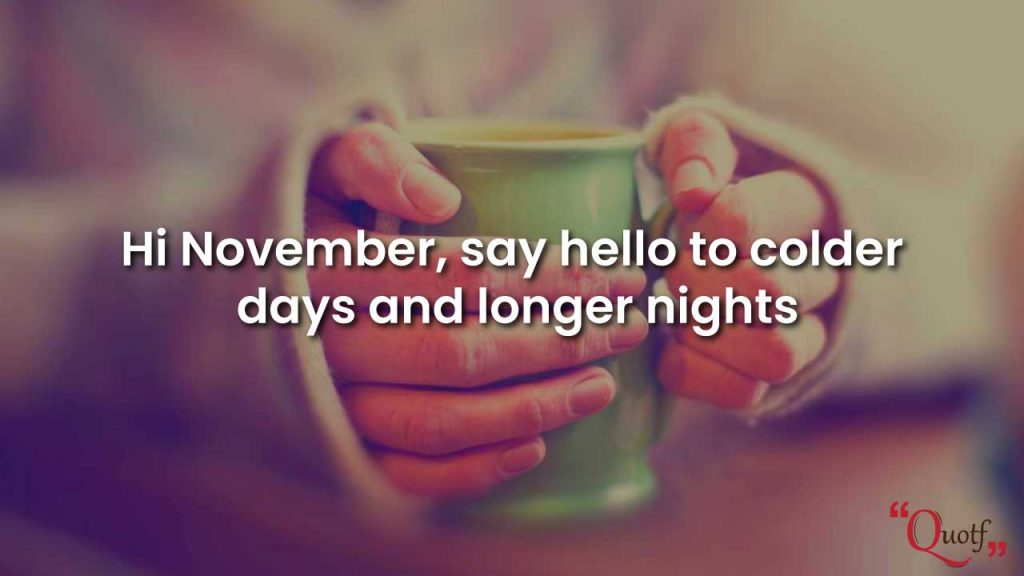 "Hi November, say hello to colder days and longer nights."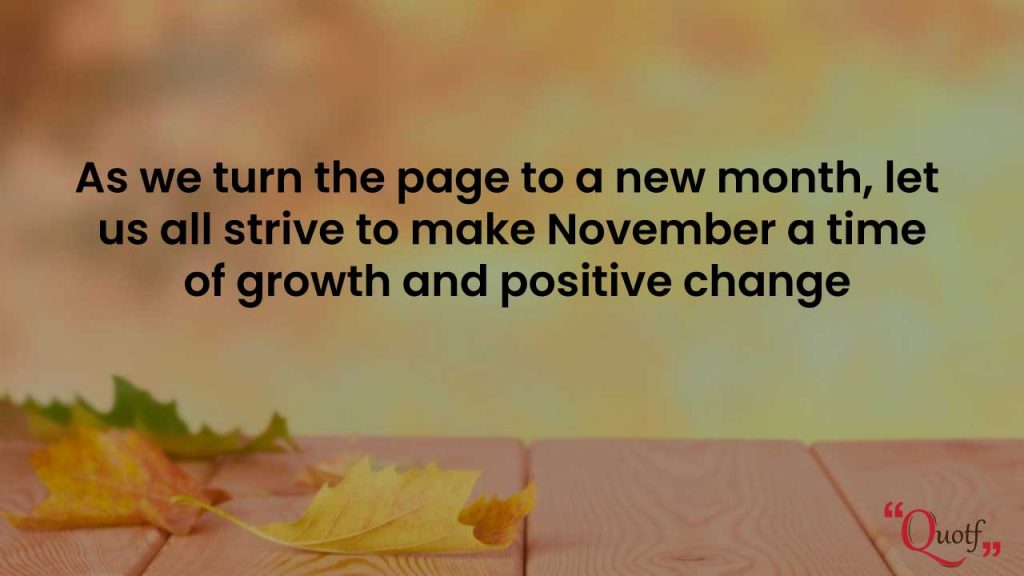 "As we turn the page to a new month, let us all strive to make November a time of growth and positive change."
"November has arrived! This is the month of giving thanks and the perfect time to say that I am beyond thankful for YOU!"
November Short Quotes
These encouraging quotations and sayings for November are for everyone who is delighted that the month has arrived. Look through our short happy quotes if you enjoy positive sayings. Yes! You can share these quotes with others on any social media platform.
"November, n. The eleventh twelfth of a weariness." – Ambrose Bierce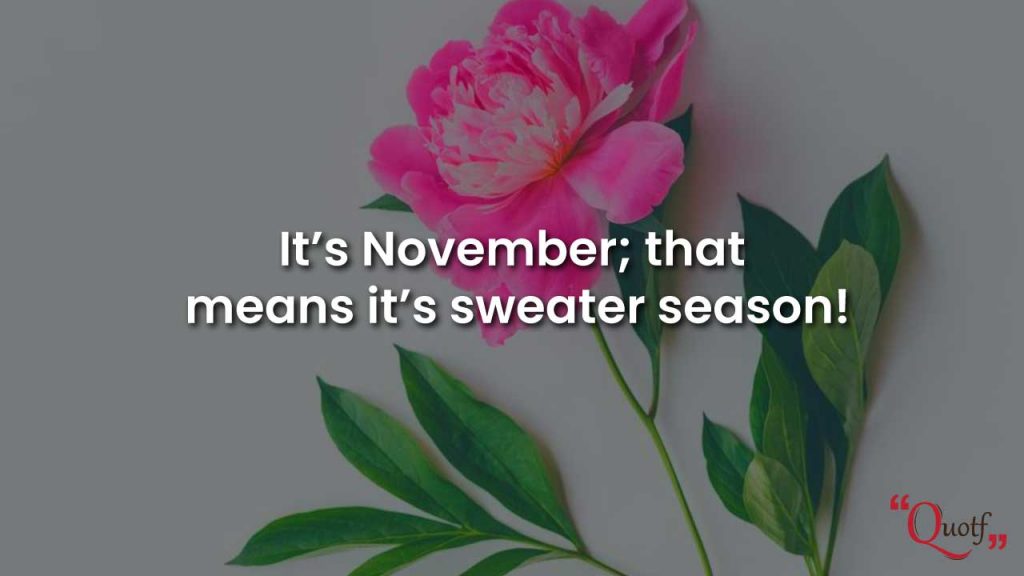 "It's November; that means it's sweater season!"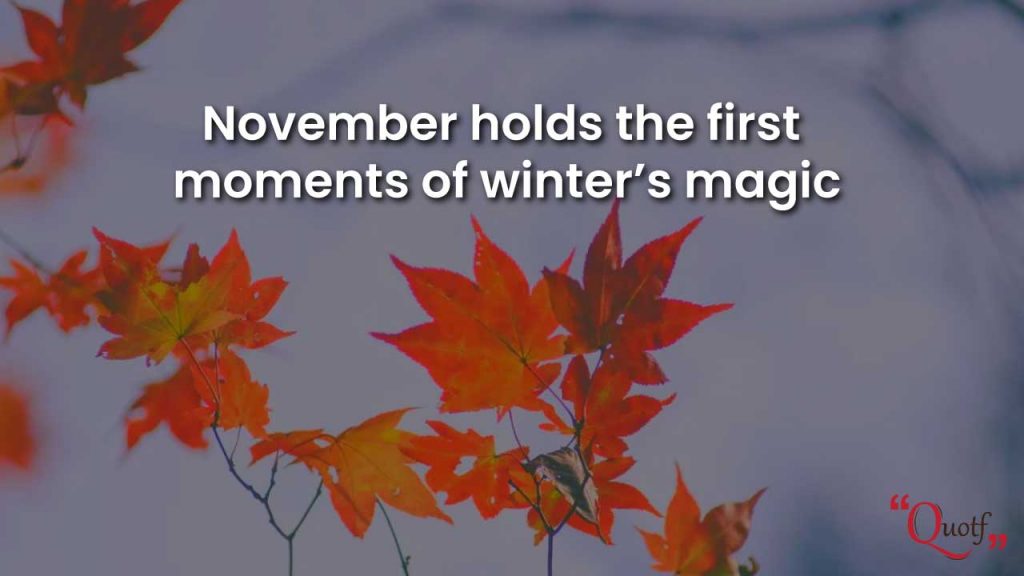 "November holds the first moments of winter's magic."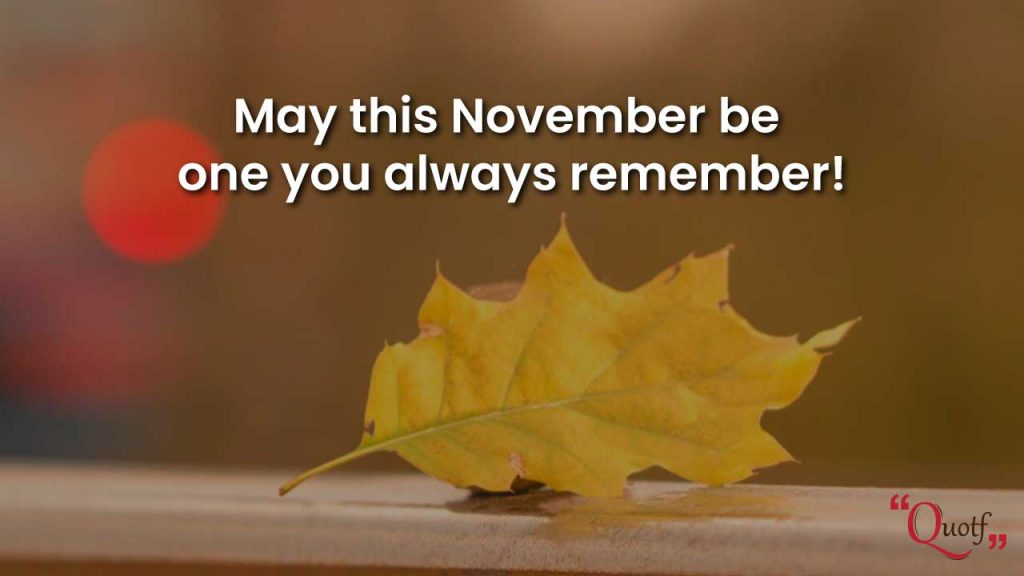 "May this November be one you always remember!"
"In November, the magic of the holidays is just beginning!"
Happy First Day of November Quotes
The final leaves on the trees turn brown at this time and drop to the ground. The first snow falls, covering the Earth, and the temperature drops. This is a month of giving thanks, cooking delectable meals, and spending time with loved ones. Enjoy these encouraging quotations for November 1st, and spread the word to your friends.
"Happy first day of November! Look how far you have come and how much room you have left to grow!"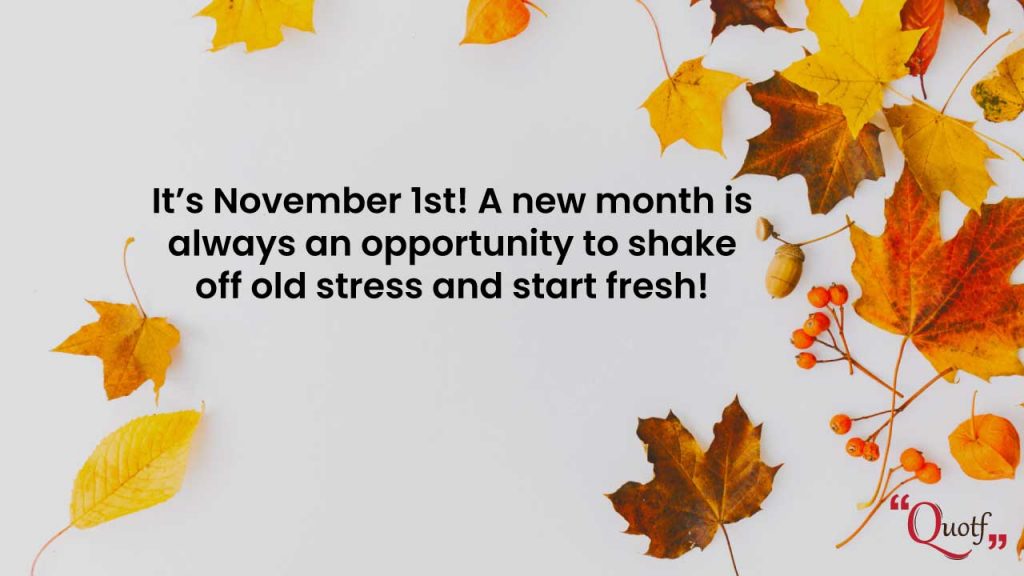 "It's November 1st! A new month is always an opportunity to shake off old stress and start fresh!"
"This new month of November is an opportunity to begin again. It's a new month and a new you. There's nothing you can't do!"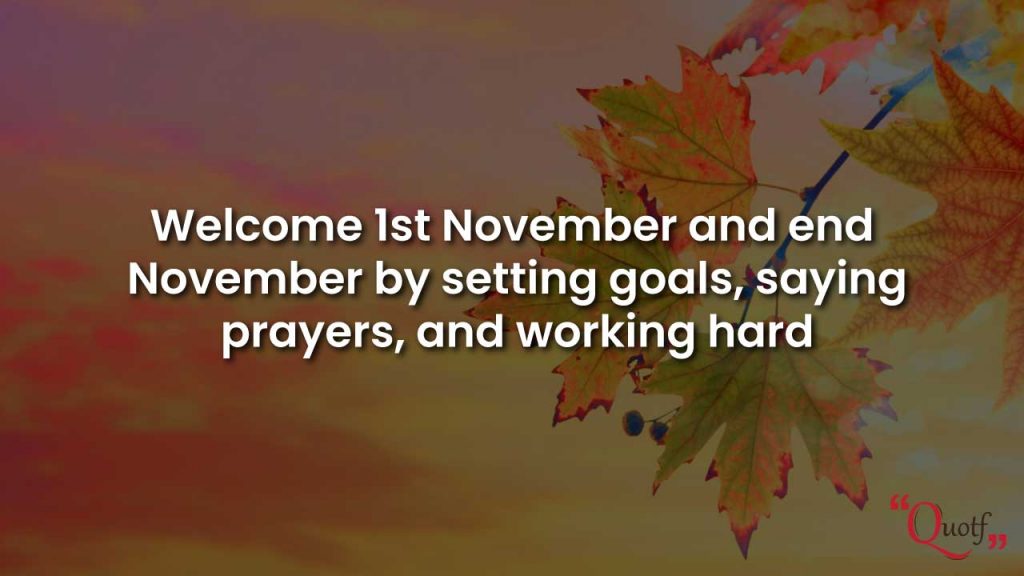 "Welcome 1st November and end November by setting goals, saying prayers, and working hard."
"Some people love summer, and some people love the first hints of fall, but November is when I can begin to stay warm and cozy inside!"


November Happenings 🗓️
These motivational quotes for November were picked to help us reflect on this last month of autumn and inspire us to change with the seasons gracefully. Enjoy these quotes and share them with others. Find your favorite Nov quote right away for motivation!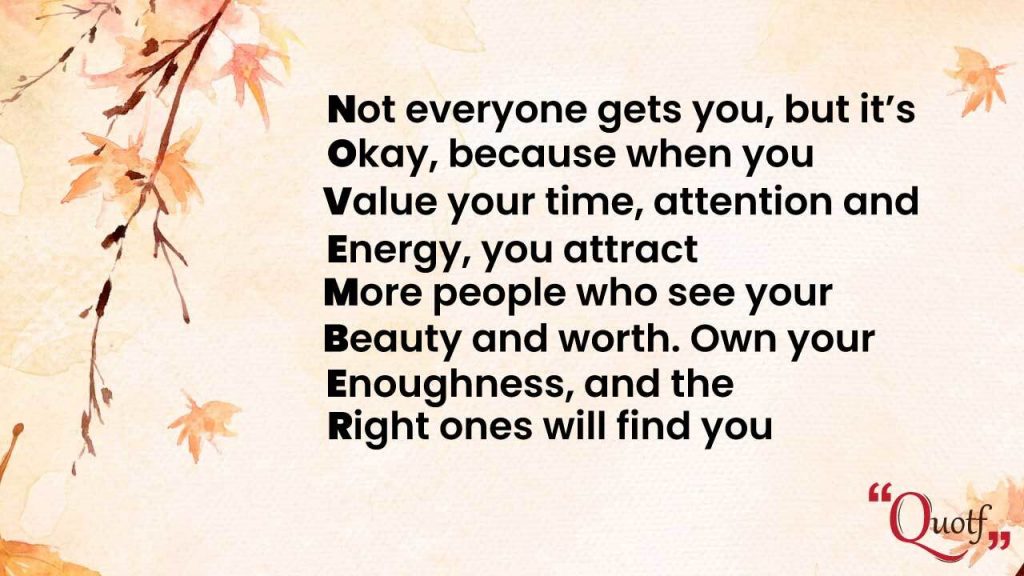 Not everyone gets you, but it's
Okay, because when you
Value your time, attention and
Energy, you attract
More people who see your
Beauty and worth. Own your
Enoughness, and the
Right ones will find you.
Two months later, you'd wish you had started now.
One day everything you go through will make sense
No one can force you to grow. Only you can do it
You are your home. Take care of it
Be with people who are good for your mental health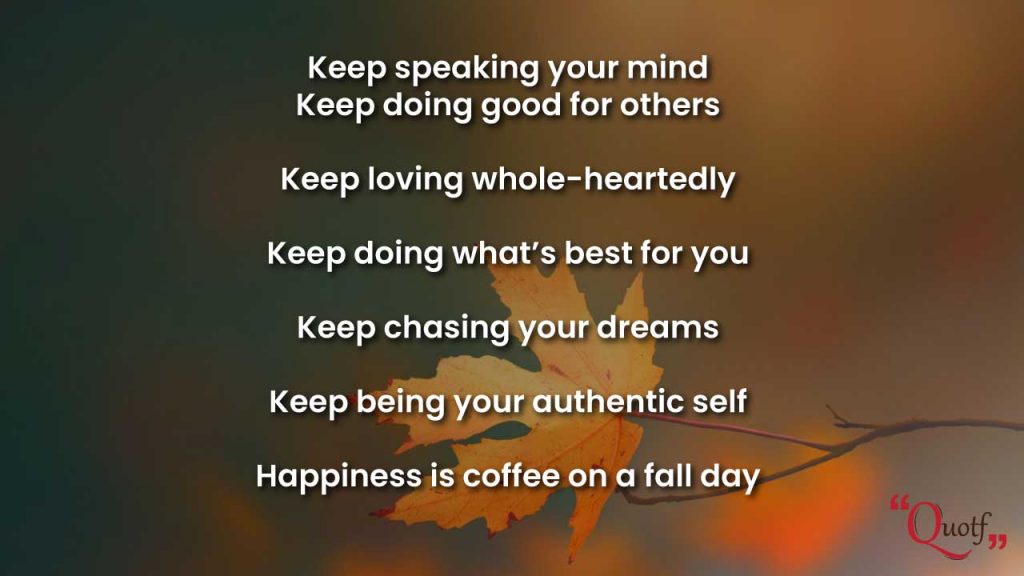 Keep speaking your mind
Keep doing good for others
Keep loving whole-heartedly
Keep doing what's best for you
Keep chasing your dreams
Keep being your authentic self
Happiness is coffee on a fall day.
Spend time alone each day
Give yourself a gentle massage
Allow yourself to take breaks
Prioritize your needs
Learn to ask for help
Appreciate what you have
November Inspirational Quotes & Sayings
If you enjoy quotes, you've come to the right place. You can use the hundreds of inspirational and seasonal fall quotes on Quotf to get through your days. Choose your favorite November inspirational saying from the list below to inspire others.
Related: Short Inspirational Quotes
"How sad would be November if we had no knowledge of the spring!" — Edwin Way Teale, Circle of the Seasons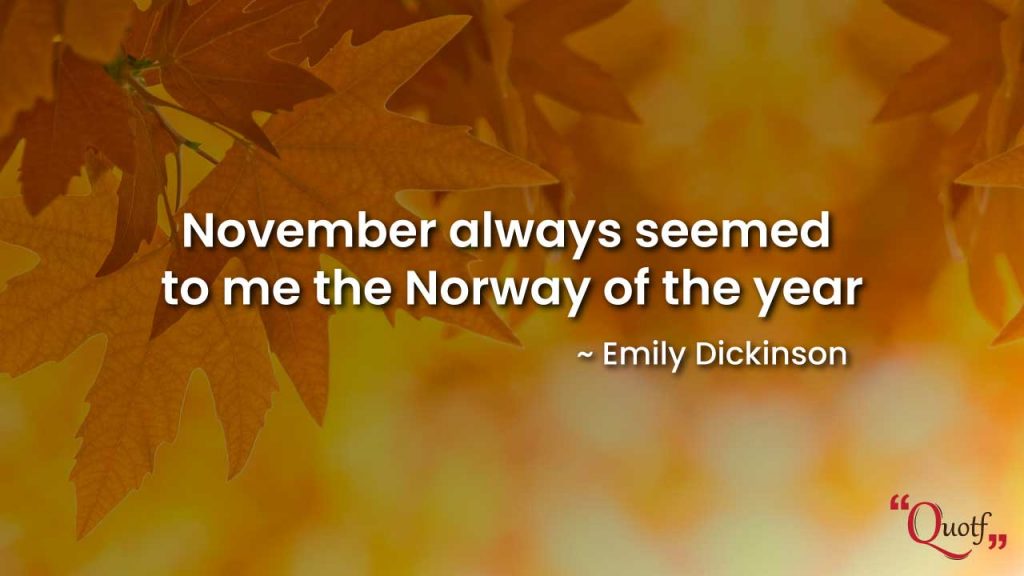 "November always seemed to me the Norway of the year."

~ Emily Dickinson
"November at its best—with a sort of delightful menace in the air." — Anne Bosworth Greene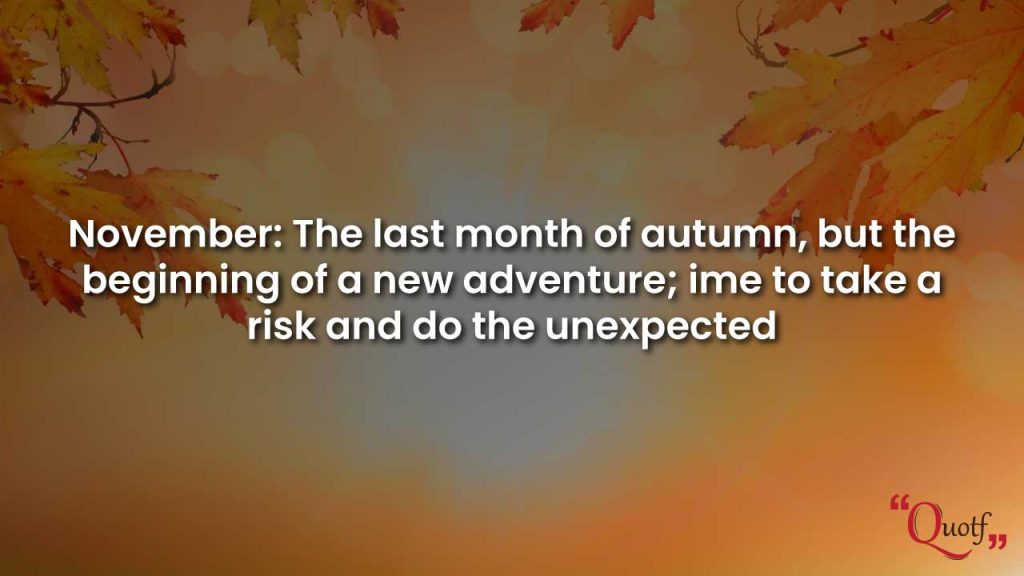 "November: The last month of autumn, but the beginning of a new adventure; ime to take a risk and do the unexpected."
"No"vember – a time to say "no" to people, places, and things that drain your energy. – Unknown
Thankful and Blessed November Phrases
These Thanksgiving November quotations will serve as a helpful reminder that change is both natural and lovely. Even if it seems like we are about to endure a long and gloomy winter, spring will always be just around the corner. Therefore we should constantly remember to give thanks and count our blessings.
Related: The Best Thank You Quotes and Sayings
Happy November! I love that I live in a world where there are November..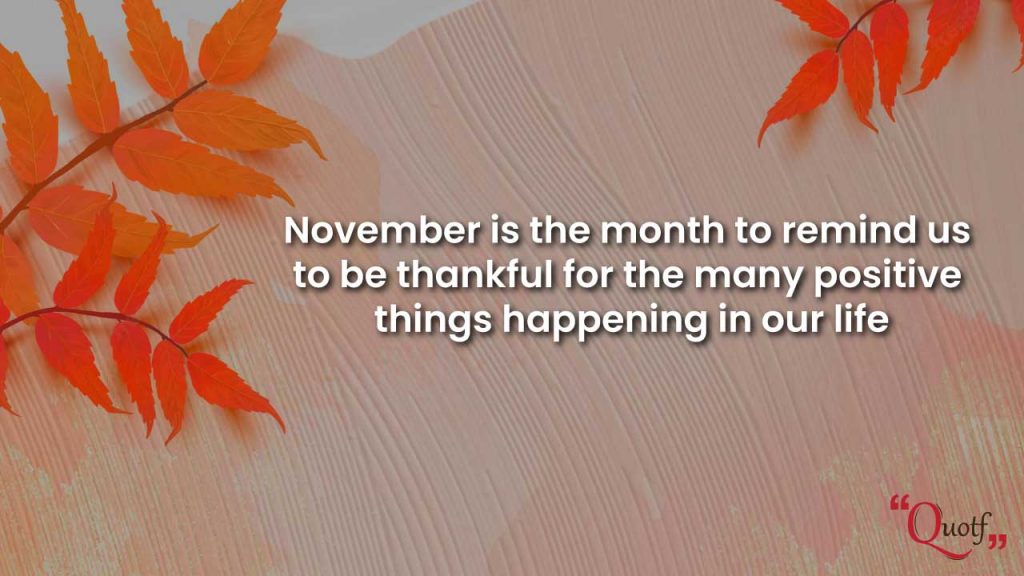 "November is the month to remind us to be thankful for the many positive things happening in our life."
"May your heart and mind be open enough to receive the new month's blessings. Happy November!"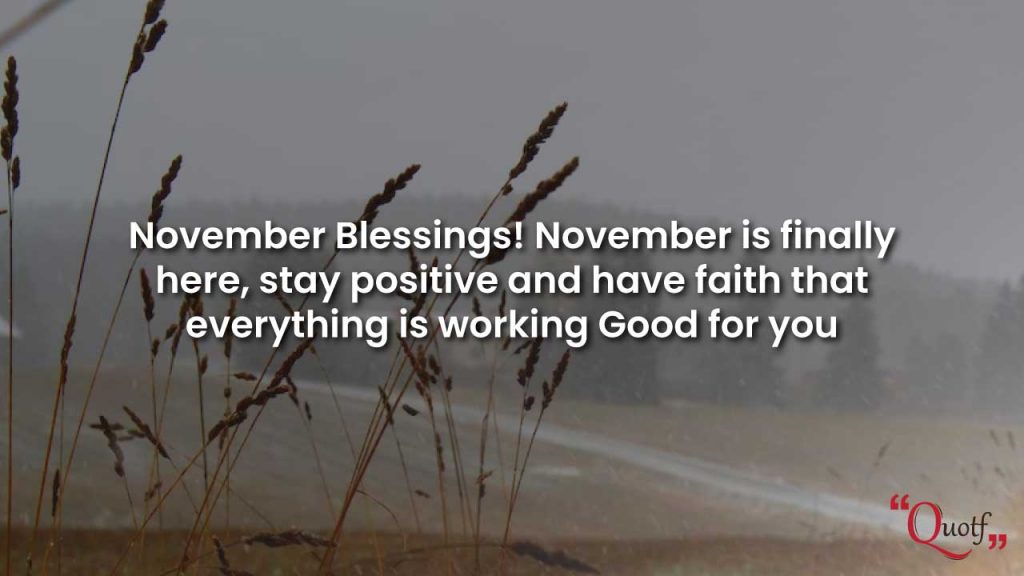 "November Blessings! November is finally here, stay positive and have faith that everything is working Good for you."
"He who thanks but with the lips thanks but in part; the full, the true Thanksgiving comes from the heart." – J.A. Shedd
Good Morning November Quotes
Natural splendors abound in November. To appreciate its beauty, one must live fully and take in everything one sees. Read through these good morning quotes from November to taste their beauty.
Related: Sweet Good Morning Messages
"Good Morning! Hello November! Surprise me."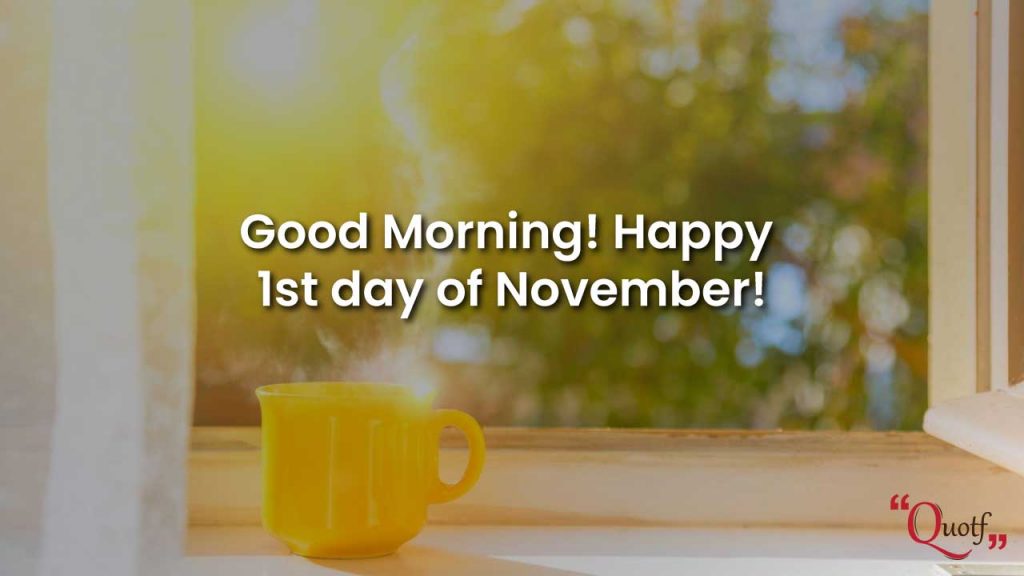 "Good Morning! Happy 1st day of November!"
"May this November be full of opportunities and hopes just like the snow. Happy November Morning!"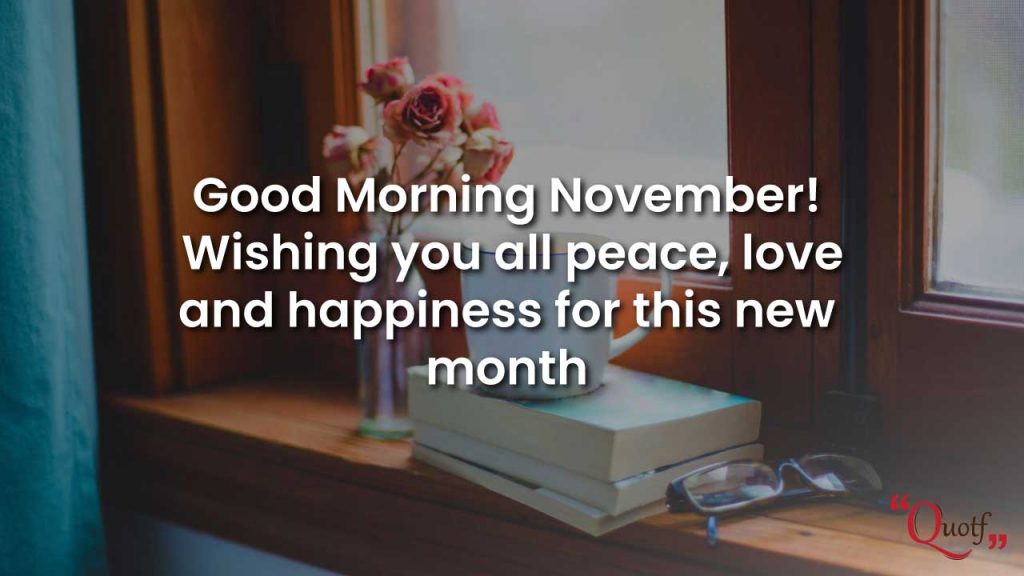 "Good Morning November! Wishing you all peace, love and happiness for this new month."
"Remember that it's never too early to start being grateful for your blessings. Happy November Morning!"
Goodbye October Hello November Quotes
The gorgeous hues of September and October give way to browns and grays in November, and seasonal depression sets in for many people. But the holiday season also starts in November. So, welcome new month with these lovely phrases and spread the word.
"Goodbye October, and hello November! Who knows what beautiful surprises we will meet in this new month?"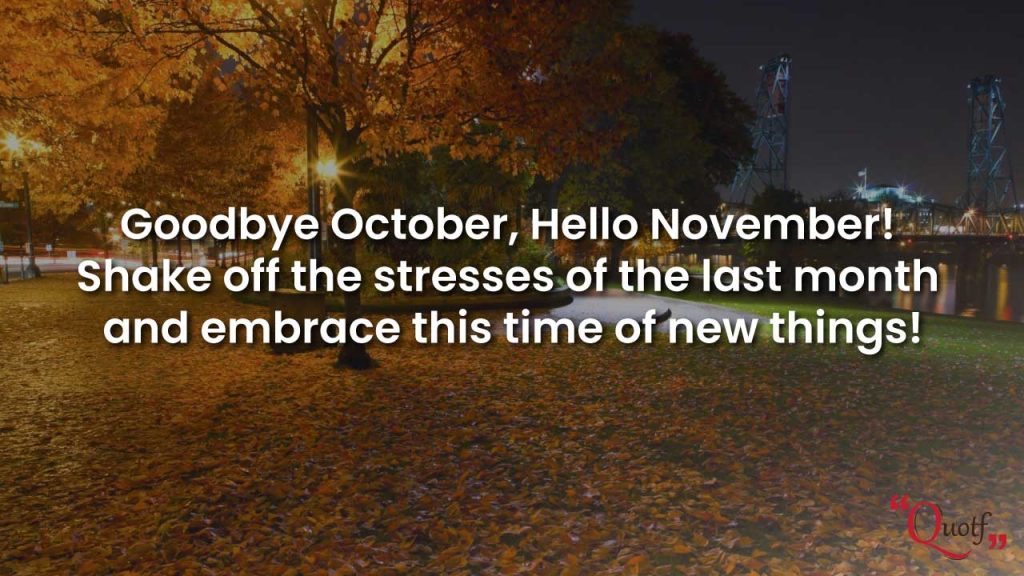 "Goodbye October, Hello November! Shake off the stresses of the last month and embrace this time of new things!"
Though goodbyes are depressing, but Hellos are always pleasing. So welcome November and say goodbye to October.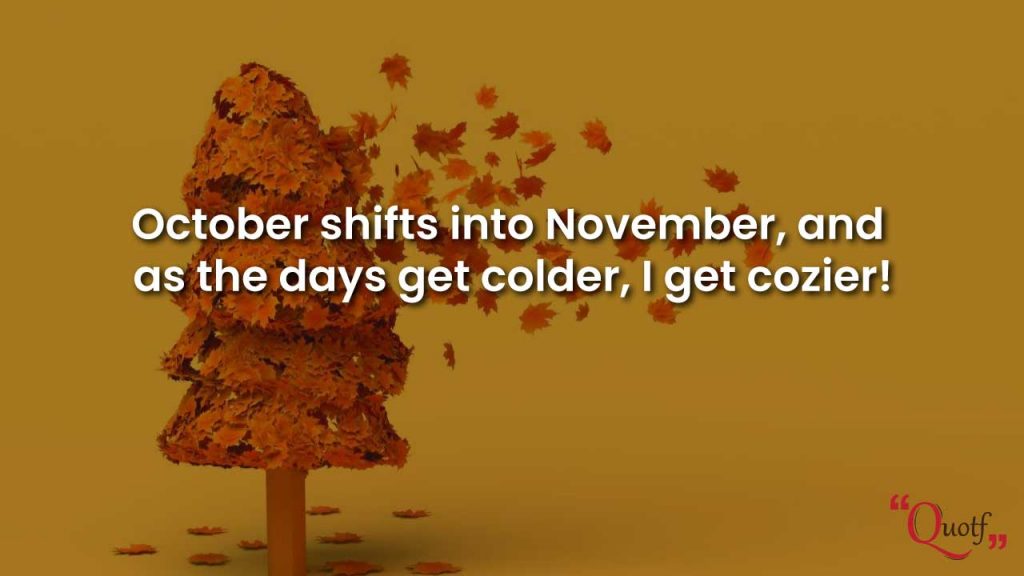 "October shifts into November, and as the days get colder, I get cozier!"
Entering into the 11th month of the year means next part of the year is yours. Welcome November with positive vibes only.
November Birthday Quotes
Are you trying to find the greatest birthday sayings for people born in November? Keep reading to get the most fabulous birthday greetings and quotes to send to your loved ones. You've come to the correct place. Here are some phrases and greetings for people born in November, in addition to lengthy and elaborate birthday wishes.
"Nobody is perfect, but those born in November come close."
"It's your birthday month, and it's time to celebrate YOU! Happy November, let's party!"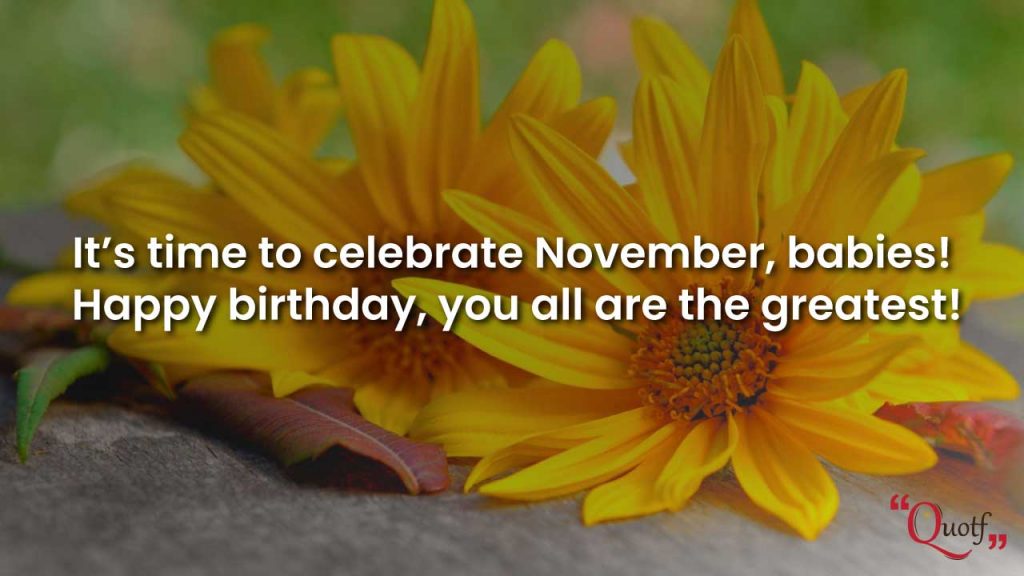 "It's time to celebrate November, babies! Happy birthday, you all are the greatest!"
"Happy birthday to all the November babies! It's a great month all for celebrating you!"
"All the best people are born in November!"
Positive Sweet November Quotes
We know that even though winter is approaching and signifies change, spring is not far away, and the days will soon be long and warm. Check out these winter Positive quotes by Quotf as well to help you get through the iciest yet most beautiful time of the year.
Related: Winter Quotes
"This is going to be a November to remember" ― Charmaine J. Forde
"Summer came in November, and it came in blazing"
― Amelia Mellor, The Bookseller's Apprentice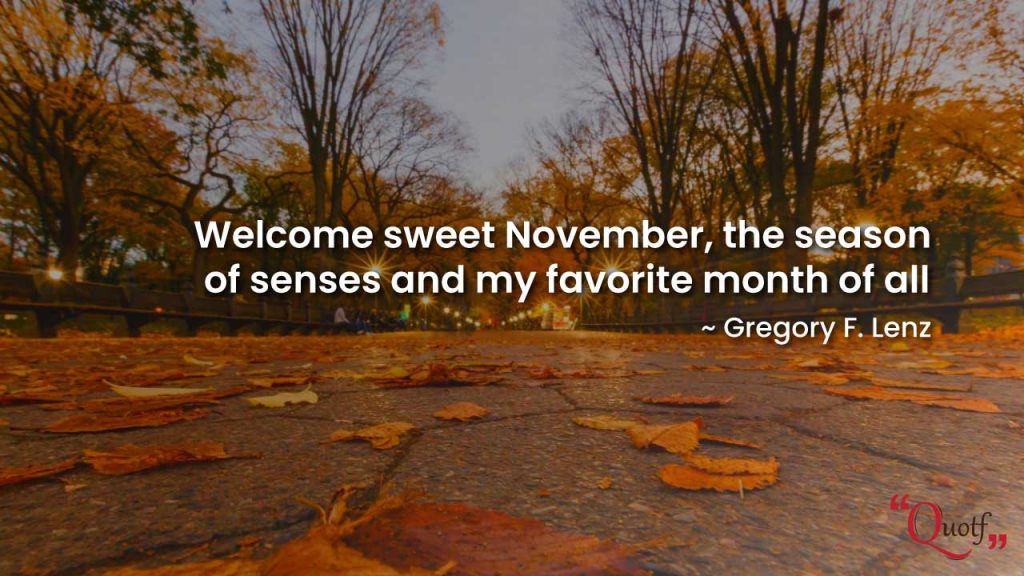 "Welcome Sweet November, The Season Of Senses And My Favorite Month Of All."

~ Gregory F. Lenz
"The month of November makes me feel that life is passing more quickly. In an effort to slow it down, I try to fill the hours more meaningfully." – Henry Rollins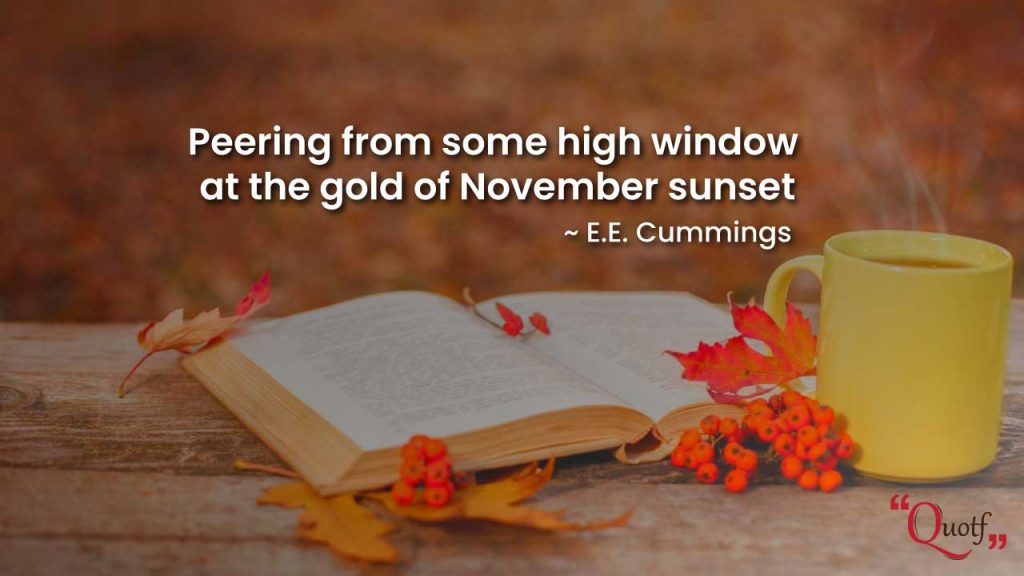 "Peering from some high window, at the gold of November sunset."

~ E.E. Cummings
"It was November. The trees were


full with smells of oncoming smoke."
― Sneha Subramanian Kanta
Funny November Sayings
November 1st, National 'Eat you kid's Halloween candy' day!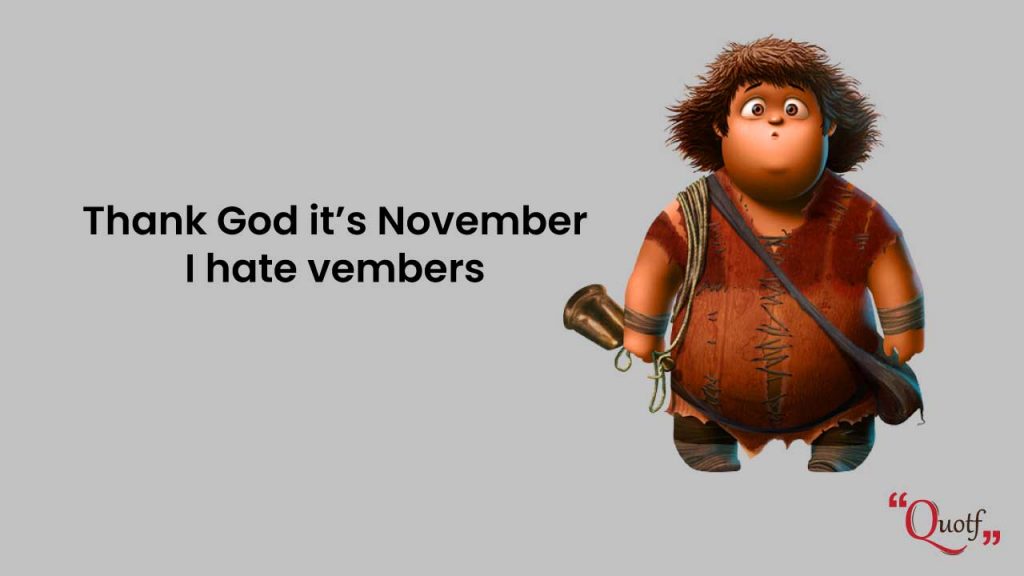 "Thank God it's November, I hate vembers."
"November is the month of no –no more sunshine, no more green, no more sitting for hours outside. Why is there not a YESvember?"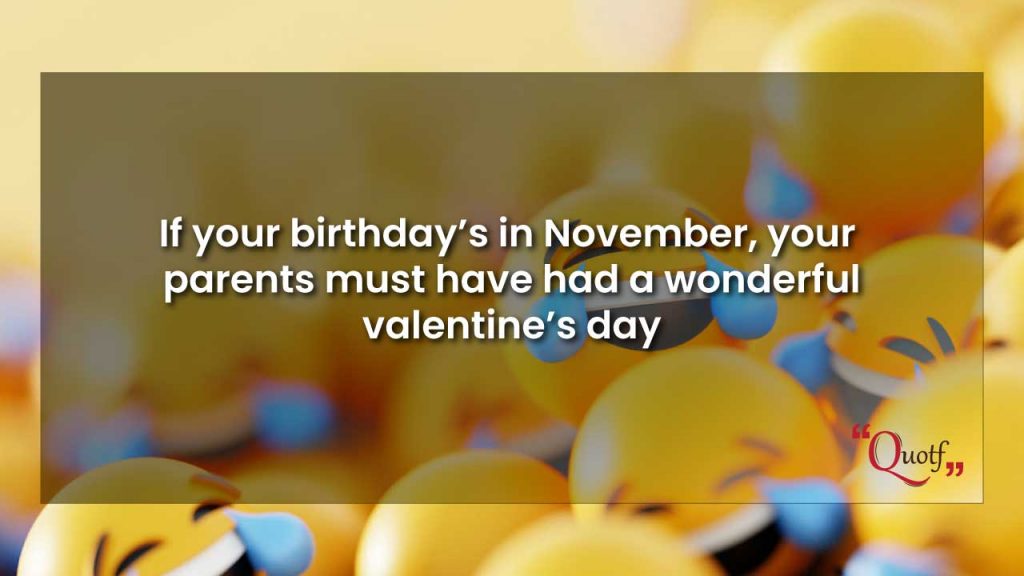 "If your birthday's in November, your parents must have had a wonderful valentine's day."
"In November, we celebrate all that we are thankful for, and everyone warmly remembers all the beauty in the world…except the turkeys. Suddenly they don't have a whole lot to be grateful for."
Fall November Phrases
Are you prepared to accept November and its beauty, splendor, and challenges? Fall is near to end, and winters are near. The quotations from above should be pretty helpful. November offers fresh prospects like the other 11 months of the year. Obtain the drive necessary to seize these possibilities.
Related: Best Fall Quotes & Sayings About Autumn Season
"My lovely November. Have you seen my heart, somewhere in your castle of yellow leaves?" – A Waltz for Zizi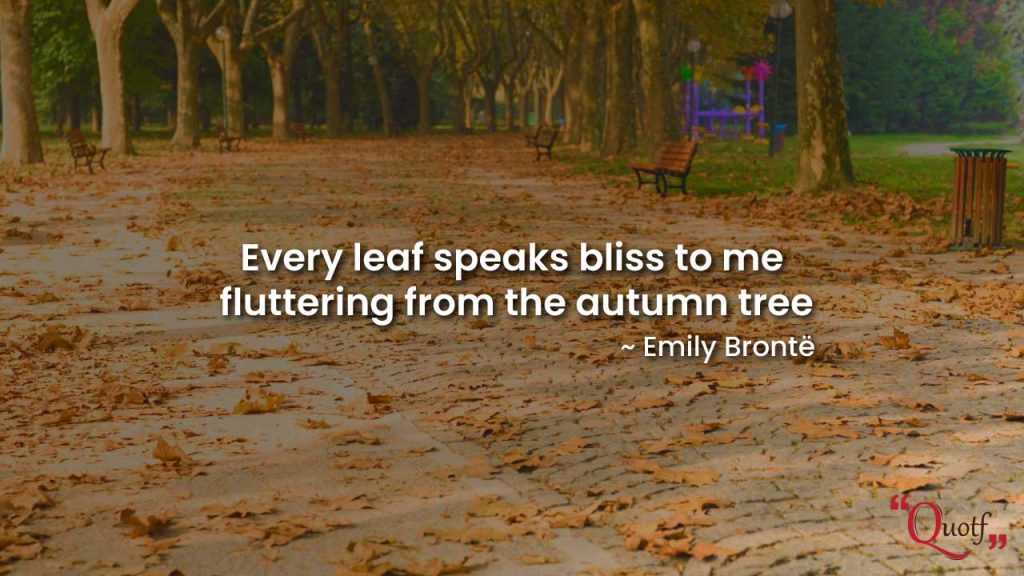 "Every leaf speaks bliss to me, fluttering from the autumn tree."

~ Emily Brontë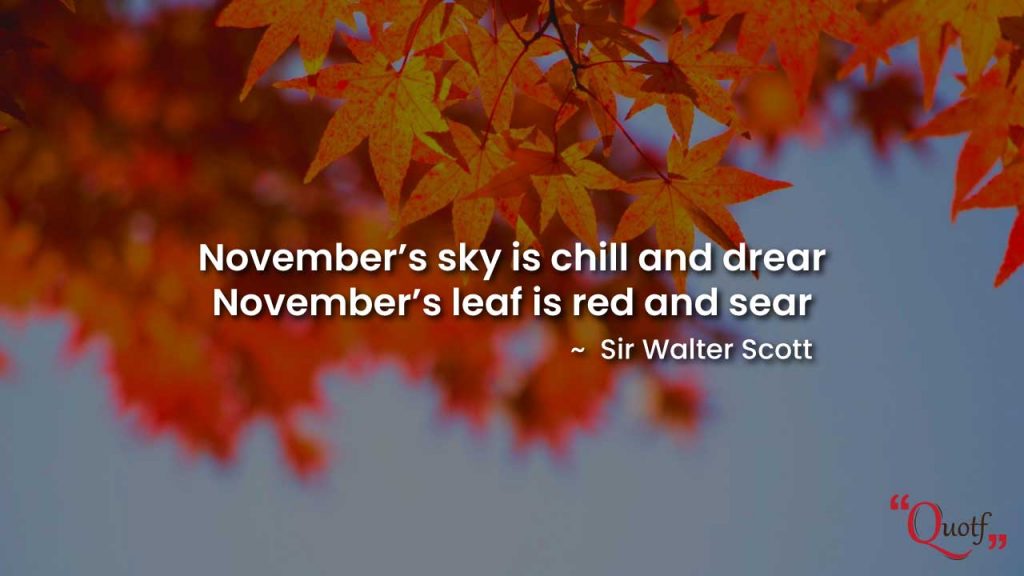 "November's sky is chill and drear, November's leaf is red and sear."

~ Sir Walter Scott
"Some of the days in November carry the whole memory of summer as a fire opal carries the color of moon rise." — Gladys Taber
November Poems & Quotes
Immerse yourself in November poems and sayings to develop a personal connection to the month, its climate, and its spirit. To feel the spirit of this lovely month, read a couple more of these quotations and sayings about November.
"November comes
And November goes,
With the last red berries
And the first white snows.
With night coming early,
And dawn coming late,
And ice in the bucket
And frost by the gate.
The fires burn
And the kettles sing,
And earth sinks to rest
Until next spring."
– Elizabeth Coatsworth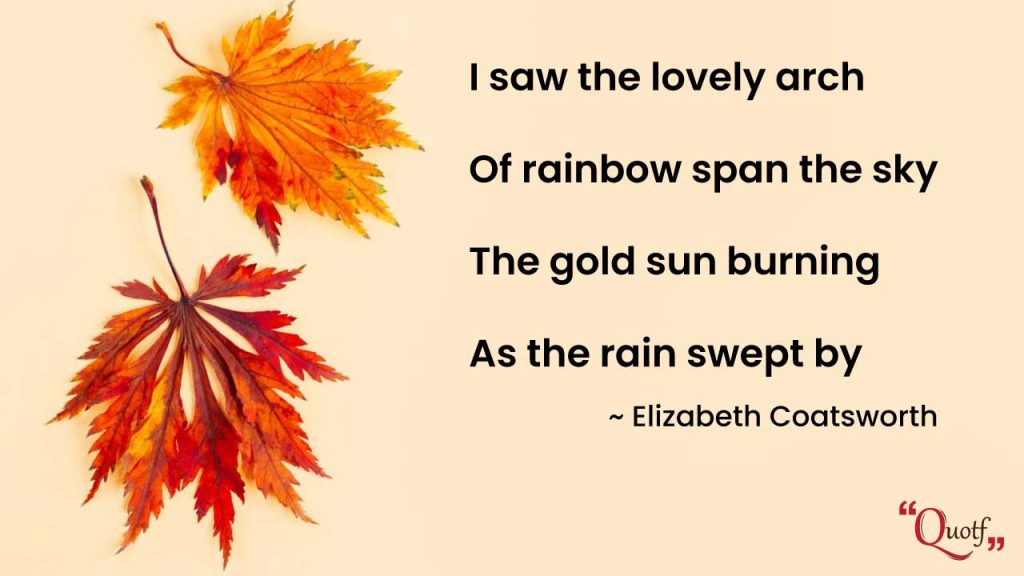 "I saw the lovely arch
Of rainbow span the sky,
Of rainbow span the sky,
Of rainbow span the sky,
– Elizabeth Coatsworth, November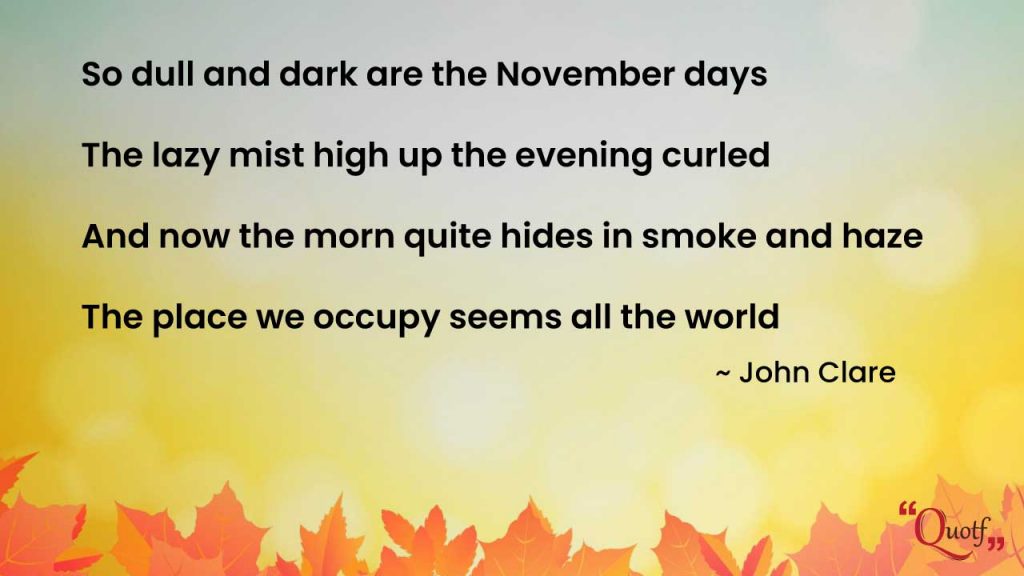 "So dull and dark are the November days.
The lazy mist high up the evening curled,
And now the morn quite hides in smoke and haze;
The place we occupy seems all the world."
– John Clare, November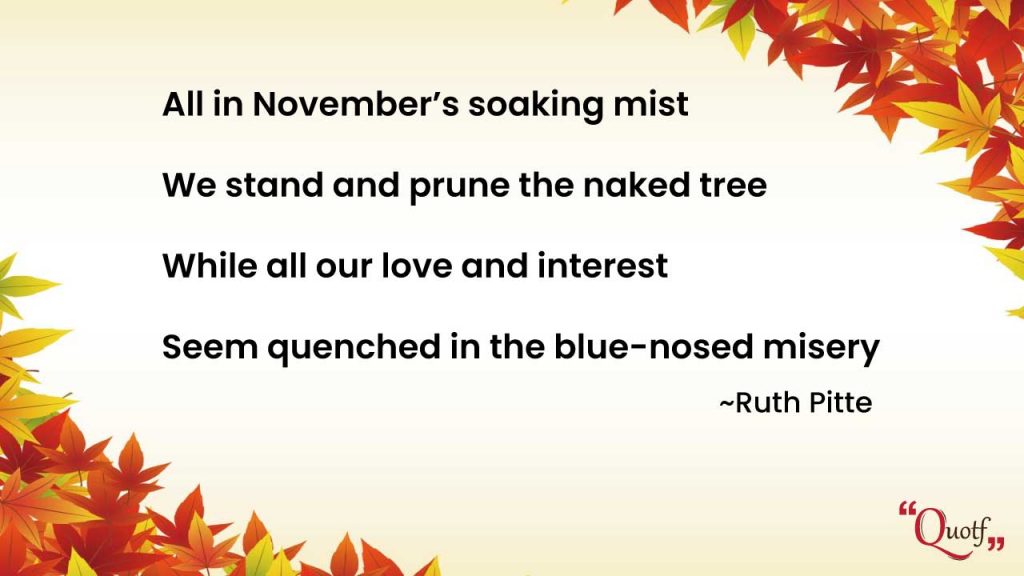 "All in November's soaking mist
We stand and prune the naked tree,
While all our love and interest
Seem quenched in the blue-nosed misery."
– Ruth Pitter, 1897-1992, The Diehards, 1941
"In the garden, Autumn is, indeed the crowning glory of the year, bringing us the fruition of months of thought and care and toil. And at no season, safe perhaps in Daffodil time, do we get such superb colour effects as from August to November."
– Rose G. Kingsley, The Autumn Garden
November Instagram Captions
For your subsequent November photo, use one of these captions. These are a selection of November quotations that you may share on your Instagram account. You may also enjoy our categories of Winter Captions, Funny Thanksgiving Captions, and Fall Captions.
Ho, ho. It's finally November!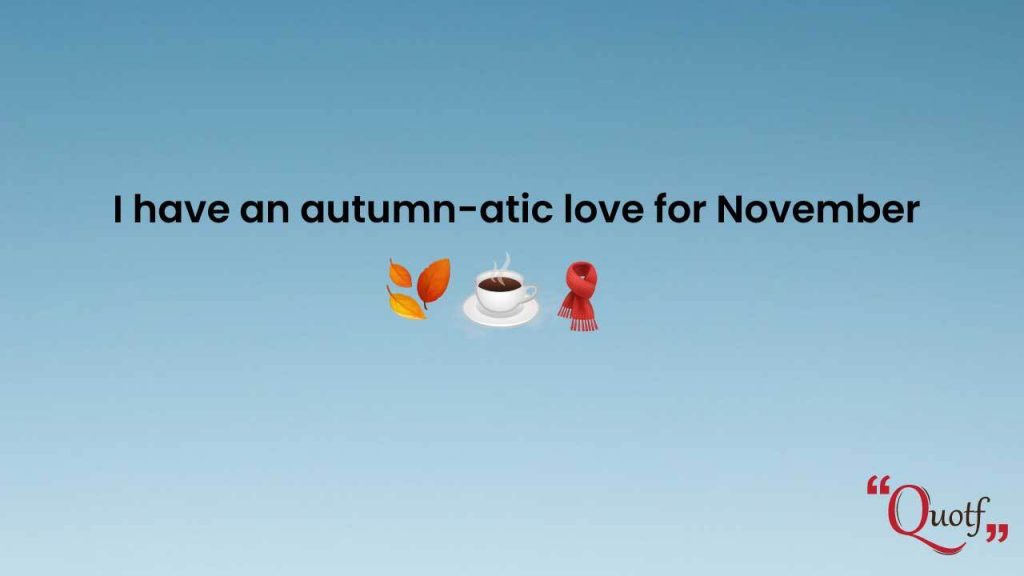 "I have an autumn-atic love for November 🍂☕️🧣"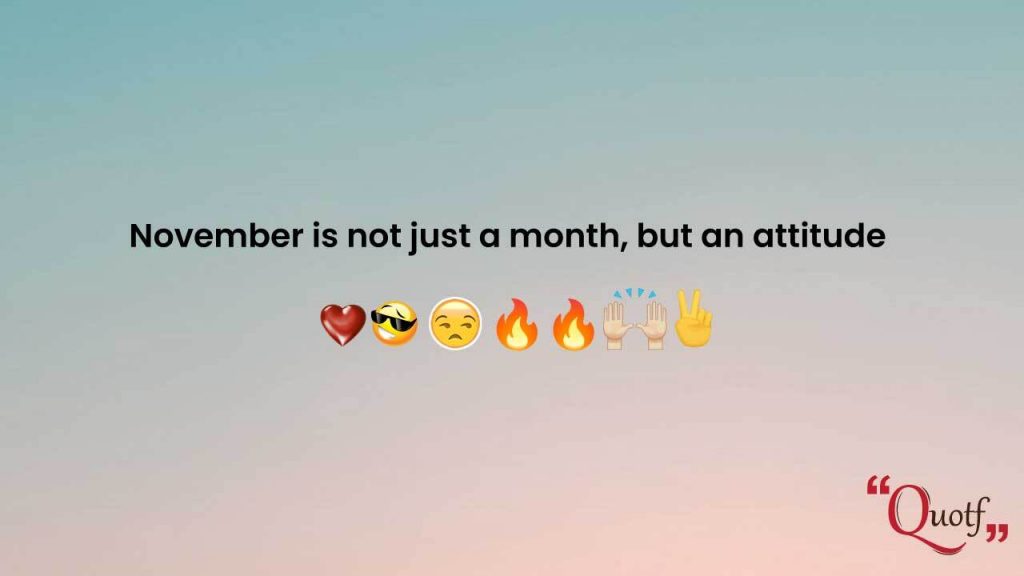 "November is not just a month, but an attitude 🖤😎😏🔥🔥🙌🤘🏻"
You can't beat the feeling of falling in love with November.
"There's a chill in the air and leaves are everywhere… it must be November!"
October comes swiftly to an end, so here's a toast to all the things we love about November 🎂🎉
November Work Quotes
These November work quotes will surely be a hit with everyone who puts their heart and soul into their work. They were written especially to honor and thank all the skilled workaholics. Share this with your friends and coworkers to encourage them.
"November is the month that takes us nearer to the holiday season and farther from the worries."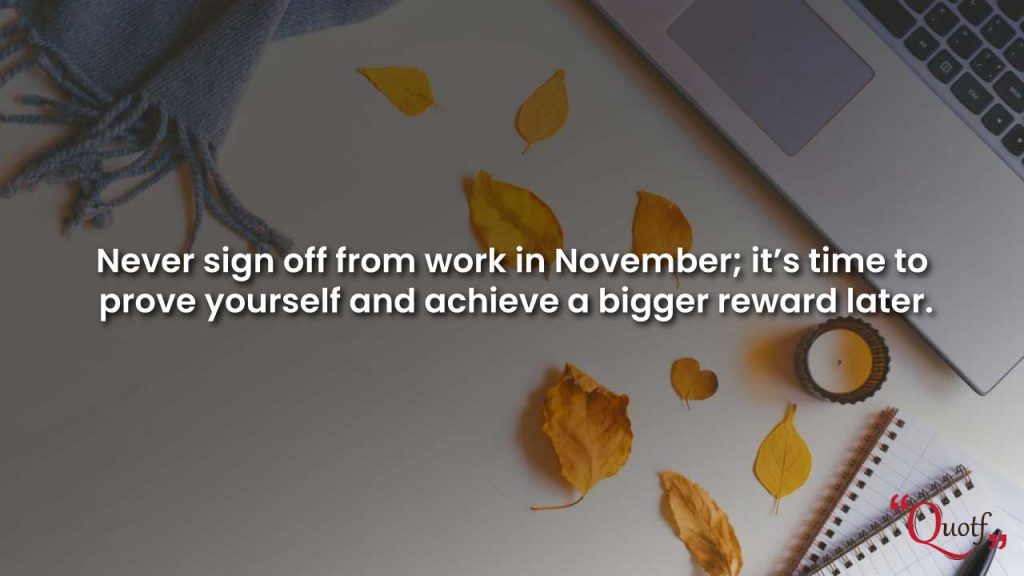 "Never sign off from work in November; it's time to prove yourself and achieve a bigger reward later."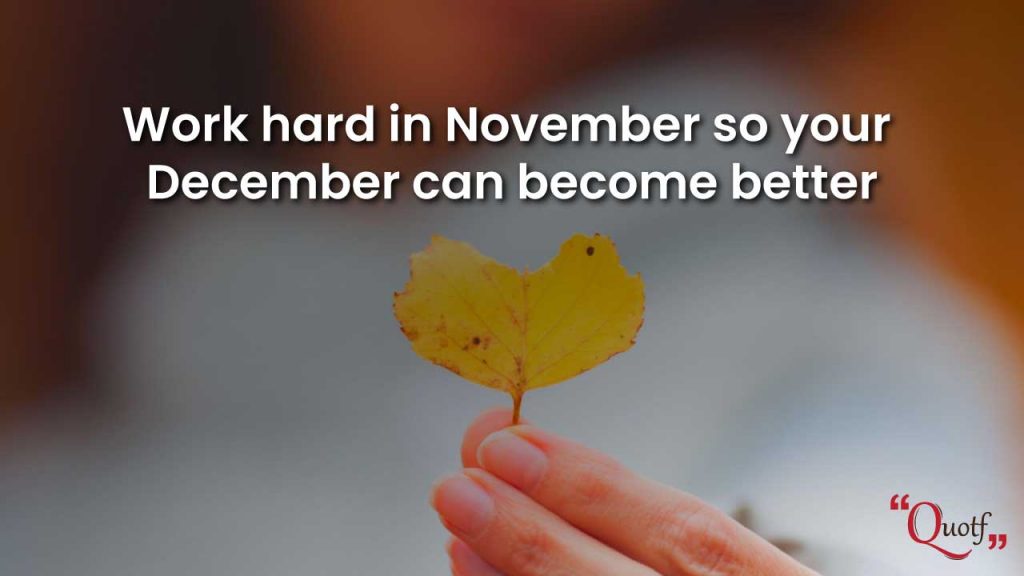 "Work hard in November so your December can become better."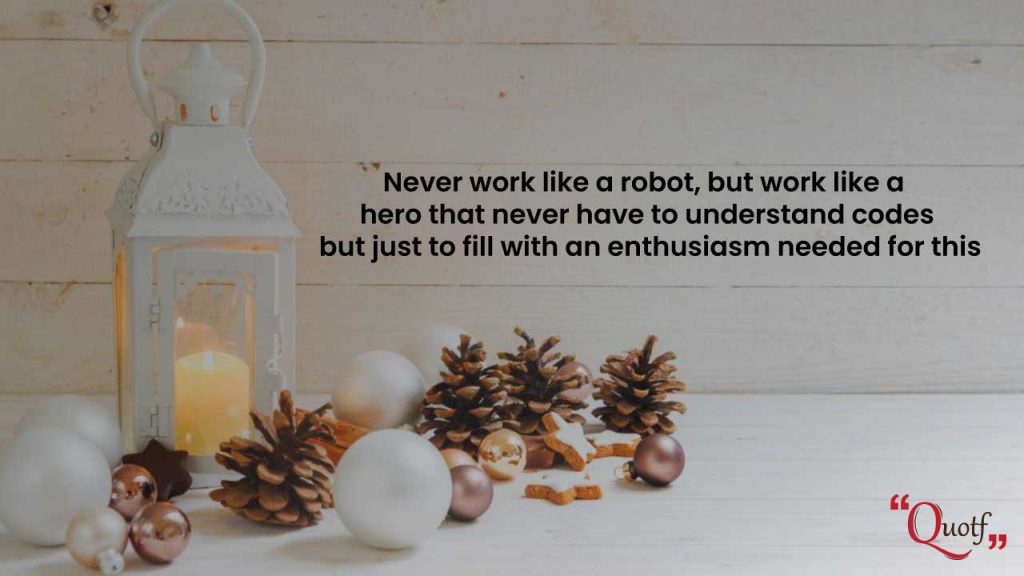 "Never work like a robot, but work like a hero that never have to understand codes but just to fill with an enthusiasm needed for this."
We intend to wind down our humanitarian work in North Korea by the end of November. – JAMES MORRIS
Conclusion
Each month has its own specialty, and there is no competition between them. Each month's unique qualities make it more or less remarkable, depending on the individual. The quotes and sayings for November, discussed above, will assist you in recognizing November's positive aspects, which you would otherwise miss.
Comment on… your favorite November motivational quotes and share your opinions.