Sagittarians are the risk-takers and explorers of the zodiac. People born under this star sign, represented by the archer, are known to have a strong desire for adventure. They constantly seek intellectual and spiritual stimulation to avoid getting bored, and they love to travel.
Sagittarians are known for their love of adventure and their hatred of monotony. They're always looking to meet new people and explore new cultures, and they hate the idea of being tied down to one place for a long period of time. If your birthday falls between November 22 and December 21, you are a Sagittarius. You may resonate with these Sagittarius quotes and sayings.
Short Aesthetic Sagittarius Quotes
Sagittarius natives are known to be action-oriented, spontaneous, and adventurous. They always want to chase their goals, no matter what kind of problems they may face. Below is a collection of sassy Sagittarius quotes for these Sagittarius natives because they are enthusiastic and cheery about life and have no time for negativity.
"Because of their natural optimism and idealism, Sagittarians are likely to take such results very hard, seeing their dreams going up in smoke." – Gary Goldschneider
"Count on a Sagittarius to help discover a whole new meaning to life."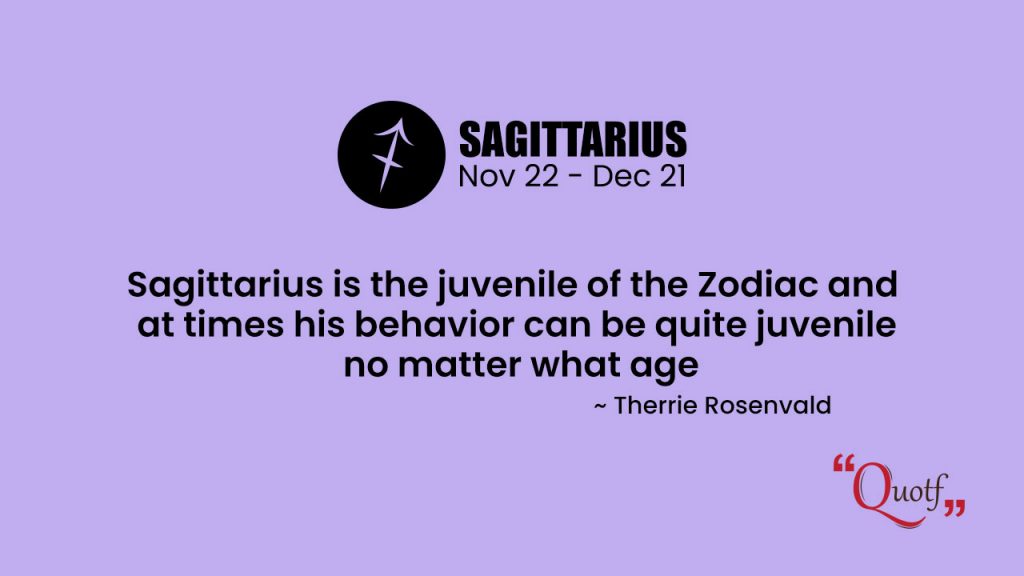 "Sagittarius is the juvenile of the Zodiac and at times his behavior can be quite juvenile, no matter what age."

~ Therrie Rosenvald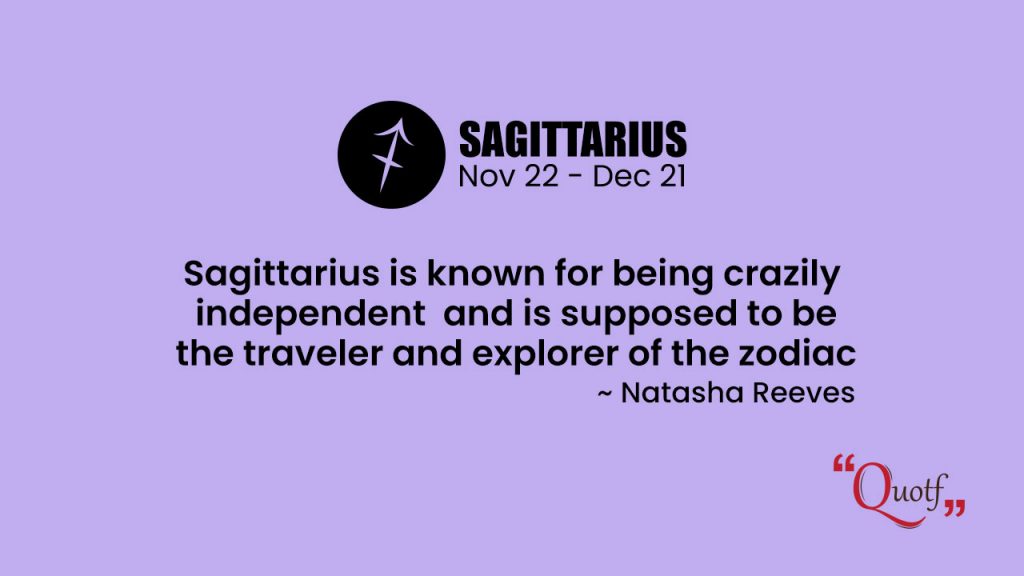 "Sagittarius is known for being crazily independent and is supposed to be the traveler and explorer of the zodiac."

~ Natasha Reeves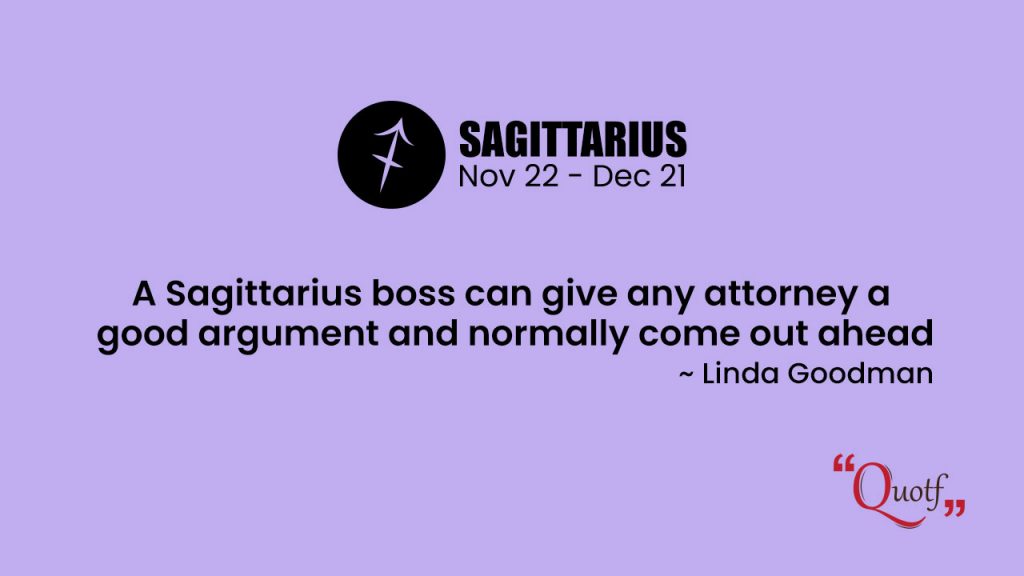 "A Sagittarius boss can give any attorney a good argument and normally come out ahead."

~ Linda Goodman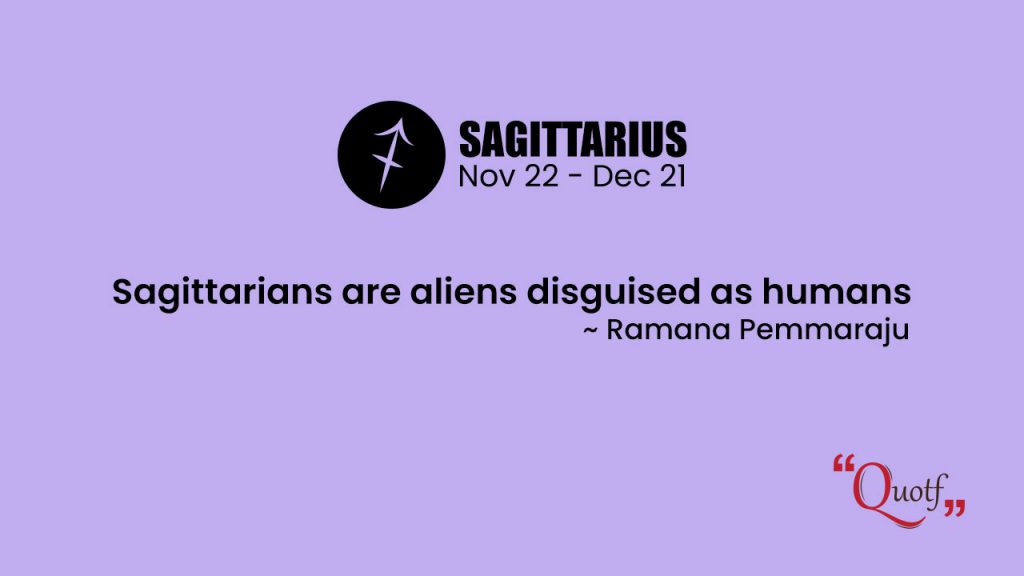 "Sagittarians are aliens disguised as humans."

~ Ramana Pemmaraju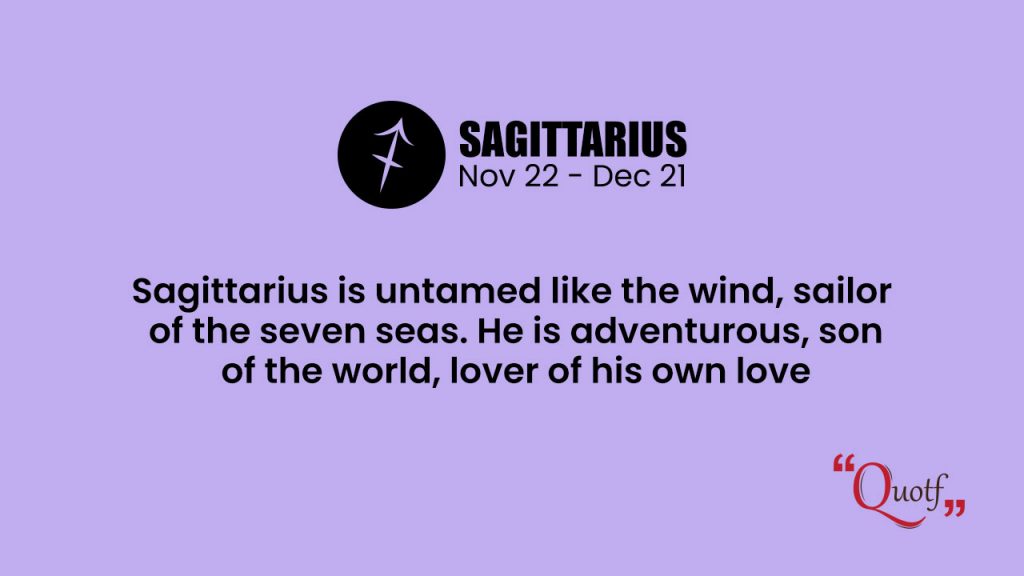 "Sagittarius is untamed like the wind, sailor of the seven seas. He is adventurous, son of the world, lover of his own love."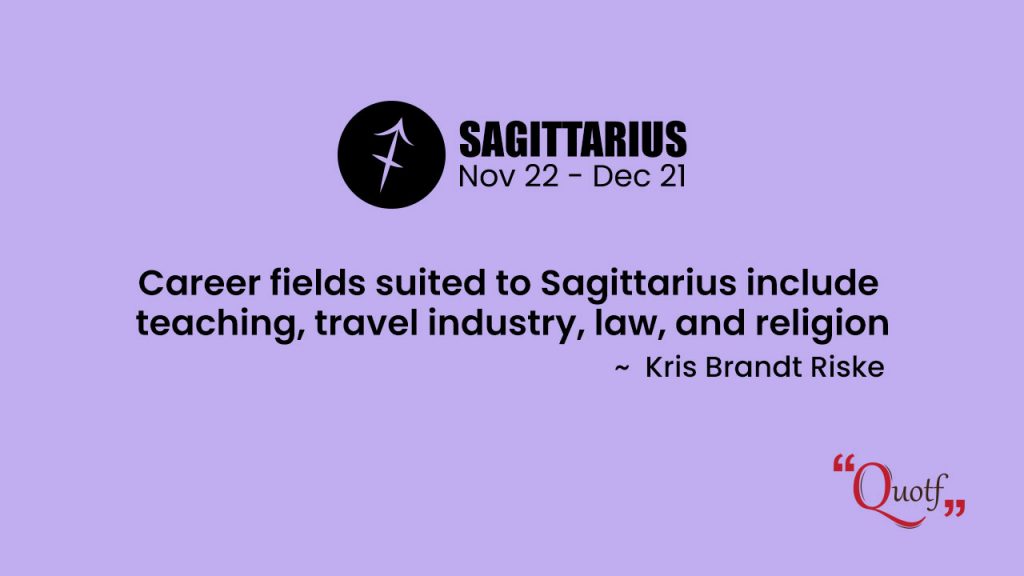 "Career fields suited to Sagittarius include teaching, travel industry, law, and religion."

~ Kris Brandt Riske
"People with strong Sagittarius influence are upbeat and optimistic, spreading good cheer and inspiring others wherever they go." – Kris Brandt Riske
"Sagittarius has a reputation for being flaky and this only comes about then they feel trapped or pressured." – Natasha Reeves
Sagittarius Quotes About Love
Sagittarius people are passionate and enjoy physical touch, even if it's just small consistent touches. Keep in mind that while Sagittarius people can be direct with their words and actions. They prefer sharing quotes about a Sagittarius in love because they're more reserved when it comes to their emotions.
Related: Thank You Quotes and Sayings
"Sagittarius will give you the world if you wanted it. When they fall for someone it's the real deal." — Freeda Gillbert
"Sagittarius is also the sign of mental exploration, and for a relationship to last, it needs to be an adventure." — Joanna Martine Woolfolk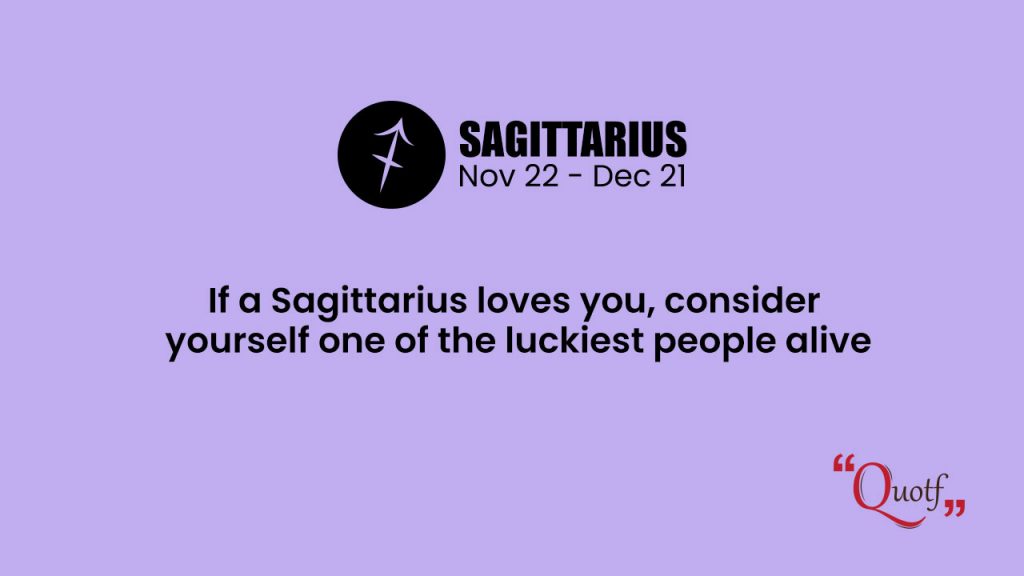 "If a Sagittarius loves you, consider yourself one of the luckiest people alive."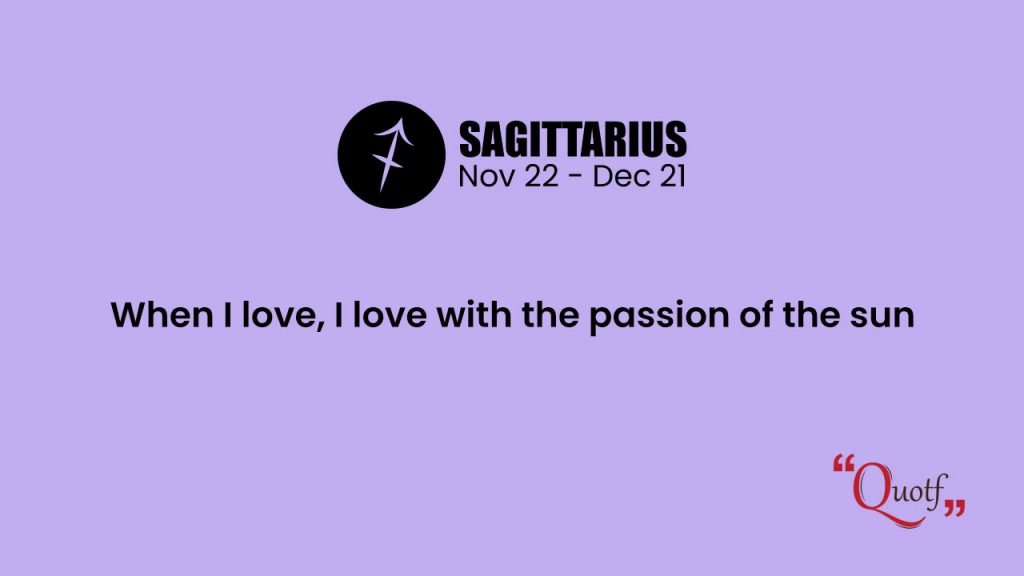 "When I love, I love with the passion of the sun."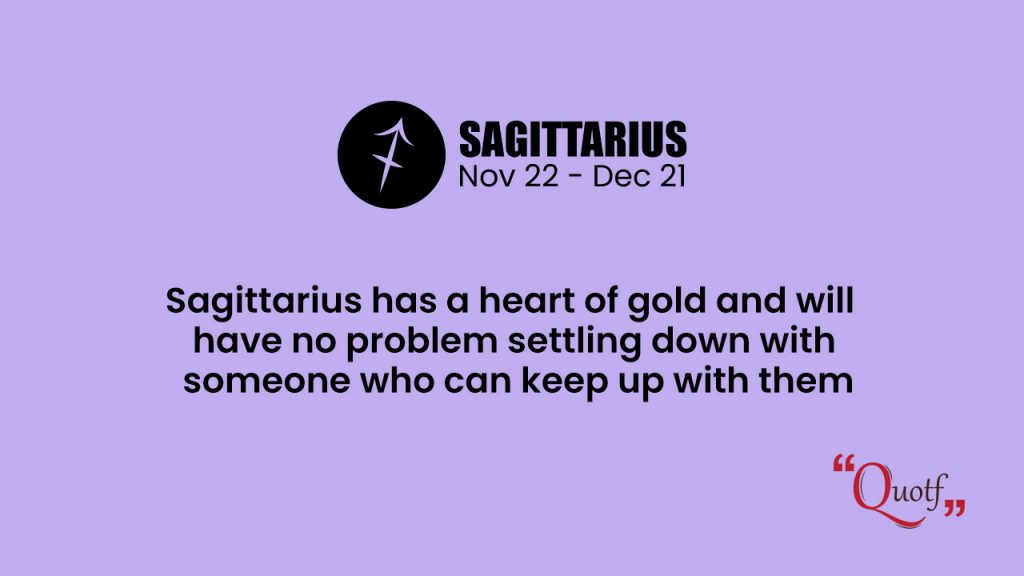 "Sagittarius has a heart of gold and will have no problem settling down with someone who can keep up with them."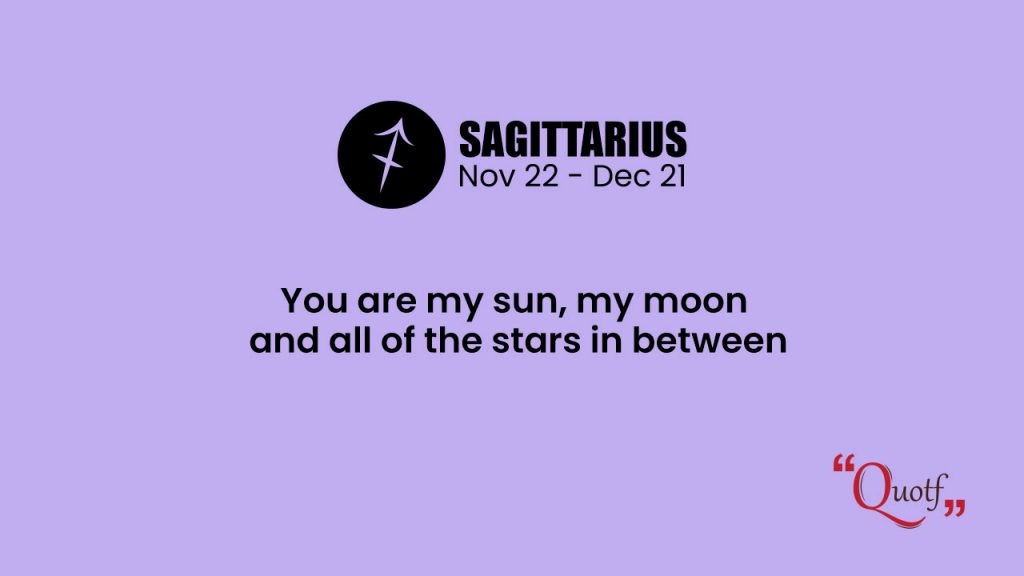 "You are my sun, my moon, and all of the stars in between."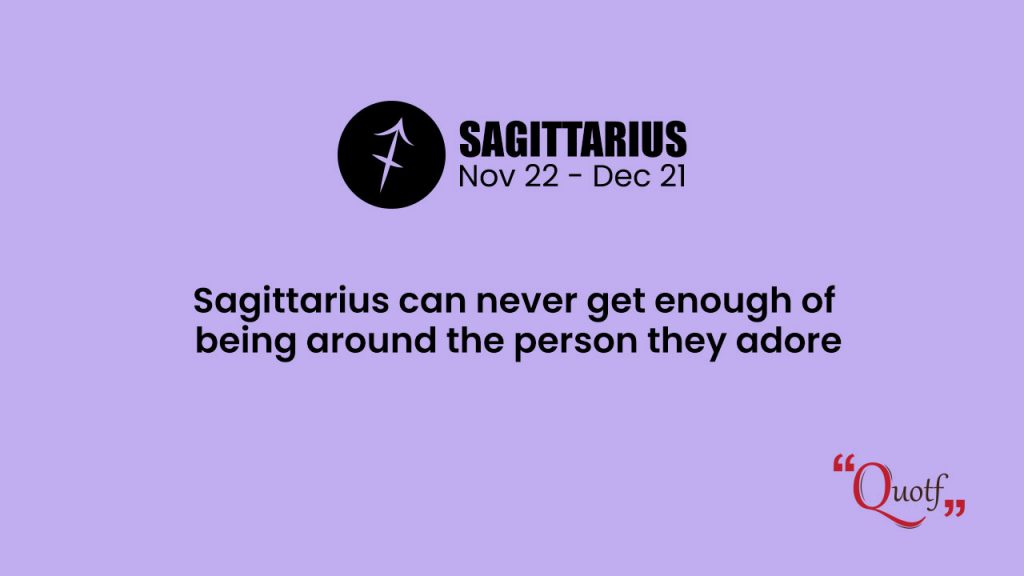 "Sagittarius can never get enough of being around the person they adore."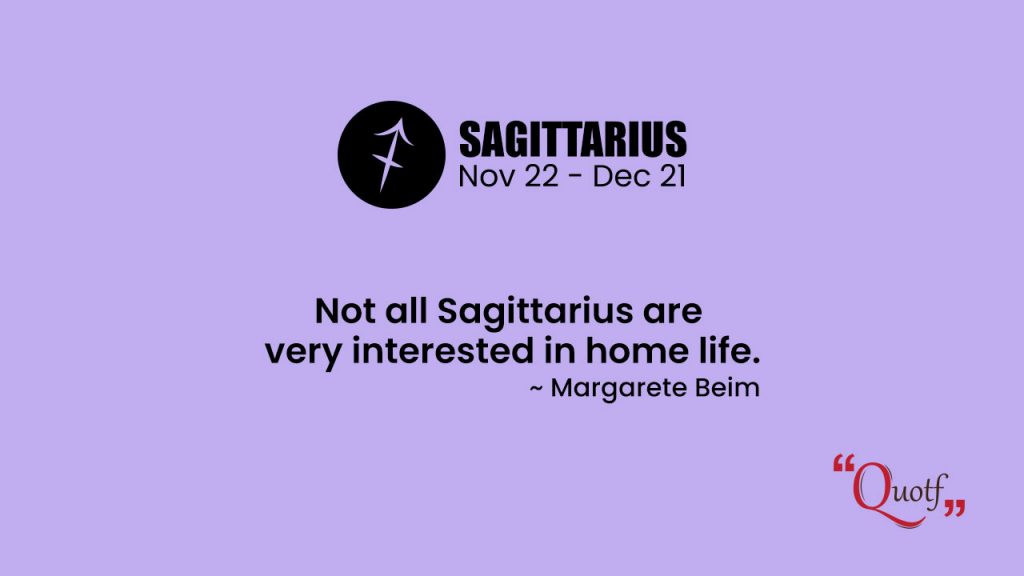 "Not all Sagittarius are very interested in home life."

~ Margarete Beim
"Sagittarius doesn't want a lover that will provide for them and take care of them, they want a co-pilot, someone who can be their fellow adventurer in life." — Natasha Reeves
Sagittarius Personality Quotes
If you're looking for some interesting facts about Sagittarius natives, along with personality funny Sagittarius quotes, then you've come to the right place. Below are some of the best quotes from authors who were all Sagittarians.
"Nothing about a Sagittarius-born is boring."
"A Sagittarius has no ego problem and is the one who makes the first move."
"S.A.G.I.T.T.A.R.I.U.S:
Spontaneous. Adventurous. Genuine. Intelligent. Tireless.
Tactful. Alluring. Robust. Insightful. Upbeat. Sharp-witted.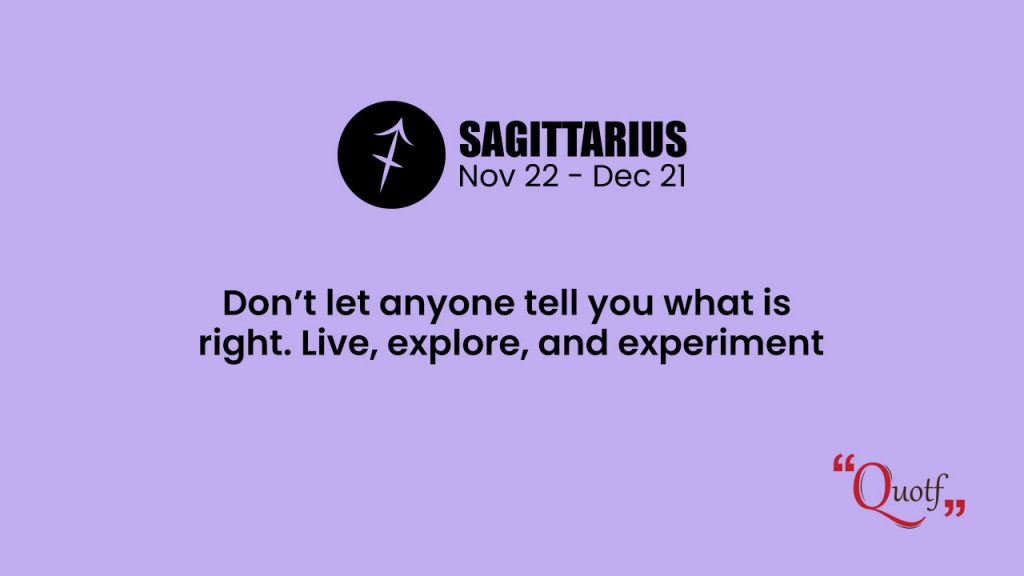 "Don't let anyone tell you what is right. Live, explore, and experiment."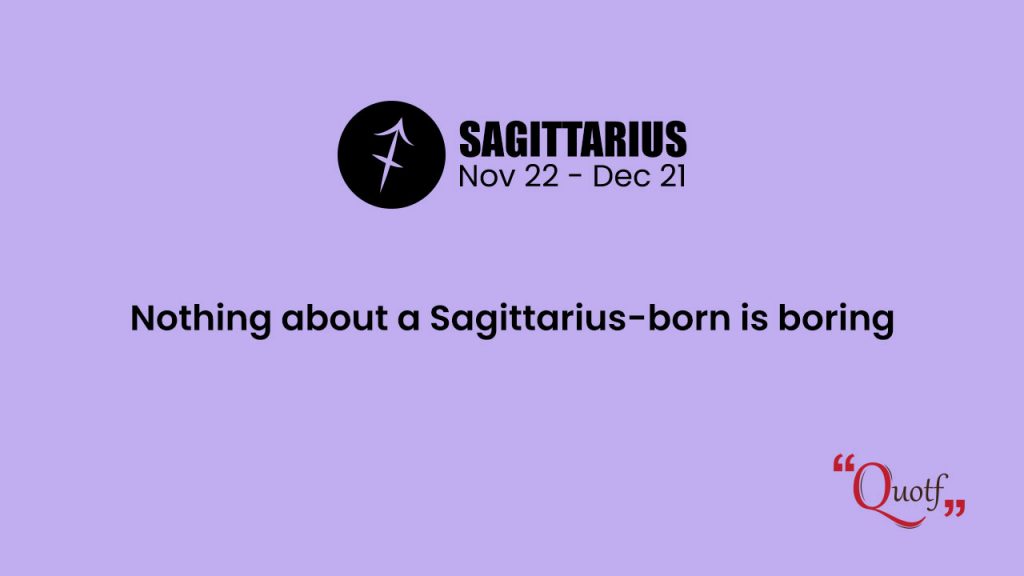 "Nothing about a Sagittarius-born is boring."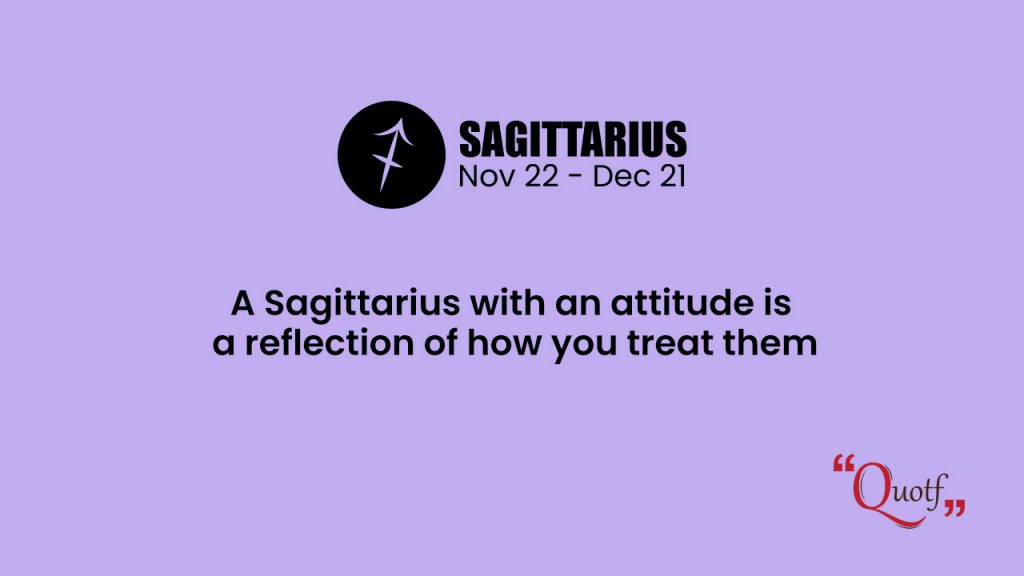 "A Sagittarius with an attitude is a reflection of how you treat them."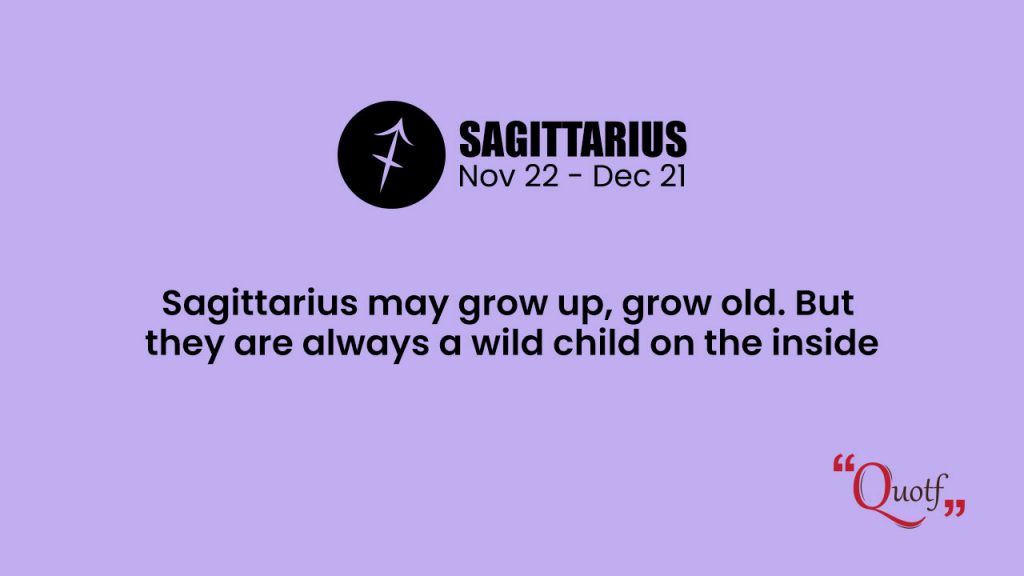 "Sagittarius may grow up, grow old. But they are always a wild child on the inside."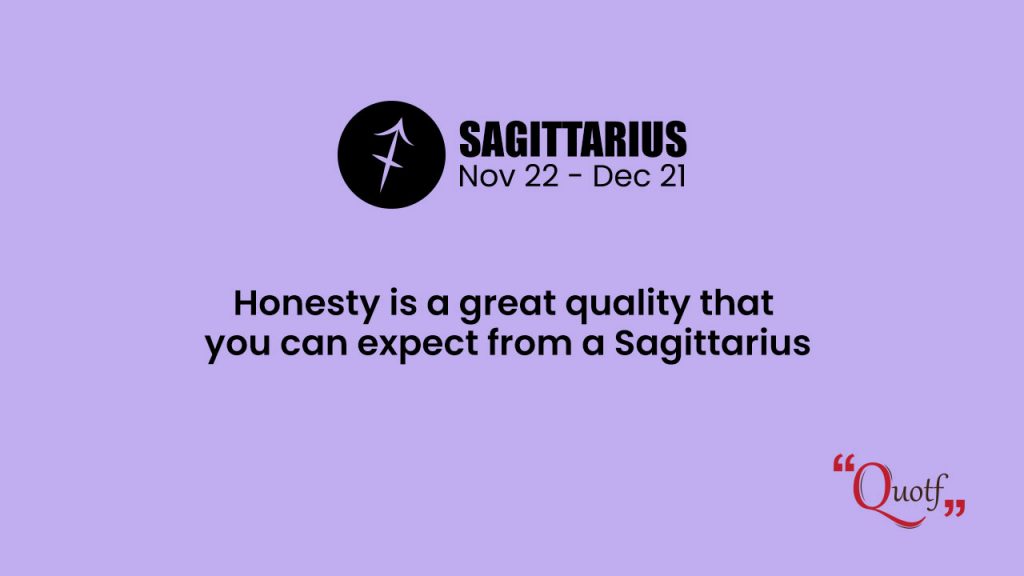 "Honesty is a great quality that you can expect from a Sagittarius."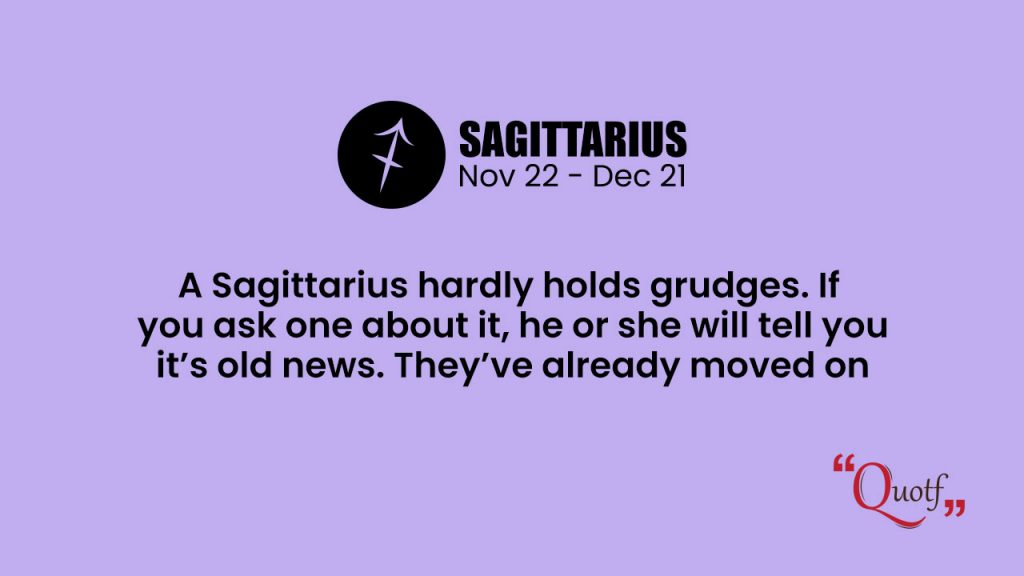 "A Sagittarius hardly holds grudges. If you ask one about it, he or she will tell you it's old news. They've already moved on."
"Sagittarius have smiles that can brighten any room and will always try to make you feel like you belong." – Unknown
Sagittarius Quotes About Men & Women
Sagittarius men & women are some of the most exciting people to have a relationship with. But the Sagittarius women can be challenging to build relationships with. Here are some Sagittarius quotes about men & women that can help you to know them better.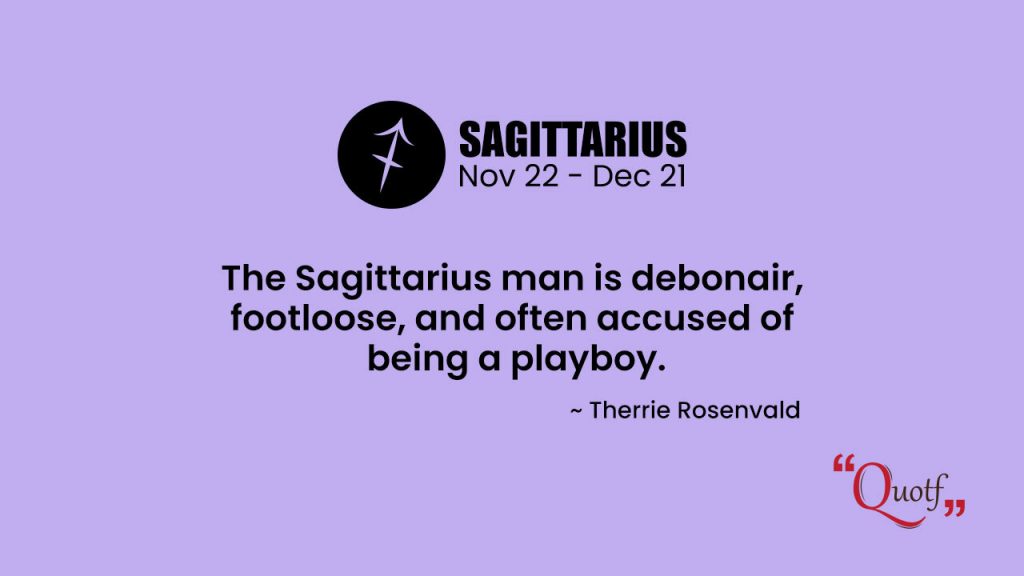 "The Sagittarius man is debonair, footloose, and often accused of being a playboy."

~ Therrie Rosenvald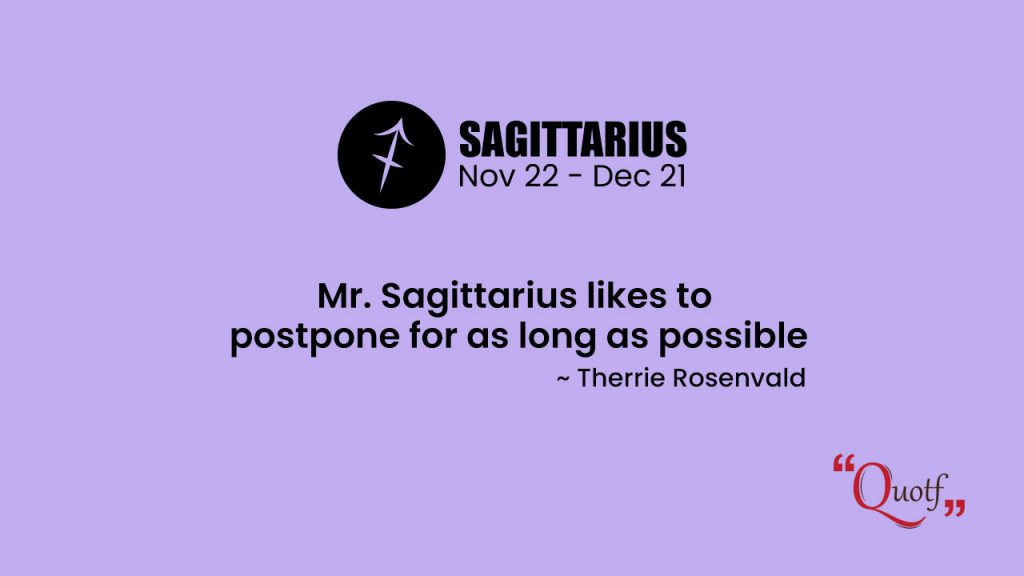 "Mr. Sagittarius likes to postpone for as long as possible."

~ Therrie Rosenvald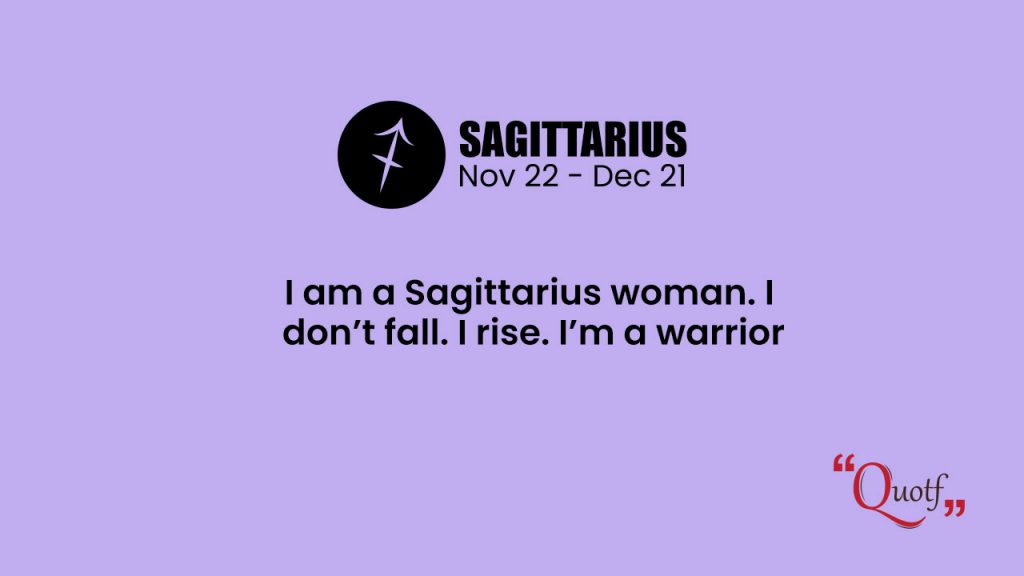 "I am a Sagittarius woman. I don't fall. I rise. I'm a warrior."
"Sagittarius women like to be protected, but not to told what to do."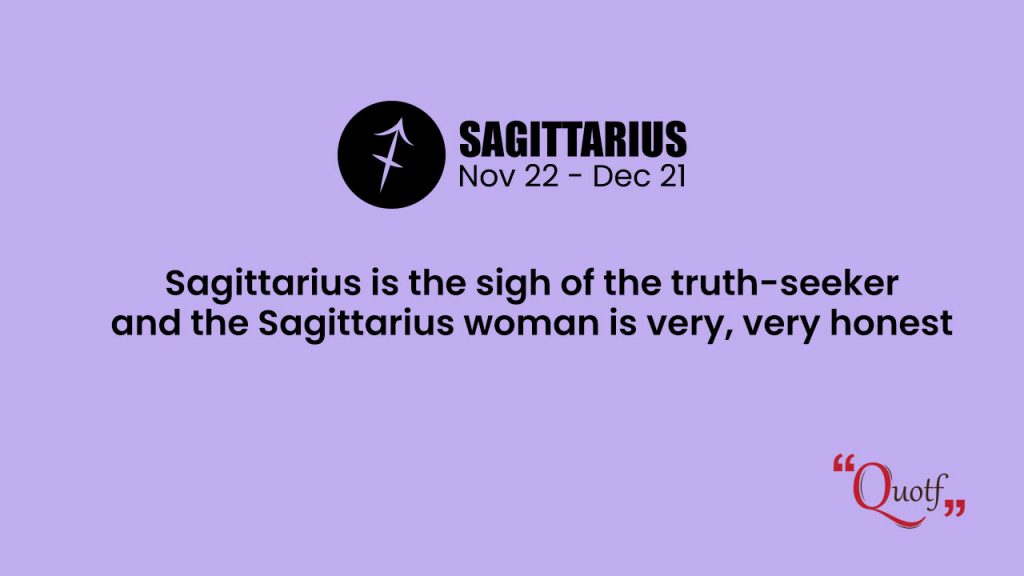 "Sagittarius is the sigh of the truth-seeker, and the Sagittarius woman is very, very honest."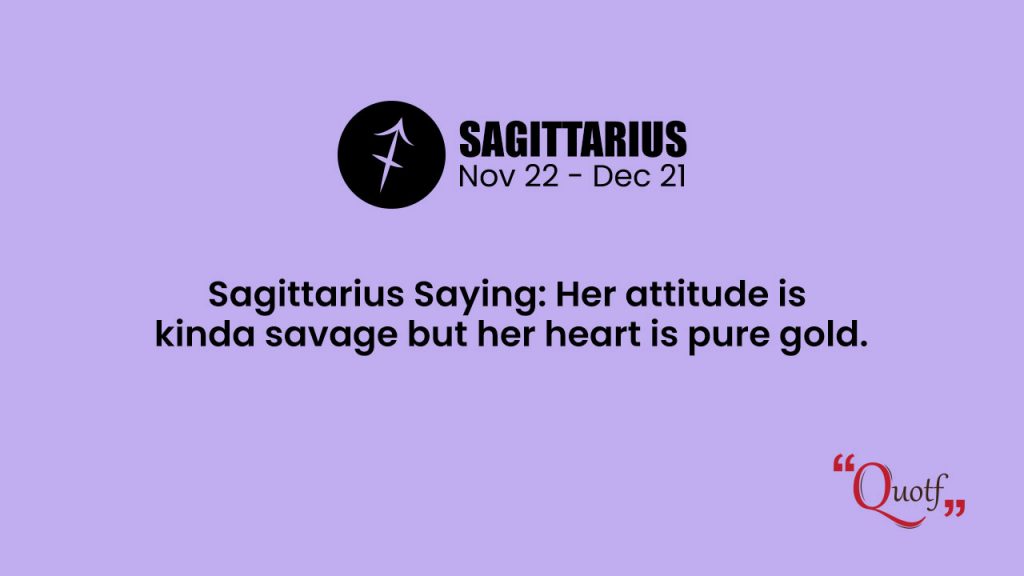 "Sagittarius Saying: Her attitude is kinda savage but her heart is pure gold."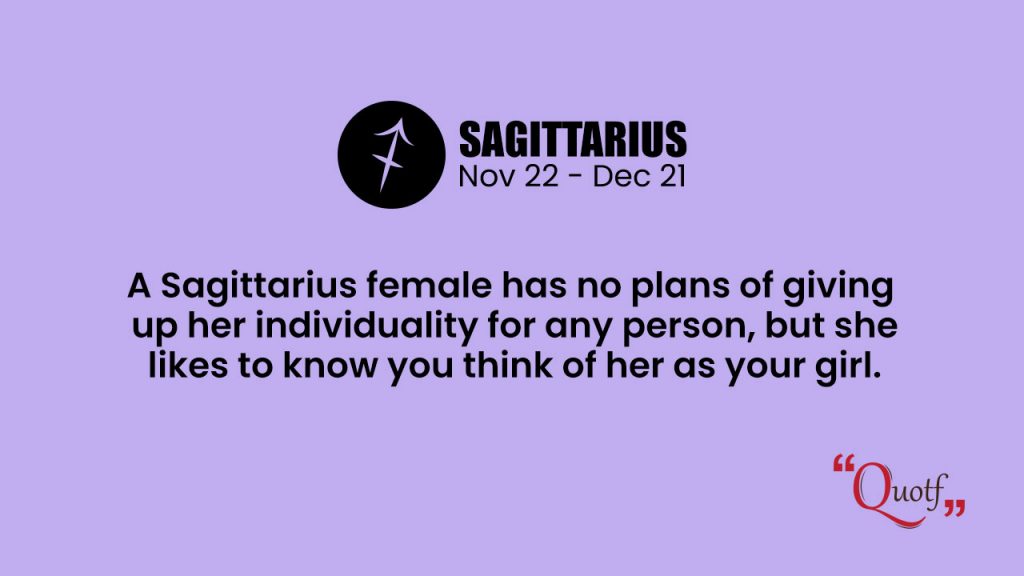 "A Sagittarius female has no plans of giving up her individuality for any person, but she likes to know you think of her as your girl."
"Many a Sagittarius female mistakes friendship for love and love for friendship." – Linda Goodman

"A Sagittarius female has no intention of giving up her individuality for any male." – Linda Goodman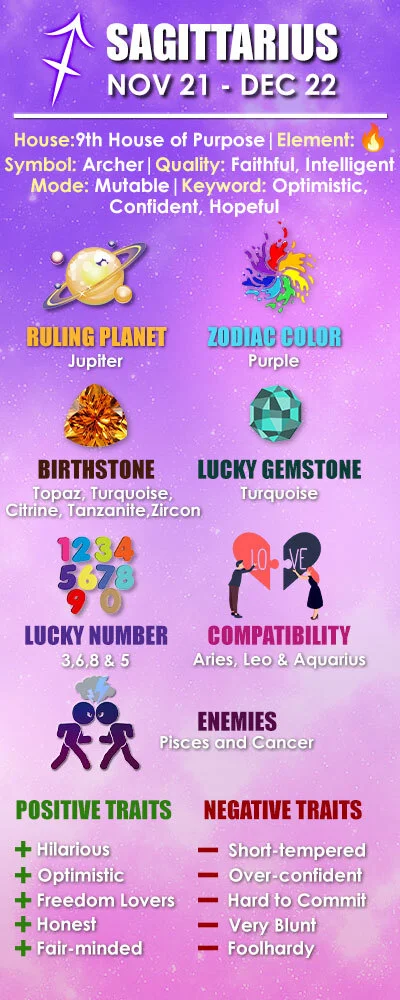 Funny & Savage Sagittarius Quotes
Here are some Sagittarius quotes of who they are, as well as funny and relatable quotes about being a Sagittarius, that you can keep in mind the next time you're interacting with one. These savage Sagittarius quotes may come in handy the next time you're having a problem with a Sagittarius, or if you're simply wondering what it's like to be one!
Related: Thank You Quotes and Sayings
"If a Sagittarius starts a sentence with 'honestly,' you have about 2 seconds to run."
"I'm sensitive but strong, soft but resilient, broken but fixable." ― Gemma Troy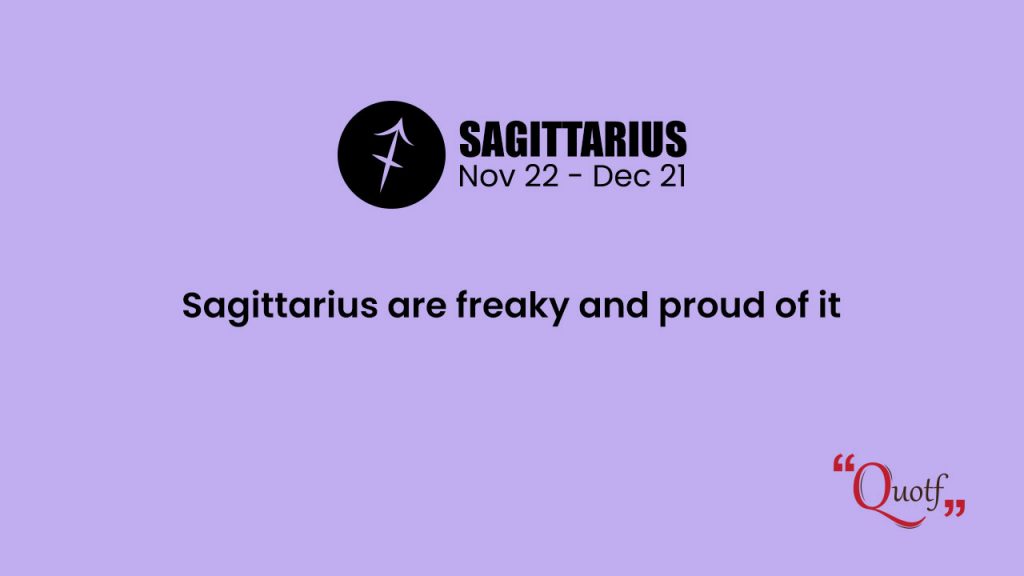 "Sagittarius are freaky and proud of it."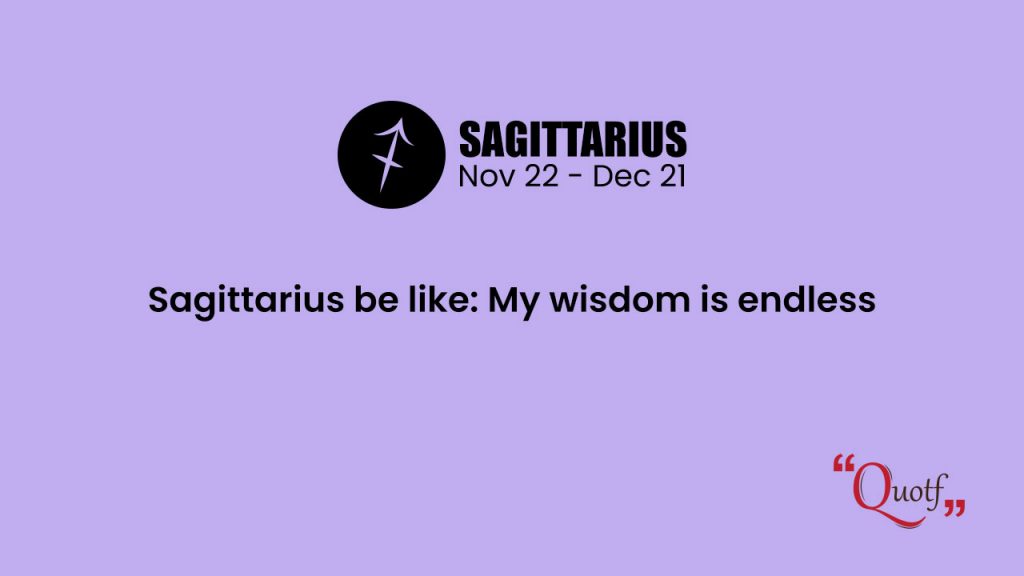 "Sagittarius be like: My wisdom is endless."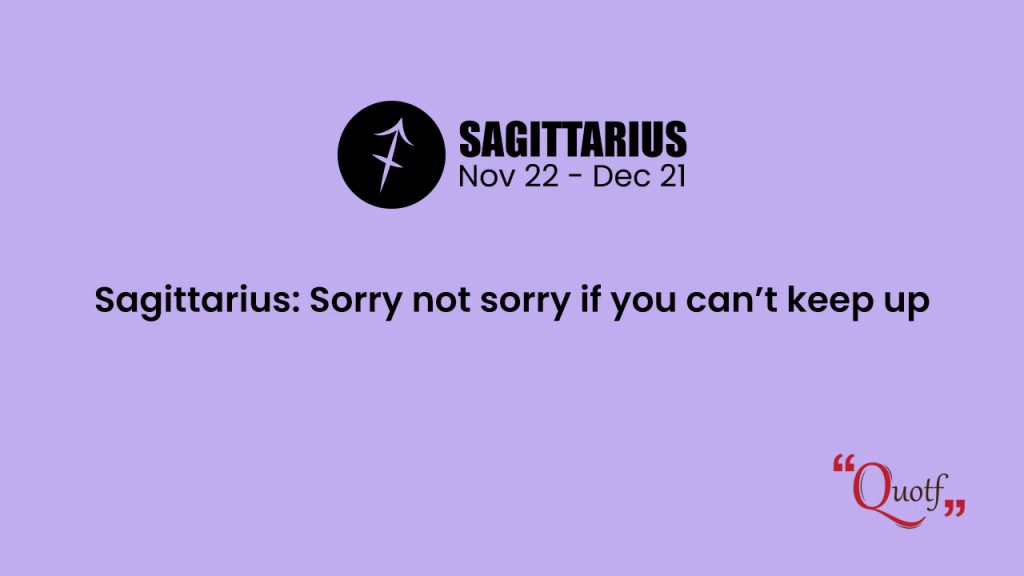 "Sagittarius: Sorry not sorry if you can't keep up."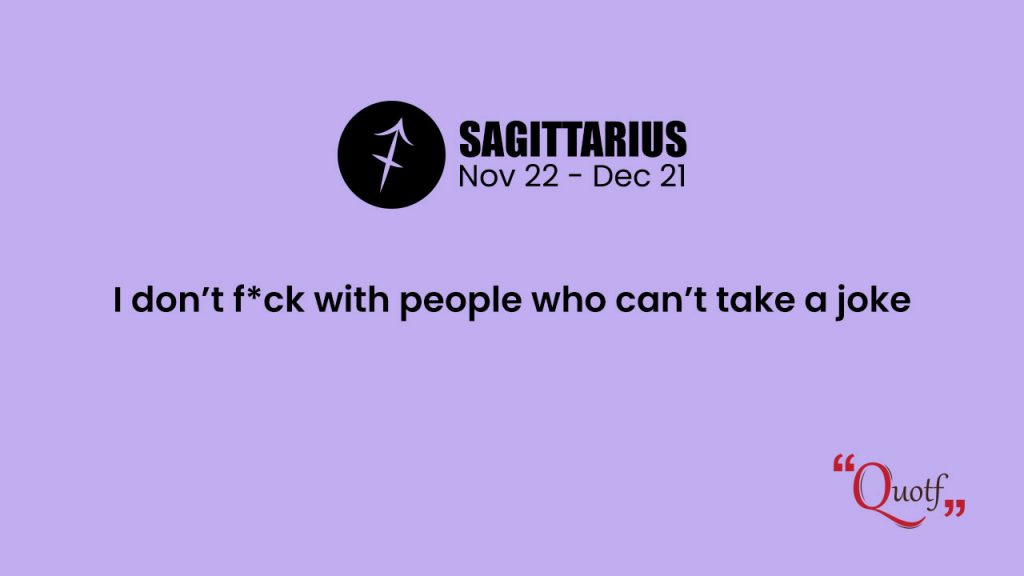 "I don't f*ck with people who can't take a joke."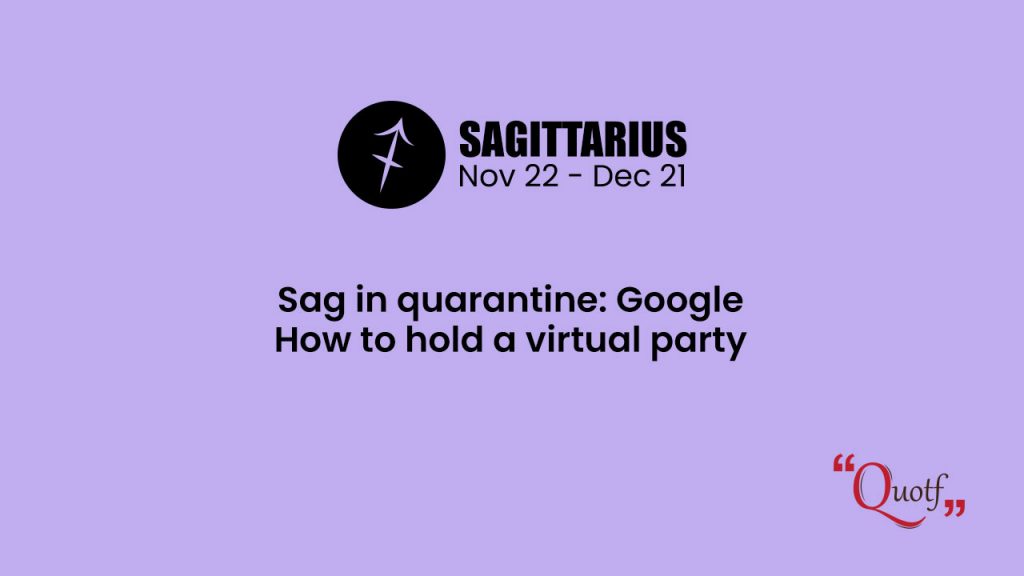 "Sag in quarantine: Google: How to hold a virtual party."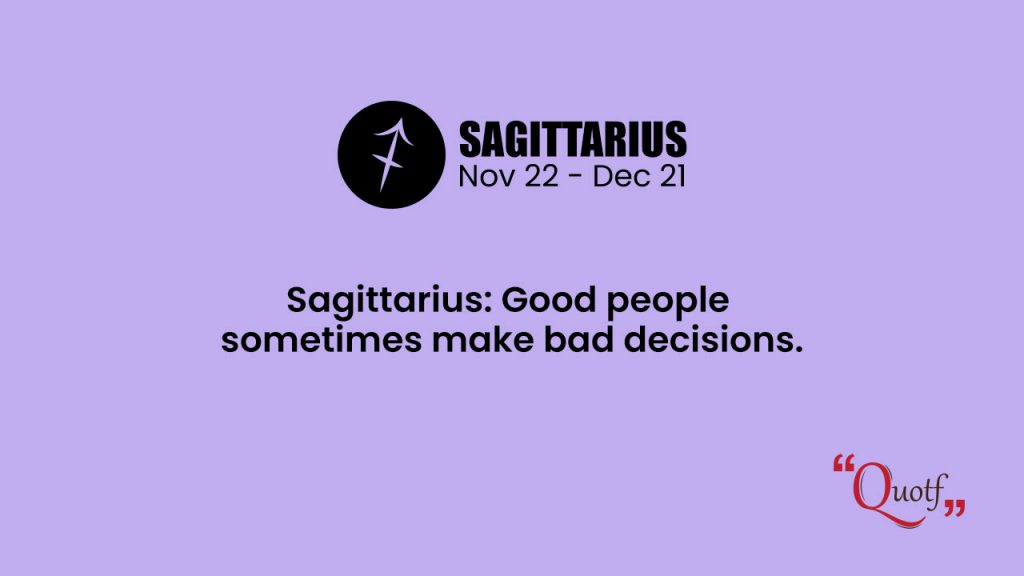 "Sagittarius: Good people sometimes make bad decisions."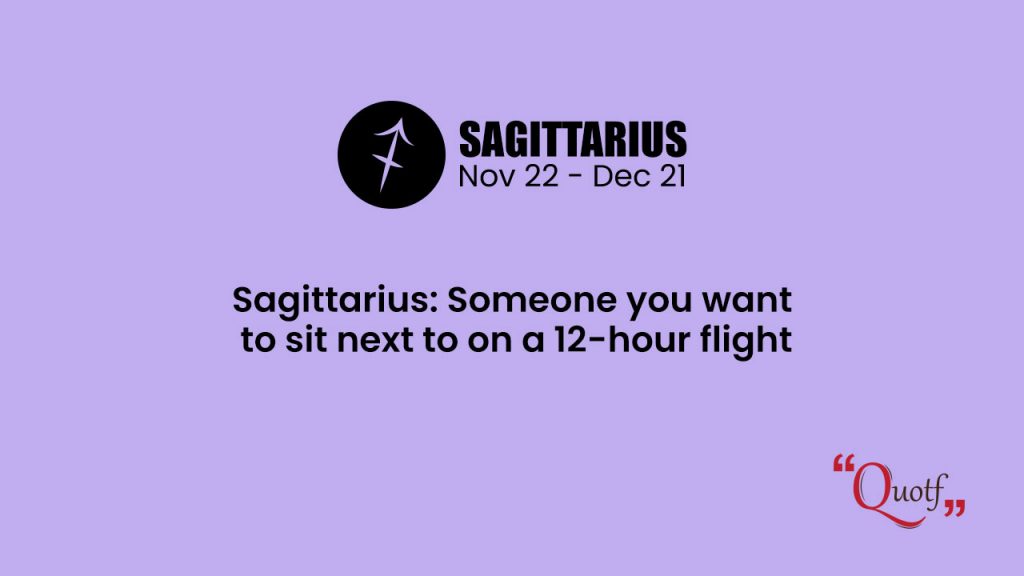 "Sagittarius: Someone you want to sit next to on a 12-hour flight." 
"Sagittarius motto: Don't let anyone tell you what is right. Live, explore, and experiment."
Inspirational Sagittarius Quotes
For all you inspiring Sagittarians out there, we have put together a list of quotes for you. Sagittarius quotes can inspire you to find your purpose in life and help you to make the most of your best qualities. These inspirational quotes for Sagittarius can motivate you to empower yourself and build strong relationships with others.
"Hold steady in your beliefs. They make you, you."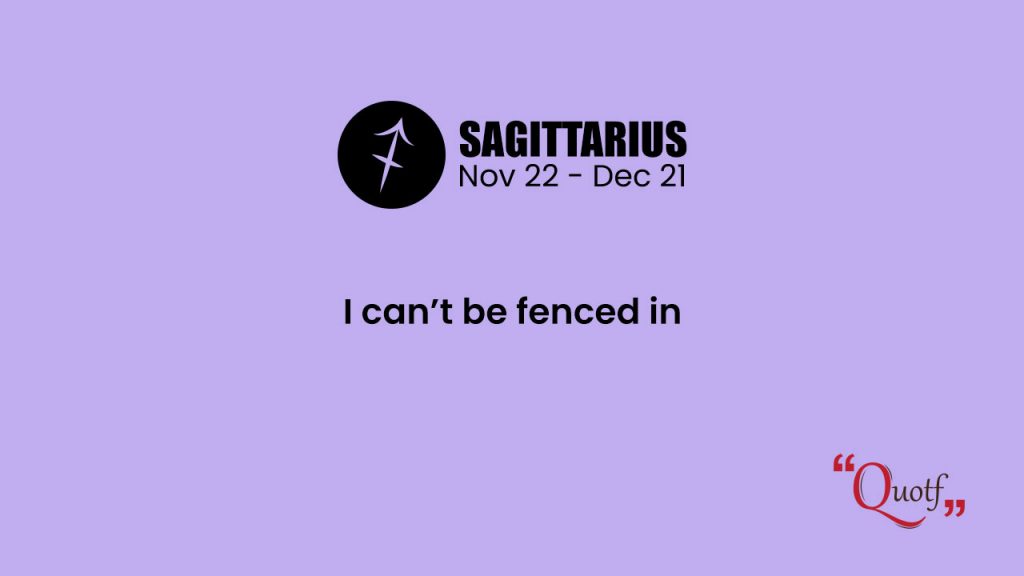 "I can't be fenced in."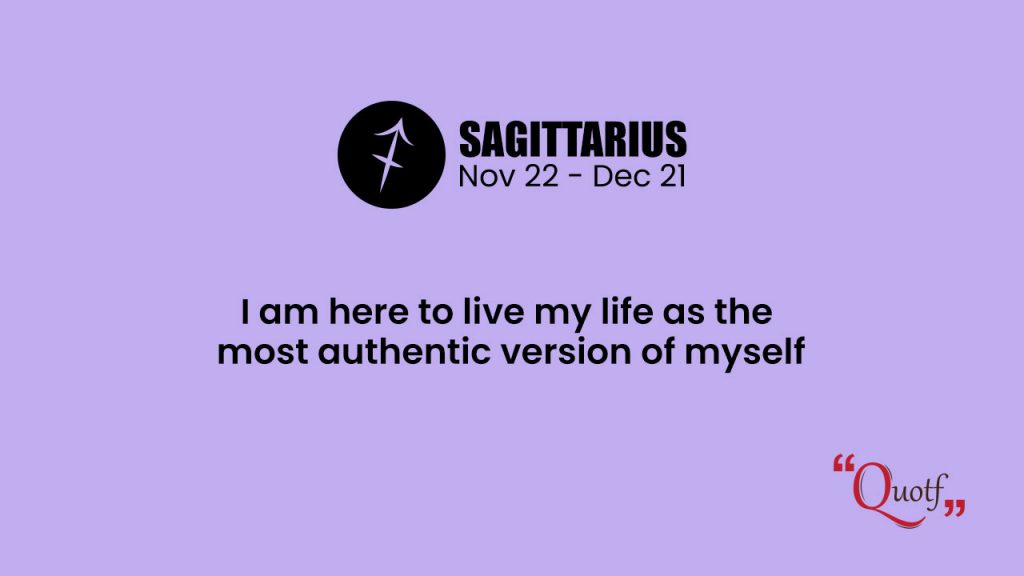 "I am here to live my life as the most authentic version of myself."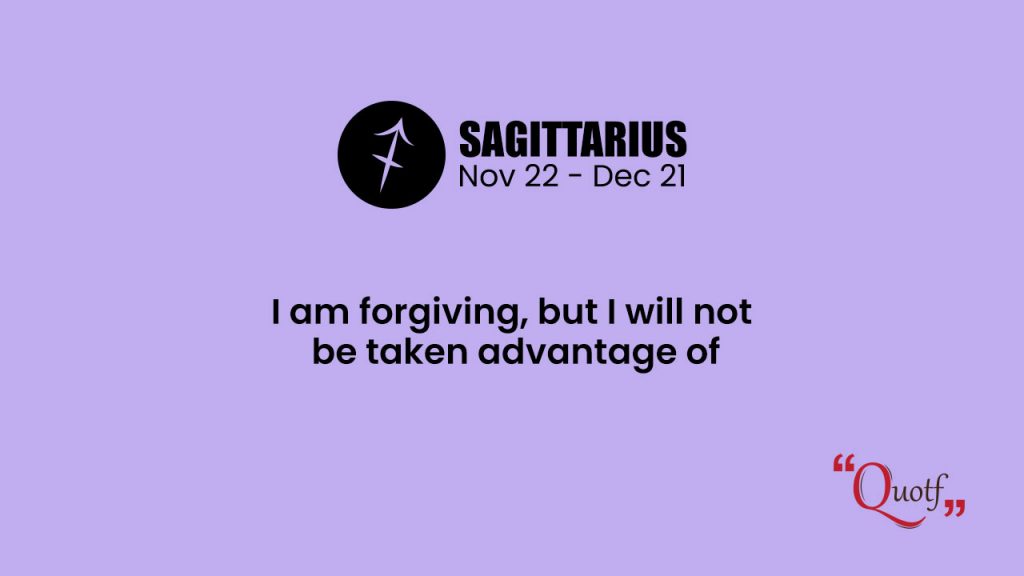 "I am forgiving, but I will not be taken advantage of."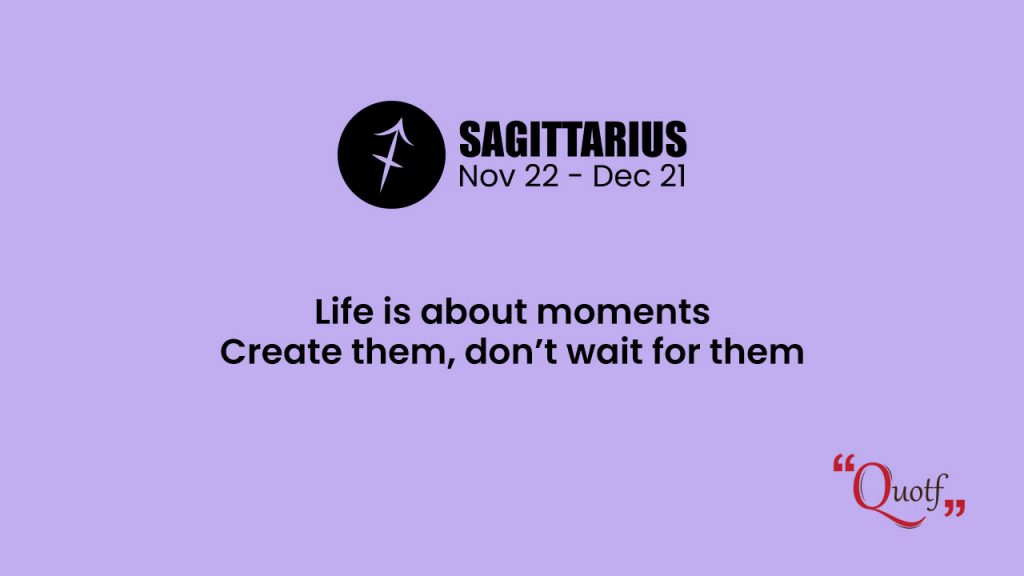 "Life is about moments. Create them, don't wait for them."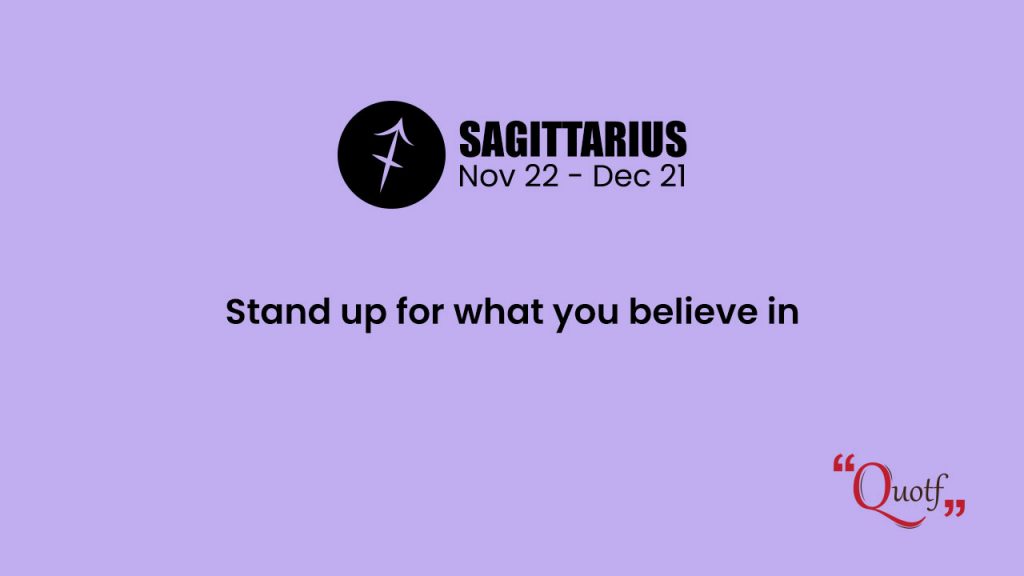 "Stand up for what you believe in."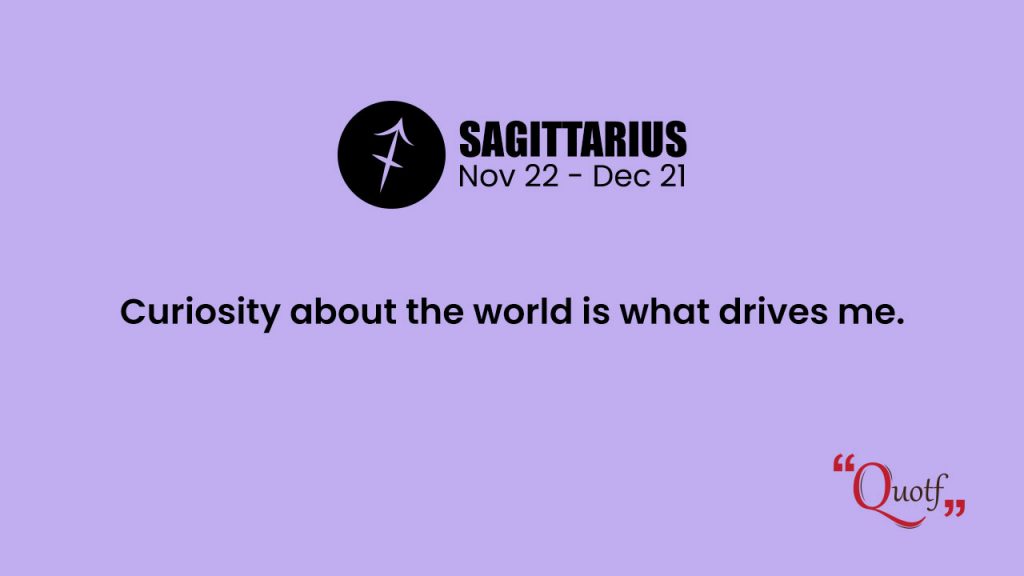 "Curiosity about the world is what drives me."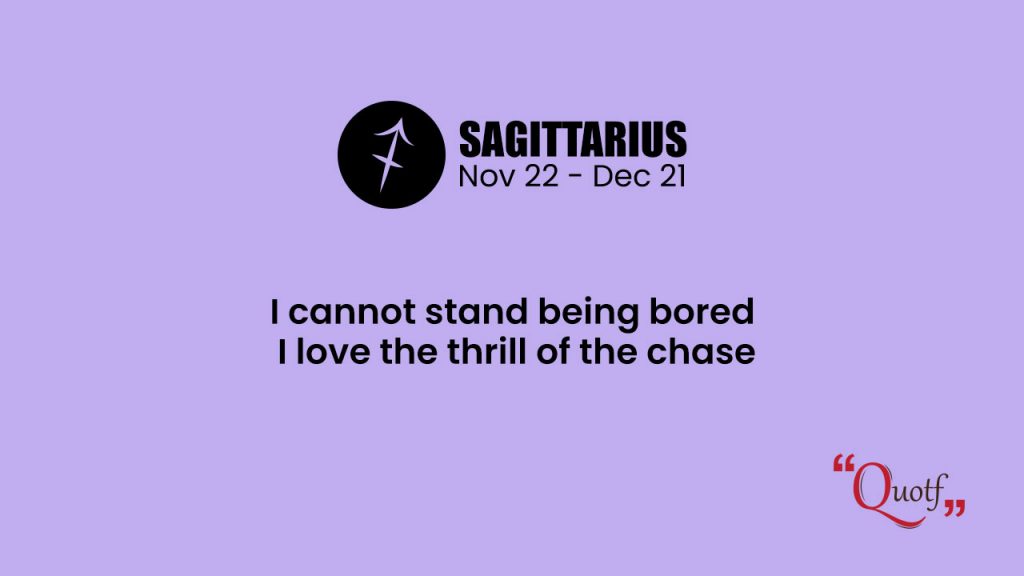 "I cannot stand being bored; I love the thrill of the chase."
"Sagittarius inspires those around them to see the bigger picture in life."

"I am strong, independent, and capable. I choose who comes into my life by want, not need."
There are so many famous celebrities that are Sagittariuses. We have collected their famous quotes that will be helpful to spread inspiration all over the world. Explore and share the given inspiring quotes from famous Sagittarius celebrities.
"I think fearless is having fears but jumping anyway." – Taylor Swift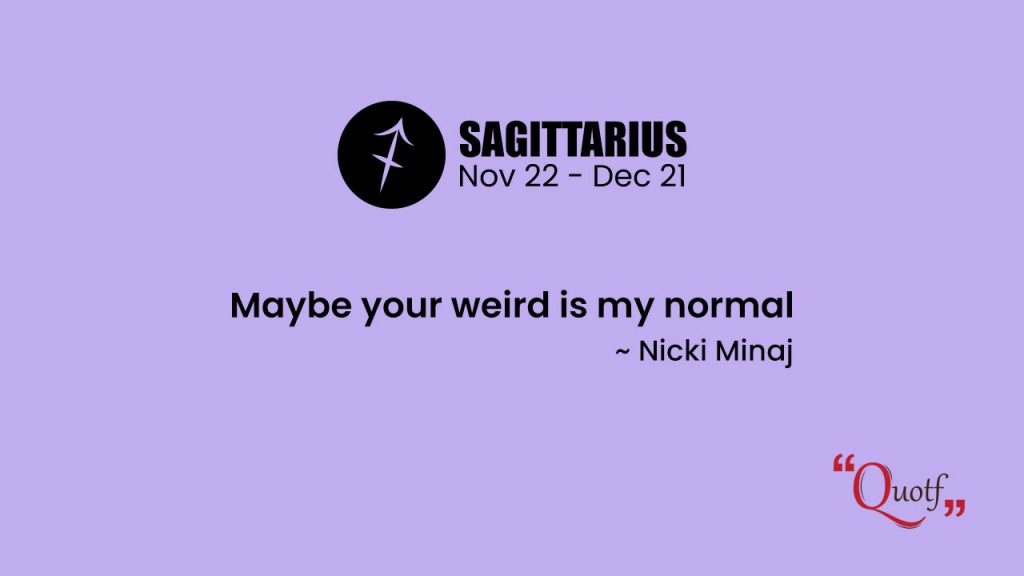 "Maybe your weird is my normal."

~ Nicki Minaj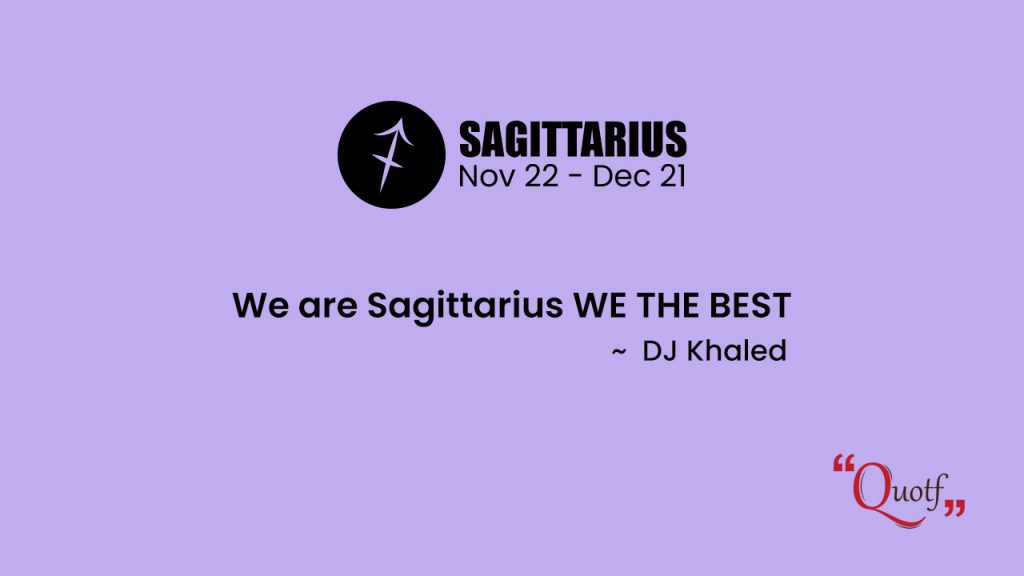 "We are Sagittarius WE THE BEST."

~ DJ Khaled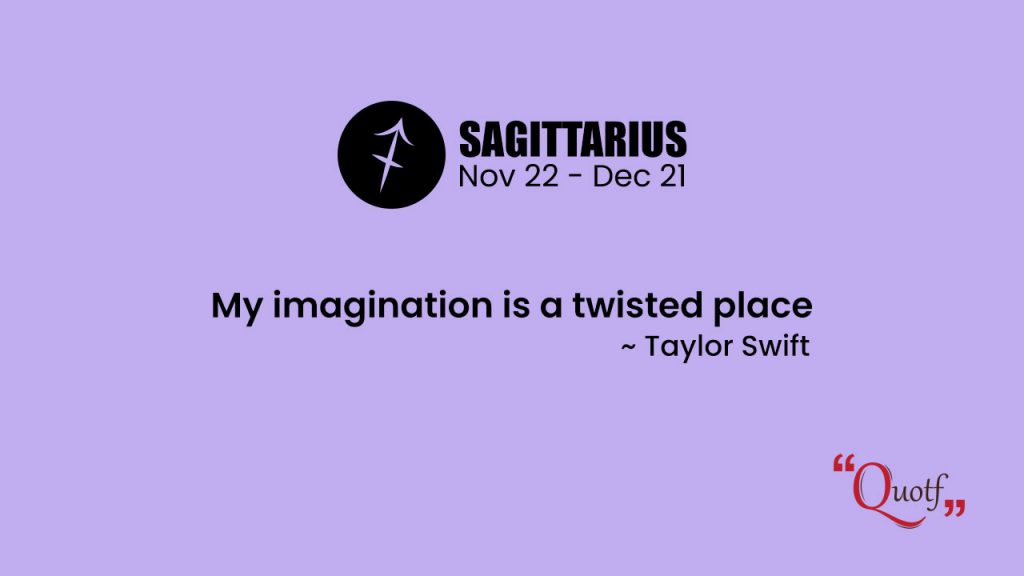 "My imagination is a twisted place."

~ Taylor Swift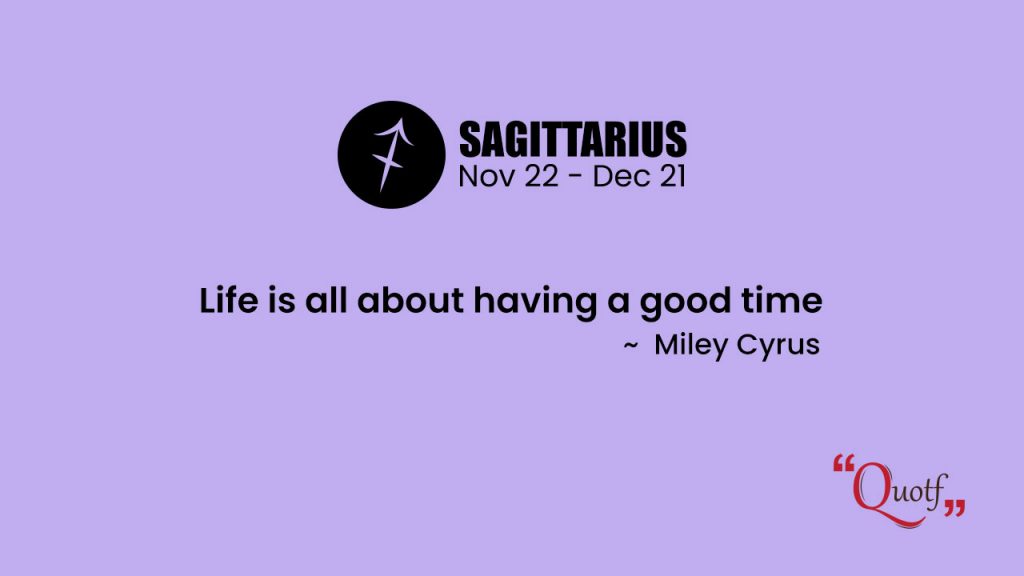 "Life is all about having a good time."

~ Miley Cyrus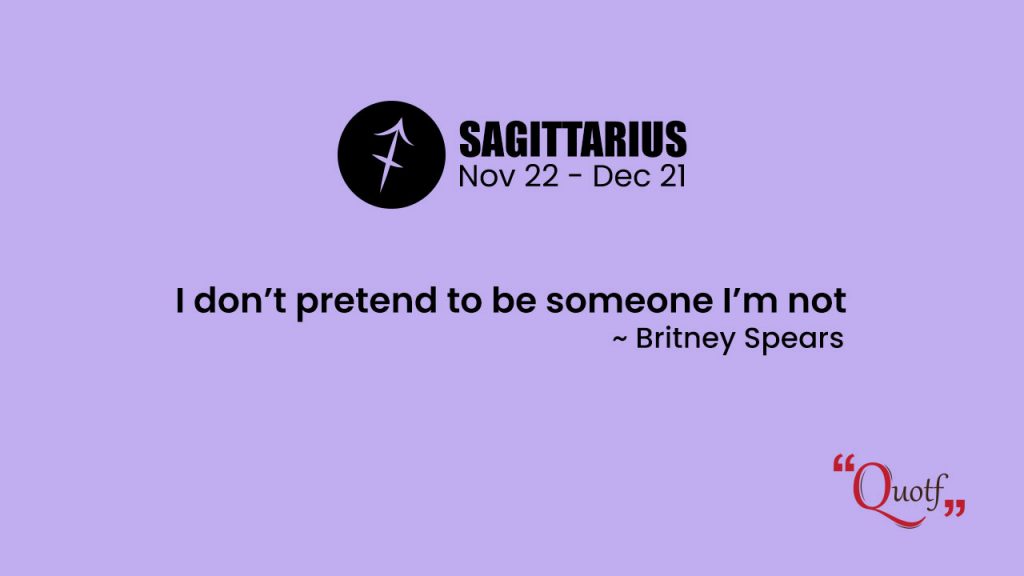 "I don't pretend to be someone I'm not."

~ Britney Spears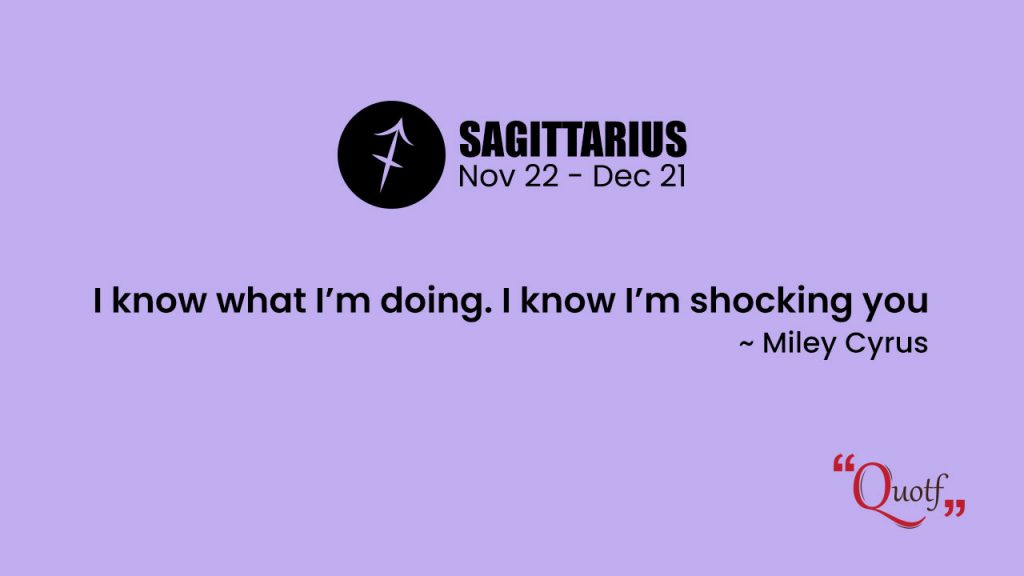 "I know what I'm doing. I know I'm shocking you."

~ Miley Cyrus
"I'm a Sagittarius. We need things done now." – Christina Applegate

"Half man, half mammal, my sign is a Sag." – Jay Z, "Already Home"
Sagittarius Captions For Instagram
As a Sagittarius, you are likely very outgoing, optimistic, energetic, fun-loving, and spontaneous. You probably enjoy making others laugh and are full of life. You may find that you are drawn to friendly people. If you identify with these qualities and are looking for some great savage Sagittarius quotes for Instagram, look no further! I've gathered the best of the best for you to choose from.
Related: Thank You Quotes and Sayings
"Welcome to Sagittarius season. Don't get burned.
"Sagittarius hates drama, but drama loves them."
"Sagittarius: Love all, trust a few, do wrong to none."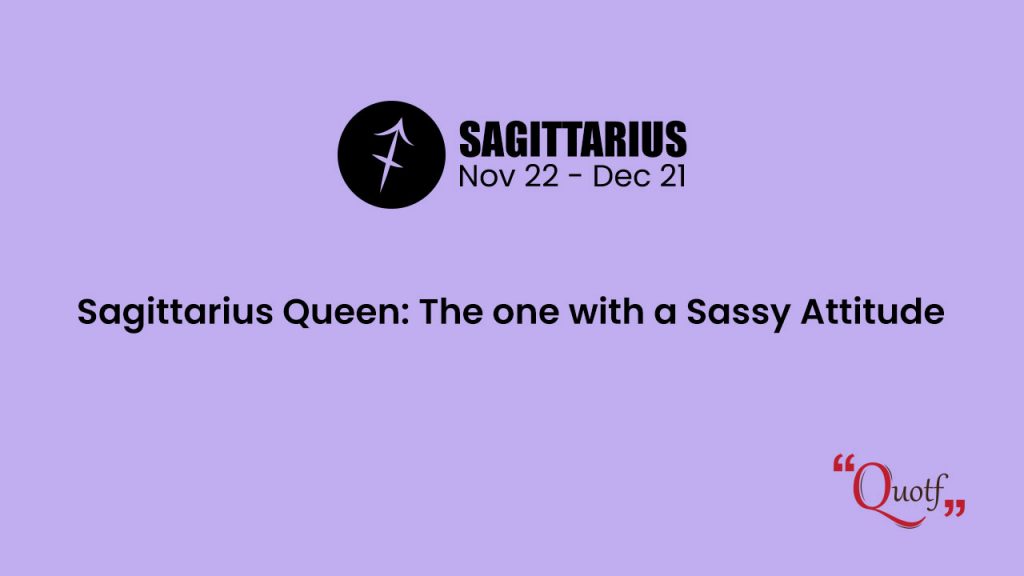 "Sagittarius Queen: The one with a Sassy Attitude."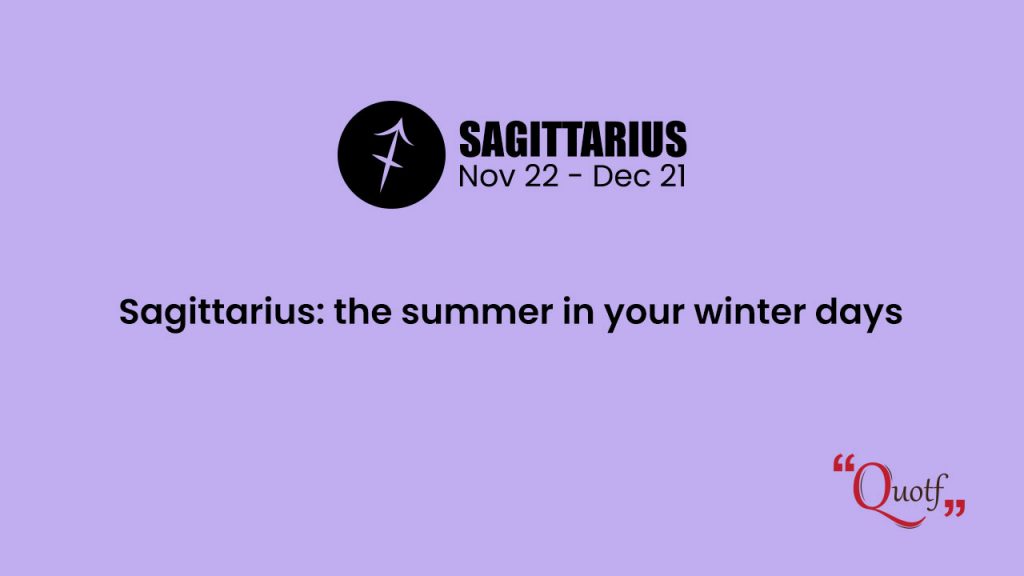 "Sagittarius: The summer in your winter days."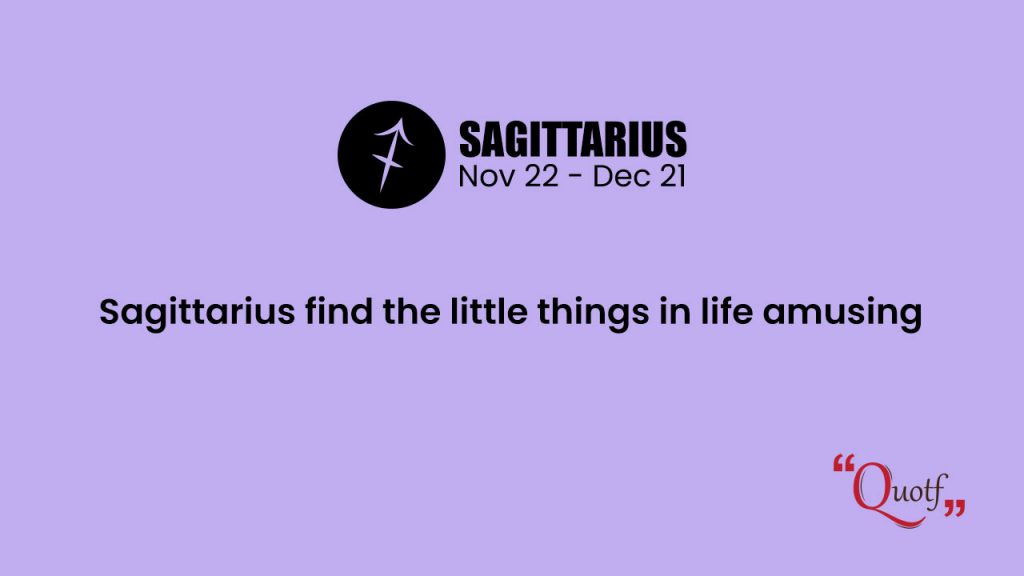 "Sagittarius find the little things in life amusing."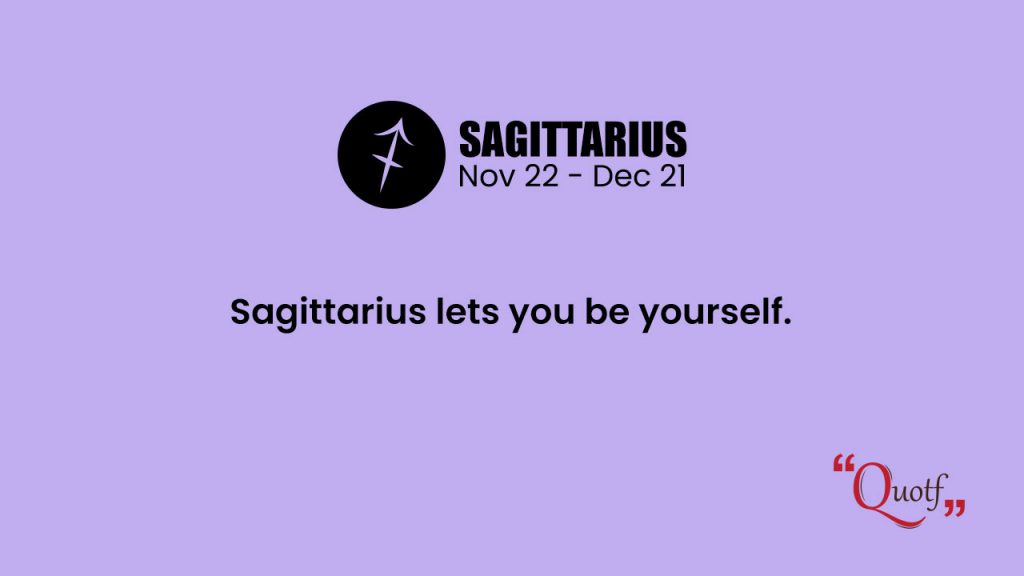 "Sagittarius lets you be yourself."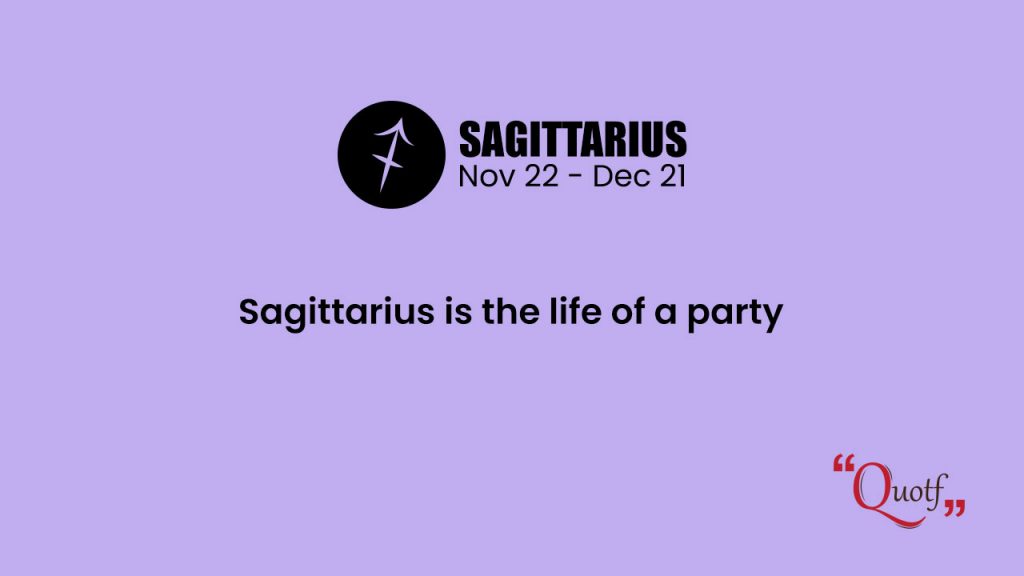 "Sagittarius is the life of a party."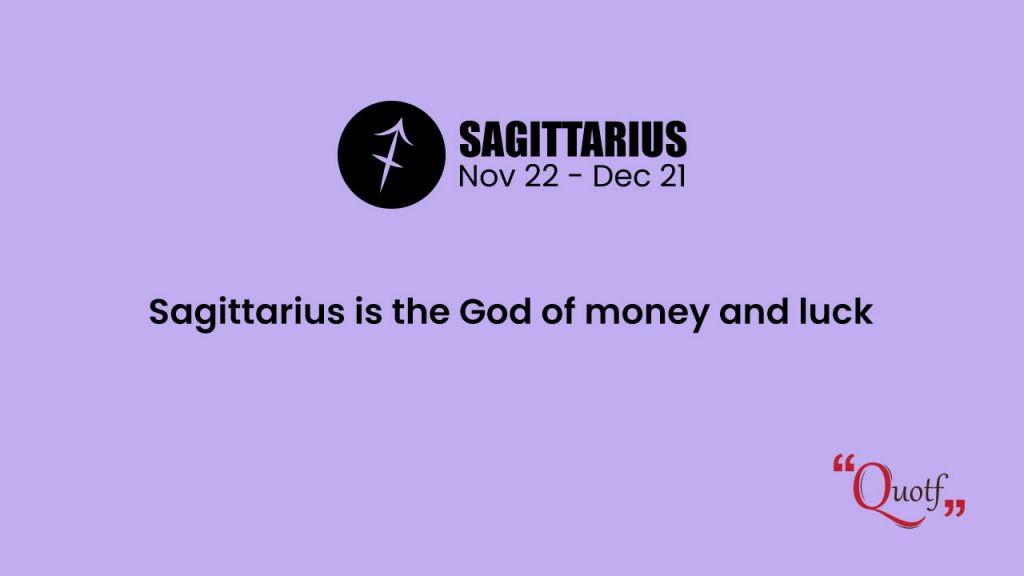 "Sagittarius is the God of money and luck."
"Sagittarius: Optimistic. Vibrant. Positive. Reckless."
Conclusion
Quotes are generally beneficial for everyone. They can help to develop ideas within brainstorming. The website Quotf gathered a huge collection of quotes. In this article, we have presented the top Sagittarius quotes and sayings that you can share with your loved ones who are Sagittarius. We hope you find our article informative.