Do not tidy up your house for a few months and see what kind of chaos reigns there. Spider webs on the stained walls grime between the kitchen tiles, unwashed laundry piled up in the corners, layers of dust sitting on the carpet, breadcrumbs glittering the bedspreads, and God-knows-what is cooking in the toilets.
External factors like these are always impinging on your personalized spaces. It is up to you to keep them at bay and keep up the maintenance of the areas where you feel most at home. This cleaning task is not restricted to places solely. The objects that you own, for instance, your technological devices, your smartphones, and tablets, etc. need constant care as well. Neglect can turn their performance upside down and can result in a waste of your own time, money, and resources.
An Android phone, in general, is subject to all sorts of unnecessary junk and cache files, which accumulate in its core over time and slow down the device. If these are not picked out and trashed, they can choke the smartphone and kill its battery.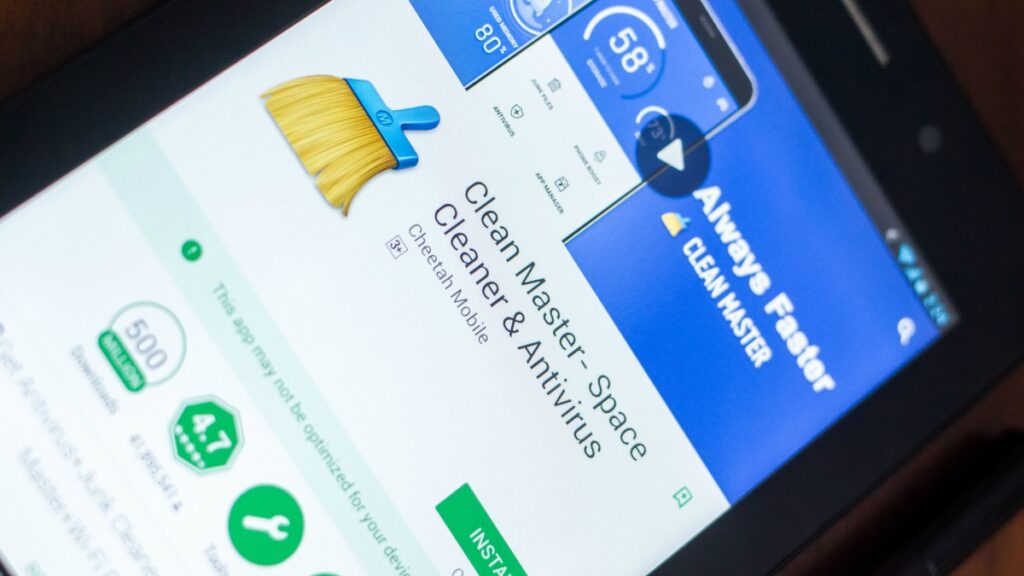 So, the big question is; How can you thoroughly cleanse your Android phone to supercharge its performance?
By taking the help of these remarkable cleaner apps, which have been created especially for device optimization. Check out our top picks for 2020 below.
All-In-One Toolbox: Cleaner & Speed Booster
This brainchild of AIO Software Technology is rated 4.7 on the Google Play Store, having more than five hundred thousand loyal followers. Some have even called it 'the bomb' due to its raging multitasking ability. Its key features include:
Smartly locating and removing the junk files weighing down on the system's core.
Cleaning the piled-up cache residue.
Shutting down the system-heating apps to lower the phone's temperature.
Disabling the battery drainers to conserve power.
Removing bloatware (unused factory apps).
Closing background apps to optimize phone memory.
Managing files, compressing images, and allowing internal (phone's storage) to external (SD card) transfer.
Enabling app lock with a password or a pattern.
The list goes on but the best thing about this app is that it allows you to do everything with a single tap! In addition to this, it is available for free download from the Play Store.
Clean Master- Space Cleaner & Antivirus
This app has more than 43 million user ratings worldwide and is a product of the well-renowned Cheetah Mobile. It is considered one of the best optimization tools available on the smartphone market, with not only security benefits but family-fun capabilities as well. Look at its top functions:
Detects fake and unauthorized networks, and provides crucial Wi-Fi security.
Boosts RAM, extends battery life, prevents overcharging of the device, and frees up space by deleting all the junk.
Enables a state-of-the-art Antivirus protection program (AV-tested) and safeguards the device against Trojans, malware, and other cyber-threats.
Encrypts private photos in a photo vault to shield them from general viewing.
Monitors the family members' locations and whereabouts via GPS tracking.
Apart from these, the whole interface of the app is quite smooth, personalized, and user-friendly. There is much more to this fantastic app than what meets the eye. You can download it making use of a reliable internet connectivity, like CenturyLink internet speed for instance.
Power Clean – Antivirus & Phone Cleaner App
This LIONMOBI app has more than two million user ratings on the Google Play Store, which should be enough to validate its importance. If you wish to release some space on your phone ASAP, use this quick cleaning app that comes with several interesting features that make it special. Check them out:
App managing, locking, detecting, uninstalling, and force closing.
System monitoring, CPU cooling, and RAM boosting.
Storage optimizing, cache build-up cleaning companies, duplicate file removing, junk deleting, etc.
So on and so forth. The best feature of all, though, a 24/7 protection. This app comes with a proper antivirus that scans the phone regularly and keeps its security up to date against malware and other network compromisers.
GO Speed (Clean Boost Free)
The name of the app itself implies its speed-releasing motto. This GOMO creation is deemed the lightest Android cleaner app in the market with relatively advanced functionality. It is for this reason that Go Speed has scored almost eight hundred thousand followers on Google Play Store and a nice 4.6 rating. Let us highlight some of its main features below.
The Go Speed app:
Checks some of the most stubborn auto-start apps, which eat up the phone's battery, and stops them with its BlackHole speed booster (50% more effective than other boosters).
Allows you to delete those tasteless pre-installed apps, which occupy space and create performance hurdles.
Comes with a smart widget, which enables ready access and on-time cleaning.
Protects your private apps from prying eyes with an app-lock facility.
Cleans junk, cache, temporary files, obsolete apps, you name it.
It does not stop here. There are many other useful features as well. To find out, download GO Speed free from the Play Store.
So, if you are impelled to clean your Android, do take the assistance of the aforementioned apps.