Happy Merry Christmas Quotes
Thank you for sharing, thank you for caring. May your Christmas bring many returns for all you do.
You share your knowledge, you share your experience, you share your life with us. We appreciate you, and all you do. You deserve a great Christmas and a very Happy New Year.
Wishing you and your family a very Merry Christmas. May this joyful season greet you with health and happiness.
Wishing you the best during this joyful season. I hope your holidays are filled with festivities and plenty of merry enjoyment.
May your family feel the love, peace, and joy that come with the spirit of Christmas. Enjoy the happy cheer.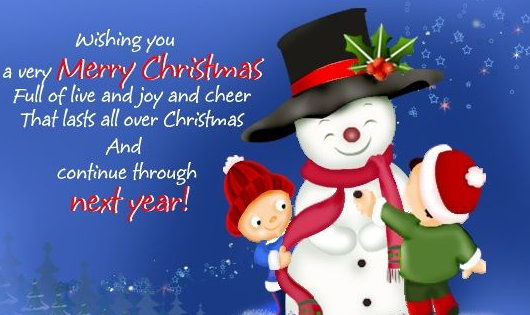 Happy Christmas Day messages
May the light of Christmas be your sun that you may never walk in obscurity; I offer you this season's gifts of Joy and unending tstimonies. Merry Christmas
Merry Christmas: I bring you divine favour, long life, good health, prosperity, success and the peace of Christ born of a virgin.
May the joy of Christmas give you key to every closed door; light to dispel any darkness in your life and may God grant you peace and favour. Happy Yuletide
May the air of Christmas lift your spirit; the sun brighten your destiny and may moon of the season glow with God's favour in everything you lay your hands.
I share in white Christmas dream of our joy with splendour of Christ's humble birth; may your days be bright and merry. Merry White Christmas
Merry christmas wishes
Christmas is sign of stars, angels and love divine come down from heaven, may love of Christmas remain with you. Merry Yuletide
May the magic and heavenly gifts of Christmas gladden and fill your hearts with joyful songs, cheerfulness and laughter.
In this season of Christmas, I wish you peace of the season, spirit of love, comfort of faith and beauty of the Yuletide.
As we celebrate birth of divine baby born of a virgin, the servant and king, Jesus Christ, may your heart find peace of Heaven.
Yuletide is a season of peace, goodwill and abundance of mercy, may the joy of Christ's birth ignite your heart with gladness and laughter. Merry Christmas.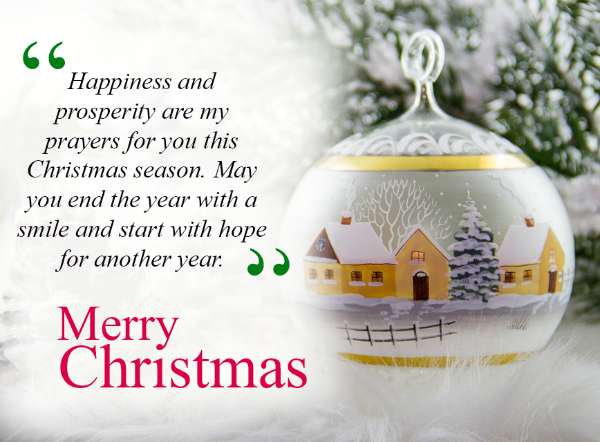 Happy Christmas Day Wishes
Christmas is a celebration of our friends, family & loved ones. I(or We) CELEBRATE You!
Stars are watching, hearts are beating; please accept my heartfelt Christmas greeting!
Not just during the Christmas season but every day, you bring such joy to life. Merry Christmas
JOY! JOY! JOY! PEACE! PEACE! PEACE! LOVE! LOVE! LOVE! Merry Christmas!
Underneath all my wrapping paper, gifts, bows, wreaths, decorations and bulbs, I send you lots of love and Christmas wishes with blessings from above.
Christmas greetings
Listen to the bells ringing, listen to the carolers singing, Christmas is coming!
Merry Christmas! Love, Health, Wealth! Feliz Navidad! Happy Quanza! Bah Hum Bug! (Well… that should cover it.)
Wonderful memories to be had, many reasons to be glad. Loving wishes all for you. Countless dreams you have made true. Merry Christmas!
Sending you love, our warmest Christmas wishes and glad tiding from our family to yours. Merry Christmas and Happy Holidays!
From one girlfriend to another: Santa Claus should be a chick. Doing all the festivities and gifts and shopping? We deserve those cookies a lot more than he does!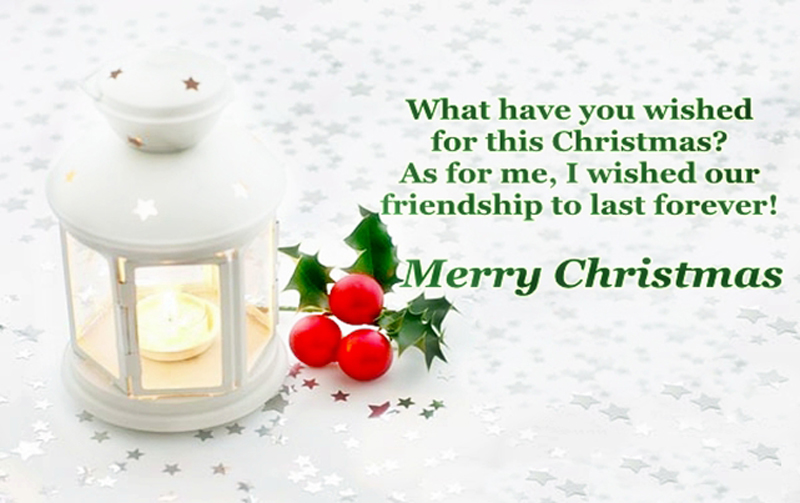 Happy Christmas Day Quotes
This year I finished Christmas shopping early! I had my holiday cards completed and addressed, and I made homemade presents. I also learned it's so much easier to plan these things than actually do them.
Peace on Earth. Love in our Hearts. Hope for the Future. Warmest Christmas Wishes.
Start the countdown because Santa Claus is coming to town!
Have the best super twinkly, shiny bright festive Christmas ever! Merry Christmas!
As the snow falls, I give you two my wishes, listen to the wind, I am blowing kisses!