Valentine's day is celebrated worldwide, every year on February 14th. This day is known for love & joy. Valentine's Week begins on February 7 and finishes on February 14. The value of these 7 days is said to last throughout the year. During this love week, you can share your sentiments with loved ones, but it can be challenging. Do not panic; we can assist you if you consider telling those close to you how you feel.
Quotf compiled a list of some of the best Valentine's Day quotes, messages, and wishes for girlfriend that you may send. These Valentine's Day wishes include personal significance that will convey an important message to your lover.
Valentine's Day Wishes 2023
Related: Best Love Quotes Of All Time (Romantic Love Quotes)
"Loved you yesterday, love you still, always have, always will." ~ Elaine Davis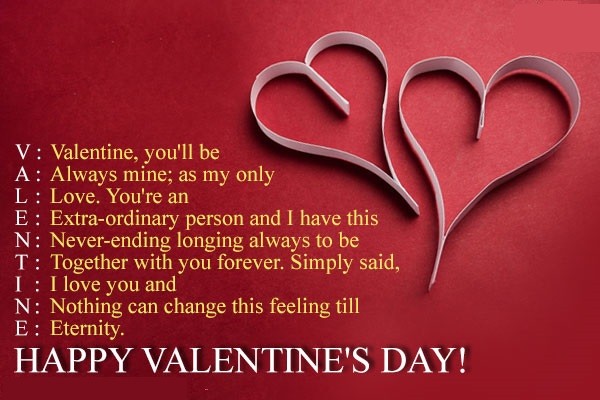 V: Valentine, you'll be
A: Always mine; as my only
L: Love. You're an
E: Extra-ordinary person and I have this
N: Never-ending longing always to be
T: Together with you forever. Simply said,
I: I love you and
N: Nothing can change this feeling till
E: Eternity.
Happy Valentine's Day!
"Romance is the glamour which turns the dust of everyday life into a golden haze." ~ Elinor Glyn
"A day without you in my life should never come and even if it does, let it be the last."
"I love her, and that's the beginning and end of everything." ~ F. Scott Fitzgerald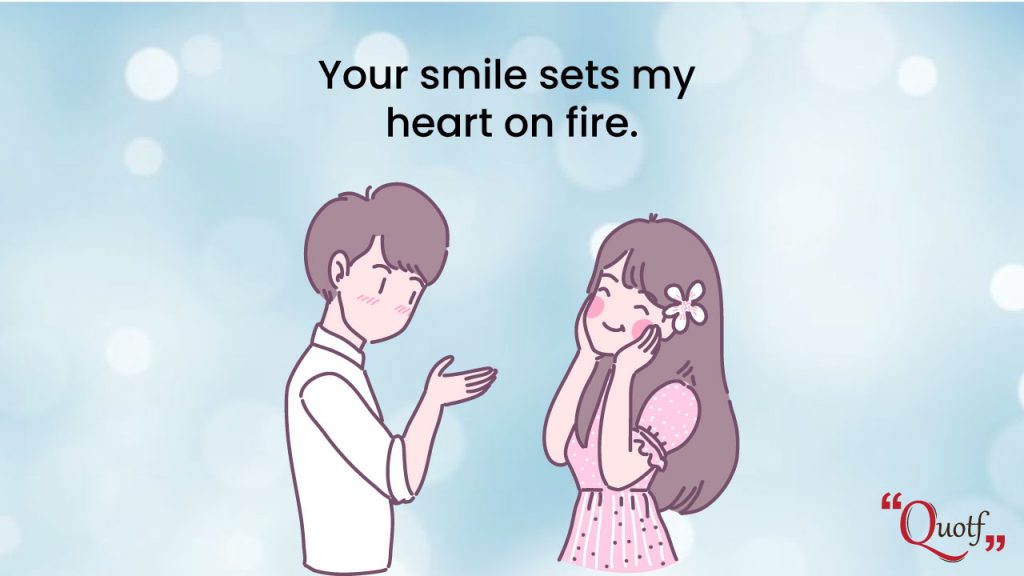 "Your smile sets my heart on fire."
"They say it's hard for dreams to come true, but being with you so far has proven this statement to be completely wrong. Happy Valentine's day!"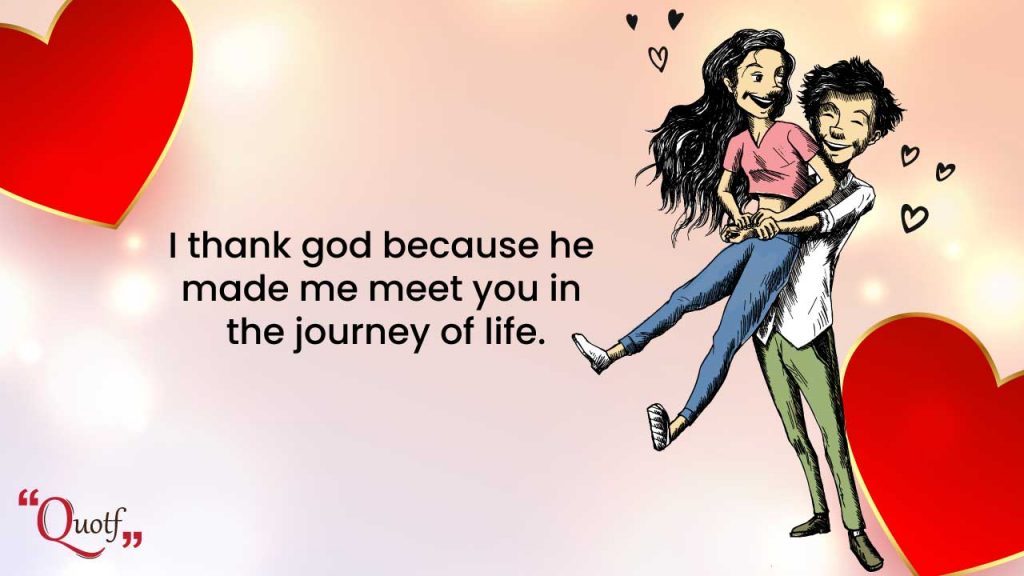 "I thank god because he made me meet you in the journey of life."
"Valentine's Day is just another day to truly love like there is no tomorrow." ~ Roy A. Ngansop
Valentine's Day Quotes For Girlfriend
Related: Loving Happiness Quotes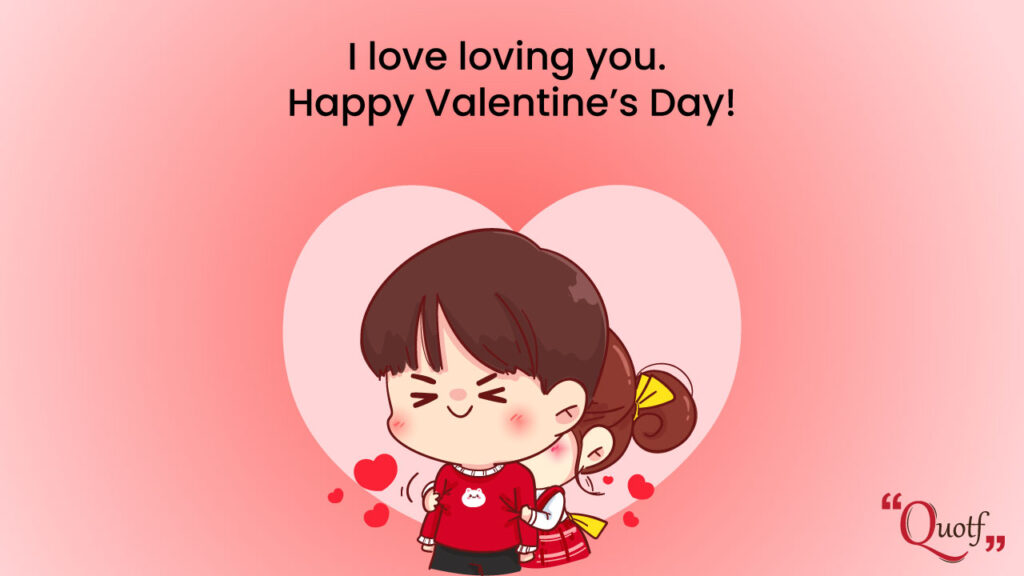 "I love loving you. Happy Valentine's Day!"
"No matter the celebration of the day, there is nobody in this world I'd rather share my happiness with you. "I love you."
"Love you today, I love you tomorrow, and I love you forever…till I die…"
"I consider myself to be the luckiest woman on this Earth and it's only because I have found the most precious jewel of this world. It's you, my love. You are the only thing that looks good on me."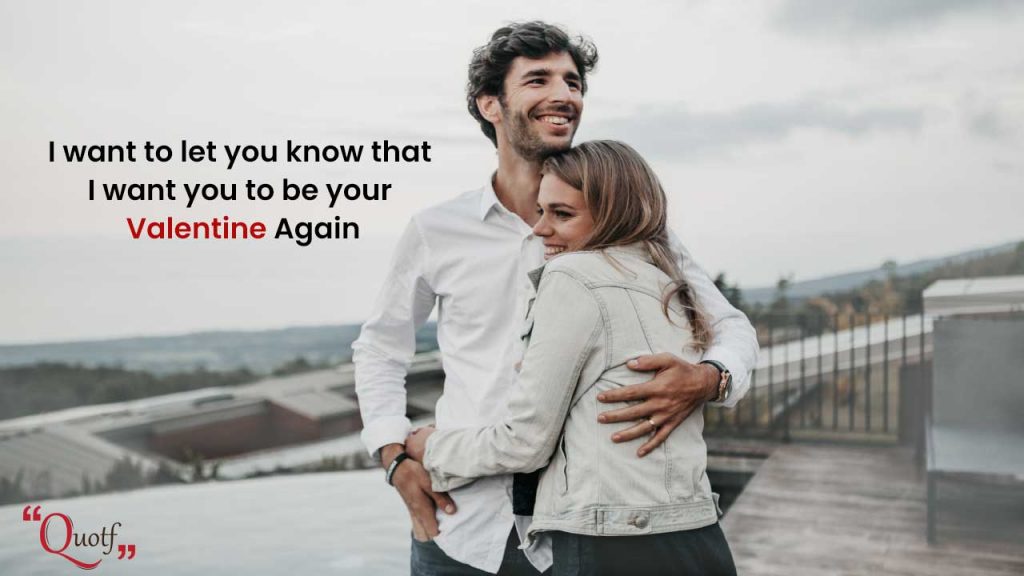 "I want to let you know that I want you to be your Valentine Again."
"When you come to me with your hair all messed up, I love you. When you come to me with chocolate all over your lips, I love you. When you crack silly jokes with me, I love you. I love you because you join me in my weirdness. Thanks for being my silly soul mate. Love you forever!"
"The way you look at me when I sit in front of the mirror… your smile when I catch you unaware noticing me… these small things show how much you love me more than any words can express."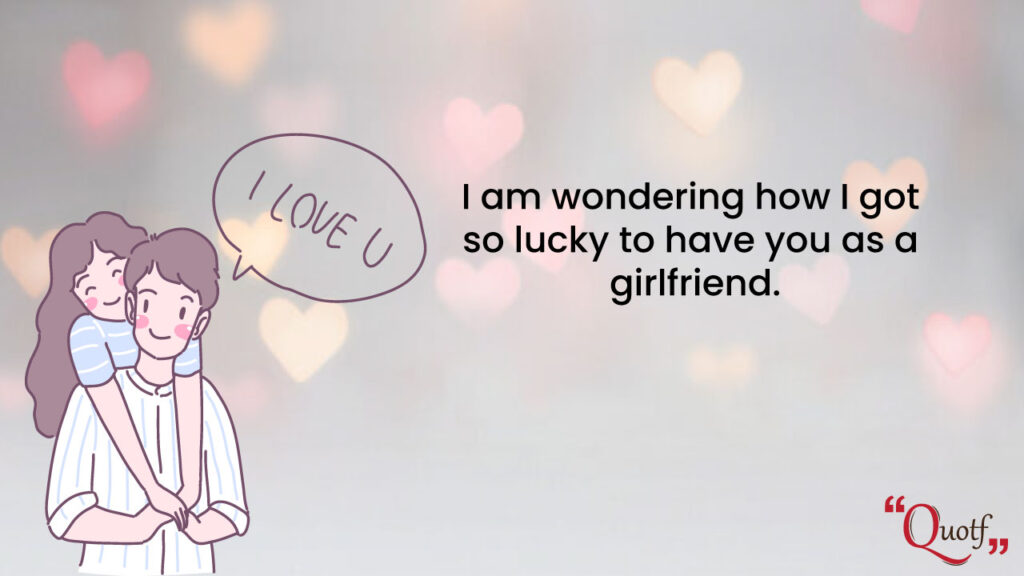 "I am wondering how I got so lucky to have you as a girlfriend."
"There was a flash of bright lights and a puff of smoke and music in the air when you walked in. Right away, I knew I had found my special someone."
"I loved you when the sun set yesterday, I love you when the moon comes tonight and I will love when the sun rises tomorrow."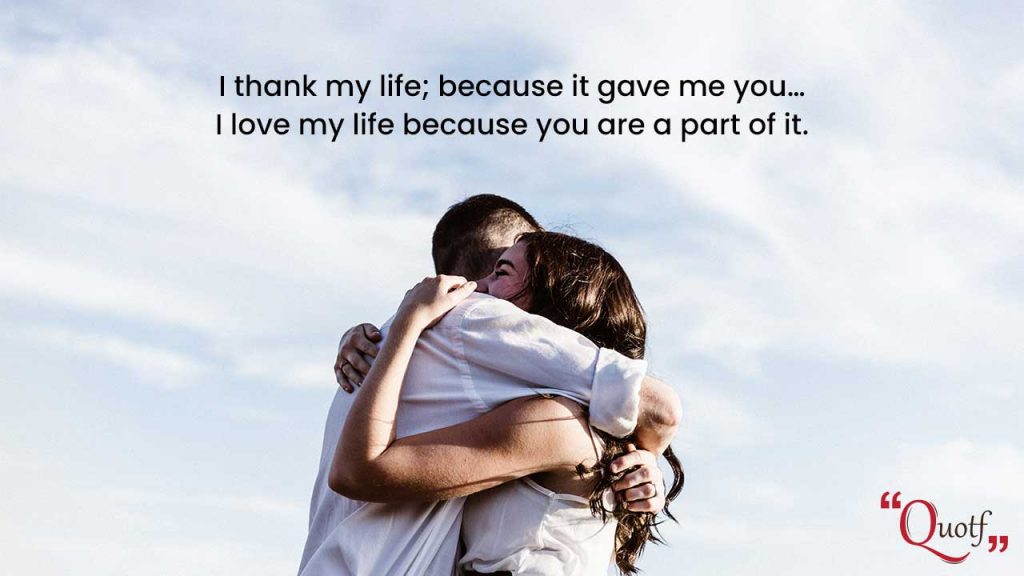 "I thank my life; because it gave me you…I love my life because you are a part of it."
"When we kiss, I feel the excitement of being on a roller coaster or like the sky filled with fireworks on the fourth of July. Happy Valentine's Day, and thank you for making my life an adventure!"
"I Looked At A Sweet, Beautiful Rose, And Then I Looked At You, And I Kept Looking At You, For The Rose Isn't As Beautiful As You."
Valentine Day Messages For Her
Related: Thank You Quotes and Sayings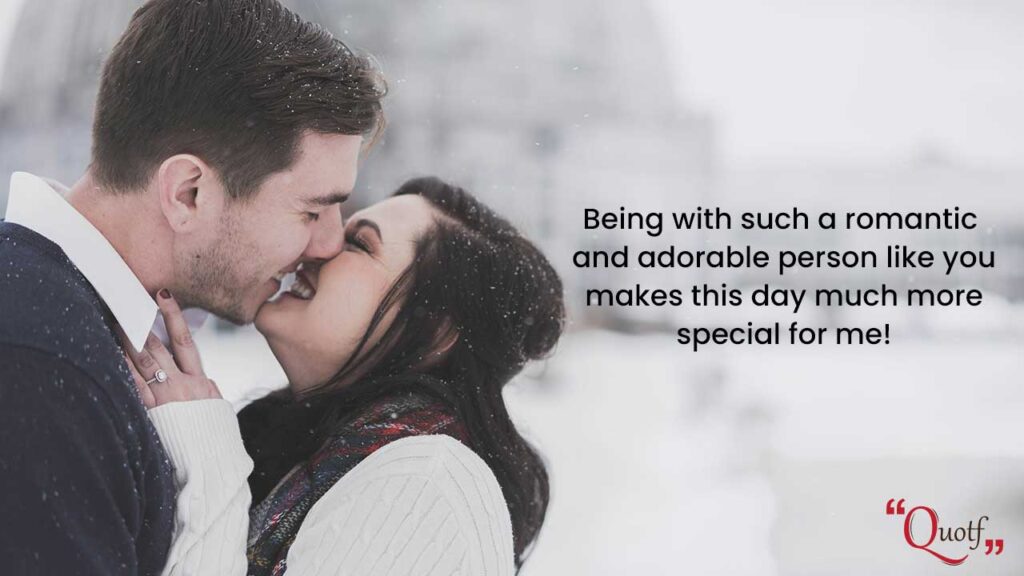 "Being with such a romantic and adorable person like you makes this day much more special for me!"
"You fill my world with feelings of true joy and bliss, you are the centre of my universe and the most precious person in my life!"
"Honey, I congratulate you on this wonderful holiday of love and tenderness! May Saint Valentine bring much happiness and understanding into our house!"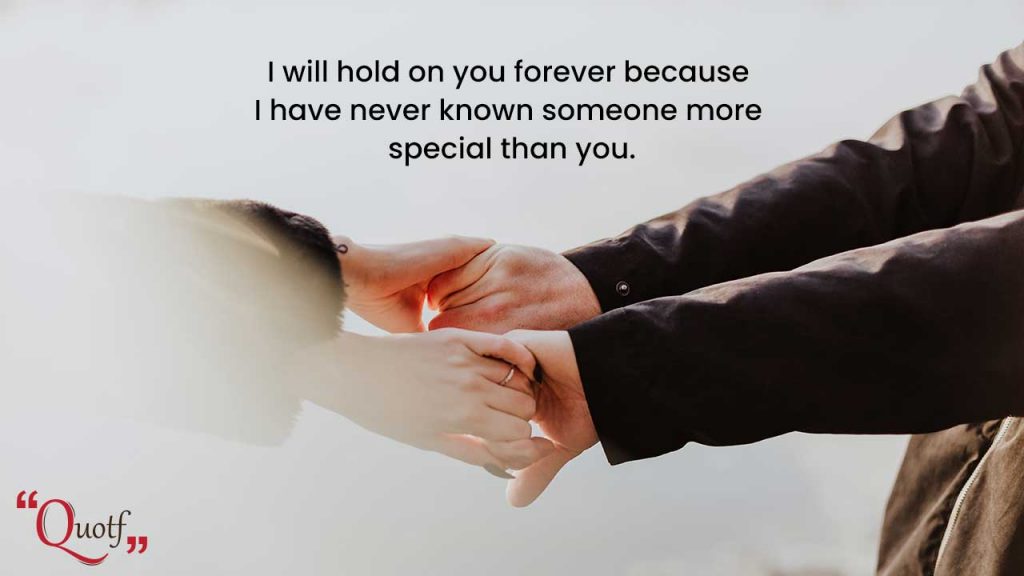 "I will hold on you forever because I have never known someone more special than you."
"Today is a special day for all people who are in love. But every day of my life is special because of you. Every day of my life is full of love and happiness. Thank you for it. Happy Valentine's day, sweetheart!"
"The world is spinning so fast and time flies so quickly that sometimes I want to stop it for a while and enjoy these beautiful moments that we share. I can't stop the world, but I can make our love everlasting. Happy Valentine's day!"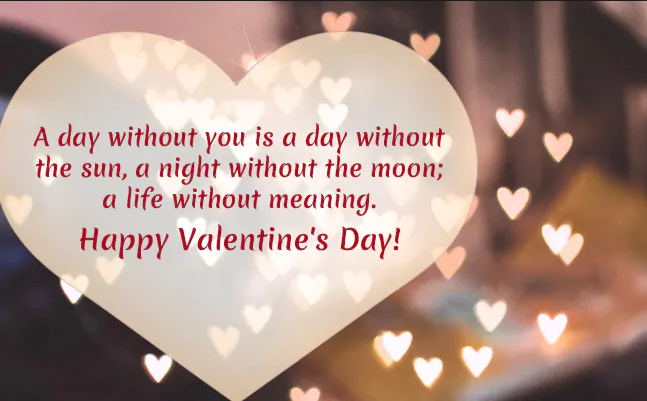 "My darling! Today I want to wish you much health, well-being, luck and good mood. I won't wish you love, care and tenderness because you have it all. And I promise you'll never lose them as long as you stay with me."
"Honey, I'm tired of lies, that's why I want our love to be honest and genuine. Only then it will be true. Happy Valentine's day!"
Romantic Valentine's Day Quotes & Messages
Related: Romantic Good Night Quotes For Girlfriend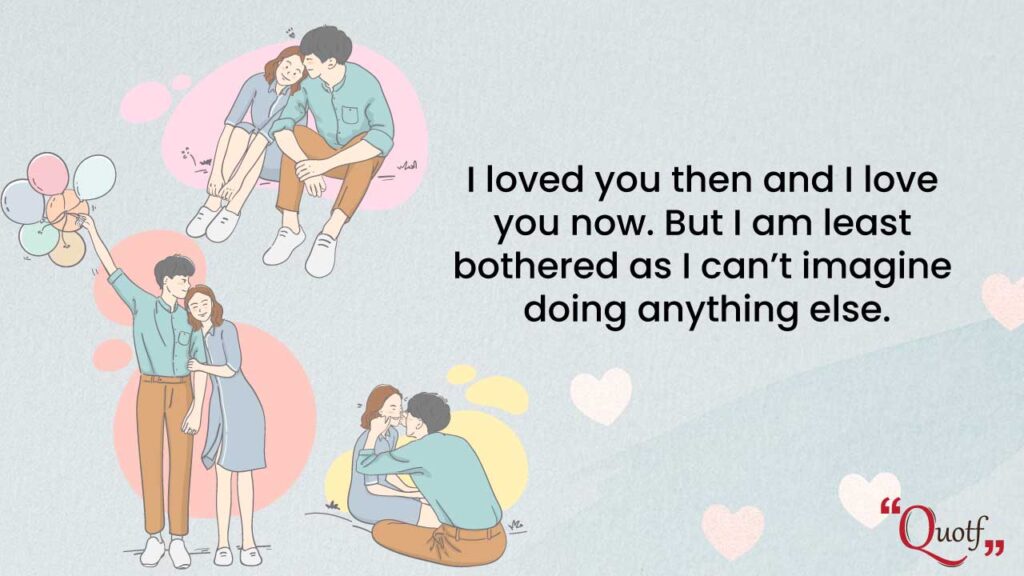 "I loved you then and I love you now. But I am least bothered as I can't imagine doing anything else."
"I feel like all my love for you is too big to fit in the words "I love you". There's no such words that could express the way I feel. There's no even such language that could explain how strong and devoted my love is. Happy Valentine's day, baby."
"I don't need any special occasion to say how much I love you. I say it to you every single day. I don't need any reason to give you presents, because actually you deserve to get them every day. You're the best, sweetheart."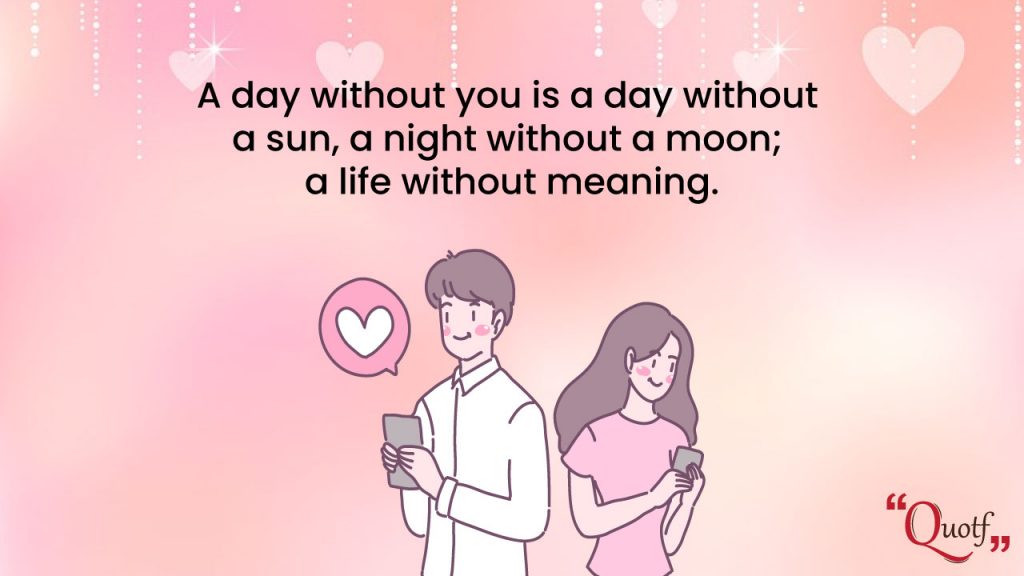 "A day without you is a day without a sun, a night without a moon; a life without meaning."
"Valentine's day is the day for those who are in love. And today is my day, because I'm in love. Are you in love, darling? I really wish you were, because this flame in my heart starts burning only brighter every time I see you. Happy Valentine's day!"
"I want to dedicate the words of love to the most beautiful and mysterious, the most desired woman I've ever met. You're my dream, my ideal and I love you endlessly. Happy Valentine's day!"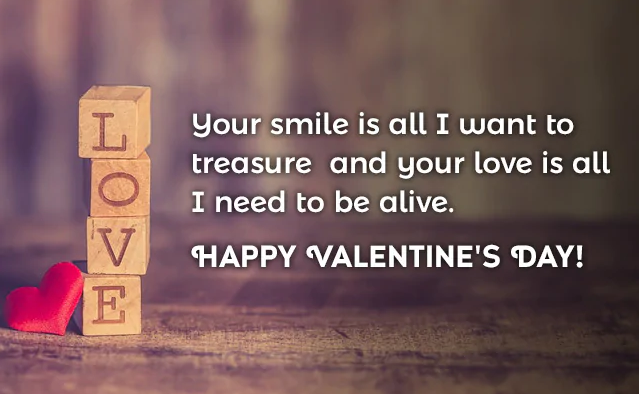 "Honey, I'm so happy that I met you! Our hearts beat as one, our wishes are aligned, our eyes burn with desire. We were made for each other and I believe we would have a long and happy life together. I love you!"
"There's no such ocean on Earth that is deeper than my feelings for you. There's no such number in mathematics that is bigger than my love for you. It's impossible to measure our love because it's infinite. I love you, honey!"
Romantic Valentine's Day Captions For Cute Instagram Post
Related: Instagram Photo Caption
"All of me loves all of you 🙌"
"Sweets 🍫 for my sweetie 💝"
"To me, you are perfect 💖 🙌"
"Happy Love Day 💞 to my love 🌹"
"There is always madness in love. But there is also always some reason in madness."
"Cupid ❤️ called, he wants his arrow ↙ back 💘"
"Every day with you is a gift 🤞"
"Just two crazy kids in love 💑"
"In a sea of people, my eyes will always search for you."
"You are the best 😍 and I am the luckiest 🤟"
Sweetest Day Quotes & Messages For Special One
This year, October, Sweetest Day 2023, will be a day for romantic expressions of love in the United States of America. Now is the perfect time to express your love to him/her through text messages, make them smile, and let them know how you truly feel. Cards with Happy Sweetest Day quotes are the best way to express your emotions. Send her enticing text messages to win her heart and inspirational text messages that will quicken his heartbeat.
A sweet collection of WhatsApp statuses, Sweetest Day Wishes, messages, and greetings. Send the most heartfelt and romantic "I Love You" messages to your loved ones on Facebook and WhatsApp to show them how you feel.
Related: Beautiful Smile Quotes For Her
"Having you to celebrate Sweetest Day with is sure to be a yummy experience. I just can't stop thinking about all of those delicious moments and kisses that we will share!"
"I think don't either of us expected this to become THIS wonderful thing. I'm happy for having you in my life and all of the special moments that you bring! Happy Sweetest Day!"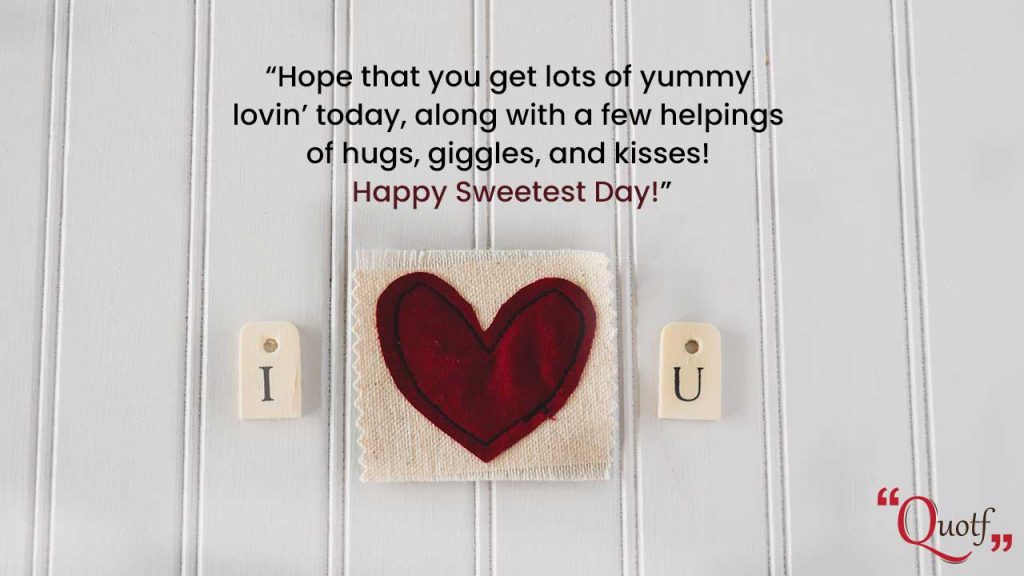 "Hope that you get lots of yummy lovin' today, along with a few helpings of hugs, giggles, and kisses! Happy Sweetest Day!"
"Sometimes all it takes is some scoops of kindness along with a spoonful of care to change a person's life. May we all try to become a better person to the people we love on this Sweetest Day."
"I used to be selfish and cold. But the day you came into my life everything changed. You've melted my heart, darling, and filled it with love and warmth. I wish I will never lose this feeling. Happy Valentine's day!"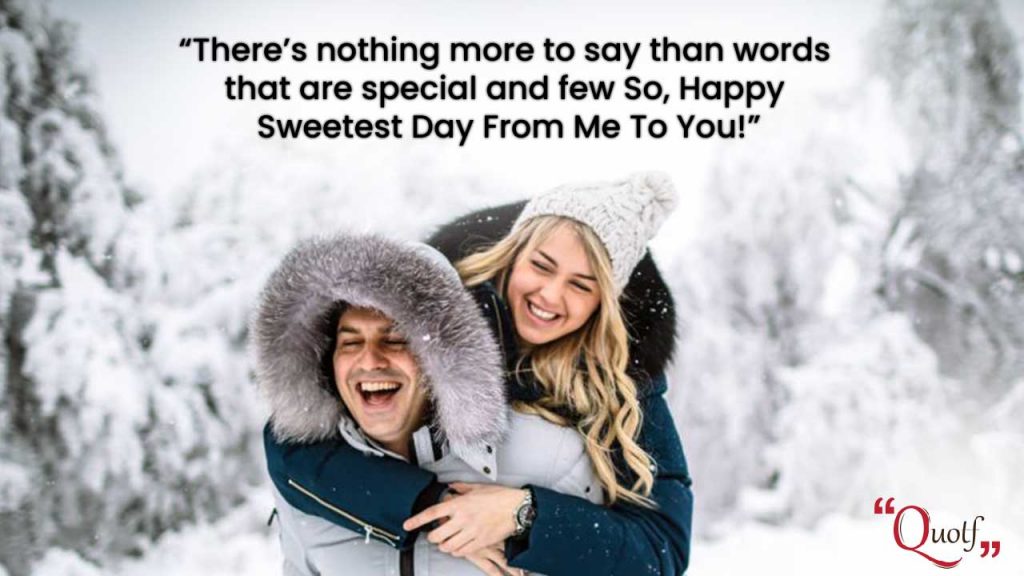 "There's nothing more to say than words that are special and few So, Happy Sweetest Day From Me To You!"
"Life gives me a lot of reasons to start hating it. But every time something bad happens, I think about you: about your angel face and sweet voice, about your kind heart and sonorous laugh… It all reminds me that life is glorious no matter what. Happy Valentine's day, my love!"
"I know every single feature of your divine face. I know every single note in your voice. I know what makes you sad or happy. I know that three sacred words "I love you" will bring you real pleasure. And I really love you, honey."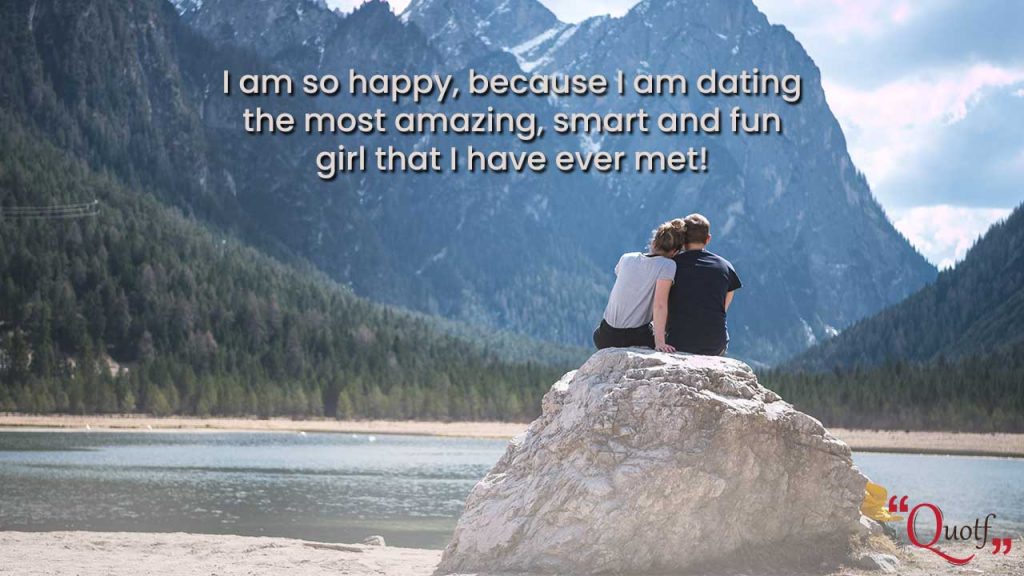 "I am so happy, because I am dating the most amazing, smart and fun girl that I have ever met!"
"The sweet brightness of love surrounds us like light. We are both warmed by the charm of our devotion. Here is a wish for a happy Valentine's Day, my dearest. I can't wait to see you tonight."
"I'll never break your heart, because it holds love for me within it. Breaking your heart would mean losing your precious love. I'll never let it happen, because your love is the only thing that matters in this mad world."
"Loving you is the best thing that has ever happened to me."
Final Words
Romantic Valentine's Day quotes, wishes, and messages for a girlfriend are the best selection. I sincerely hope this collection helped you wish him/her a happy Valentine's Day. You may post these to your WhatsApp, Facebook, and Instagram stories to get additional impressions. The finest way to express gratitude to your companion for joining you in crime is to do this.
I'm sending you best wishes for a beautiful Valentine's Day with your partner. If you have any other experiences, Please share them with us!
Related Event Articles: