Events
Halloween Quotes
---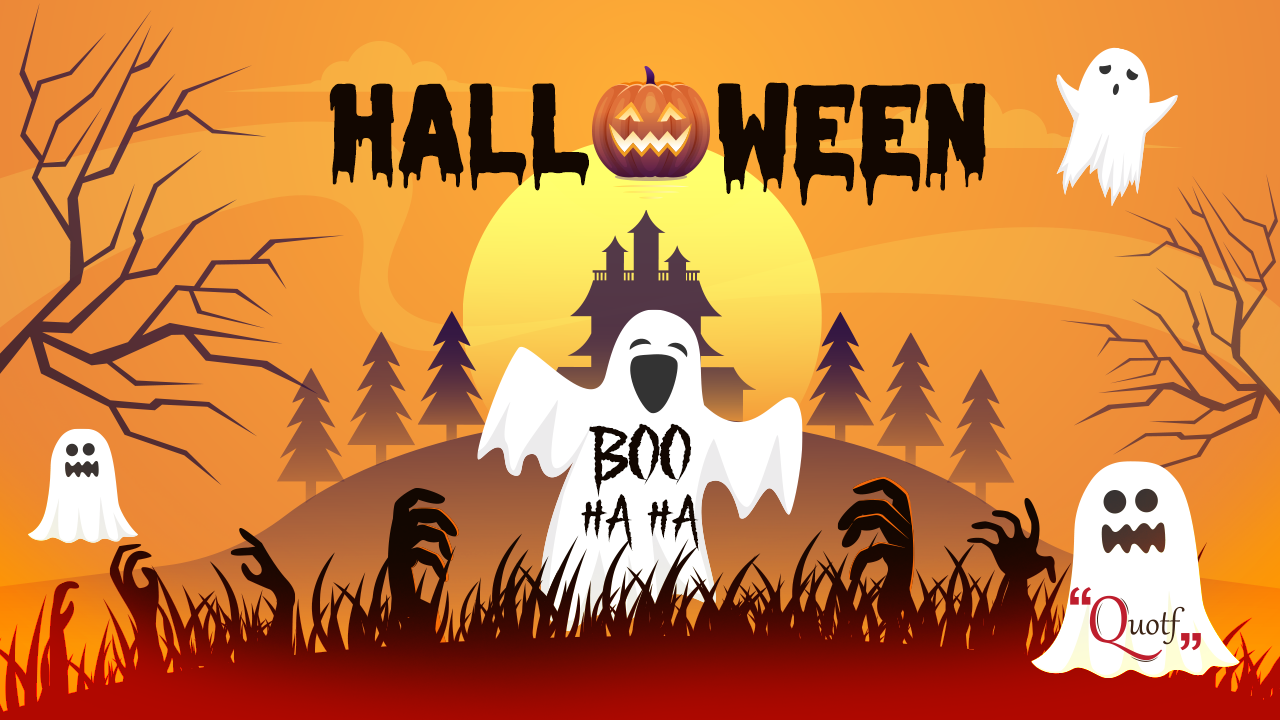 Since ancient times, people have celebrated Happy Halloween Day. At that time, the Celtic people had the view that when the veil between our world and other worlds becomes extremely thin. Spirits can enter the physical world. Both good and bad perceptions are thrown by this notion. Numerous Halloween quotes or phrases have been created based on this day because of the celebration that took place many years ago. Halloween is observed on October 31st. It is the day following All Saints Day, a Christian holiday.
For those looking for phrases to commemorate the day in style, we've compiled some of the best Halloween sayings, greetings, or captions below. Look at the memorable Halloween quotes that are provided on Quotf.
Halloween Wishes
Halloween is one of the best times of the year. It's time to carve pumpkins, decorate, pick the greatest costume, and enjoy the brisk air and changing leaves. We combed the internet to compile this list of the top Halloween quotations.
Hope your day doesn't "suck" like a vampire. May you have an amazing day and a freakishly scary Halloween!
Keep calm, trick or treat and carry on.
Wishing you a night full of frights and a bag full of delights. Happy Halloween!
May you have a fang-tastic evening, ghoul-friend! I'm so lucky to have you in my life. Halloween wishes to you!
Have a spook-tacular, boo-tiful, wooo-nderful, and fang-tastic Halloween!      
Have a killer Halloween!
Wishing you lots of fun and lots of yummy treats!
Halloween Quotes Funny
The funniest Halloween quotes, in our opinion, are the greatest. We've got humorous pumpkin quotes and captions, funny pumpkin sayings, funny pumpkin tombstone sayings, funny pumpkin captions, and short cute funny Halloween quotes and sayings.
Trick or treat,
Smell my feet,
Hope your Halloween
Is spooky sweet!
Forget Love – I'd rather fall in chocolate! – Sandra J. Dykes
Lock your windows, bolt the door; monster season's here once more! – Rusty Fischer
It's all just a bunch of hocus pocus! – Max, "Hocus Pocus"
Every day is Halloween, isn't it? For some of us. – Tim Burton
Happy October, from one Halloween fiend to another.
May I borrow your face for a Halloween party? Just joking!  Congratulations!
Halloween Movie Quotes
Upcoming is Halloween. You'll have to deal with it if you have a job on Halloween. You're probably out and about having fun if you aren't at work on Halloween. As a result, you will be asked a question you haven't encountered since childhood. It is the query that all will pose. The question will ruin your evening. It's one of the all-greatest time's movie quotes. Get ready, then. It's time for "The Greatest Movie Phrases Ever Said." 
"It's Halloween, everyone's entitled to one good scare." – Halloween
"I'm a mouse, duh" – Mean Girls.
"Oh look, another glorious morning. Makes me sick." – Hocus Pocus
"You can't kill the boogeyman!" – Halloween
"I'll stop wearing black when they make a darker colour" – The Addams Family
"I'm a ghost with the most, babe." – Beetlejuice
"When there is no room left in hell, the dead will walk the earth." – Dawn of the Dead
Halloween Tombstone Sayings
Customizing and designing items to suit our preferences is always enjoyable. The object gains more value and a more individualized touch as a result. Making your own DIY Halloween tombstone will make it unique. You can ask your family or friends to assist you, and you can all contribute your humorous sayings to the tombstones. Here are some suggestions for what your homemade Halloween grave markers could say.
Mary, Mary, quite contrary
How does your garden grow?
Quite well, I bet, since it's well fed
By your body down below
He caught a fishbone in his throat
Which made him sing an angel's note
Beneath this stone my wife doth lie
Now she's at rest and so am I
I was Carolina Born
And Carolina bred
And here I lay
Carolina dead!
Jason Voorhees
1946 – 1957
1980 – 1981
1985 – 1986
Etc.
Here lies the body of Lester Moore
Three slugs from a forty-four
No Less, no more
Here Lies Mozart
Decomposing
Short Halloween Quotes
Short Halloween proverbs and sayings Halloween might be a great opportunity to be horrifyingly creative! We've compiled a list of state spy ideas for you if you're helping your kids develop a scary story or project that creates Spectacular, unforgettable experiences. Work, work, work till you reach a nightmare where there is no room for imagination.
"Hell is empty and all the devils are here." —William Shakespeare
"It's Halloween. Everyone is entitled to one good scare." — Brackett, Halloween
"Whatever you do, don't fall asleep." A Nightmare on Elm Street
"The universe is full of magical things patiently waiting for our wits to grow sharper." —Eden Phillpots
"Where there is no imagination, there is no horror." —Arthur Conan Doyle
"It's all just a bunch of hocus pocus!" —Max, Hocus Pocus
"Something wicked this way comes." —William Shakespeare
Cute Halloween Quotes
Halloween is one of the world's most vibrant holidays. If you're seeking Happy Halloween Wishes, Messages, Captions & Images. We've compiled a collection of the most cute quotes, messages, and images for you to send to your loved ones here at "Wishing Ideas".
"I'm so glad I live in a world where there are Octobers." —L. M. Montgomery
"Clothes make a statement. Costumes tell a story."—Mason Cooley
"When black cats prowl and pumpkins gleam, may luck be yours on Halloween." —Unknown
"The farther we've gotten from the magic and mystery of our past, the more we've come to need Halloween." —Paula Guran
"Wishing you a spook-tacular Halloween!" —Unknown 
"Hope you don't have a scare in the world this Halloween!" —Unknown 
"October brings crisp, cool nights and Halloween frights." —Unknown
Halloween Pumpkin Greetings
It's time to look for the greatest pumpkin quotes to reflect how we all feel. 2017 was the year of the pumpkin. We have gathered the funniest and greatest pumpkin quotes, Halloween Pumpkins Greetings. The most popular holiday in America is Halloween, which draws millions of people to the streets each year to scream, laugh, and celebrate with loved ones. But the holiday's beginnings aren't quite stellar.
"Once a pumpkin, Always a pumpkin." — Billy Corgan
"Pumpkin spice lattes are egg nog for morning people." — John Oliver
"I'd say the first thing you need is … a pumpkin." — Cinderella
"I tromped through the pumpkin patch." — The Nightmare Before Christmas
"Pumpkins are the onlyliving organisms with triangle eyes." – Harland Williams
"Only the knife knows what goes on in the heart of a pumpkin." — Simone Schwarz-Bart
"Let's be honest: you can't celebrate fall without it's leading role: pumpkin!" — Rachel Hollis
Happy Halloween Wishes
Say it plainly… There are several situations where speaking in an insulting or offensive-sounding style is a fantastic strategy to stop negative behavior. Speaking inappropriately without giving it any thought can hurt people in various contexts. We have some happy Halloween quotes which can make you happy.
I'm watching you to be sure you have a hauntingly great Halloween 2022!
You're the cutest pumpkin in the patch! Have a scary good time. Happy Halloween 2022!
Halloween season is just a whisker away. Hope you have a bewitching time!
Tonight is your chance to make all your scary dreams come true. Become the monster and scare someone because tonight 
Stay alert and stay safe. Don't let the dead hunt you down. Wishing you a happy Halloween this year. I'll be waiting 
Tonight, I am wishing you an unforgettable Halloween adventure filled with creepy memories and deadly encounters. Hap
Your favorite holiday is here! Happy Halloween! May you get the sweetest candies and the yummiest treats in your buck
Inspirational Halloween Quotes
The candy shops always offer a wide range of sweets and snacks for Halloween treats. The supermarket's Halloween candy section is a favorite among trick-or-treaters. So, you should be able to locate a variety of tasty treats that are also safe to consume. And portable to bring home! These good choices include Halloween cookies, candy corn, cupcakes, and sweets.
Everyone is a moon, and has a dark side which he never shows to anybody. Mark Twain
Halloween wraps fear in innocence, as though it were a lightly sour sweet. Let terror, then, be turned into a treat. Nick Gordon
Eye of newt, and toe of frog, Wool of bat, and tongue of dog, Adder's fork, and blind-worm's sting, Lizard's leg, and owlet's wing, For a charm of powerful trouble, Like a hell-broth boil and bubble. William Shakespeare
True love is like ghosts, which everyone talks about and few have seen. Francois de La Rochefoucauld
On Halloween, witches come true; Wild ghosts escape from dreams. Each monster dances in the park. Nick Gordon
If ever there was a holiday that deserves to be commercialized, it's Halloween. We haven't taken it away from kids. We've just expanded it so that the kid in adults can enjoy it, too. Cassandra Peterson
I love the spirit of Halloween and the energy that comes with it. Katharine McPhee
Halloween Love Quotes
The event calls for celebrations, including dressing up as frightful monsters and having a blast with loved ones, family, and friends. Wish your loved ones spooky and humorous texts. Send happy Halloween love quotes and wishes to your family and friends. Don't forget to give your boyfriend and girlfriend Halloween texts. Use the most recent Halloween day texts to post these Happy Halloween Wishes Cards for lovers.
Happy Halloween, honey. I love you scary much!
Tonight, Halloween will be less scary and more romantic because I have you! Happy Halloween.
Happy Halloween, my sweetheart. I will spoil you with my love and kisses tonight.
Happy Halloween to you, baby! I'm sure you will be the most handsome vampire out there tonight! Enjoy your time to the fullest!
I'm glad to have a real-life ghoul in my life, and that is you. Have a killer Halloween!
Happy Halloween, love! Nobody is too old for a party so what do you say about a Rick and Morty couple costume for us? Let's have fun!
Babe, we look the best when we are together, so will you be the Joker to my Harley Quinn? Happy Halloween to you!
Halloween Quotes For Instagram
You may rest because this is where we come in if you've been searching for some original happy Halloween quotes and sayings. That is appropriate to utilize as a photo caption for your next Instagram post. Your family and friends will undoubtedly enjoy some of the most memorable Halloween quotes for Instagram and sayings we will share with you. Here are some excellent choices.
H🎃ppy H🎃lloween!
I'll never 👻 you.
You're 💀 to me.
'Til 💀 do us part.
I need to be home before midnight…👠🎃
#Twinning 👯
I'm the 👑 of Halloween.
🦁🐯🐻, oh my!
We trick or treat, 🌧 or ☀️.
H🌕wling at the m🌕🌕n.
Here for the b👻👻ze.
🐝yonce.
We have a new 🎃 in the patch!
Sorry I'm ⚰, I have a cold.
Who you gonna 📞? 👻busters!
He's trapped in my 🕸
👑 of screams.
Keep your 🐾 off my 🍬
"Can be bribed with candy."
Best costume 🏆 goes to…
Scary Halloween Quotes
The thrill of Halloween can also be experienced by dressing up and visiting a haunted house. This way, you can experience what it's like to be inside a haunted house and the thrill of ancient customs. So, check out our website and start reading these quotes right now! If you're looking for some spooky Halloween sayings and quotations to share with your loved ones.
"Believe nothing you hear, and only half of what you see." —Edgar Allen Poe
"I am all in a sea of wonders. I doubt; I fear; I think strange things, which I dare not confess to my own soul." —Bram Stoker
"There is something at work in my soul, which I do not understand." —Mary Shelley, Frankenstein
"We make up horrors to help us cope with the real ones." —Stephen King
"I would like, if I may, to take you on a strange journey." —The Criminologist, The Rocky Horror Picture Show
"It's as much fun to scare as to be scared." —Vincent Price
"Be afraid … Be very afraid." —Ronnie
Halloween Witch Quotes
Every year, many people celebrate Halloween, and you will undoubtedly want to join them this year by dressing to the nines. There are many Halloween costumes available in stores today, giving you many options for what to wear. This catchy phrase will undoubtedly keep everyone on task this Halloween! So if you custume like a witch, here are some Witch quotes to share with friends and family.
"When witches go riding, and black cats are seen, the moon laughs and whispers,'tis near Halloween."  
 "Halloween is almost here! Best witches for a haunting All Hallows Eve!"
"Hold onto your broomstick, Miss witch! Halloween is almost here!"
"When witches go riding, and black cats are seen, the moon laughs and whispers, 'tis near Halloween'." – Unknown
"This doggie wants to know, "WITCH way are the candies and treats?"
"Witching you a happy Halloween and companionship of ghosts."
"Witch: I'm casting a spell on you to have a happy Halloween."
Bat Halloween Sayings
You must first choose the mood you want to convey while choosing the best Halloween greetings and sayings. Would you like a terrifying bat? Even if you don't celebrate Halloween, it's still wonderful to wish your friends and loved ones a happy spooky day!
I go batty for Halloween.
I'm winging it with my costume this year.
I can be a real pain in the neck sometimes.
I like big bats and I cannot lie.
Don't get on my bat side.
I'm a sucker for vampire bats.
Just hanging out waiting for Halloween.
Wreath Quotes For Halloween Décor
When decorating your home for the big night, amusing and cute decorations can be the best choice with everything else going on around the globe and people still in shock from seeing It in cinemas. Therefore, avoid terrifying them by using too many zombies or murderous clowns. (Or say: You're not under our control!) For all your Halloween card writing and decorating needs, check out these undoubtedly sweet and entertaining phrases.
"Bloom with confidence, wear a flower wreath, and enjoy the Allhallows Eve."
"The wild-flower wreath of feeling, the sunbeam of the heart." – Fitz-Greene Halleck
"Good days have arrived. First, it's Halloween, then Thanksgiving, Christmas, and finally, it's New Year."
"A rose to the living is more than sumptuous wreaths to the dead." – Nixon Waterman
"Spooky wreaths are better than decorative wreaths."
"He stopped loving her today; they placed a wreath upon his door." – George Jones
"Let the ghost enter your home through a wreath hanging on your entrance door."
Spooky Quotes For Halloween
We also offer a selection of the most well-liked Happy Halloween Wishes messages, phrases, and images. That can help you stand out from the crowd on this special date if you're seeking something spooky and eerie. To add more spice to your Happy Halloween celebrations.
"Very superstitious
Writing's on the wall.
Very superstitious
Ladders bout' to fall…" Stevie Wonder
"Shadows mutter, mist replies; darkness purrs as midnight sighs." Rusty Fischer
"She used to tell me that a full moon was when mysterious things happen and wishes come true." Shannon A. Thompson
"Halloween is not only about putting on a costume, but it's about finding the imagination and costume within ourselves." Elvis Duran
Halloween Letter Board Quotes
Yes, those tiny encouraging letter board messages that you scroll through Quotf. I like to scatter small notices throughout my home that I can read from time to time. Therefore, when letter boards became popular, I bought a few and started incorporating them into my design. Being me, I then pondered how to Halloweenize them. Also, read all the way to the end of the article because I will give away one of these coffin letter boards!
Spooky Szn
Pick Your Poison
Candy? Dandy! But Wine? So Fine!
We Are The Weirdos, Mister
Do You Like Scary Movies?
Over The Boo-Sheet
Hex Nah
Ghouls Just Wanna Have Fun
"I Was Born For This," I Whisper As I Take Another Bite Of Pumpkin Pie
Welcome To Our Web
Halloween Wishes For Kids
Once more, it's that time of year! You're looking for the greatest Halloween costumes for kids since your little one needs a great outfit for a holiday. Don't worry about it; our assortment of children's Halloween outfits for 2022 will inspire you! The best kid's costumes of 2022 are here because we've collected all the fresh new kid's costumes for the year.
I hope you have so much fun on Halloween. Happy Halloween, my baby.
Happy Halloween, kids! I hope you get all the delicious sweets and chocolates in your bucket!
Your favorite holiday is here! Happy Halloween! May you get the sweetest candies and the yummiest treats in your bucket tonight!
Happy Halloween! Tonight is all about fun, so let's light up the pumpkins and put on our scariest costume! Can't wait to go for trick-or-treating!
Have fun trick-or-treating around the neighborhood, you tiny spooky creatures. Happy Halloween!
All the ghosts from your bedtime stories will come to scare you tonight, so let's fight them off together! Happy Halloween to the bravest kid!
Happy Halloween to the little monster in our home. You're not less than a monster when you cry.
Trick-Or-Treat Quotes And Sayings
Amazing Inspirational Quotes and Sayings for Halloween the rituals of trick-or-treating and well-known costumed parties are still relatively recent. They are only a decade or two old. On the other hand, customs associated with Halloween go back to the Celtic Samhain. An autumn festival during which some people still believe that the dead might return to earth. These ancient beliefs are frequently the source of many of today's spooky Halloween customs.
Today's the day to eat candies and sweets to your heart's content! Happy Halloween!
"Trick or treat, bag of sweets, ghosts are walking down the street." —Unknown
Eat, drink and be scary!
I hope you get lots of trick-or-treaters this year. Unless, of course, you'd prefer to keep all the candy for yourself.
Witch-ing you a spook-tacular Halloween!
You are the scariest werewolf I have ever seen in my entire life. Happy Howl-oween!
Hope you have as much fun today as the ghost who has been haunting your house.
Final Words:
I hope you enjoy the Happy Halloween Wishes 2022 I've provided for you to send to your special someone. You can send these Happy Halloween Wishes, Messages, and images to anyone by reading our post on the subject. You can convey your thoughts, concern, and love using messages, texts, and photographs.
DISCLAIMER!
All the Quotation on the website quotf.com falls under the fair use of copyright law. We provide quotes from different authors as it is. Quoting their words does not mean we agree or approve of their ideas.
Related Topics: