Sincere gratitude can means a lot to a dedicated employee. It makes them feel more appreciated and gives them a sense of success at work. Employees like to do their job when feeling their contribution is valued and seen. Employee Appreciation Day is celebrated Nationally on March 3rd, 2023.
Quotf is going to share some heartfelt employee appreciation quotes with you. Explore & Share! these quotes to openly praise the work of your employees.
Employee Appreciation And Recognition Quotes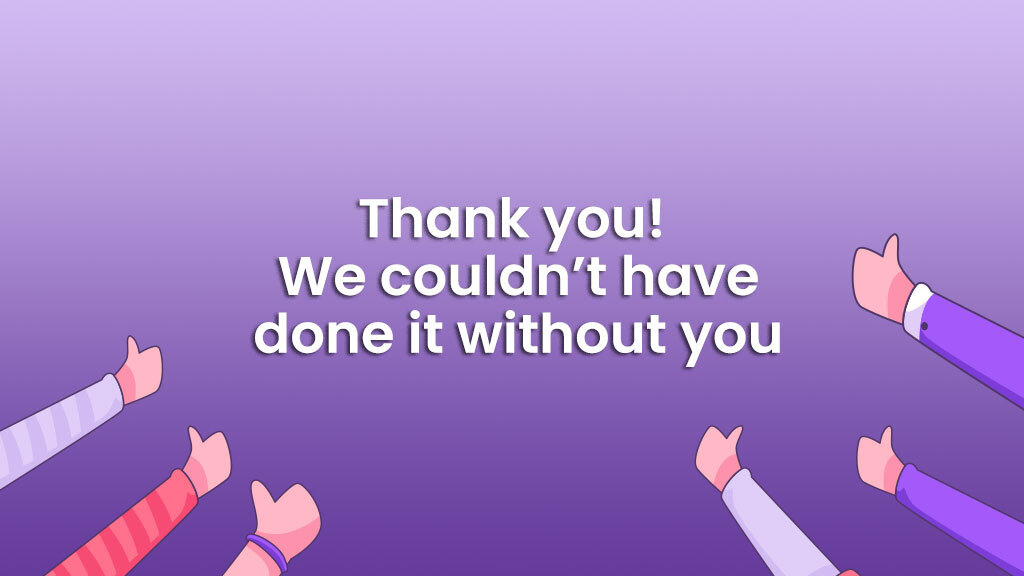 "Thank you! We couldn't have done it without you."
The entire team knew you were the person for the job.

Thank you for working so hard; you continuously impress us.
The management has noticed how you work, we are all very impressed.
Your talents and skills are a perfect match for your role; you make a difference.
Your consistent performance amazes me, even when you work all the extra hours.
Thank you for being so reliable; it's nice to be able to count on you.
You inspire everyone on the floor to work harder.
You certainly are a class apart. Your innovative ideas make it fun to work with you.
All the applause for the highest ethics you hold.
You are the perfect example of dedication.
Related: Thank You Quotes and Sayings
Funny Employee Appreciation Quotes
When employees are happy, they look forward to work. It is the manager's responsibility to create a vibrant workplace environment where employees share their funny moments. So, keep your work vibrant with these funny employee appreciation quotes: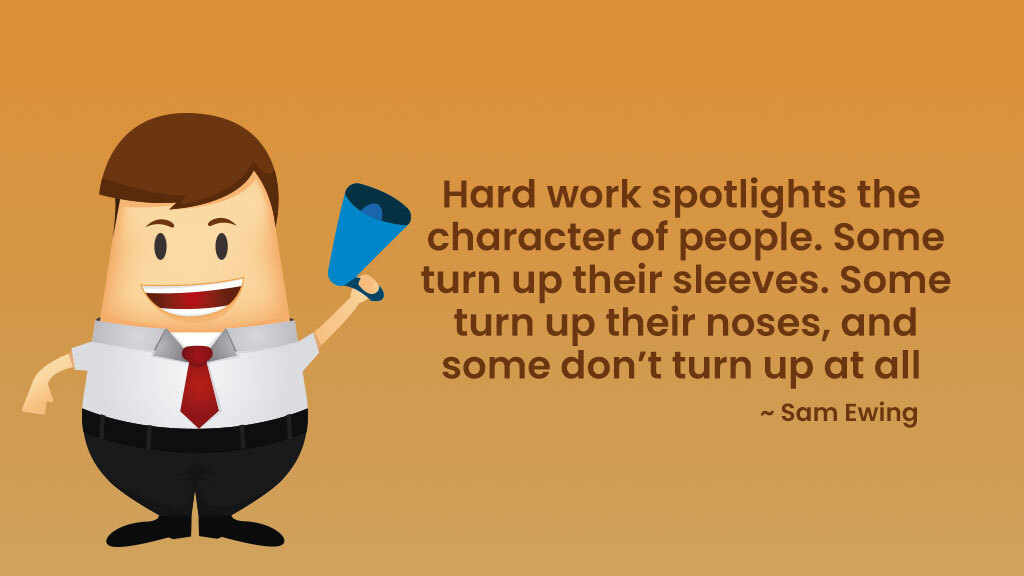 "Hard work spotlights the character of people. Some turn up their sleeves. Some turn up their noses, and some don't turn up at all."

~ Sam Ewing
"Everybody wants to be famous but nobody wants to do the work!" – Kevin Hart

"The best revenge is massive success." – Frank Sinatra
"I choose a lazy person to do a hard job, because a lazy person will find an easy way to do it." – Bill Gates
"Doing nothing is very hard to do… you never know when you're finished." – Leslie Nielsen
"Son, if you really want something in this life, you have to work for it. Now quiet! They're about to announce the lottery numbers.​" – Homer Simpson
"Think like a proton. Always positive." – Unknown
Words Of Appreciation For Good Work Done
Teamwork can increase productivity and each person's performance. Share these employee & team appreciation quotes for good work to praise and motivate your team to band together and work hard to achieve goals.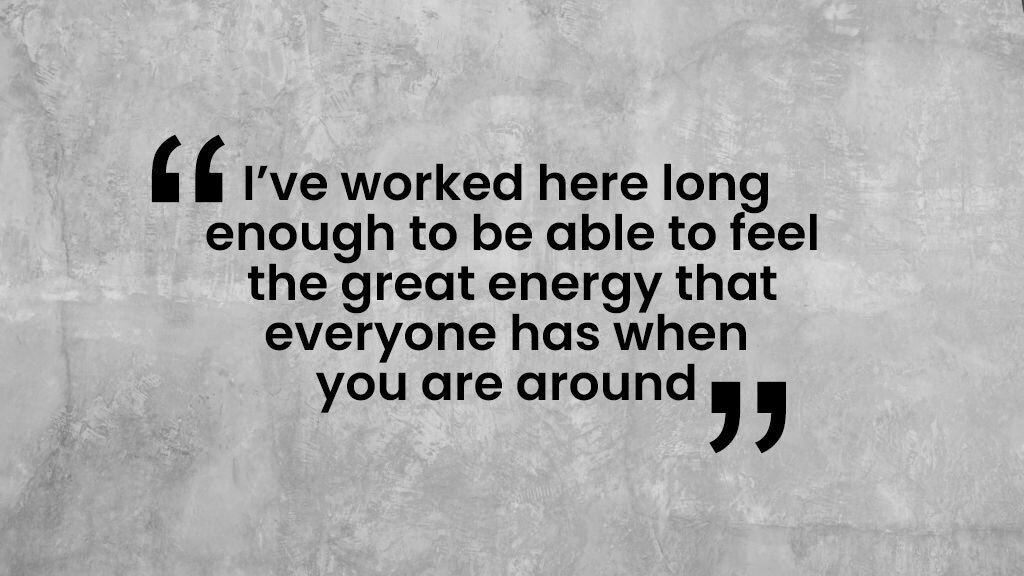 "I've worked here long enough to be able to feel the great energy that everyone has when you are around."
Your entire team relies on your smarts and vision.

Thank you for the effort over the past year. The way this team came together is phenomenal.
Our team would never be the same without you; you really bring us together.
Your views on some of the problems we have are why this organization is where it is.
Having worked in this industry for as long as I have with countless teams, it is always tough to get a team that works well together and pushes each other to achieve and exceed business goals. I wouldn't change a thing.
Goodness, everyone is talking about how great you've been doing. Keep it up.
Employee Appreciation Quotes to Appreciate Work Ethic
Employee appreciation quotes might be what you need to recognize your high achievers. Expressing gratitude for work ethic contributes to a stimulating positive, and engaging work environment. Explore and share these work ethic quotes with your employees: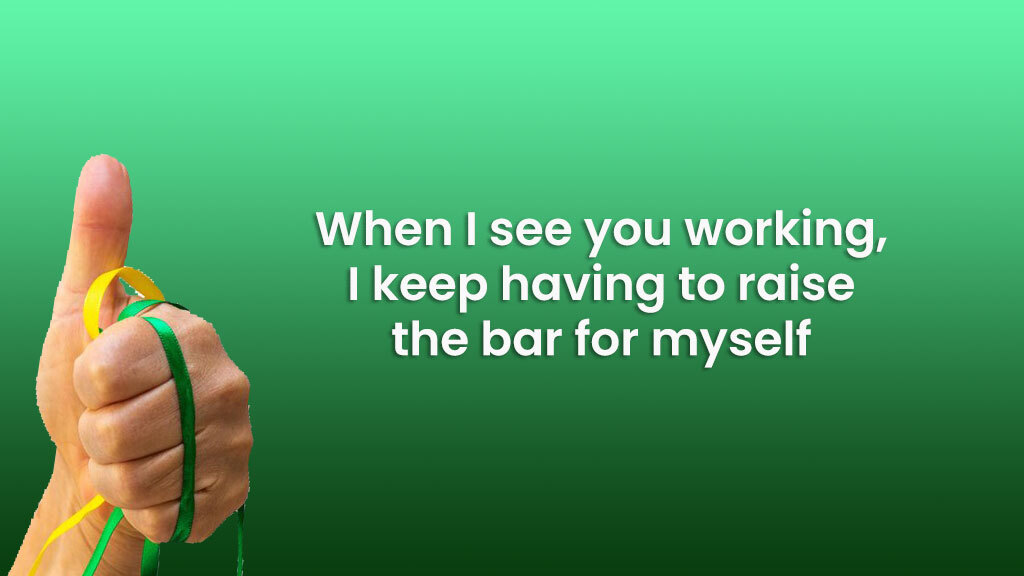 "When I see you working, I keep having to raise the bar for myself."
There are great teams, then there is this team. You are a class apart.

If you are going to keep this up, we will have to set much higher targets.
We just keep getting better output. Thank you for your consistent dedication.
Is there anything you can't do?
We have a challenging project coming up, but it should be a cakewalk for you.
There is on par with the best, then there is you.
You came in here as a fresher; watching your enthusiasm to reach for the sky puts a smile on my face every day.
Having seen hundreds of employees grow in their careers, take it from me, where you are today is because of how hard you have worked. You deserve it.
Conclusion
You don't need to have magnificent words to encourage your staff. You can share a heartfelt message to make your team valued. National employee appreciation day is the best occasion to say "thank you" to your employee. We hope you found a quote for your best teammates. Feel free to share these employee appreciated quotes on your social media accounts.
Related Event Articles: