International Women's Day (IWD) falls on March 8 to celebrate women's achievements. This day is marked to appreciate the progress made by women in every field, whether it is defense arts, sports, or science.
Quotf! has compiled a collection of women's day quotes to appreciate their existence, encouragement, positivity, and relationships duo. You can share these quotes on your social media accounts without any hurdle.
Quotes About Women's Empowerment
A special greeting is needed for every female that lifts others before herself. Explore and share one of the given female empowerment quotes for the women who support others with her grace and wisdom.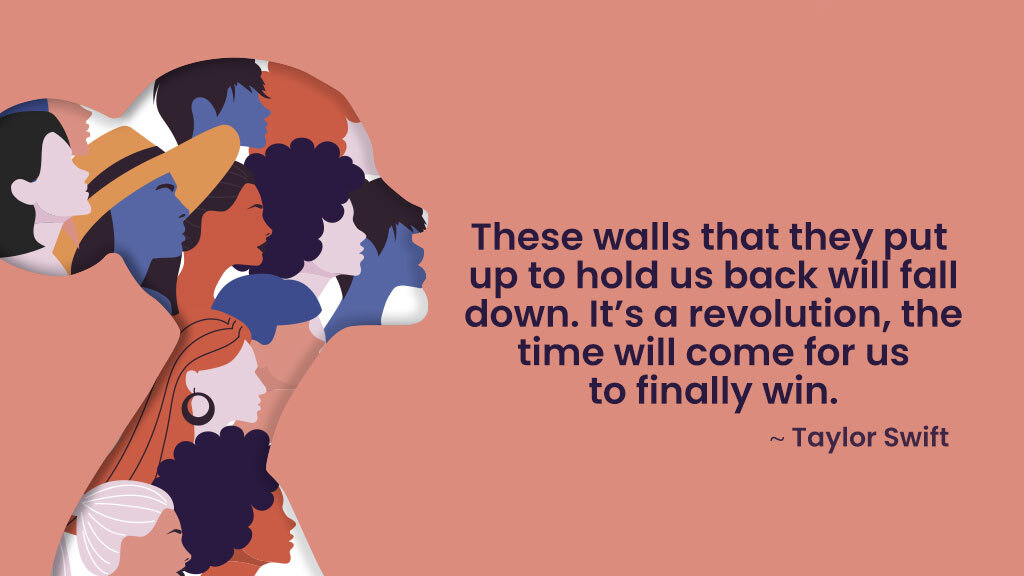 "These walls that they put up to hold us back will fall down. It's a revolution, the time will come for us to finally win."

~ Taylor Swift
"You cannot be broken because you are a diamond, tougher than nails and a jewel in the rough." – Unknown

"We need women who are so strong they can be gentle, so educated they can be humble, so fierce they can be compassionate, so passionate they can be rational, and so disciplined, they can be free."

~ Kavita Ramdas
"I don't know a woman alive who isn't courageous." ‒ Reese Witherspoon
"Above all, be the heroine of your life, not the victim." – Nora Ephron
"She's a strong cup of black coffee in a world that is drunk on the cheap wine of shallow love." – J. M. Storm
"There's something so special about a woman who dominates in a man's world. It takes a certain grace, strength, intelligence, fearlessness and the nerve to never take no for an answer." ‒ Rihanna
"The best protection any woman can have is courage." – Elizabeth Cady Stanton
Positive Happy Womens Day Quotes
The message behind this day is to spread positive awareness of gender equality. Use this list of women's day quotes to acknowledge other women who don't fear challenges.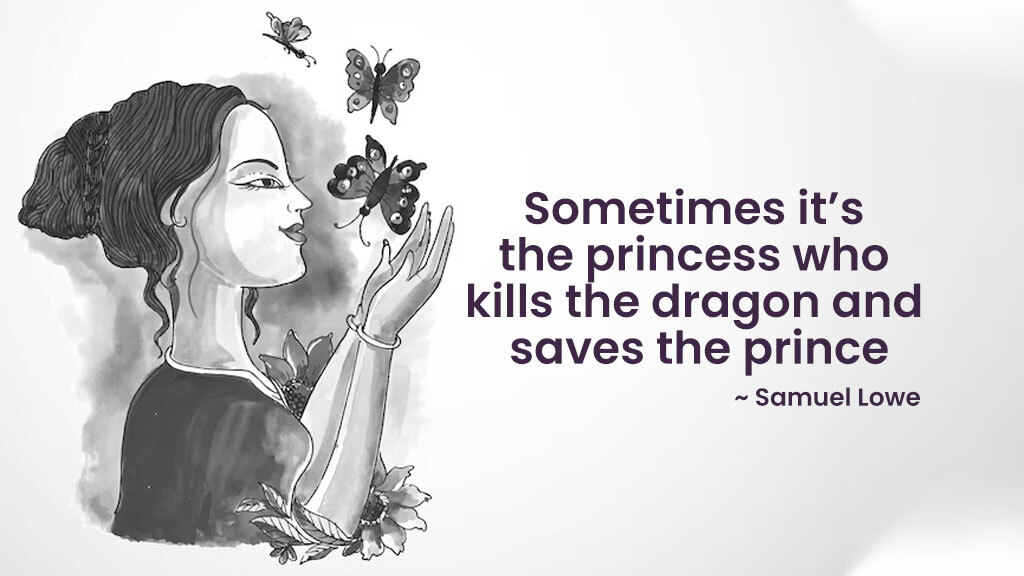 "Sometimes it's the princess who kills the dragon and saves the prince."

~ Samuel Lowe
"I am proud of the woman I am today because I went through one hell of a time to become her." –

Elise Portugal
"I'm actually thrilled with the woman I'm turning out to be." ‒ Katherine Ryan
"She is strong, but not in the ways most people think. She loves more than she'll ever get back and she knows it, yet she loves anyway." – J.M. Storm
"Strong women don't have 'attitudes', we have standards." — Marilyn Monroe
"Turn your wounds into wisdom." ‒ Oprah
"A woman with a voice is by definition a strong woman. But the search to find that voice can be remarkably difficult." – Melinda Gates
"I don't need to be saved. I'm my own person. I'm strong." ‒ Miley Cyrus
"You were given this life because you are strong enough to live it." – Ain Eineziz
"Yes, she knows pain, but she is strong. Her heart knows no other way." – A.R. Asher
"Like anything learned, bravery needs to be practiced." ‒ Caroline Paul
"Her soul is fierce, her heart is brave, her mind is strong." – r.h. Sin
"She was a true fighter; you could see it in her eyes. She wasn't born strong, she was made strong. She was sculpted to be her own when the world let her down and she kept picking herself back up." – Lynn Tilton
"A strong woman is a woman determined to do something others are determined not be done." — Marge Piercy
Funny International Women's Day Quotes
Make your strong women laugh this international women's day. There are many different ways to make women laugh. We have listed these funny quotes to make your beloved women laugh on this special day.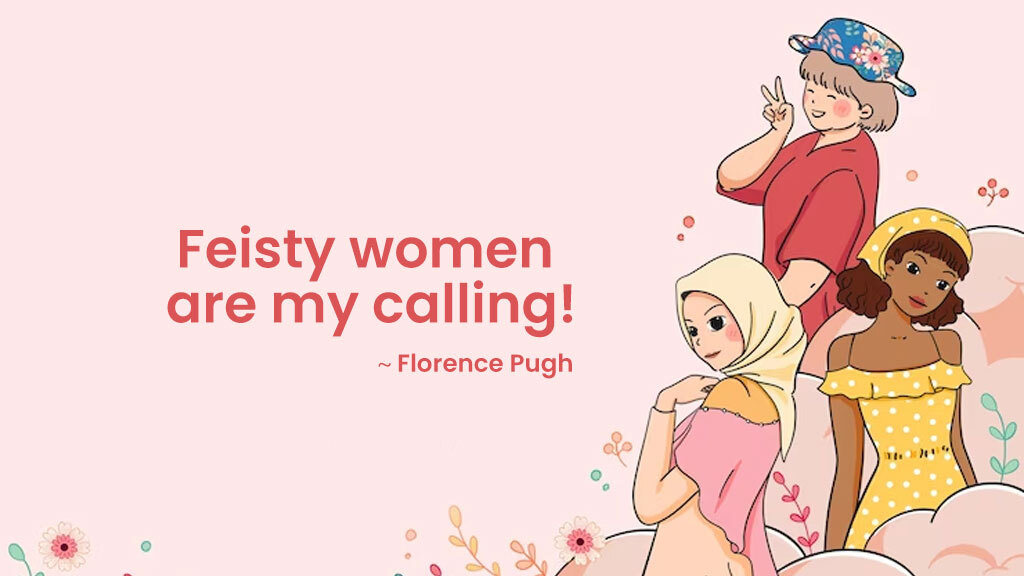 "Feisty women are my calling!"

~ Florence Pugh
"I am a woman, what's your superpower?" –

Unknown
"Never ever mistake her silence for weakness. Remember that sometimes the air stills before the onset of a hurricane." – Nikita Gill
"Females are strong as hell." – The Unbreakable Kimmy Schmidt
"Well-behaved women rarely make history." – Eleanor Roosevelt
"A girl should be two things: Who and what she wants." – Coco Chanel
"There's nothing a man can do that I can't do better and in heels." – Ginger Rogers
"Cinderella never asked for a prince. She asked for a night off and a dress." – Kiera Cass
Strong Womens Day Quotes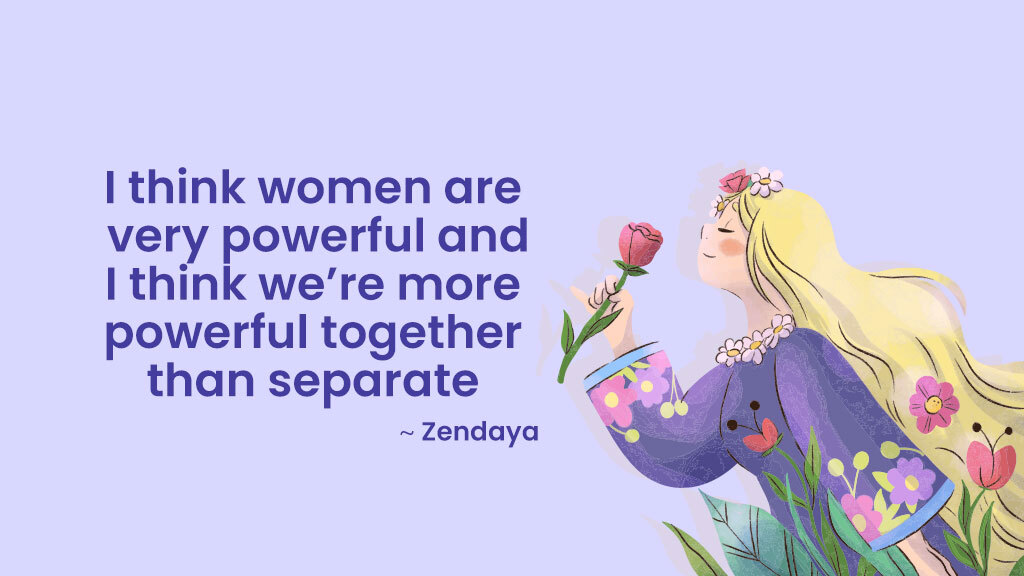 "I think women are very powerful and I think we're more powerful together than separate."

~ Zendaya
"I belong nowhere and to no one." ‒

Waris Dirie
"She wasn't looking for a knight. She was looking for a sword." – Atticus
"Life is tough, my darling, but so are you." – Stephanie Bennett-Henry
"I've never been interested in being invisible and erased." ‒ Laverne Cox
"A strong woman looks a challenge in the eye and gives it a wink." – Gina Carey
"Feminism isn't about making women stronger. Women are already strong. It's about changing the way the world perceives that strength." — G.D. Anderson
"Doubt is a killer. You just have to know who you are and what you stand for." ‒ Jennifer Lopez
"Women are powerful and dangerous." ‒ Audre Lorde
Successful Women Quotes
If you know a woman who needs a little inspiration on this day, then use the following successful women quotes. And remind her of her greatness through these quotes: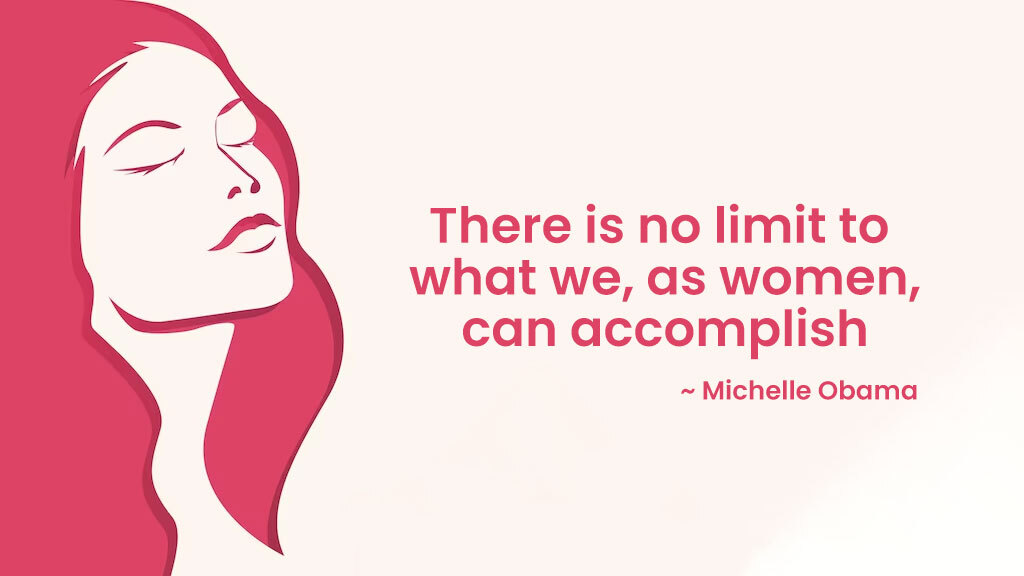 "There is no limit to what we, as women, can accomplish."

~ Michelle Obama
"She promised better things for herself, so she sought out those things and never looked back." – Unknown
"Women belong in all places where decisions are being made. It shouldn't be that women are the exception." – Ruth Bader Ginsburg

"Let go of who you think you're supposed to be; embrace who you are." –

Brené Brown
"To tell a woman everything she cannot do is to tell her what she can." – Spanish Proverb
"Men are not the enemy, but the fellow victims. The real enemy is women's denigration of themselves." ‒ Betty Friedan
"Stand-up comedy is not a man's job. It's an alpha job: to be the only person in a room with a microphone who's allowed to talk." ‒ Katherine Ryan
"Stop waiting to find the light at the end of the tunnel and be the light for yourself." – Unknown
"Ignore the glass ceiling and do your work. If you're focusing on the glass ceiling, focusing on what you don't have, focusing on the limitations, then you will be limited." — Ava DuVernay
"Your life isn't yours if you constantly care what others think." – Unknown
"All of us are put in boxes by our family, by our religion, by our society, our moment in history, even our own bodies. Some people have the courage to break free." – Geena Rocero
"The success of every woman should be the inspiration to another. We should raise each other up. Make sure you're very courageous: be strong, be extremely kind, and above all be humble." — Serena Williams
Conclusion
International Women's Day is a day to focus on challenges as women, but also to mark women's success. Although this day is celebrated once a year. But you can use these quotes every day to motivate your beloved women. You can copy and share our collection of women's day quotes on your social media account with just one click.
Related Event Articles: